---
Scrapbook Layouts Gallery: The Mercury Seven
by
shoorn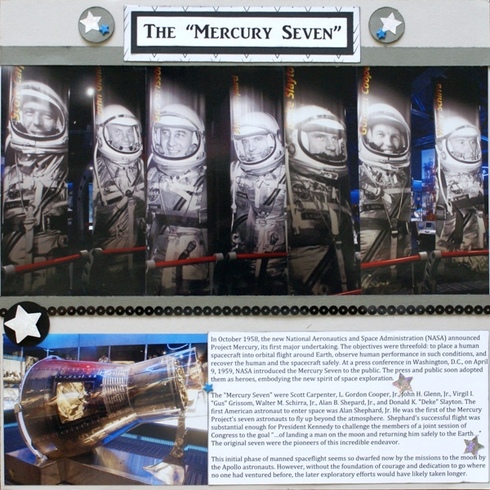 Large View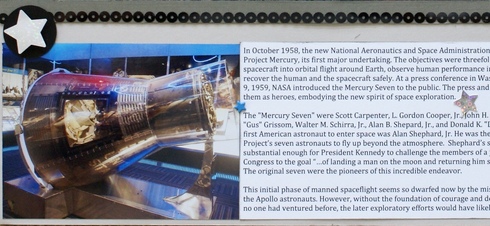 Large View

Large View



---
---
The Mercury Seven

posted Sep 16, 2016


by shoorn

View My Gallery (1148)
View My Product Reviews (162)
View My Posts (1967)
View My Bio




Simple page - Pictures from the Astronaut Hall of Fame. We really enjoyed our day here - especially my DH as he had met many of these men when a co-op student working at NASA in Houston.
Left over punched stars from previous page - plus the circles that I had cut out of the moon - so I decided to use them on this page. Making Memories mini star brads. Silver and white holographic paper.

Journaling: In October 1958, the new National Aeronautics and Space Administration (NASA) announced Project Mercury, its first major undertaking. The objectives were threefold: to place a human spacecraft into orbital flight around Earth, observe human performance in such conditions, and recover the human and the spacecraft safely. At a press conference in Washington, D.C., on April 9, 1959, NASA introduced the Mercury Seven to the public. The press and public soon adopted them as heroes, embodying the new spirit of space exploration.

The "Mercury Seven" were Scott Carpenter, L. Gordon Cooper, Jr., John H. Glenn, Jr., Virgil I. "Gus" Grissom, Walter M. Schirra, Jr., Alan B. Shepard, Jr., and Donald K. "Deke" Slayton. The first American astronaut to enter space was Alan Shephard, Jr. He was the first of the Mercury Project's seven astronauts to fly up beyond the atmosphere. Shephard's successful flight was substantial enough for President Kennedy to challenge the members of a joint session of Congress to the goal "…of landing a man on the moon and returning him safely to the Earth…" The original seven were the pioneers of this incredible endeavor.

This initial phase of manned spaceflight seems so dwarfed now by the missions to the moon by the Apollo astronauts. However, without the foundation of courage and dedication to go where no one had ventured before, the later exploratory efforts would have likely taken longer.
Products Used
This submission used products from ...
Making Memories
,
Prima
,
Diecuts With A View
,
Webster's Pages