---
Scrapbook Layouts Gallery: April 1 . .2. 3 . 4
by
JanetM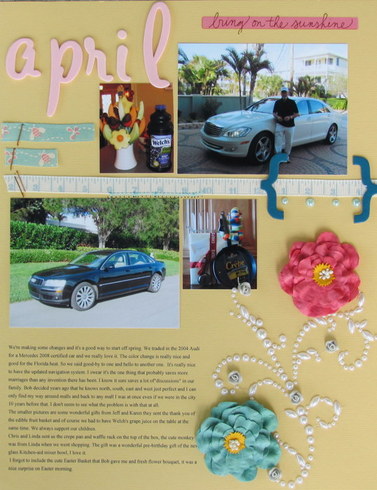 Large View
---
---
April 1 . .2. 3 . 4

posted Apr 11, 2010


by JanetM

View My Gallery (343)
View My Product Reviews
View My Posts (1631)
View My Bio




Another one to add to my 365 project. Journaling is:We're making some changes and it's a good way to start off spring. We traded in the 2004 Audi for a Mercedes 2008 certified car and we really love it. The color change is really nice and good for the Florida heat. So we said good-by to one and hello to another one. It's really nice to have the updated navigation system. I swear it's the one thing that probably saves more marriages than any invention there has been. I know it sure saves a lot of"discussions" in our family. Bob decided years ago that he knows north, south, east and west just perfect and I can only find my way around malls and back to any mall I was at once even if we were in the city 10 years before that. I don't seem to see what the problem is with that at all.
The smaller pictures are some wonderful gifts from Jeff and Karen they sent the thank you of the edible fruit basket and of course we had to have Welch's grape juice on the table at the same time. We always support our children.
Chris and Linda sent us the crepe pan and waffle rack on the top of the box, the cute monkey was from Linda when we went shopping. The gift was a wonderful pre-birthday gift of the new glass Kitchen-aid mixer bowl, I love it.
I forgot to include the cute Easter Basket that Bob gave me and fresh flower bouquet, it was a nice surprise on Easter morning.
---