---
Hybrid Scrapbook Layouts Gallery: Little Pink is Our Puppy!
by
pawprints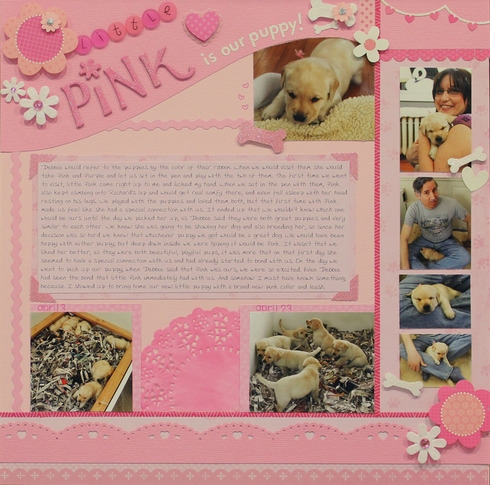 Large View



---
---
Little Pink is Our Puppy!

posted Mar 2, 2014


by pawprints

View My Gallery (561)
View My Product Reviews (327)
View My Posts (28744)
View My Bio




When I saw both the February Pet Challenge and the February Imagination Challenge, I knew I had the perfect subject to scrap for both of them. Sher's Pet Challenge called for a monochromic layout of your pet, using either red, pink or purple, and also to use hearts. Nancy's Imagination Challenge was to use a color in your title, not only to use the word of the color but also to spell out the word it it's own color. My perfect subject for this was Twinkie, explained in my journaling. This was really quite a challenge, as there really aren't any doggie paper lines in pink. So I decided to go hybrid and use a digital paper. I have a kit that has a pink paw print paper, and I just had to tweak the pink a bit to get it to the shade that I wanted. After that it was just a matter of punching doggie bones out of pink and white glitter paper. I also had so much journaling that rather than do it by hand I did it on my computer using my own handwriting font, created for me by Jeanelle Paige. TFL!

Journaling reads:

Twinkie's breeder Debbie invited us to meet Isabel and Teddi, the parents of our prospective puppy. After that she sent us e-mail updates as to how Isabel was doing and when the puppies were due. Once they were born, she sent us photos of the litter from time to time, and she told us we could visit them when they were three weeks old. There were two females in the litter, and she would be taking one of them and we would get the other. She of course would have first pick. In the pictures she sent we saw that she had different colored ribbons tied to each of the puppies to identify them, and one of the females had a pink ribbon and the other had a purple one.

Debbie would refer to the puppies by the color of their ribbon. When we would visit them she would take Pink and Purple and let us sit in the pen and play with the two of them. The first time we went to visit, little Pink came right up to me and licked my hand. When we sat in the pen with them, Pink also kept climbing into Richard's lap and would get real comfy there, and even fell asleep with her head resting on his legs. We played with the puppies and loved them both, but that first time with Pink made us feel like she had a special connection with us. It ended up that we wouldn't know which one would be ours until the day we picked her up, as Debbie said they were both great puppies and very similar to each other. We knew she was going to be showing her dog and also breeding her, so since her decision was so hard we knew that whichever puppy we got would be a great dog. We would have been happy with either puppy, but deep down inside we were hoping it would be Pink. It wasn't that we liked her better, as they were both beautiful, playful pups, it was more that on that first day she seemed to have a special connection with us and had already started to bond with us. On the day we went to pick up our puppy, when Debbie said that Pink was ours, we were so excited. Even Debbie had seen the bond that little Pink immediately had with us. And somehow I must have known something, because I showed up to bring home our new little puppy with a brand new pink collar and leash.

Digital Part:
Paper from Oh My Dog-Girl Add-On kit by MLE Card
Journaling done in my own handwriting font created for me by Jeanelle Paige
Journaling paper made on my computer by tinting the background under my text and printing it out on plain white cardstock

Paper part:
Papers and cardstock: Bazzill Cardstock in Emma and Rose, Best Creation Sweet Baby Glitter paper, Doodlebug Sweet Cakes 6x6 Paper Pad, DCWV Glitter Cardstock Border Stack, and Petaloo White Glitter Sheet (this is the same paper that the white Dazzlers are made from)

Embellishments: Dazzlers, Doodlebug Sweet Love Fancy Frills Cardstock Sticker Borders, Doodlebug Sweet Love Icons Cardstock Stickers, Doodlebug Paper Doilies in Cupcake (I inked it with hot pink dye ink), Doodlebug Paper Frills in Cupcake, Doodlebug Valentines Mini Doodle-Pops, Recollections Pink Polka Dot Washi Tape, Amy Tangerine Plus One Washi Tape, Jolees by You Pink Verbena Flowers, Doodlebug Simply Sweet Rub-On Mini Alpha in Bubblegum, and a ton of Pop Dots

Alphas: Thickers Jewelry Box Chipboard Glitter Alpha in Bubblegum, Doodlebug abc's in Bubblegum, and Making Memories Mini Shimmer Alpha in White

Punches used: Martha Stewart Cherish Hearts Edge Punch, Punch Bunch Dog Bone Punches (small, medium, and large), and EK Success Scalloped Photo Corner Punch
Products Used
This submission used products from ...
Doodlebug
,
Making Memories
,
Die Cuts With A View
,
Bazzill
,
American Crafts
,
Petaloo
,
Best Creation
,
Alvin
,
Amy Tangerine
---