Woodgrain Layered Stencil
Tim Holtz
-
Stencils
4.125"X8.5"
item #:

921193-60721
Sale Price
$5.39
(Reg Price

$5.99

)
This item may take an extra 7 days to ship
STAMPERS ANONYMOUS-Tim Holtz Layered Stencil. These creative and unique designs will allow you to create wonderful paper crafts and more! Use these stencils to later with inks, paints, stamps and more. This package contains one 8-1/2x4-1/8 inch stencil. Available in a variety of designs: each sold s...
Show More
Have Any Questions?
Ask us a question about:

Woodgrain - Tim Holtz Layered Stencil
Your email address:
Message:
Up to 500 characters
---
Customers Who Bought This Also Bought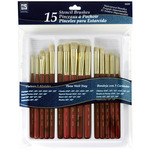 Be the first to review this product!
Recommend
Woodgrain - Tim Holtz Layered Stencil
You must be
signed in
to send an email recommendation.
Location: --

Size: 4.125"X8.5"
UPC: 748252607218

Next Product