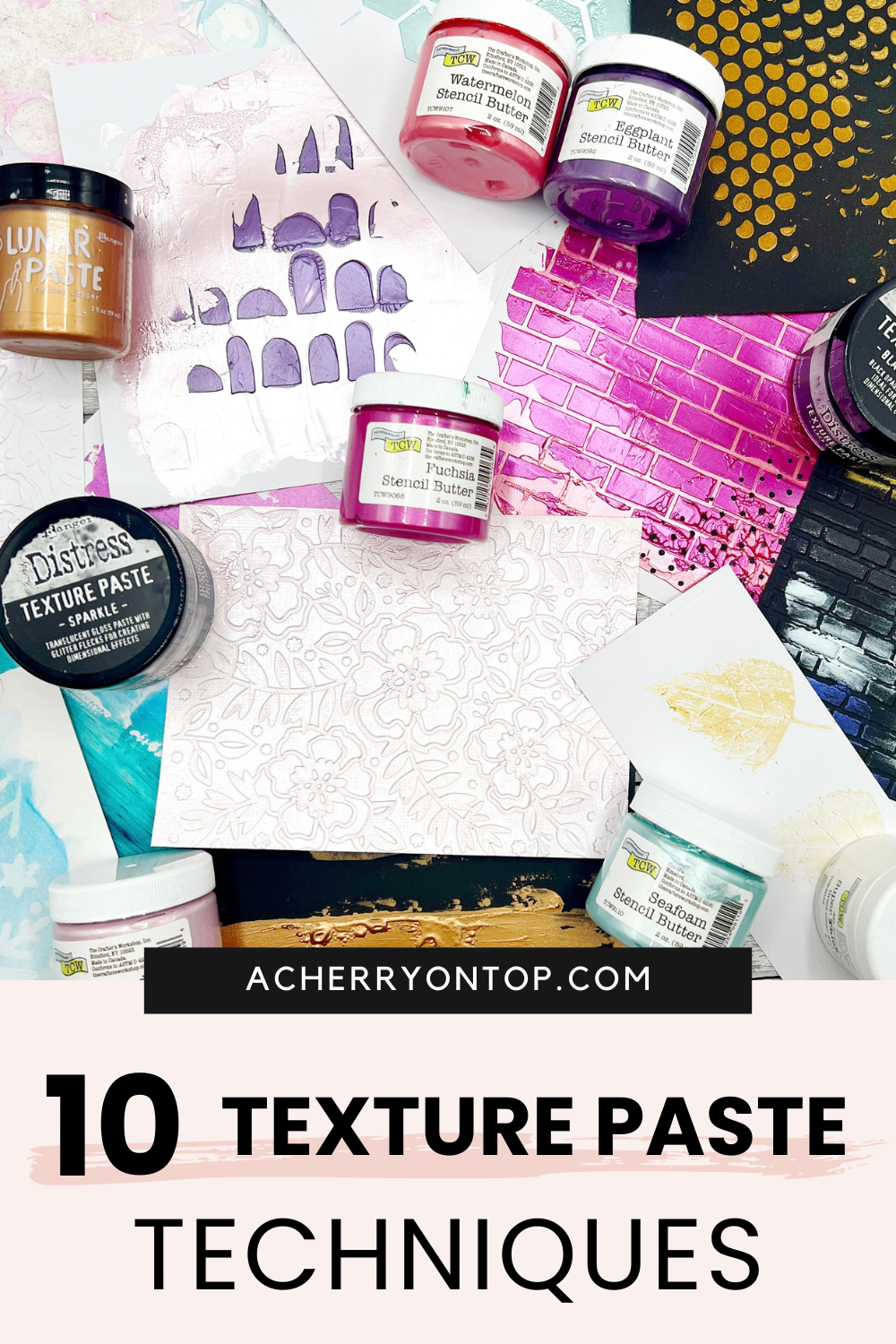 Need some texture paste ideas? Try these ten different techniques! Some of these we discovered just by playing around and experimenting. We often ask ourselves, what would happen if we did this, or added that? That's the best way to learn with mixed media! Check out our YouTube video where Emily and I show each of these techniques:
And here are the ten techniques below with photos! (Always be sure to clean your tools right away so texture paste doesn't dry on them.)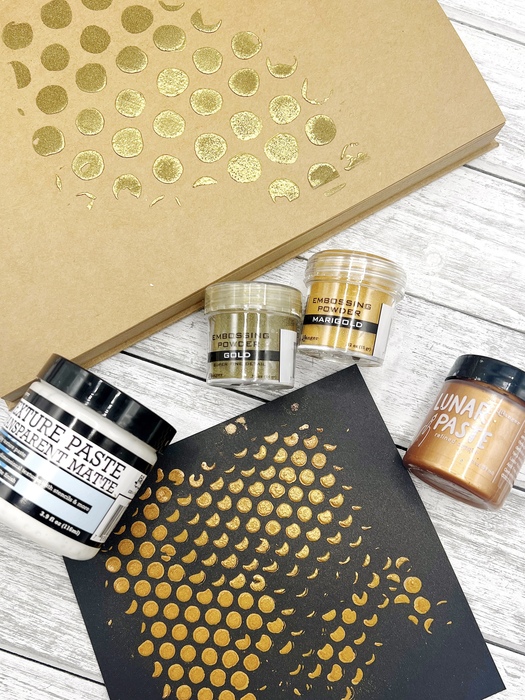 1. Texture paste + embossing powder 
This was a fun technique we discovered just by asking what if...? First we put down some texture paste with stencils. Emily used transparent matte paste, and I used some copper Lunar paste. While the texture paste was still wet, we added embossing powder on top. Emily used gold and I used the marigold. Then we got to heating. It took some patience, but wow the outcome is so pretty - it looks like 3D foil!
---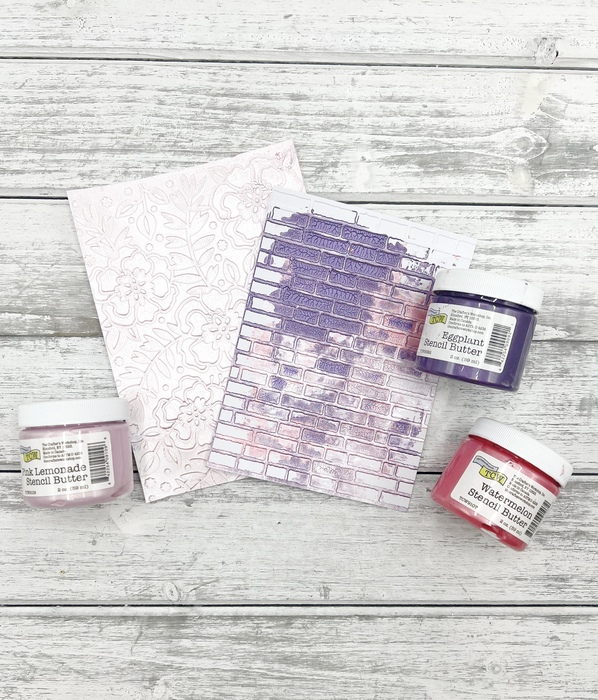 2. Embossing folder (inside)
For this next technique we put texture paste INSIDE embossing folders! This can get a little messy, but it's so fun. Emily went with pink florals and I used pinks and purple with a brick folder. You don't need a lot of the paste since the pressure of the die cut machine spreads it out. We experimented with putting the paste directly on the folder, and just on the paper before running it through our Sizzix Big Shot. Both ways have fun results!
---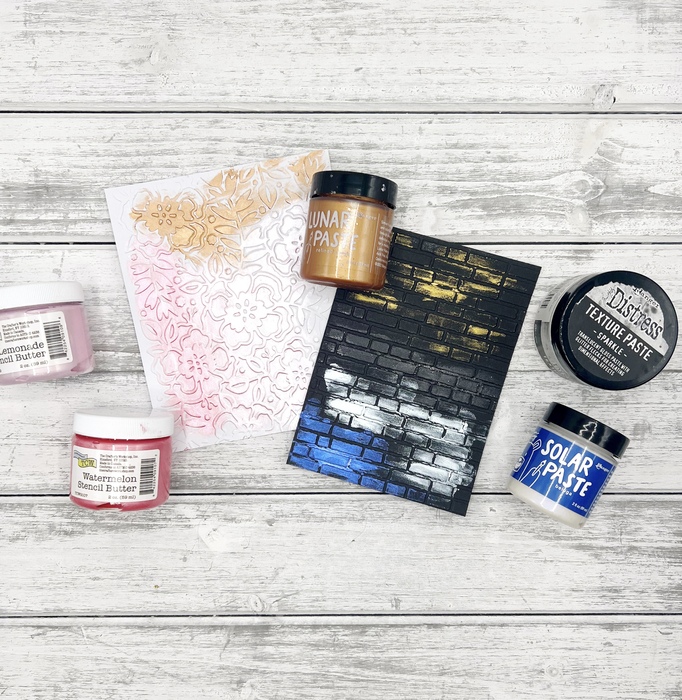 3. Embossing folder (after)
This technique we still used embossing folders, but didn't add the texture paste until afterwards! We put cardstock in the embossing folders and sent them through the Big Shot. Then we used our fingers to gently rub on different pastes to the raised parts of the designs. This is such a fun technique and feels like you're finger painting!
---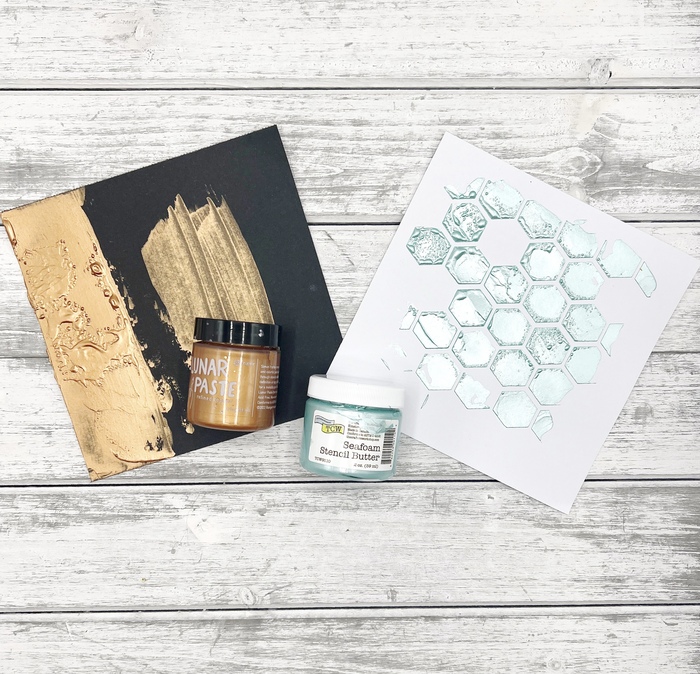 4. Heat bubbles
This next technique requires a lot of heat! We put some texture paste down and then applied direct heat with the Ranger heat tool. The trick is to keep the heat on the same spot for a pretty long time, longer than you think. Once the paste gets hot enough, it starts to bubble! We found this technique works best when the texture paste is put on a bit thicker. You get such a unique and fun look with this!
---
5. Painting
Did you know you can just paint with texture pastes? We grabbed our paint brushes and painted away. We added just the tiniest bit of water to make the pastes more blendable. Keep in mind texture pastes dry quicker than acrylic paint, so you'll have to paint a little quicker. We love how these pastes look on kraft and black paper. Grab your favorite colors and paint away!
---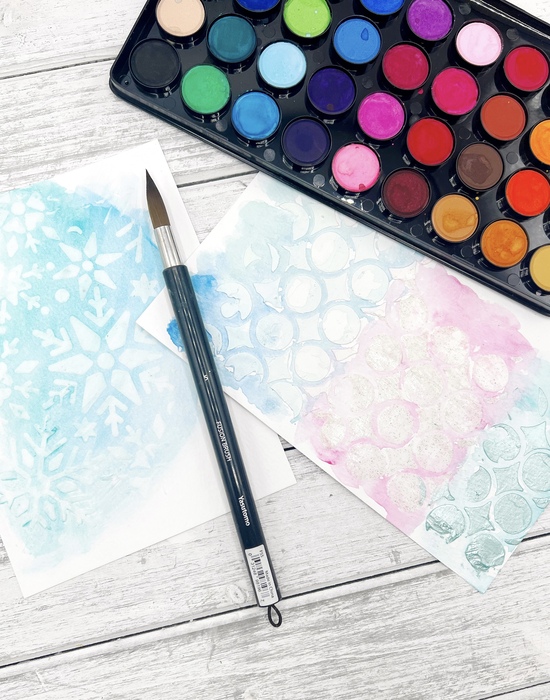 6. Texture paste then watercoloring
For this technique we started with some texture paste and stencils. Emily used a transparent paste, and I used the Seafoam stencil butter, a glitter paste, and just a white paste. The texture pastes need to be completely dry before you start watercoloring. Once they're dry you can start painting on watercolors. I dabbed off the top of my circles with a paper towel if there was any extra. The pastes kind of act like a resist and the watercolor pools more around the raised design. This is such a fun (and relaxing!) technique.
---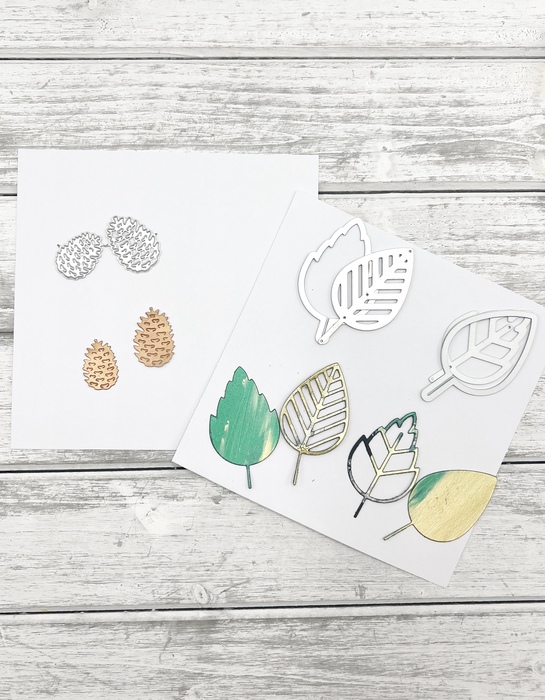 7. Texture paste then die cutting
For this technique we put down some texture paste using a paint brush and palette knife, then heat dried. Emily used cute pinecone dies and I used some layered leaves dies and we sent them through the Big Shot. This technique gives you a chance to really customize your dies in whatever color/texture you want! I really like how my leaves turned out with the green and yellow stencil butters. And Emily's pinecones were just perfect with the copper paste!
---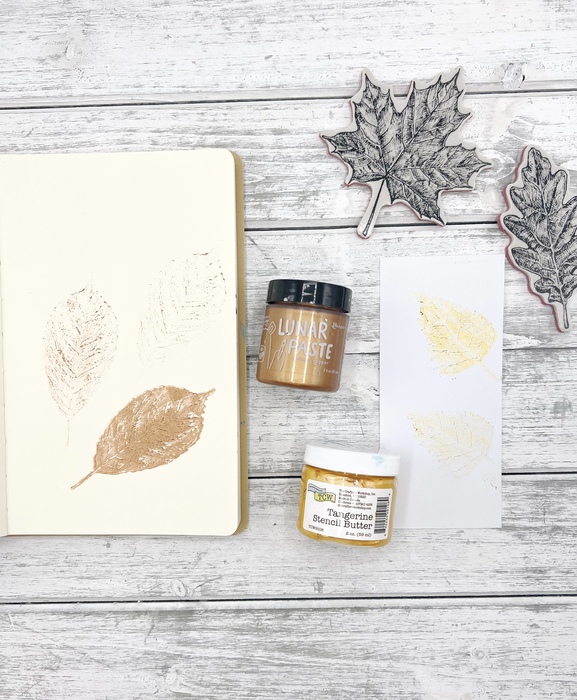 8. Stamping
Have you ever tried stamping with texture paste? We asked ourselves, why not?! We used paintbrushes to paint on the paste onto some leaf stamps from Tim Holtz and stamped away. The copper and tangerine pastes looked so good! This technique will not give you a super crisp image when stamping, so be aware of that. It gives a more distressed look, and we love it! Try different pastes to see what you like best. And be sure to wash your stamps right away so the texture paste doesn't dry on it!
---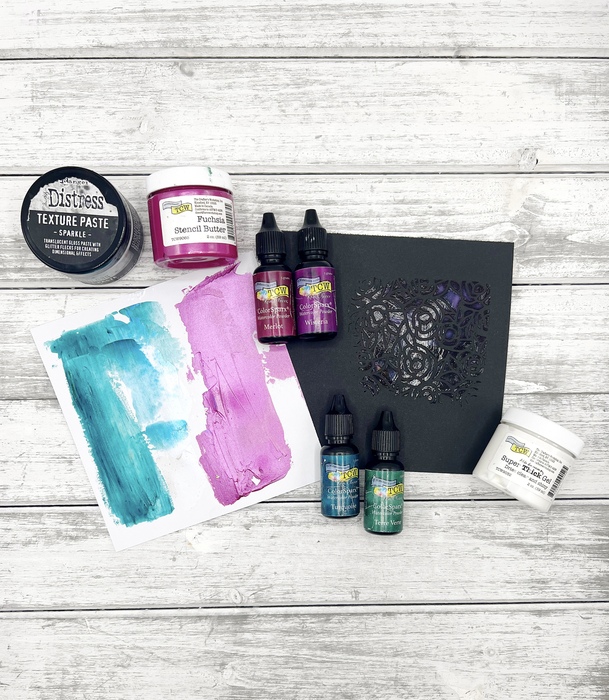 9. Mixing
For this technique we mixed ColorSparx into our texture pastes! Since these are pigment powders, they don't alter the consistency of the pastes. And wow the colors are so vibrant! We found it useful to mix our colors on a round palette with paint brushes. I also tried mixing the Tim Holtz glitter paste and Simon Hurley's Lunar paste, and that is SO fun! It shows up best on black cardstock. There are no rules to mixing - try different colors, texture paste types, paint, etc. and see what happens!
---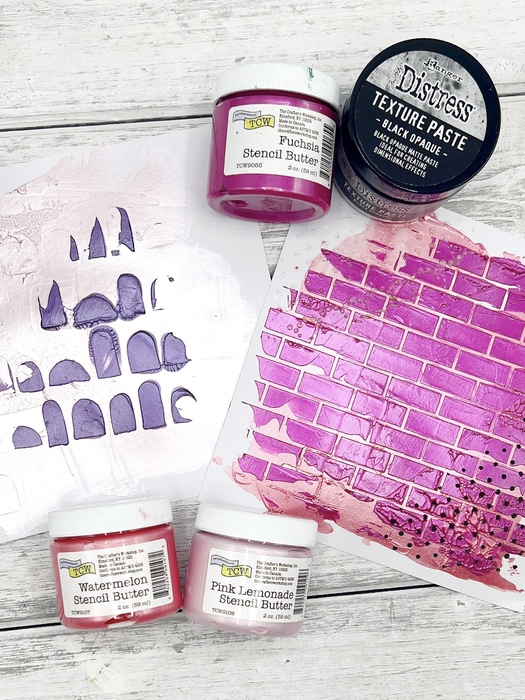 10. Layering
Our last technique is layering the texture pastes! The important thing here is to make sure each layer is completely dry before you move on to the next. I started out with a light layer spread out with a palette knife, then added more layers with stencils and different colors. I really like the sparkle paste and black on top!
---
Products used:
---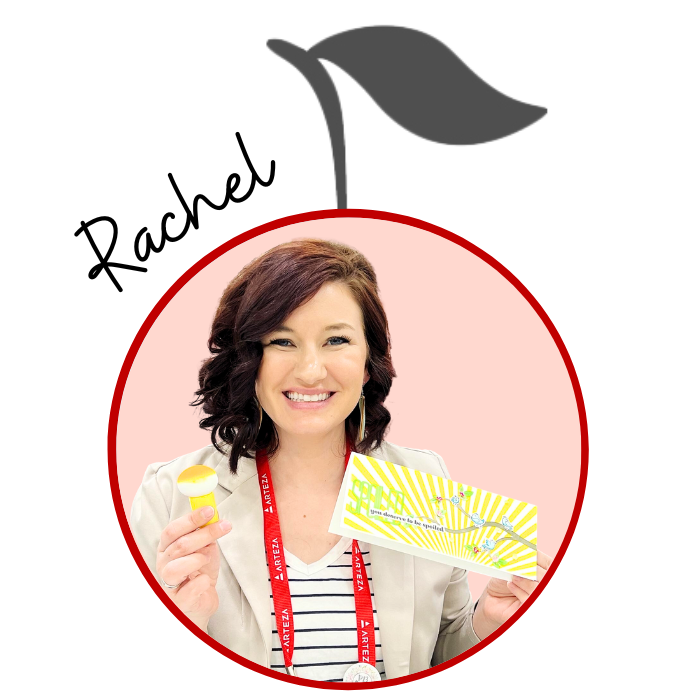 Hi there! I'm Rachel - one of the owners and the Marketing Director here at ACOT. Kristin, the founder and heart of this company, happens to be my mom and hero. We lost her in April 2018, so my siblings and I are carrying on her legacy with this amazing business. She is dearly missed and we are still inspired by her every day.

I love all kinds of crafting, but my favorites are scrapbooking, art journaling, painting (watercolor and acrylics), and embroidery. I especially love it when I can combine some of these crafts together! Check out my projects in the ACOT gallery.