As I put pages in my 12x12 travel album, I think about when the eye needs a rest. In other words, if I have a highly detailed page (and you know I love those!), I want the facing page to be a bit simpler. So today I am sharing one of those simple pages. This layout is also a reminder that there are beautiful papers available that do much of the work of scrapbooking for us!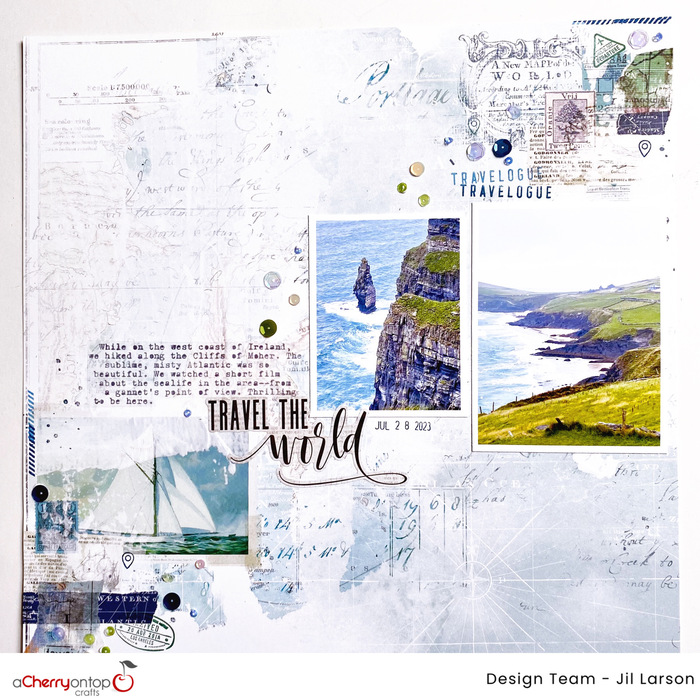 The paper I began with is from the 49 and Market Vintage Artistry Everywhere travel line (In the Deep), and it was perfect for my photos because of the water theme and the subtle blues. When I say that the paper does the work, I'm referring to the collage already on this paper in both the lower left and the upper right. That helped me decide on a diagonal design for the page, too.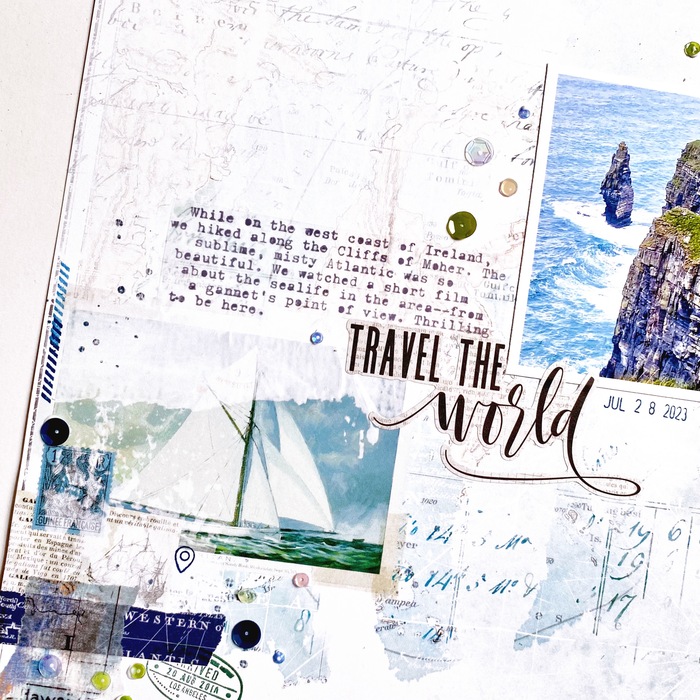 I knew I wanted to keep the layout simple with a small title and a monochromatic color scheme—blue with touches of green (because of the grass but also because these are photos from Ireland). The small title I pulled from the Simple Stories Essentials sticker book, and I love the way it wraps around the photo and joins the sailboat imagery on the paper with my own photo of the cliffs and Atlantic Ocean. I also wanted my journaling to be simple and relatively unobtrusive, so I typed it on clear sticker paper using my vintage typewriter. The placement by my title helps me maintain the diagonal design. I also think that the map and ledger elements on the paper work well with the vintage typeface.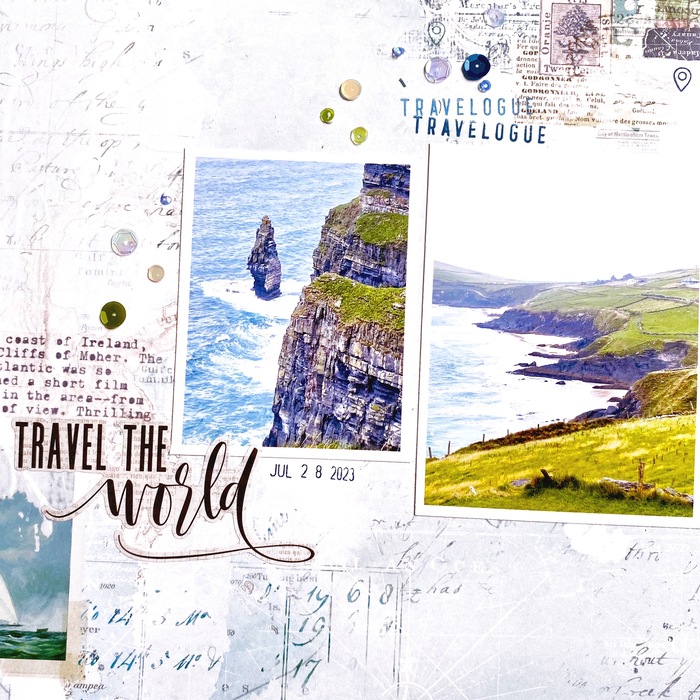 When keeping a layout relatively simple, I ask myself what elements are most essential to me in my scrapbooking. Including these will integrate the page with others in my album even as this one is less busy. For me, these essentials are stamping, washi tape, and sequins. It was a natural choice to pull out my 49 and Market Vintage Artistry Everywhere washi tape. I added a bit of two designs to the top and bottom collages. I stamped a few tiny geotags and passport style stamps from my stash, and I used an airmail postcard edge stamp on the left side and top. Finally, I scattered sequins (drawn from Catherine Pooler's collections called Dublin, Zanzibar, and Omaha) along the diagonal of my page.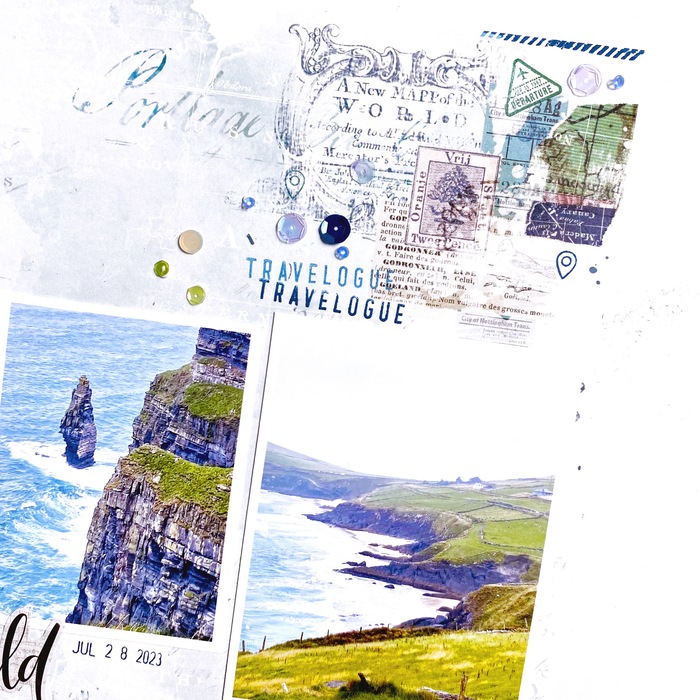 This simple page was a nice change of pace, and it will add another story to my travel album, along with a little visual serenity! 
---
Products Used:
---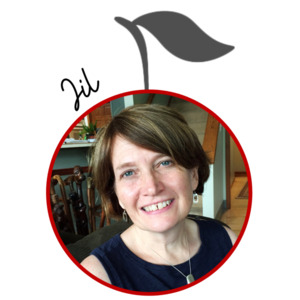 Jil Larson
Hello everyone, I'm Jil Larson, a new member of the design team. I'm excited to share my projects with you! I've been scrapbooking and art journaling for many years now. I first started memory keeping when my nieces (now in their 20s) were little girls and I was looking for a way to tell stories about them and the art they created. From there, my love for this wonderful hobby grew and developed. As a life-long diary and notebook lover, I've also recently been enjoying creative play in sketchbooks and journals.
See more from Jil on her Gallery, Instagram, and YouTube.