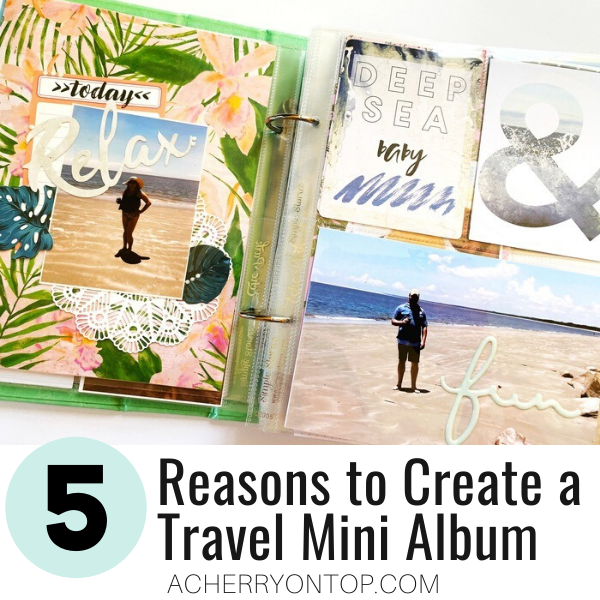 Hey Cherries! Natalie here this week with a pocket page spread in my beach vacation mini album. I'm going to give you a few reasons why a travel mini album is a good idea!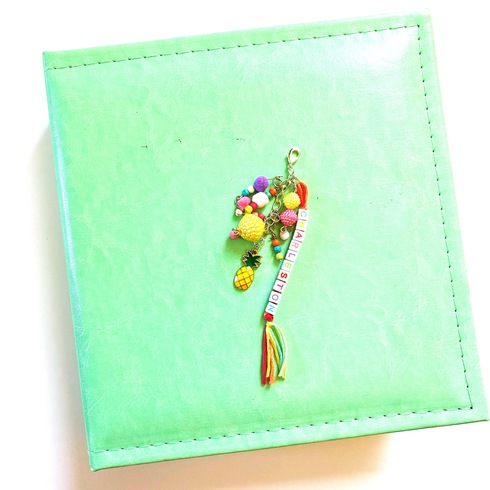 I know many people have a history of creating albums in a certain way and size, and they never tend to deviate. I would like to suggest shaking up your scrapbooking to include a mini album of a smaller, finite event. A vacation is typically the easiest and best event to attempt a mini album, as it has a predetermined amount of photos, a defined timeline, and a specific theme. This is actually the first project I will suggest to anyone who asks me how to begin scrapbooking!
The A Cherry On Top store has a great variety of album sizes. Six by eight and eight by eight are great starting places for a jump to a new venue. Travelers notebooks are super popular and fun too! The new Heidi Swapp Storyline Chapters or the new Simple Stories flip books are good options too!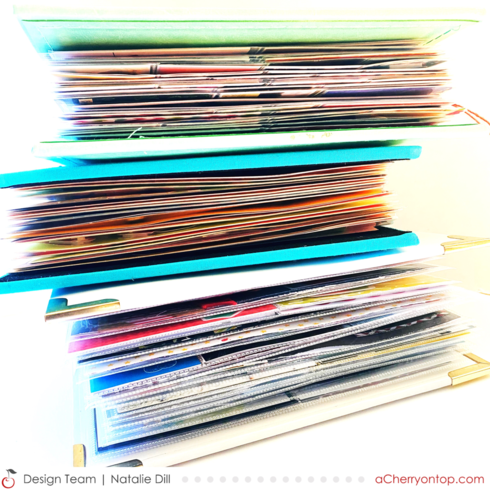 1. The Joy of a Finished Album
The first reason to create a travel mini album is because you will quickly reap rewards and bask in the joy of a finished album! The nature of a mini album precludes too many pages and lends itself to faster creation. The ease of knowing the exact photos to include and having a running theme, along with the small size of pages, allows for quick completion of the project.
I know that for many who complete large sized, chronological albums, the albums are seemingly endless! While this is technically a good thing, since we never want to run out of our wonderful hobby, it is a fabulous feeling to have a completed album. A compilation of memories, stories and your creative work to document them all is a proud accomplishment. I suggest to you that a mini travel album would be a great accomplishment, and it doesn't take away from your traditional, larger family album.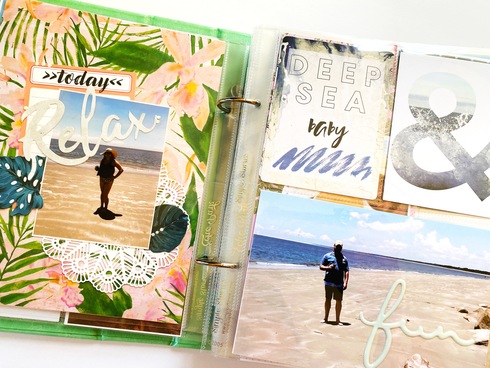 2. Album Economy
I tend to want to document almost all of our vacation photos, but find there is no room in my yearly, family albums. If I included all the photos of a vacation, it would probably double my amount of yearly scrapbook volumes! I love having a smaller album in which my vacation photos live. So as not to leave an event gap in my yearly, chronological family album, I will do a page or two traditionally of my favorite vacation photos, and the journaling will point the reader to the mini album.
3. Ready Recollection 
Vacations tend to be the happiest times we experience with our family or friends. My family loves to grab the small albums off the shelf and reminisce about our fun trips. These mini albums are more readily accessible for someone to grab and browse through than a large 12x12 scrapbook. Do your friends ask you for travel suggestions? How easy would it be to recommend all the favorites you tried on a vacation by handing someone your travel mini album!? A small collection of mini albums documenting the best times of your family togetherness is a sure treat on the shelves!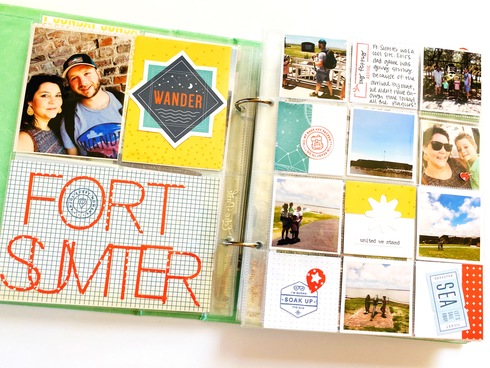 4. Trying Something New & Different
I have tried a few different sizes of vacation albums and plan to try a new size for our trip this year. It's fun to challenge yourself creatively to work in a different size that your typical use.  
Many vacation photos are pretty similar, but I want to include them all. Printing in a smaller size for a smaller album makes these photos less redundant. 
On the flip side, sometimes we have AMAZING vacation photos to highlight. Printing a full page photo for a mini album is a great way to make an impact and feature your favorite vacation photos.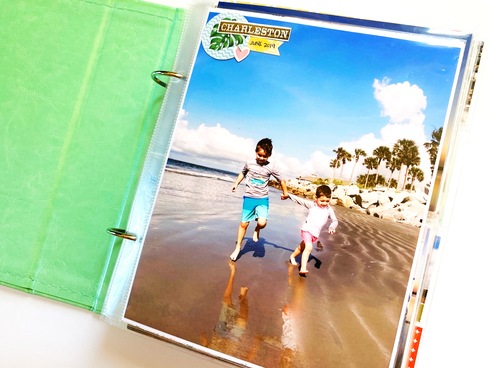 Perhaps you have never tried pocket pages in your traditional, larger format scrapbooking. Well, pocket pages within mini albums are a fabulous and quick way to organize many photos! You can also mix and match pocket page designs and sizes to fit your needs.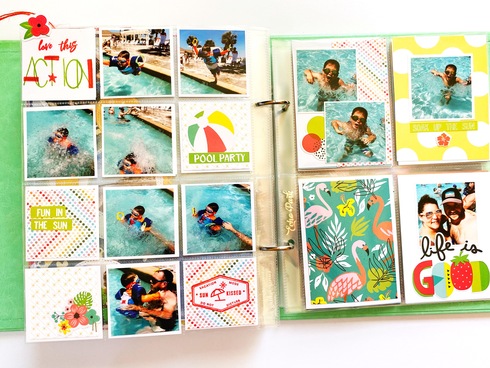 5. Keep the FUN in Memory Keeping
Story-telling is an important part of the scrapbooking hobby for many. However, many times when scrapbooking an entire album of vacation photos, you won't need to tell a story about them all. Sometimes, you can enjoy just creating a layout with fun, memorable photos and pretty supplies. Vacation mini albums can be so much fun to create!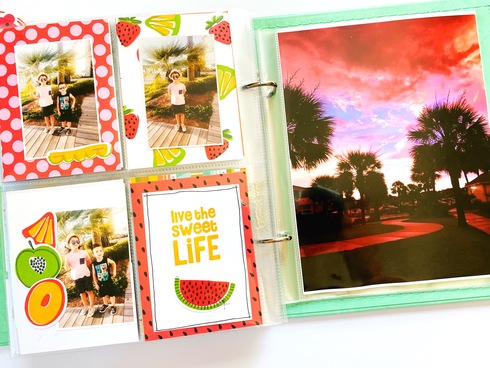 ---
TIPS!
Of course I have a few tips to offer if you have decided to jump into something new with a travel mini album.
1. Try pockets! 
Today I have posted a quick process video creating a double pocket page in a 6x8 album. You can see how quickly it comes together to document many photos!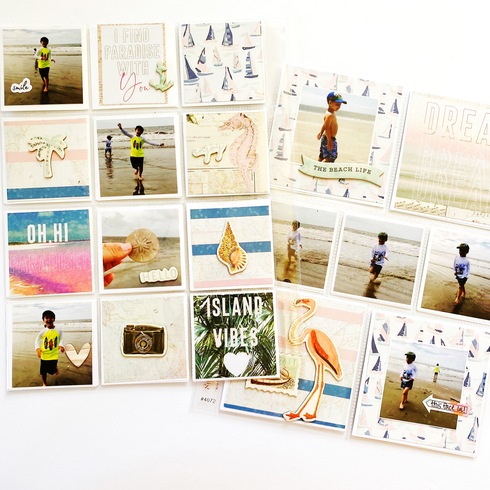 2. Keep a travel journal.
Jot a few notes and lines about your day at the end of each day on your vacation to help you remember exactly what stories to tell in your scrapbook.
3. Collect ephemera.
Pick up maps and business cards from the places you visit on your trip. Save your drink coasters or ticket stubs. It's always fun to flip through something other than page protectors in a mini album! Punch holes directly into the ephemera and stick it in your album.
4. Edit your photos on the trip home!
Editing is not my favorite part of the scrapbooking process, but a necessary evil. I am typically very excited to begin my album when the trip is over, so I use my travel time to edit my photos! In the car or on the plane home, I will batch edit my photos and collage those I plan to print in smaller sizes. It also helps that the experiences are fresh on my mind so I know which photos I want to group on which pages and what sizes in which to print them.
5. Print all your photos at once.
For many, printing is the biggest scrapbooking chore. Once you've edited those photos on the trip home, send them to print once your phone hits that WIFI at home sweet home! That way, when you are ready to work on your album, you'll be one step closer to a completed album by having your finite amount of photos printed. After I print mine, I will trim them (if in collage format) and slide them into the page protector roughly in the order they will be within the album. Then they are ready and waiting for me to create!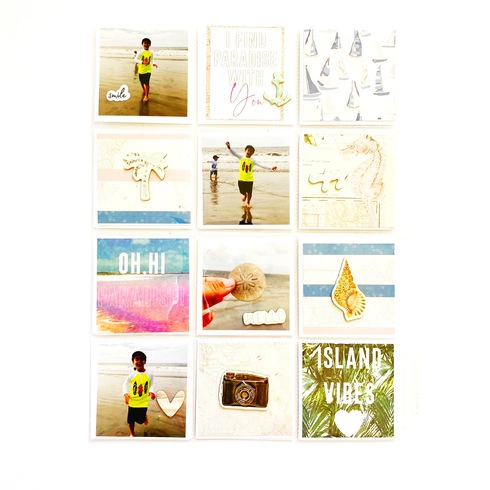 6. Stick with a theme.
Limiting choices is a way to make scrapbooking go quickly. I suggest ordering a specific collection kit in the theme of your album, or creating your own kit from your scrapbooking stash to be a go-to for your mini album creation.
The accomplishment of that finished album is something to be relished. You can find an example of one of my finished travel albums on my YouTube channel here. This most recent album was just now finished, and you can find its flip through on my channel on Friday!

I hope you've been inspired to try something new or to jump back into creating an abandoned album you may have begun a while ago. Enjoy the scrapbooking process, but definitely flip through and enjoy the final product and relive your vacation memories too.
xo, Natalie
ACOT Design Team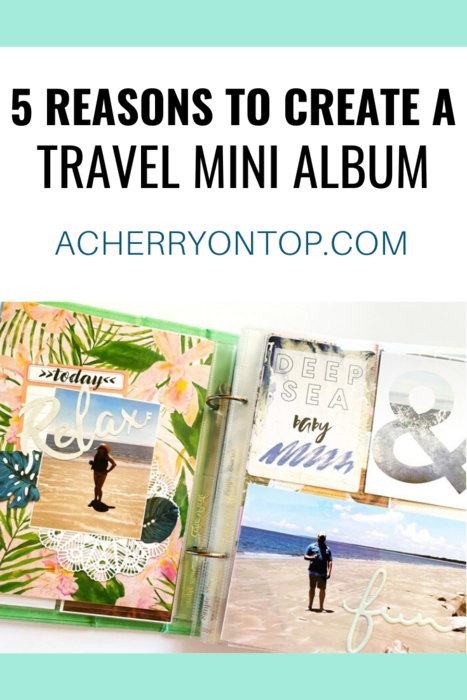 ---