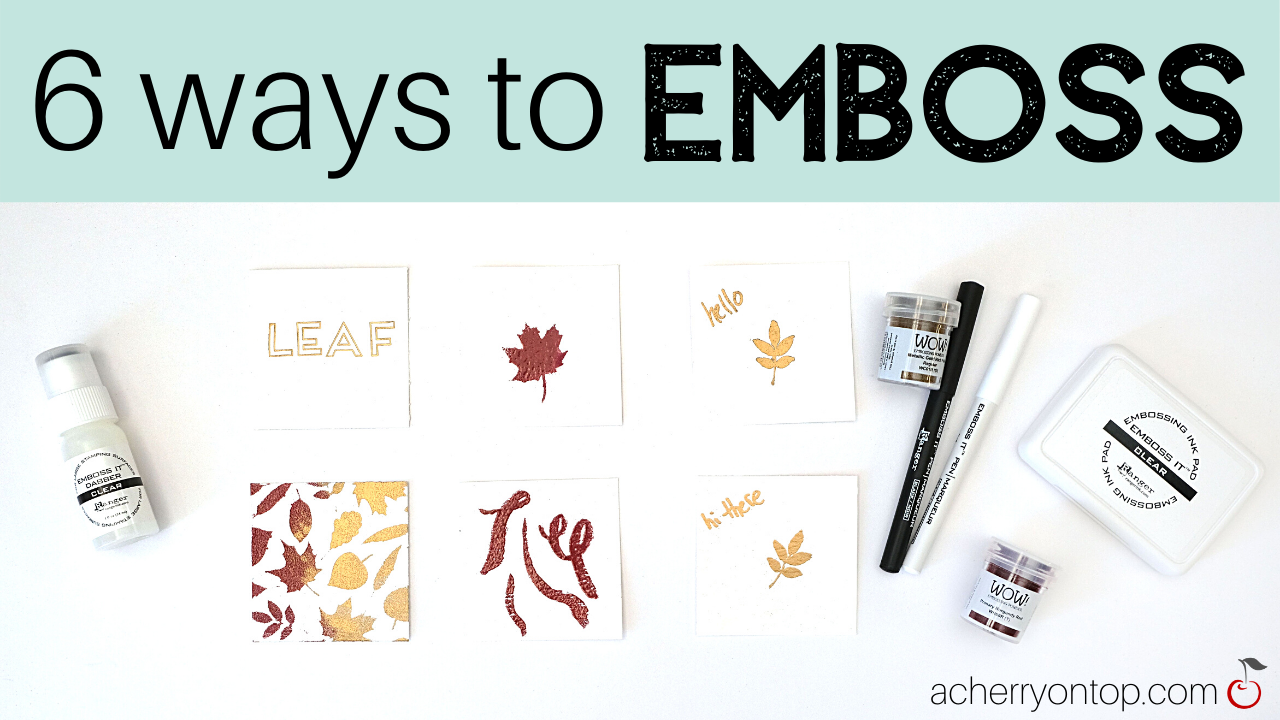 Ready to emboss like a boss? Try out these 6 embossing techniques on your next project!
Embossing is a technique that adds dimension to a piece of paper. In this post we will be showing how to use embossing powder. To use embossing powder you use embossing ink and sprinkle the powder over it. Then use a heat tool or hair dryer to melt the powder onto the paper. Embossing ink comes in different forms:  ink pad, dabber, pens, or ink in a bottle. The embossing powder we are using is WOW!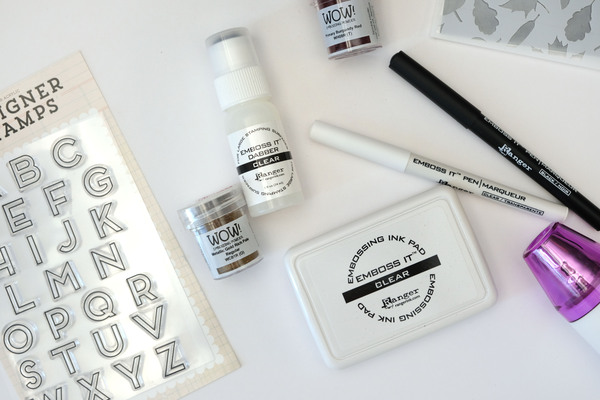 1. Embossing Ink Pad with Stamps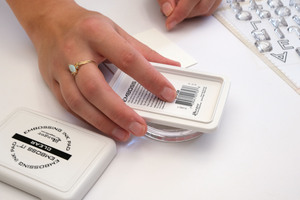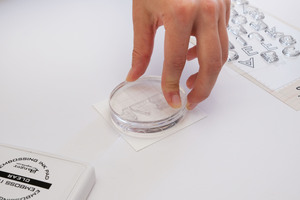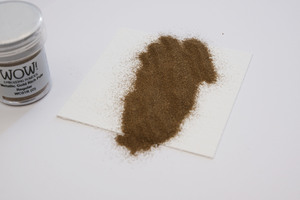 For this technique add embossing ink to the stamp like you would with any other type of ink. I like to put my stamp on an acrylic block and dab it on the ink pad while making sure it is fully covered. Then stamp it onto your paper. While the ink is still wet on your paper add a generous amount of embossing powder over it by just pouring it out of the jar. I like to have a piece of paper under my page I am working on to use for dumping the excess powder back into its jar so none is wasted. Embossing ink is made to stay wet on paper so you have a little time to work with, but still try to sprinkle the embossing powder on as soon as you can to ensure that it will stick.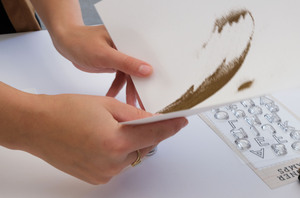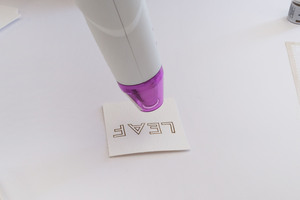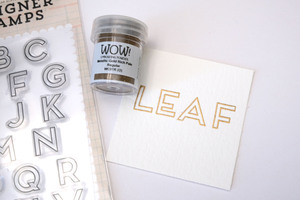 Tap off the excess powder. If there is any lingering powder where you do not want it use a paint brush to brush it off. To finish use a heat tool to make the magic happen! You can also use a hair dryer if you do not have a heat tool. When heating the embossing powder it changes its consistency. The powder will become shiny or metallic and that's how you know you've heated it up enough.
2. Embossing Dabber with Stencil
I started by taping off the areas of the stencil I did not want covered with masking tape. Next hold down the dabber to get the ink flowing and dab it onto your paper. I kept my stencil on when I poured the powder over it to make sure it wouldn't go anywhere I didn't want it to. Remove the stencil before you use the heat gun on it.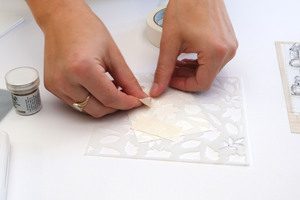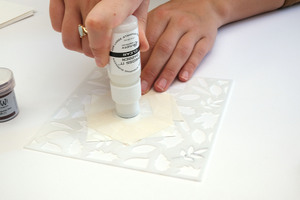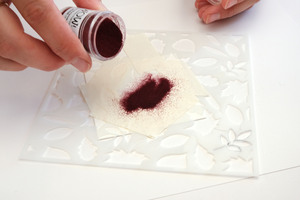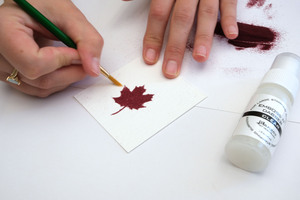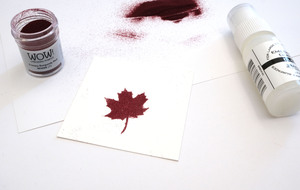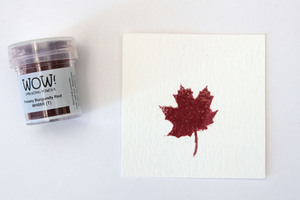 3. Embossing Ink Pad with Stencil
This technique is great if you want the whole stencil area covered. Use the ink pad to dab over your stencil. I decided to make a gradient effect by adding the red powder to half of the page and the gold to the other. I did this step one at a time so my colors didn't get mixed when I poured them back into the jars.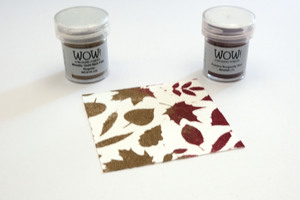 You can use embossing pens freehand or with a stencil! With some lighter color powders the black pen shows through more, which may be a reason why you want to use the clear pen. All you do is draw out what you want, add the powder, then use the heat tool on it.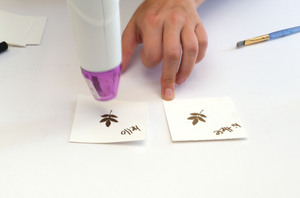 The clear embossing pen works the same as the black. It's a little harder to do freehand since you can't really see what you're doing.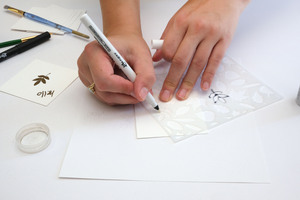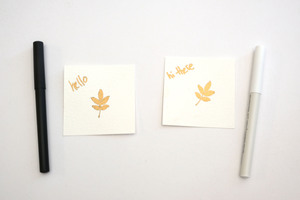 6. Embossing Ink with Paint Brush
Using a paint brush is another great way to do calligraphy with embossing. For this all you need to do is dip your paintbrush into your ink and start painting! I used the ink that was in the embossing dabber. I painted away, added my powder, then heated.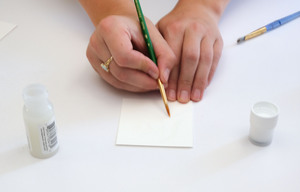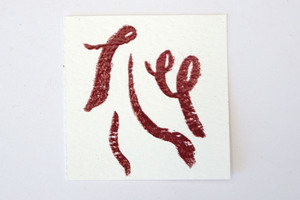 ---
Check out this quick video to see all 6 techniques in action!
---
We hope this was helpful and you have fun embossing!