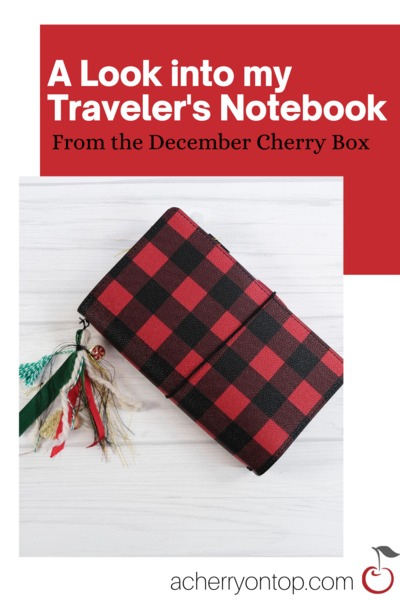 Hello, Jessica here. I have been having so much fun working on and filling up this Echo Park traveler's notebook that every December Cherry Box will receive. The Cherry Box also comes with additional inserts, Stickles glitter glue, some of Crate Paper's "Hey Santa" collection and so much more that I added into this notebook. These notebooks are great for scrapbooking, journaling, doodling, note-taking, and much more. I use mine as some of each and in this post, I will show you some of my pages!
I started by making these tassels. I knew right away I wanted to make tassels to embellish the sides of the notebooks.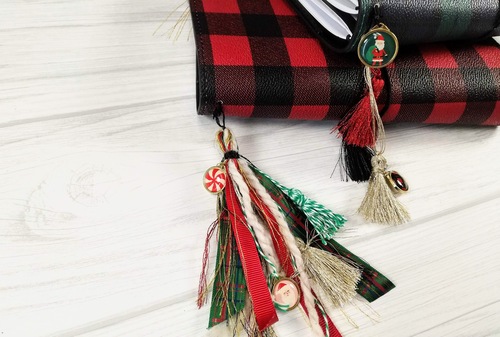 I like to stock up my front page with ephemera, tags, and photos that I am going to use throughout my notebook. This is also where I store my ACOT pen so I do not lose it.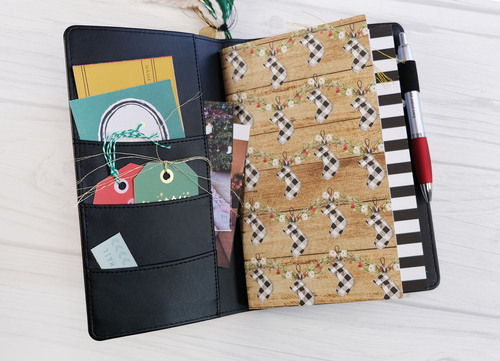 After the tassels, this was the first page I made. I love that you can cover a whole page in your notebook using one page from a 6"x 8" paper pad. I'm using the Hey Santa 6"x 8" paper pad, that is in this Cherry Box. When gluing on a whole page, make sure you add glue right to the edge so it will close nicely and not ruin your paper. I like having some lined paper to use for journaling, and it gives me an opportunity to practice my handwriting.
 I glued some of my twine that was in this Cherry Box to add some detention around my photo and think it complements the Santa's striped shirt in the photo.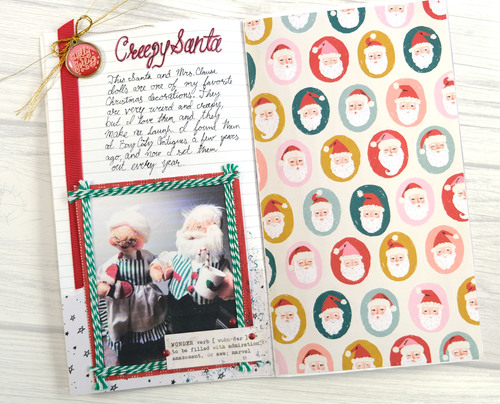 Next, I  made a shaker page, and it turned out to be one of my favorite pages! For this page, you'll need some clear crafting plastic, foam adhesive, glue, and glitter, sequins, or confetti. I used the confetti from the Hey Santa collection. You can watch the video below to see how this page came together. My tip for shakers is to add more confetti or sprinkles than what you think you'll need. Most of the shakers get stuck around the edges and corners so the center is often left blank.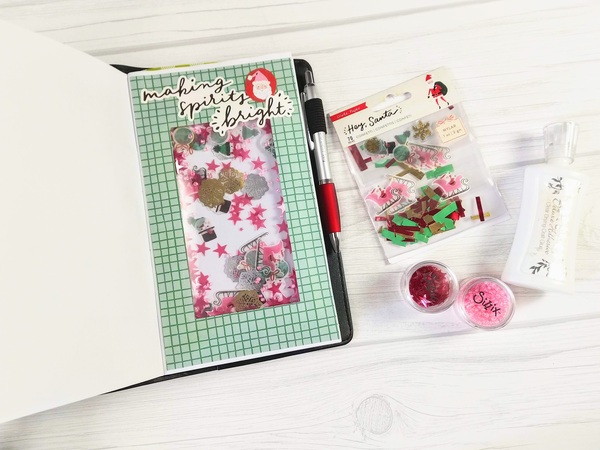 This is another version of a shaker page but this time I made two smaller windows. I made filled these shakers with glitter powder, which I don't recommend using for these. Most of the powder is stuck on the foam and I think most of it slipped out.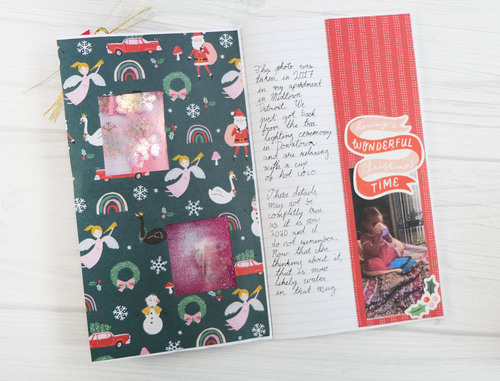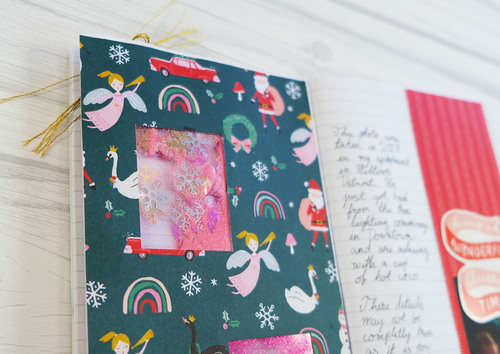 For this page, I started by adding some metallic watercolor to the background to make a snowbank for my gingerbread house to sit on. These are some old stamps from my stash that I thought would work perfectly with this photo. I first stamped them in black ink and then colored them in with watercolor. I really like how the bold white lettering pops against the green background.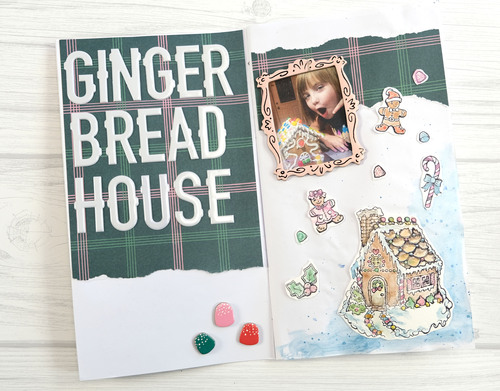 I like to have some pocket pages in my notebooks. Here I hold ephemera pieces, photos, or other random items I have that I want to work into other pages.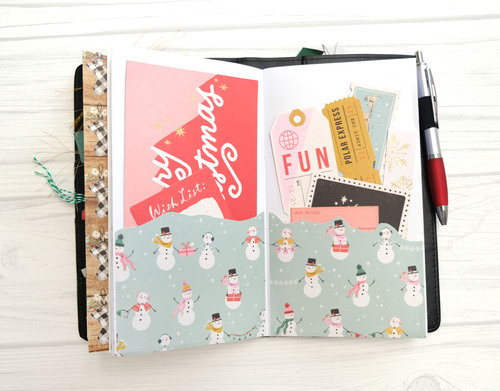 When I saw this pink starburst paper from the Hey Santa paper pad, I knew I wanted to layer it with my stencil and Stickles glitter glue from the Cherry Box. I also used some Heidi Swapp Color Shine Spritz and some chipboard stickers from Hey Santa.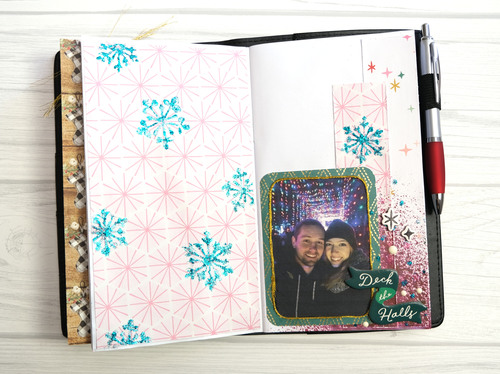 I wanted to make a mixed media filled page so people can see that you can add mixed media to these notebooks! For this page, I actually did all of my mixed media work on a piece of watercolor paper and then I cut it down and glued it into my book. This is also is less intimidating to experiment with mixed media because if it didn't work out, it's ok because you didn't make it in your journal. I used the new Tim Holtz color of Rustic Wilderness in all 8 new products. You can also make your own inserts using mixed media paper! I have a blog post on how you can do that HERE.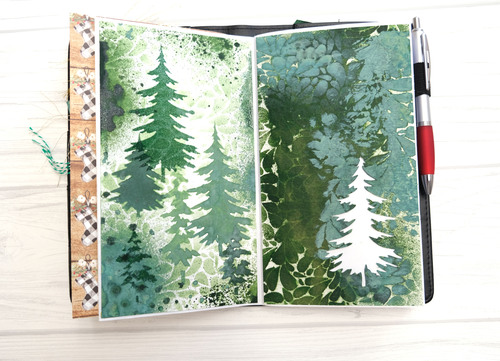 I hope you got some ideas on what to add to your traveler's notebook! Share your pages with us using the hashtag #thecherrybox! Some more ideas for these notebooks are using them as bullet journals, planners, to take notes, December daily, scrapbook, mixed media sample pages, and even more!
Thanks for checking out my pages! Happy Holidays!
---
 Have you subscribed yet? You have until the end of the month to sign up - and you can get 20% off your first box with code CHERRY20!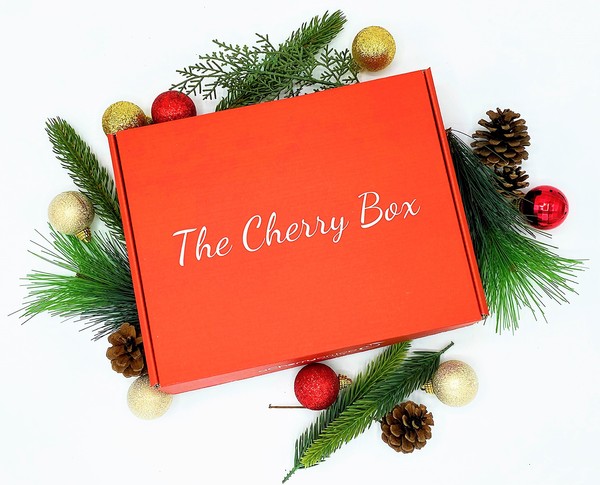 Here's everything the box includes:
- Echo Park Travelers Notebook (you'll get red or green)
- Echo Park Travelers Notebook Inserts (includes two in the package)
- Echo Park Warm & Cozy Enamel Dots
- Echo Park winter stencil (may vary from box to box)
- One spool of twine
- Stickles Glue (either red and green, or red and teal)