I'm thinking about some repeating topics I might want to include in my 2023 12x12 album, and because I'm committed to consistency in running in the new year, I decided to start there. I love the Simple Stories Life Captured sticker book because it includes a full year's worth of month names. I used "January" as part of my title (the kraft and white small alpha is from the sticker book, too), and I will return to this sticker book for the other titles as I document each month of running with a selfie, and shot of my feet, and a photo of what I'm seeing while running at that time of year. It's cold and wintry here in Michigan now, but there is currently no snow. In my journaling, I write about the what I'm feeling, seeing, and hearing (chickadees and other birds).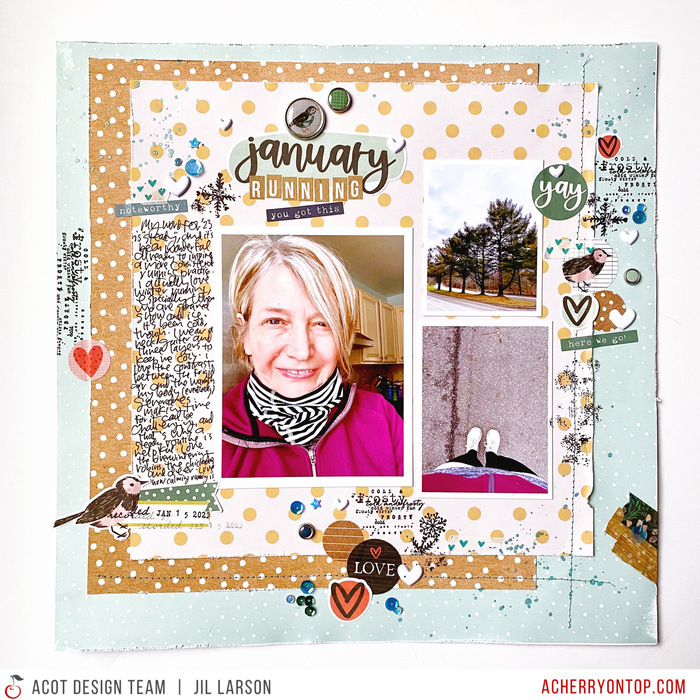 One reason I make 12x12 pages is because I love patterned paper. For this spread, I wanted to create a January feel, so I chose kraft and pale aqua papers. Because we're in winter, I did evoke snow with polka dots on the papers and snowflake-stamped motifs, but I'll probably be running in the snow again before the month is out! The papers are from Simple Stories Life Captured (the B side of March), Jen Hadfield's Stardust, and A Birthday Wish (girl) from Echo Park. I cut them into large blocks and stitched them with blue thread along one corner.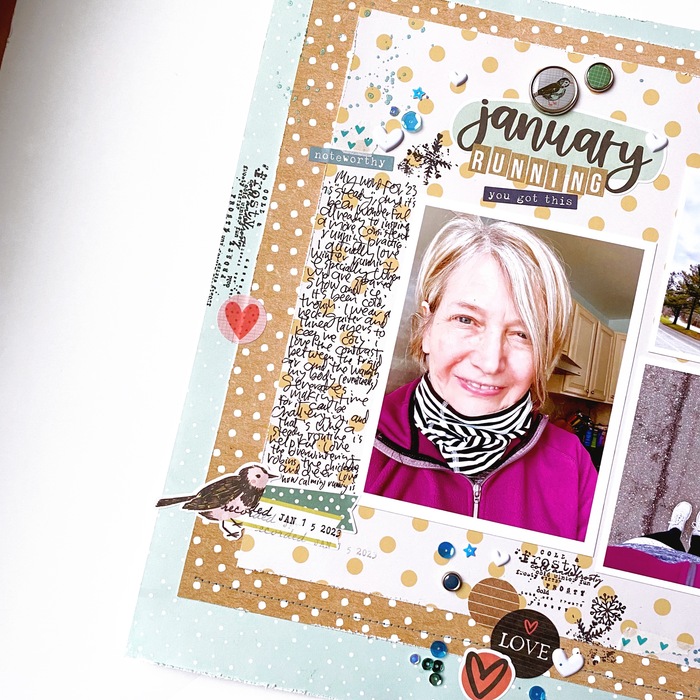 The Simple Stories Simple Vintage Winter Woods stamp set is very me, and I'm sure I'll be using it a lot. It's wonderfully grungy. Here I stamped with it in black Ranger archival ink along three edges of my spread before building embellishment clusters around each stamped area.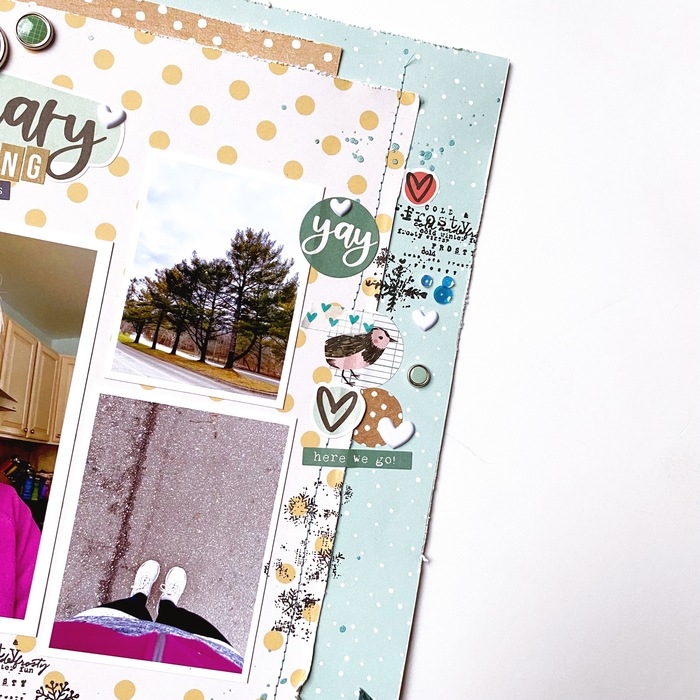 My clusters came together quickly because I drew most of the embellishments from the SS Life Captured sticker book and decorative brads set. I love the birds in both and used three on this layout to capture my enjoyment of bird songs on my run. I sprinkled white puffy hearts from Doodlebug and Catherine Pooler's sequins (Oslo) into these collaged areas of my page and sprinkled a bit of teal Heidi Swapp color shine spray ink in each area, too. The woodgrain-with-snowflakes and dark floral washi tapes along the right edge made me happy because I think everything is better with a little washi! Thanks for joining me in my story of creating the first of my pages about running in 2023!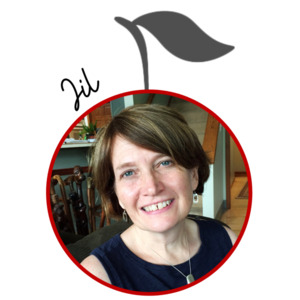 Jil Larson
Hello everyone, I'm Jil Larson, a new member of the design team. I'm excited to share my projects with you! I've been scrapbooking and art journaling for many years now. I first started memory keeping when my nieces (now in their 20s) were little girls and I was looking for a way to tell stories about them and the art they created. From there, my love for this wonderful hobby grew and developed. As a life-long diary and notebook lover, I've also recently been enjoying creative play in sketchbooks and journals.
See more from Jil on her Gallery, Instagram, and YouTube.