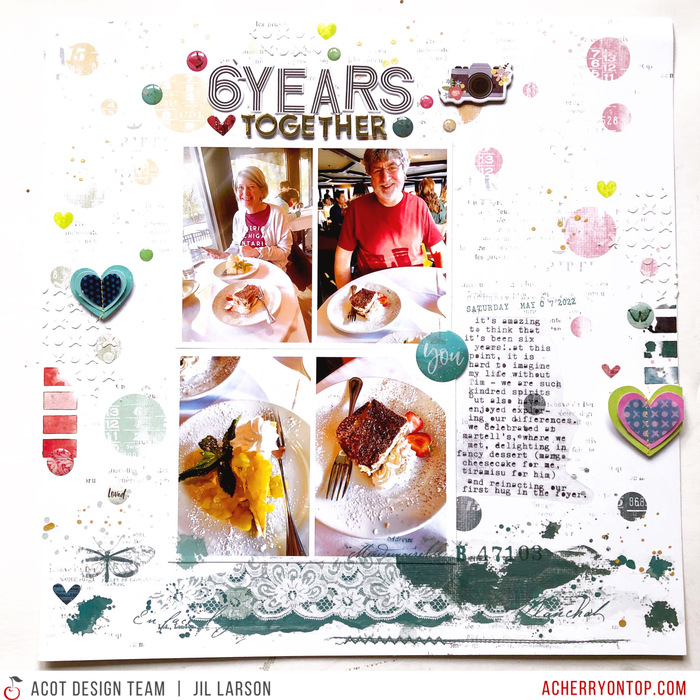 Tim and I recently celebrated the sixth-year anniversary of our first date, which was such fun! I documented this milestone and our celebration using the new 49 and Market Spectrum Sherbet collection with some goodies from Vicki Boutin's Sweet Rush mixed in. After printing two photo collages (of us and our desserts!), I opted for a central column layout, knowing that I wanted to embellish along each of the sides, placing my title at the top and my journaling to the right of the photos.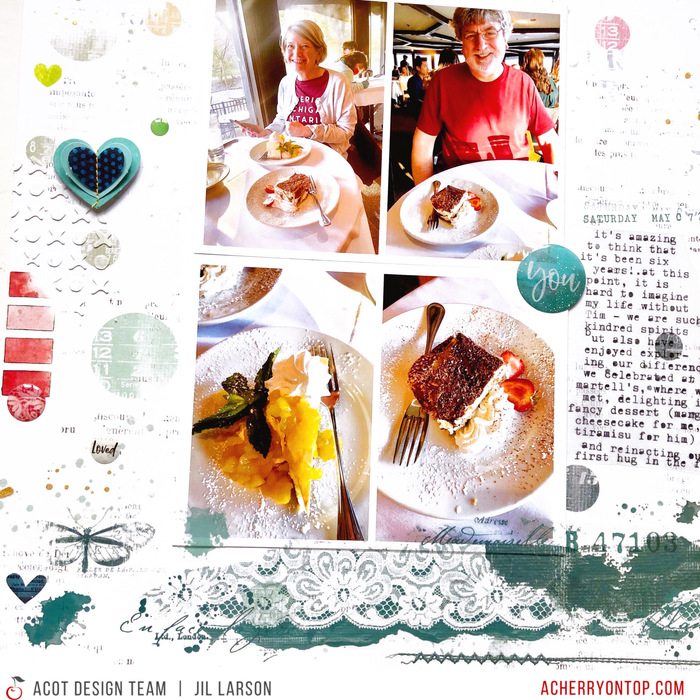 My background paper is Spectrum Sherbet Speckled Paper. I love this design so much that I bought two sheets! I like it for this page because the bubbles evoke champagne and a celebratory mood. After placing my photos on the background, I applied a strip of the 12x12 Tidal Wave Rub-on Transfer Sheet. I let the rub-on cover the bottom portion of my photos—both pretty and grounding.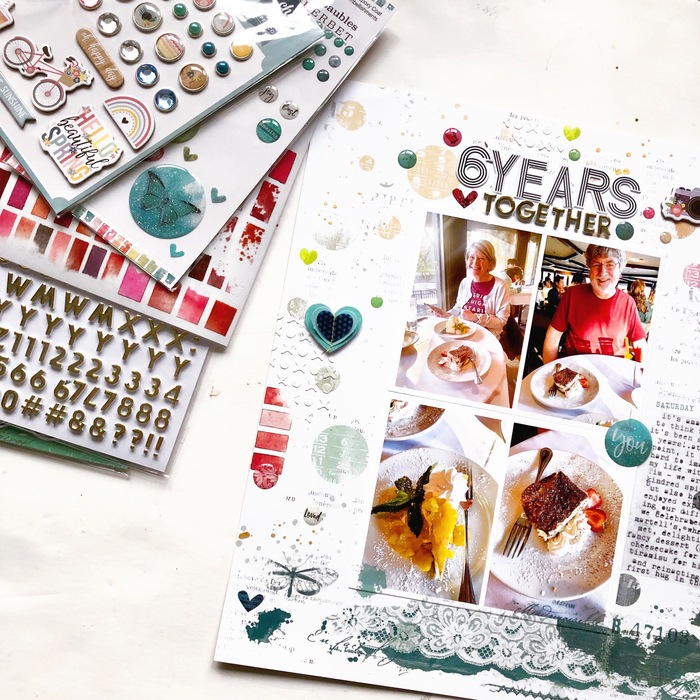 The title is a combination of Heidi Swapp's Sun Chaser Alpha and Paige Evans' Splendid Alpha (the gold portion of the set). I embellished around the title with some of the Wishing Bubbles and Baubles from the Spectrum Sherbet line and a flowery camera chipboard piece from Echo Park's New Day collection. I typed my journaling on clear sticker paper and applied it and a large bauble ("you") from the 49 and Market embellishments.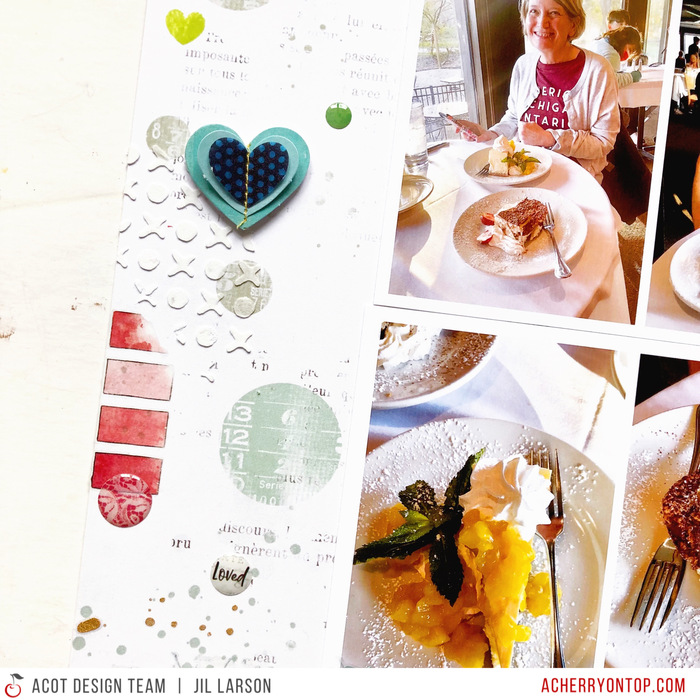 I pulled out one of the new Vicki Boutin stencils (xoxo) from Sweet Rush and added white texture paste to the sides of the layout and to the area above the title, pulling the paste through the stencil. I love the texture and subtle white-on-white detail this adds! In the clusters along the sides, I applied the Palettes rub-ons from Spectrum Sherbet, pinks on one side, dark teal on the other, including a few more baubles along with layered hearts from Sweet Rush. Because one of these hearts introduces lime green, I stamped some small hearts in Twisted Citron Distress Oxide ink on both sides of the page. My finishing touches: some splattered gold mist and stamping with the Splendid roller date stamp.
These new product lines coordinate so well, and I loved documenting this happy celebration of us! 
---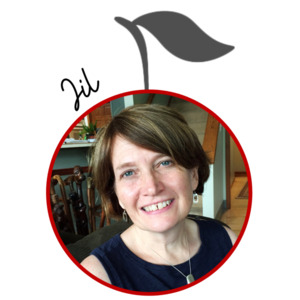 Jil Larson
Hello everyone, I'm Jil Larson, a new member of the design team. I'm excited to share my projects with you! I've been scrapbooking and art journaling for many years now. I first started memory keeping when my nieces (now in their 20s) were little girls and I was looking for a way to tell stories about them and the art they created. From there, my love for this wonderful hobby grew and developed. As a life-long diary and notebook lover, I've also recently been enjoying creative play in sketchbooks and journals.