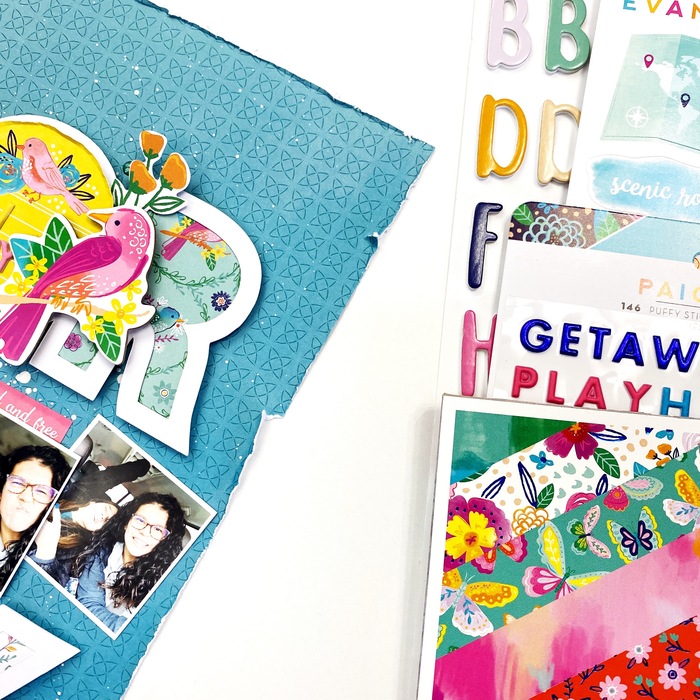 Do you have a hard time picking a background paper for your layout? Do you struggle with using pattern paper as your base? I know I do and I tend to stick with a white background for my layouts. Recently I have been trying to step out of my comfort zone and pick a pattern paper or colored cardstock background. This has not been easy and I struggle with it but I am happy that I am giving it a try! I recently pulled out the Paige Evans Go The Scenic Route collection that I picked up in the A Cherry On Top Crafts store. This collection is full of beautiful color and patterns!

I wanted to challenge myself to use a bright colored background and one with a little bit of pattern! One thing that helps me is using just one collection. I know that everything is going to coordinate so that part is already done for me. Since titles are another one of my struggles using a big title cut file is always a go to starting point for me.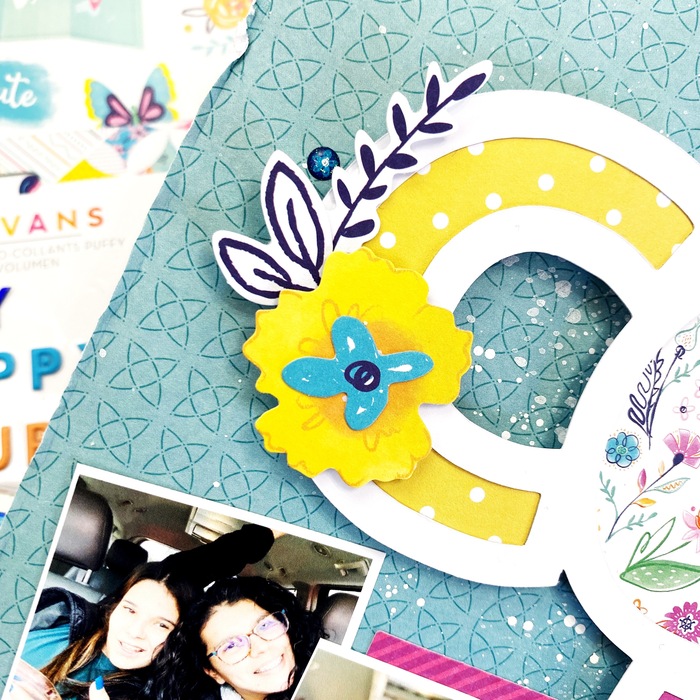 I had this large title cut file already cut from awhile back. Sometimes when I am feeling lots for inspiration I will just cut a bunch of cut files and save for another day. Well this is one of those cut files. I am not sure where the file is from but I did find one similar here. I cut it out on some white American Crafts Textured Cardstock and backed it with papers from the 6x8 Go The Scenic Route paper pad and the 12x12 paper pad.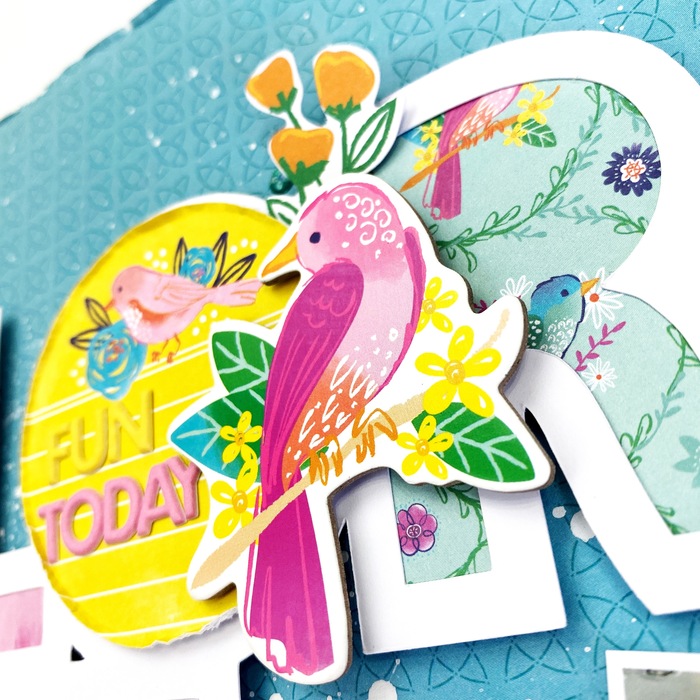 For my background I went through the 12x12 paper pad from the Paige Evans collection and found this pretty blue paper with a light pattern in the background! To jazz it up a little bit I used some white acrylic paint to add some splatter to the background with a paint brush. I add a little bit of the white paint to an acrylic block and add some water. I take my paint brush and mix together and just flick the paint onto the paper. It just adds a little bit of interest and texture to the background.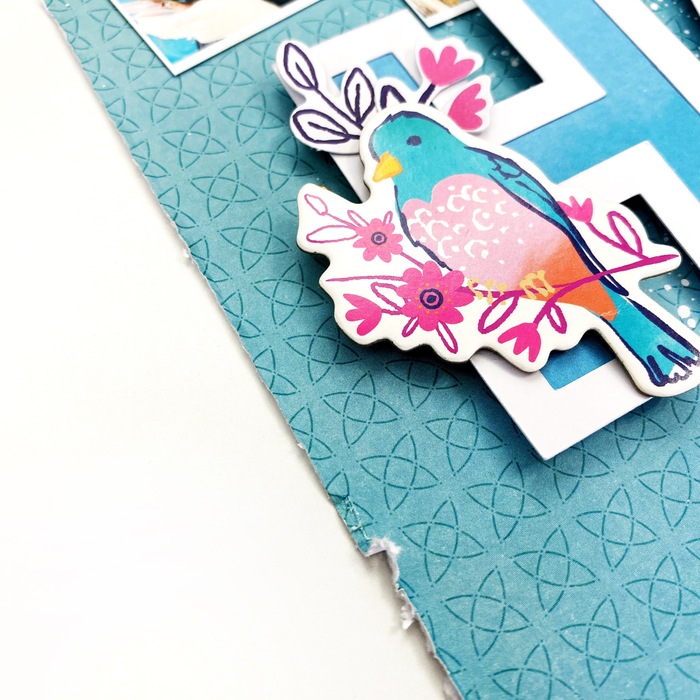 The Go The Scenic Route 12x12 chipboard sheet has some great elements on it and I really wanted to use a couple of the birds on my layout. My photos have nothing to do with birds but I just love the way they sit on the cut file title. They add some great color to the page as well and another texture to the page. The chipboard is a bit thick so I do tear a few layers of the cardboard off the pieces and it makes the page not as heavy when you are adding more than one chipboard piece. I added 4 photos sized at around 2.50x2.50 across the center of the page. For another bit of texture I took my Tim Holtz scissors and distressed around the edges of the layout. To finish off my page I used my We R Memory Keepers typewriter to add some strips of journaling.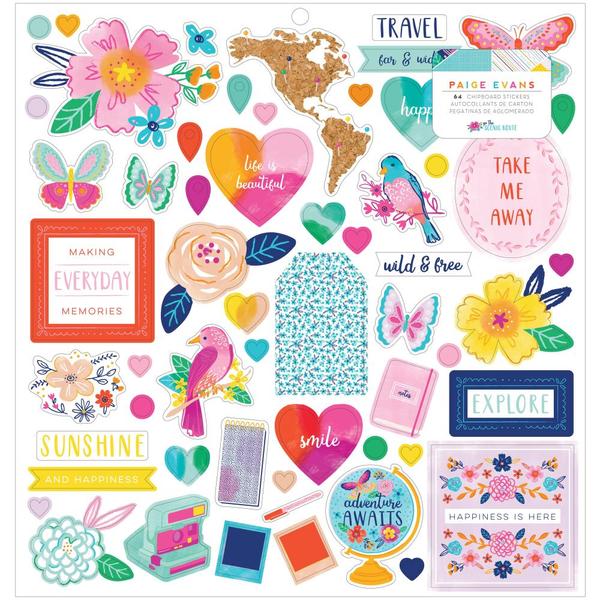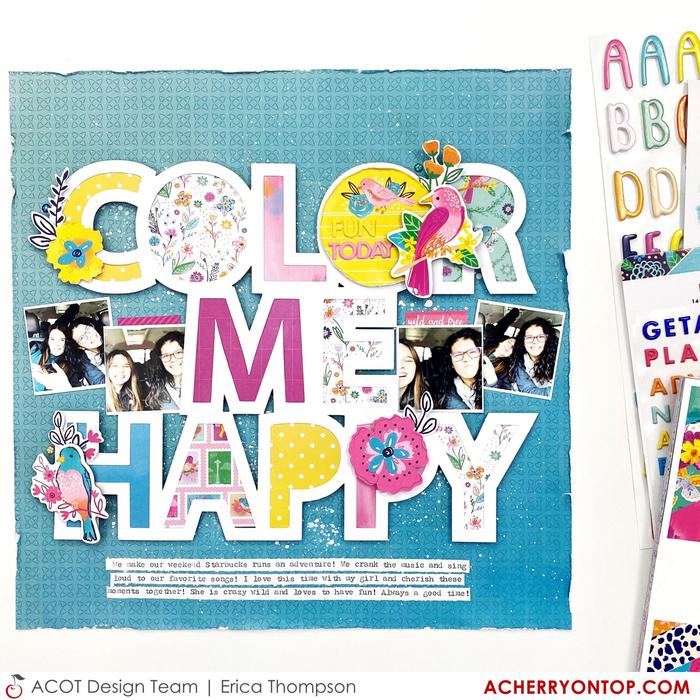 I really love how the layout turned out with the blue pattern paper as the background. Let me know in the comments if you are team pattern paper background or white cardstock background! Thanks so much for stopping by today! Make sure to stop by the A Cherry on Top Crafts store and check out all the products in the Go The Scenic Route collection. 
Erica
ACOT Design Team