We are going to start hosting Facebook Live classes every Friday at 4 pm EST! We recently remodeled our in-store classroom but due to more shutdowns from Covid, we haven't been able to use it very much. So we wanted to start an online classroom! We will give you a list of all the materials we will be using in these classes, but feel free to make it your own. Learn something new, ask questions that will get answered in real-time, make a cool project! We are ready to have some fun and I would love it if you created along with us! Here is the schedule for December.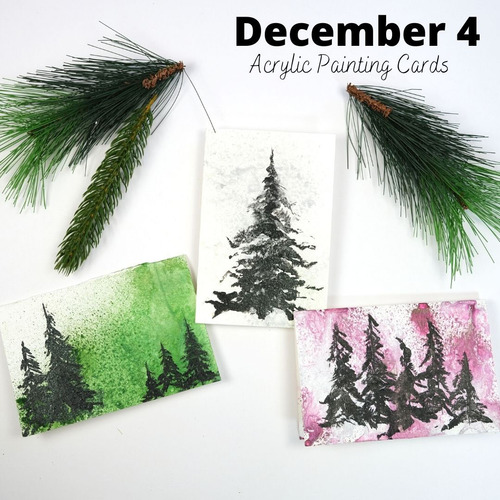 Learn how to make beautiful holiday cards like these! Using thick paper we will layer up sprays on the background and then we will make beautiful unique trees in the foreground.
Items needed: black acrylic paint, fan brush, watercolor or mixed media paper, and some sprays in festive colors. 
---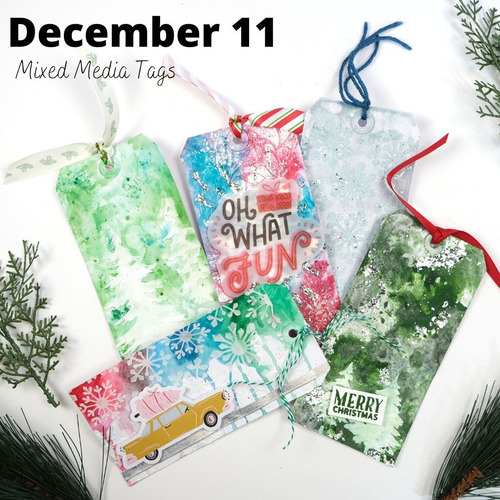 A beautiful handmade tag makes a gift even more special.  In this class, we will be playing with a handful of mixed media products to create layered unique tags. 
Items needed: mixed media tags or paper cut into tags, a couple of different stencils, texture paste, a few different colors of distress crayons, distress oxide reinker, distress reinker, spray, palette knife, paintbrush.
Optional added items: ribbon, twine, ephemera, washi tape
---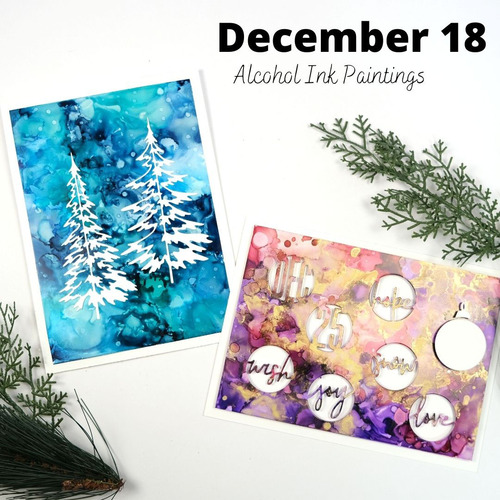 Alcohol ink is a great and easy way to make unique beautiful paintings. And when you layer it with dies it allows you to add a focal point and some realistic objects to your abstract paintings. In this class, you will learn some alcohol ink techniques, tips, and tricks.
Items needed: alcohol ink in a few different colors that go nicely together, rubbing alcohol (found in the pharmacy section), yupo paper, small paintbrush, alcohol ink blending solution, dies (I am using Christmas dies), white cardstock.
Optional added items: alcohol pearls, alcohol metallic mixative, nonporous surface (mixed media mat).
---
I hope to see you there