Hi friends! Natalie here today bringing you a layout created with the June 2022 Cherry Box.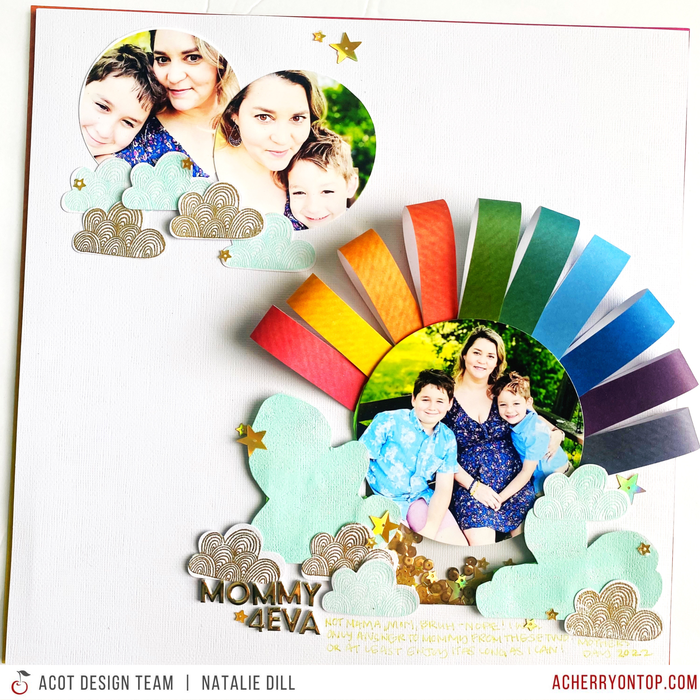 I started with an ombre yellow and pink sheet of paper from the Colorblok Ombre Engergized cardstock paper pad as a base. I filled the largest, square Sizzix shaker element with gold sequins, backed it with white cardstock, and adhered it to the base paper.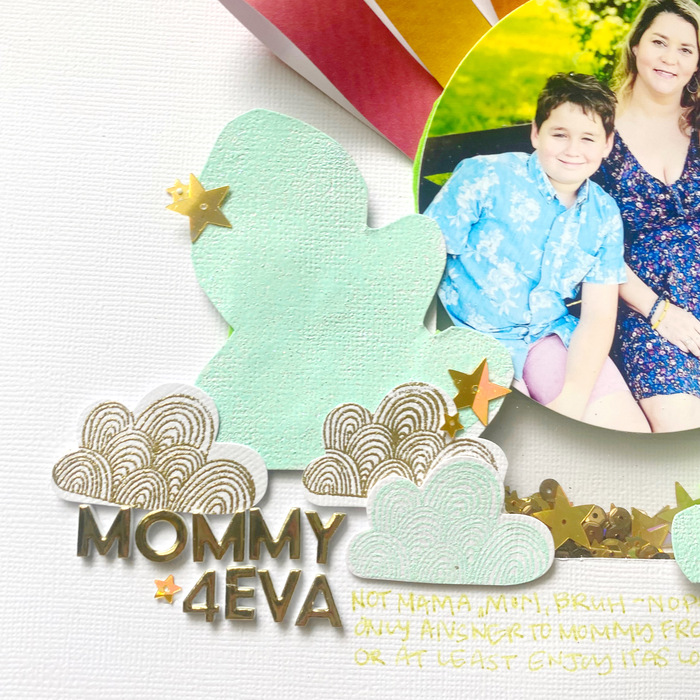 I used sticky foam to ensure the white top layer would be even with the shaker element across the entire layout. I used my craft knife to cut out a slightly smaller square window to view the beautiful shaker full of sequins.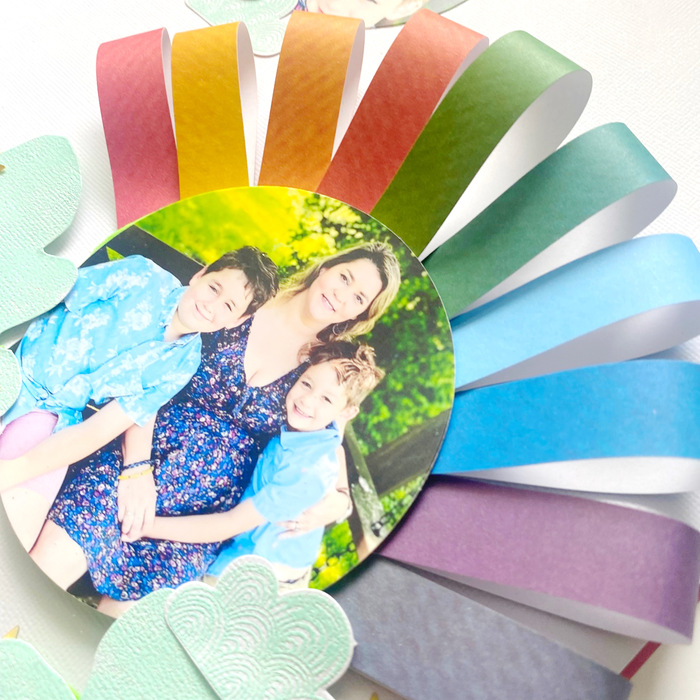 I used the Sizzix embossing ink pad to stamp the adorable swirly cloud and head embossed with the beautiful mint powder found in the Cherry Box. I also used some gold from my stash to tie in with the gold sequins. I hand cut two larger clouds to flank the shaker and I heat embossed the mint color on those as well.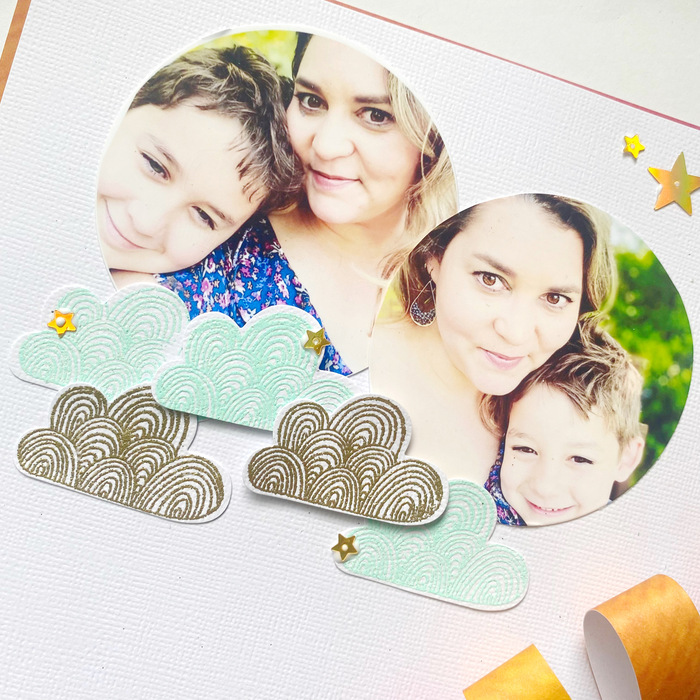 My photos are from Mother's Day, so I used some Splendid Thickers (https://www.acherryontop.com/shop/search/splendid%2Bthickers/sort/relevance/479608) from my stash to create the title "Mommy 4eva" to accompany my journaling. I also sprinkled additional gold stars around the page to tie into the shaker element. I used the Colorblok paper pad to cut rainbow strips of paper and loop them behind my photo to create a rainbow spray.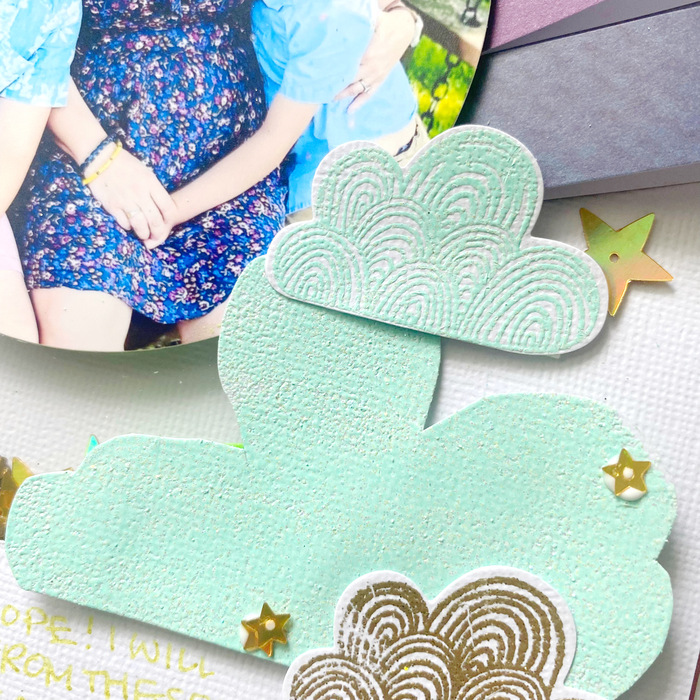 I used my tiny attacher ( https://www.acherryontop.com/shop/search/tiny%2Battacher/sort/relevance/119235) to close the loops, and I left them 3d for an exciting dimensional look to the page!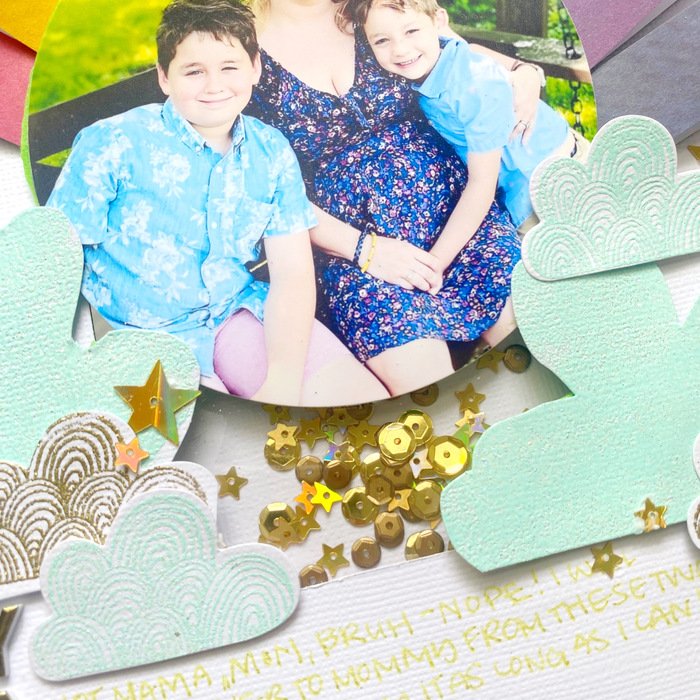 This June Cherry Box partnered with Sizzix is a treat! I had so much fun creating this layout, as well as these two mother's day cards. I hope you'll subscribe & I can't wait to see what you create!
xo Natalie
---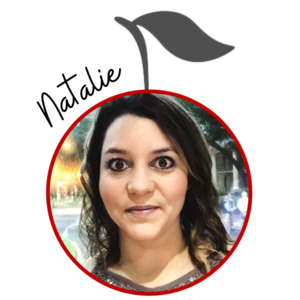 Natalie Dill
Hello! My name is Natalie Dill and I'm from Nashville, Tennessee. I am a wife, a full-time federal employee, and a mom of two boys and two pups. I love to travel, camp, eat, read, host parties, and craft! I have been scrapbooking for almost 25 years. I create in many sizes including 12x12, pockets, Life-Crafted, and memory planning. I also use my crafty powers to dabble in plants, home decor, and embroidery.
See more from Natalie on her Gallery, Blog, Instagram, Pinterest, Facebook, and YouTube.
---
Subscribe before May 25th to receive the June Cherry Box!