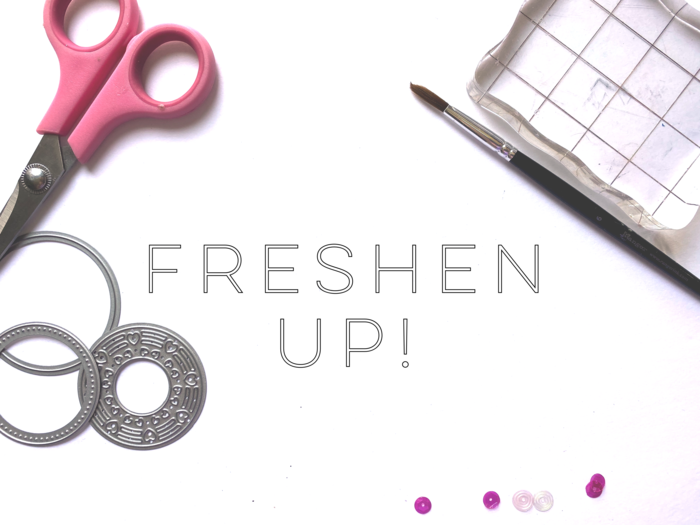 Hey Cherries! Natalie here today, and I'm kicking off a new series here on the A Cherry on Top blog called Freshen Up! This series will focus on tools and products so many of us have, but rarely reach for to use. We will talk about inspiration to utilize those supplies and ways to freshen them up to fit the current style and trends.
First on the Freshen Up agenda - stamps! There are so many ways to use our stamps. We will have multiple posts within this series to focus on stamps. Today's focus will be inspiration on ways to use a small stamp in a BIG way on your layout.
One of the easiest ways to use stamps is to create a background. For today's process layout, I have done a background layer, but added water to turn it into a watercolor look. You can find the process video here: 
---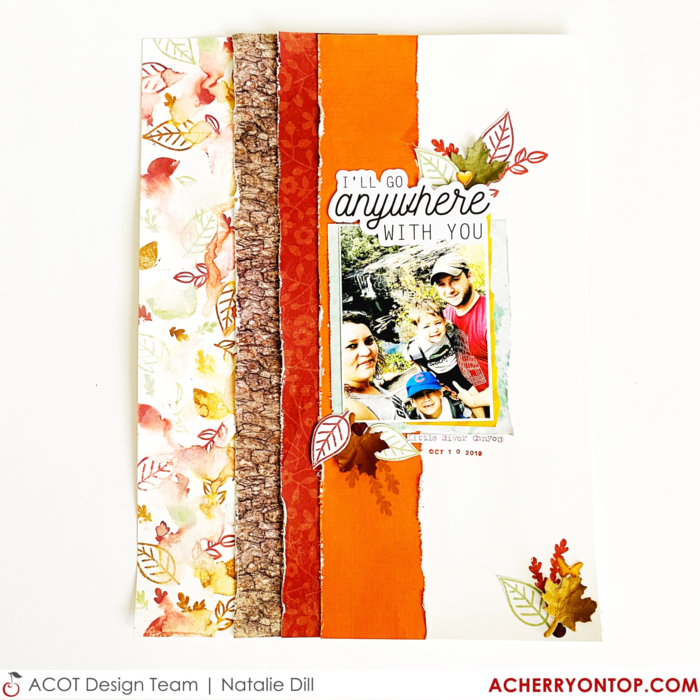 Tips for creating a stamped background:
* Rotate the stamp in different directions so that the placement appears organic.
* Run the stamp off the edge of the paper to mimic a printed page.
* Use a smaller cardstock sheet for layering instead of your background paper if you have a fear of "ruining" your background.
* Pop up the same, die-cut of fussy-cut stamped image atop a 2d stamped image to give the small stamp a big statement.
* Choose different stamp sizes and types, such a stamp with open space inside versus a full color stamp.
* Test your colors palette on a scratch paper first - try different palettes for the best fit!
In this example layout, I used fall colors. I pulled out multiple distress oxides, but found that limiting to three colors was sufficient since I had four stamps to use. I find it is a good balance to work in odd numbers, so the three colors worked well.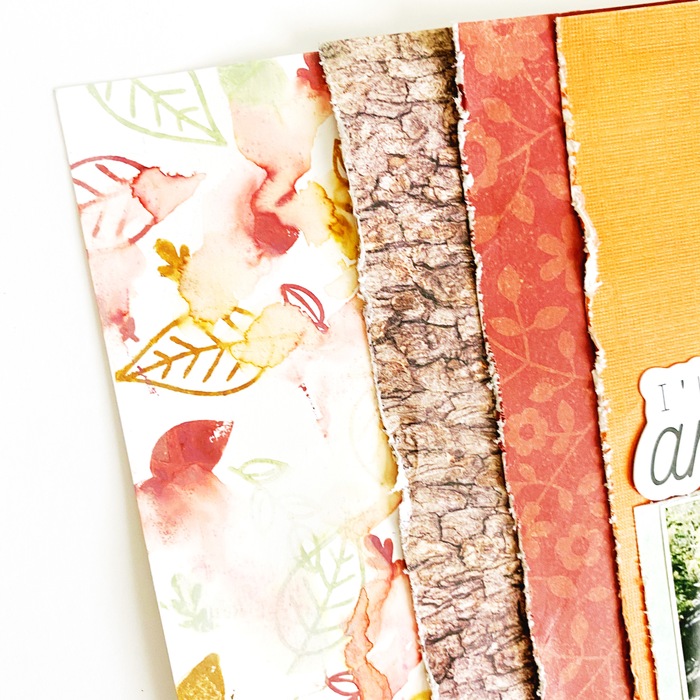 I used gesso first, because I knew I wanted to add the watercolor effect. I utilized the above tips for creating a stamped background. Then I added a tiny amount of water in some spots to smear the stamped image. I ensured to leave some of the stamped images intact, as I did want a pattern to show. This technique allows you to freshen up a page using your stamp supply in a few ways:
*Combining small stamps from multiple sets to create a unique patterned paper, corresponding perfectly to your page theme.
*Creating a trendy watercolor effect which looks way more difficult than it actually is!
*Hiding imperfections in stamping - if you have an imperfectly stamped image or smudge, the watercolor effect will hide this easily.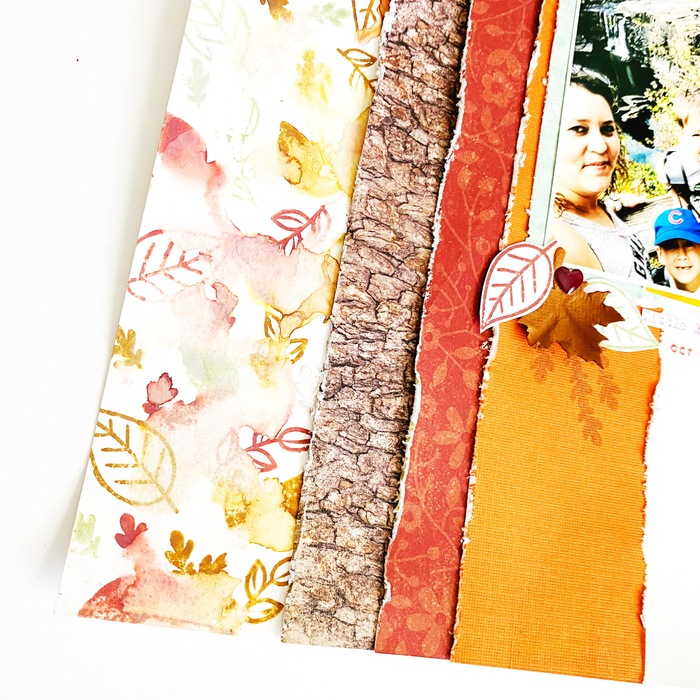 So many stamps are timeless! Trends and scrapbooking designs change yearly, but a good stamp set can be used over time on multiple pages. Other ways to freshen up a page to the current trends, while using some stamps from your collection include:
*Stamp on bright, white paper. The trends currently lend toward the bright and light looks, so adding even a fairly dated stamp to a white background immediately brings it into 2020.
*Use crisp ink. This tip goes hand-in-hand with the first, and the nod toward the bright and light trend. My current favorite inks for a crisp, bright look are the Catherine Pooler ink pads. 
*Use a stamping platform. I hear so many people say a hang up on stamping is that they're not very good at it. A stamping platform will very much improve your stamping! Also, keeping a baby wipe handy to wipe away spare ink before stamping your image is a must.
*Pair your stash stamps with new, fresh products - papers, embellishments, and die cuts.
*Even pair your stash stamps with new stamps! Watch for coordinating new collections that will complement your existing supply hold. 
*When adding to your stamp stash, think of how often you will use a stamp. Florals will never get old, but perhaps a holiday stamp won't be used often. I tend to look for images I can use on multiple themes of pages when purchasing stamps. For example, a Christmas tree will mostly be for Christmas pages, but if the tree is merely a fir tree, it can be used on outdoor pages throughout the year as well!
I will leave you with more examples of using a tiny stamp in a big way on a layout:
Using the same tiny stamp, multiple times, in a myriad of colors!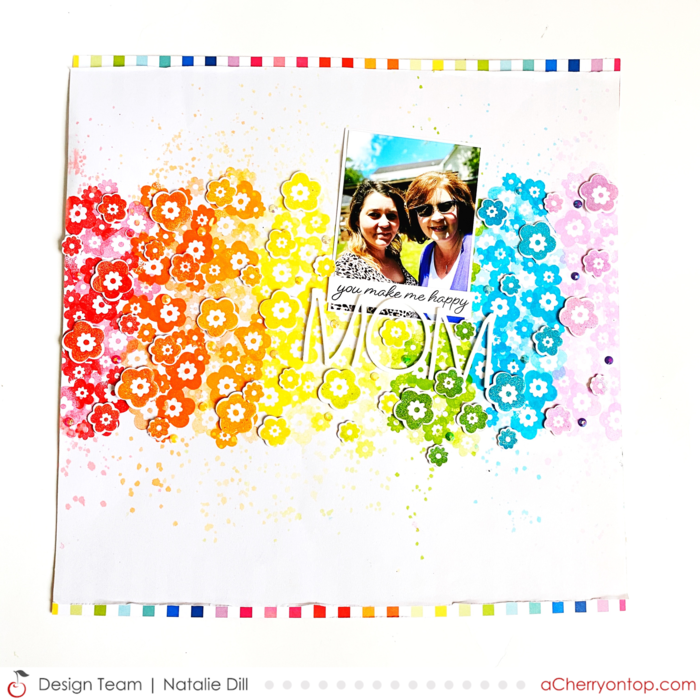 ---
Sporadically mimic a background stencil with a small, similar stamp: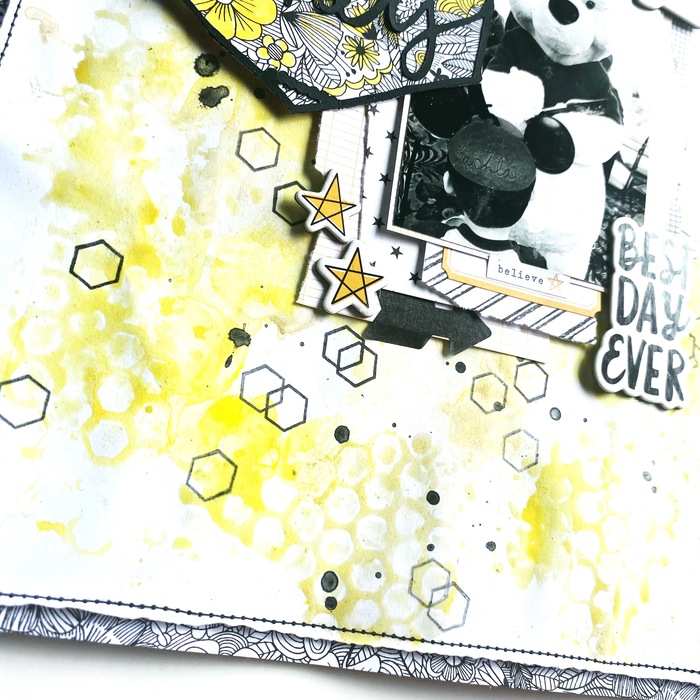 ---
Doing first generation and second generation stamping in a few colors gives a nice depth to a single stamp: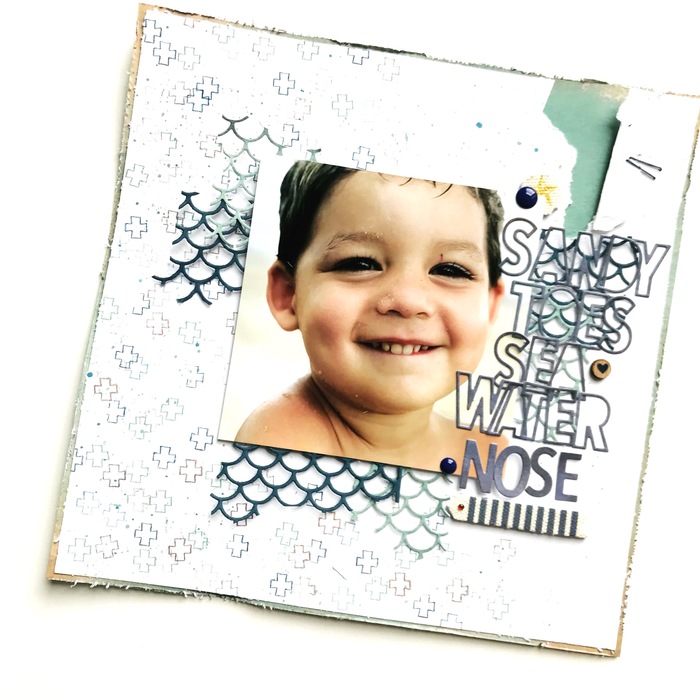 ---
Stamp in a single color, and drop in color with Copics or watercolors: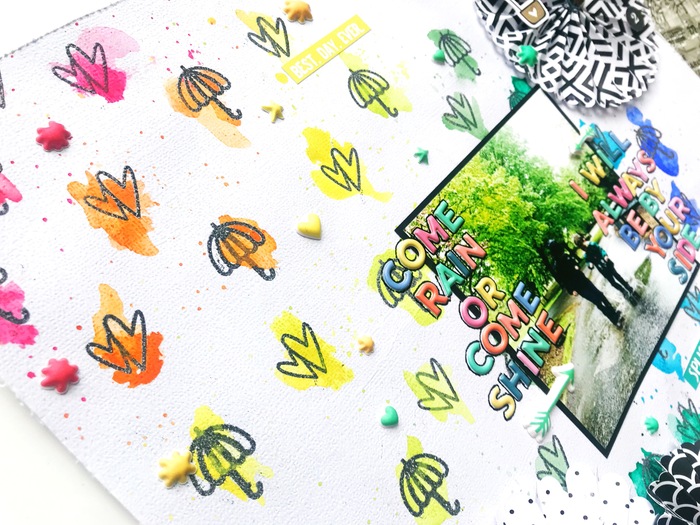 ---
Use the same images in a variety of colors, die cut and as a grid design: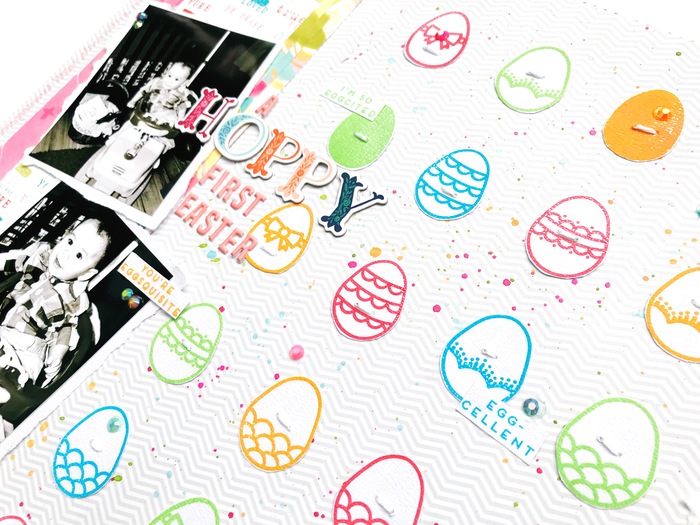 ---
Use the same stamp on the background in a gradient color pattern: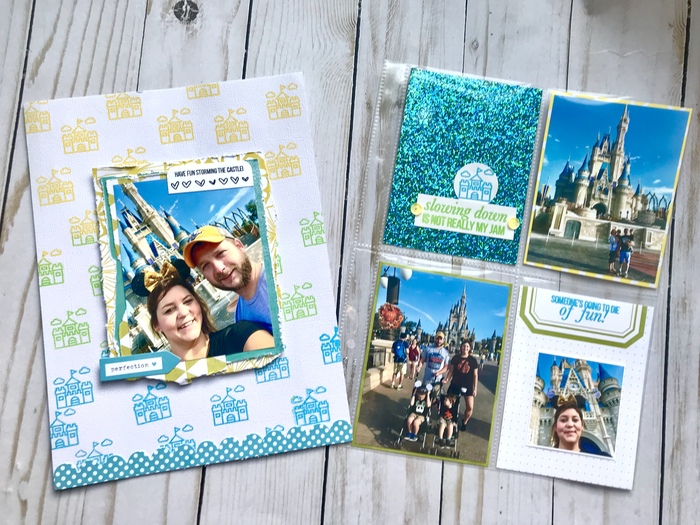 ---
I hope you are inspired to reach for your stamps more in your scrapbooking by these techniques. Using stamps in your layouts is a great way to create a unique page that no one else has made!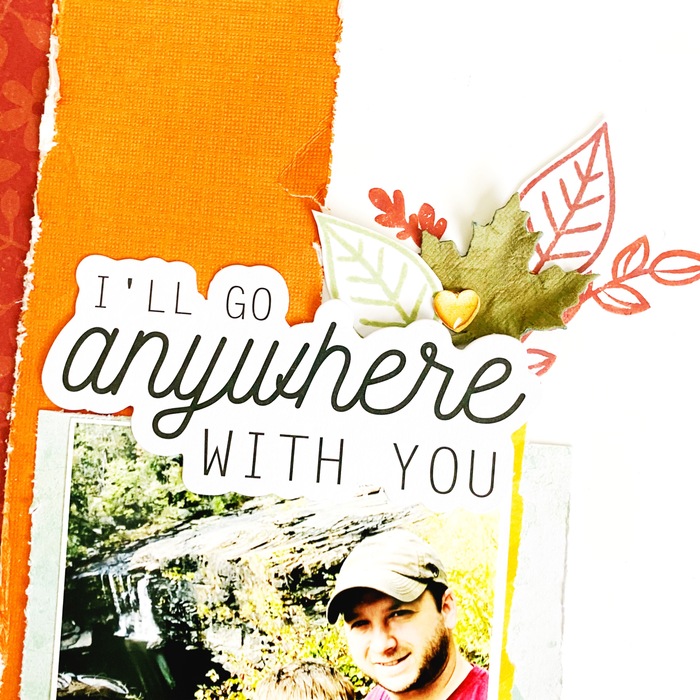 Using a small stamp to create a large impact will leave you feeling accomplished and appreciative of your craft supply collection.
I will start a thread in the message board for this blog series, and I hope you will all share layouts you have created using small stamps in large ways. I can't wait to see all the inspiration you have to share.
xo, Natalie - ACOT Design Team
---