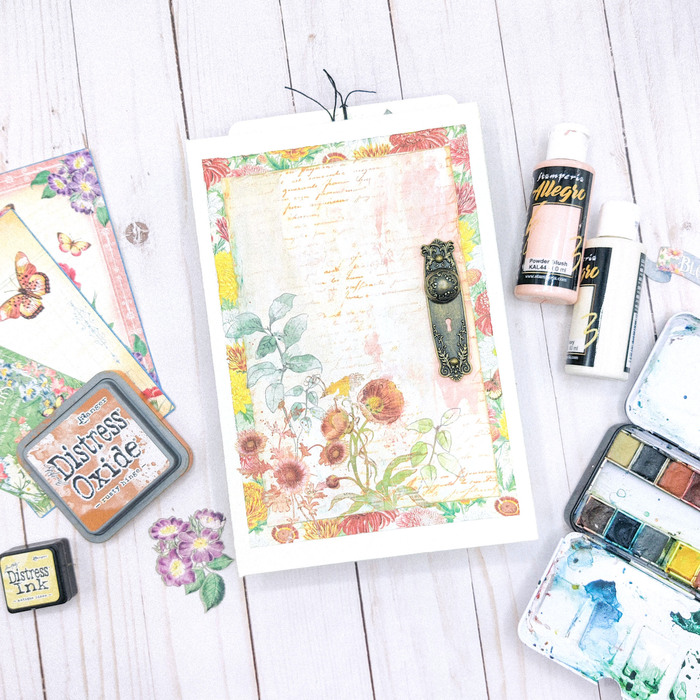 Hi Cherries! Today I'm sharing a mini album I made using the new Ivory Interactive Folio Album from Graphic 45. G45 always has really fun and good-quality albums that are so fun to play with! I am using the Flower Market collection to embellish it. I am a gardener and lover of flowers, so this collection spoke to me! The patterned papers are very busy, so I used them sparingly throughout the album and also incorporated some mixed media and rub-ons from 49 and Market!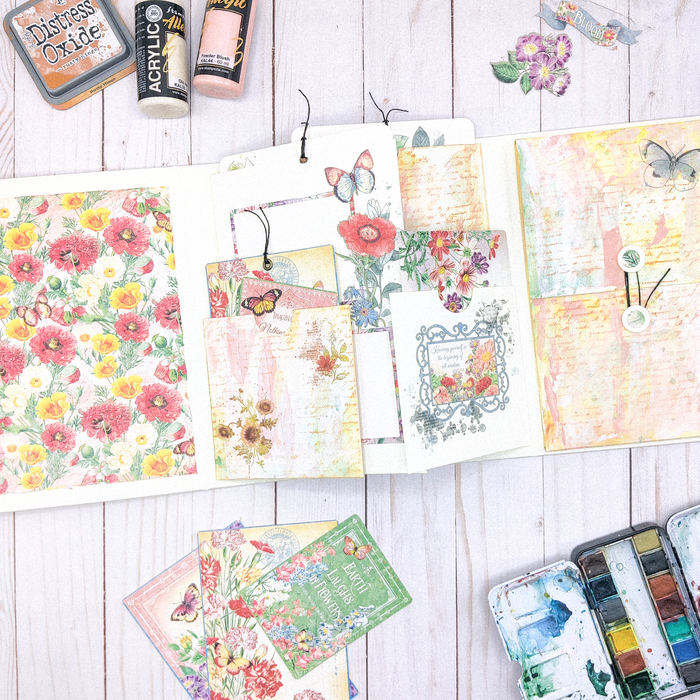 In the video below I show how I created and embellished this album. I also flip through the finished album at the end.
This album needs some assembly before you start decorating, so how my album came together is just one way of many! I staggered my large and small pocket pages.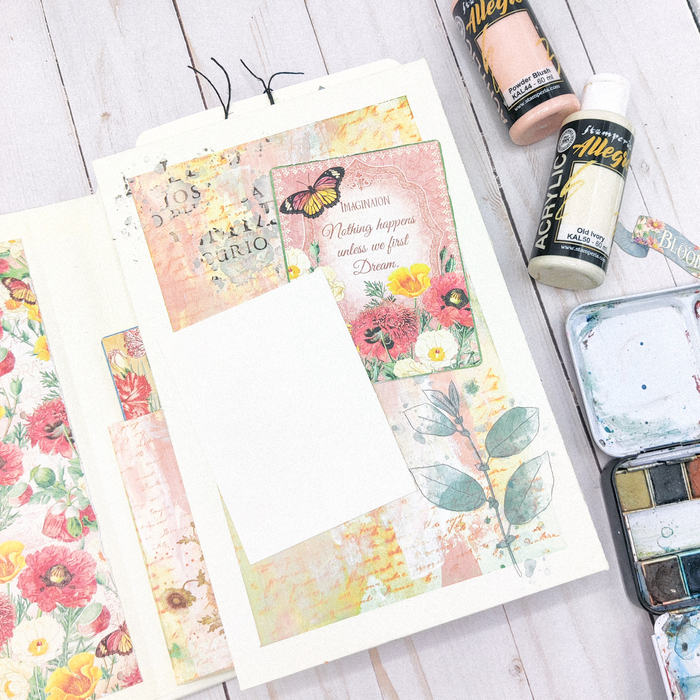 My mixed media pages were created by painting with Woodlands Watercolors and then stamping a French Script Stamp using the Rusty Hinge Distress Ink Pad. Because Distress inks are water-reactive, I was able to water down the script for a more distressed look. Then I used a palette knife to apply Allegro Acrylic Paint here and there. To complete the mixed media pages, I applied 49 and Market rub ons. To make sure I didn't get paint where I didn't want it, I taped off areas using Frog Masking Tape.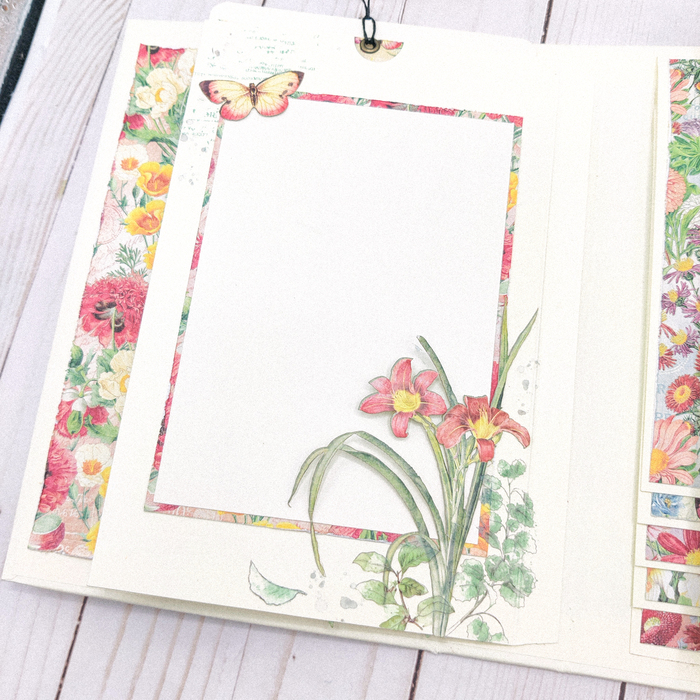 Natural 12 x 12 Bazzill Cardstock matched the color of the album perfectly so I used that for my photo mounts and as a background for some of the mixed media pages.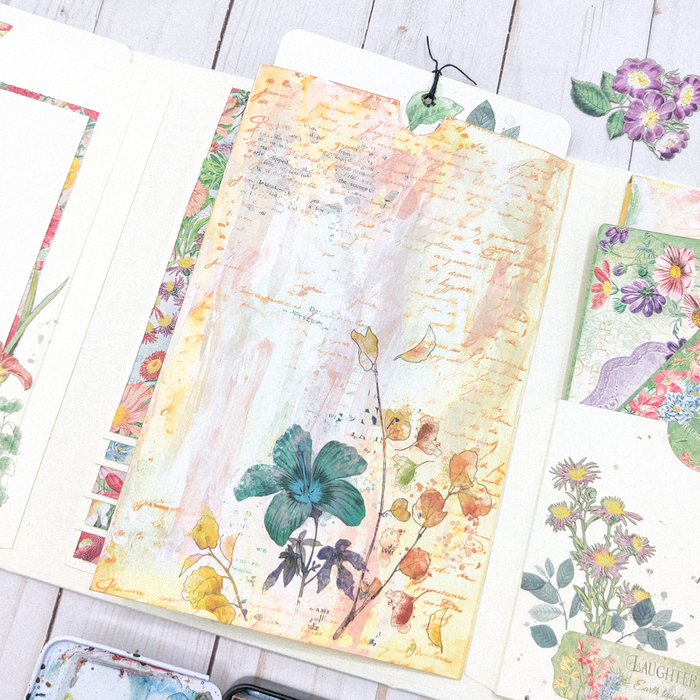 I added eyelets to the tags in this album using a Crop-A-Dile. I like the finished look they add to projects.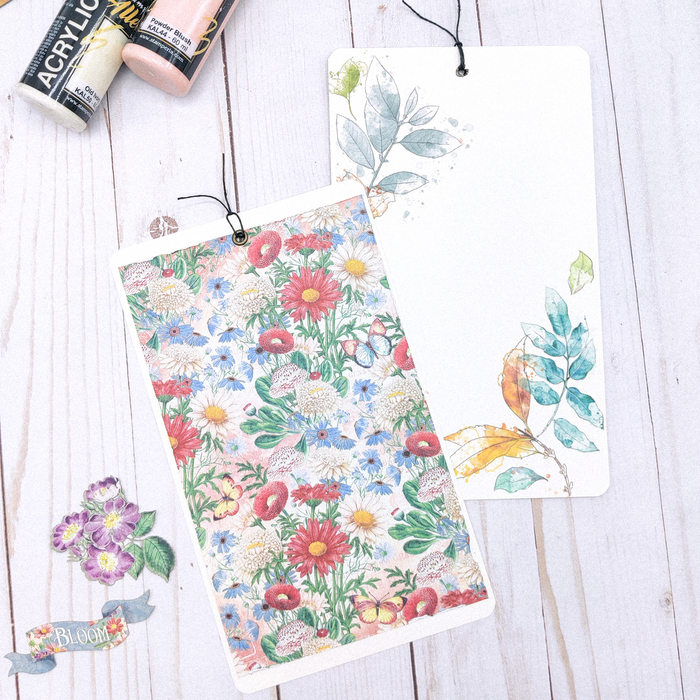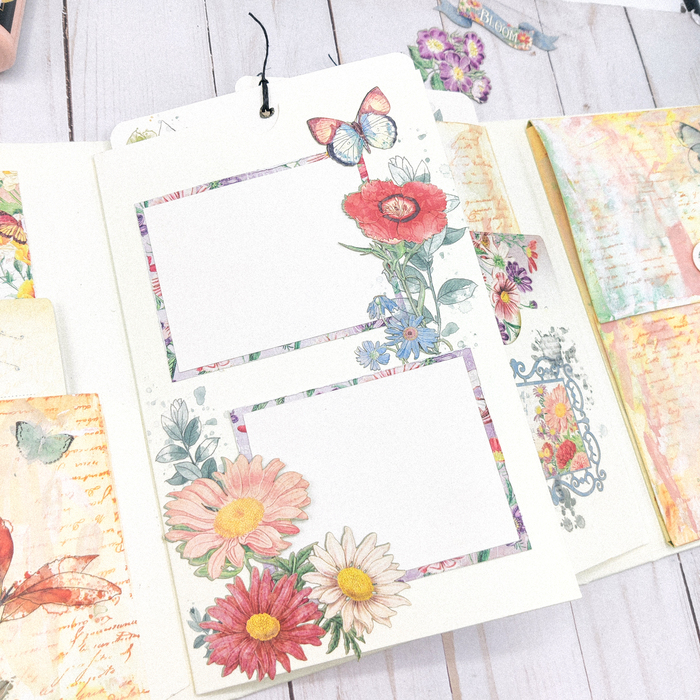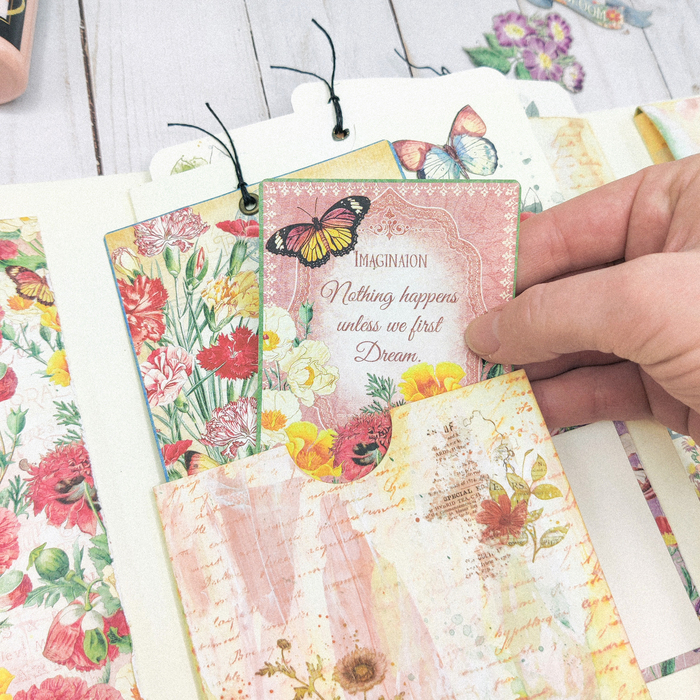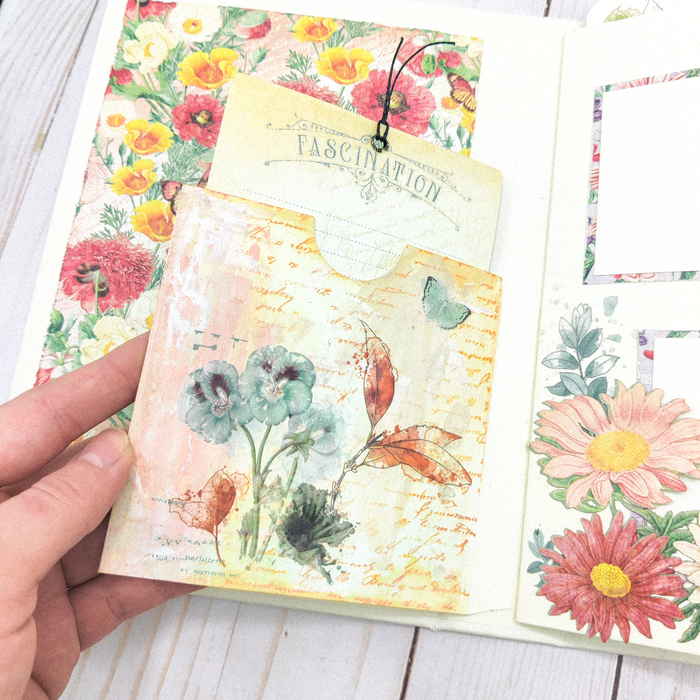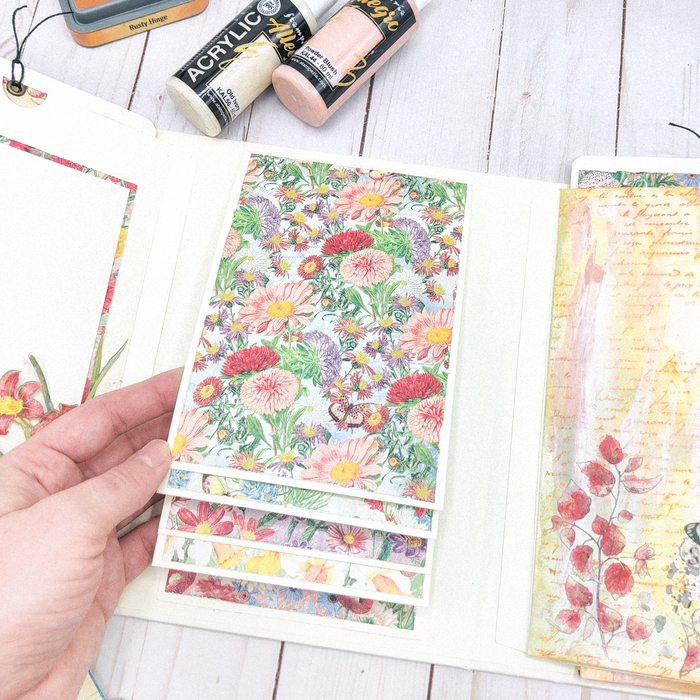 I let the patterned paper shine on these waterfall pages. They are small enough pages where the designs are not too overwhelming and you can see how pretty all of the flowers are.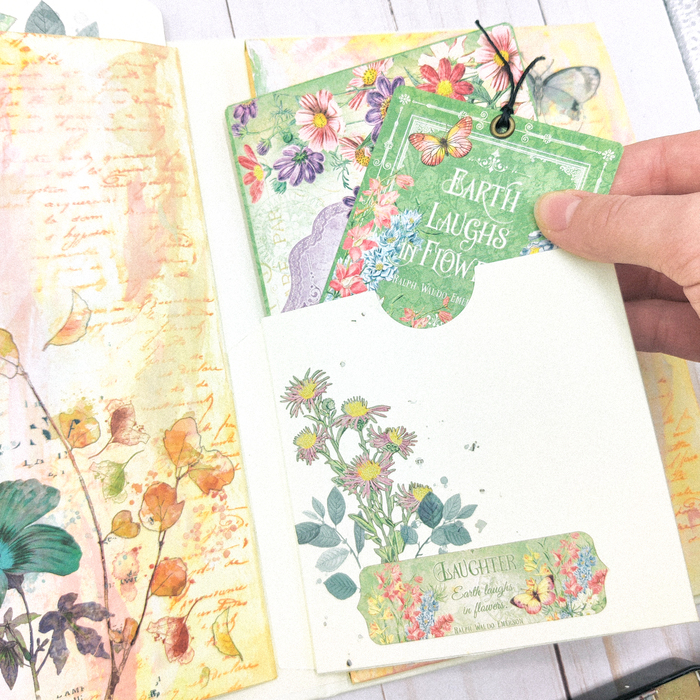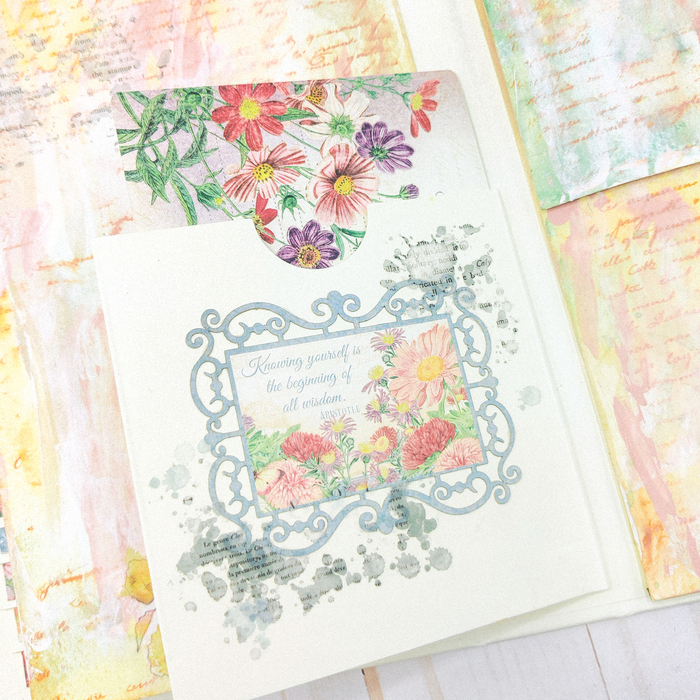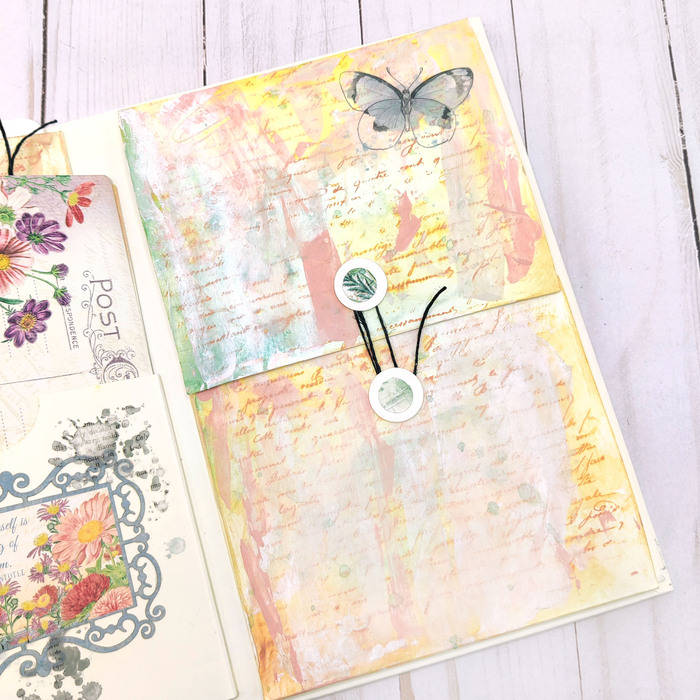 This large insert was a lot of fun to paint, although a little challenging because I had already adhered it to the album. I recommend doing all of your mixed media work before sticking the pages into the album. I created the closure by die-cutting some small circles, poking a hole through them, and adding a brad in the center to hold them to the page.