Hi There! It's Lynda from Scrapbook with Lynda back to share my last March Guest Designer project with you.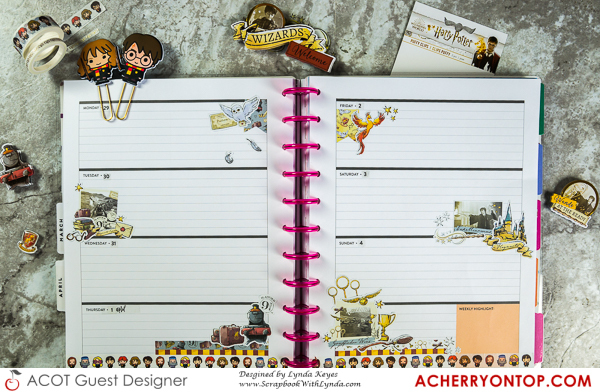 I'm a fan of Harry Potter, so I was excited to see Paper House Productions' new Harry Potter stickers and planners. They are so fun and playful, and totally Harry Potter because they are a licensed collection. The new little planner is updated and a perfect size to pop into my purse to keep track of appointments. I love these cute stickers, so I decided to decorate my planner with a Harry Potter theme. I started with a couple of strips of washi tape along the bottom, then layered stickers on top. I created a few clusters around my planner spread using the classic Harry Potter stickers then topped off the page with the new Harry & Hermoine puff clips. I just love the new Paper House Productions Harry Potter line and love how it looks in my planner!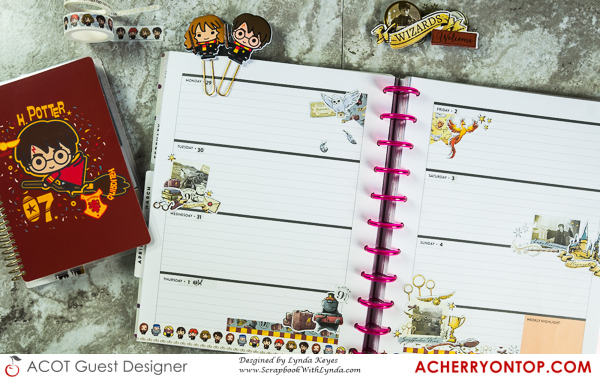 Remember to enter my birthday challenge on both the Cherry Crafters Facebook group and Message Board to win a $5 gift certificate to A Cherry on Top. I'm really looking forward to seeing your birthday-inspired projects. It's been such an honor and fun experience to be the March Guest Designer for A Cherry on Top.
Thank you for looking at my projects and all your comments. Happy Scrapping and Planning!
Lynda
---
You can see more inspiration from Lynda on her Blog, Facebook, Instagram, Pinterest, A Cherry on Top Project Gallery
Stay tuned all month to see what she will create!