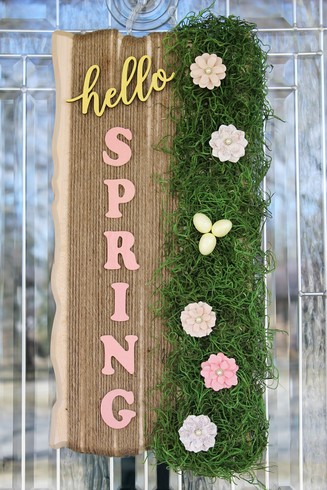 Hello Spring Plaque
If you are anything like me, you have a wreath for every holiday or season. Wreaths are so fun to make and a great way to greet all who come to your door or even bring a little flare to an otherwise overlooked wall. If you are looking to add to your collection but want something different then I have just the idea for you. Instead of using a traditional round shape for a base I decided to dress up a beautiful wooden plaque. With delicate little flowers, bright green moss and a cheery greeting this piece is sure to brighten any front door and bring a smile to all who stop by.
Here's what you'll need to make your own:
Step 1: Decide if you want to leave your plaque unfinished or if you want to paint or stain it. I decided to leave mine unfinished.
Step 2: Wrap your plaque in twine. Wrap until desired width. I simply tied it in back to keep it in place.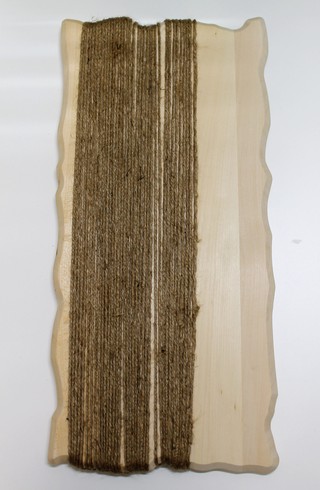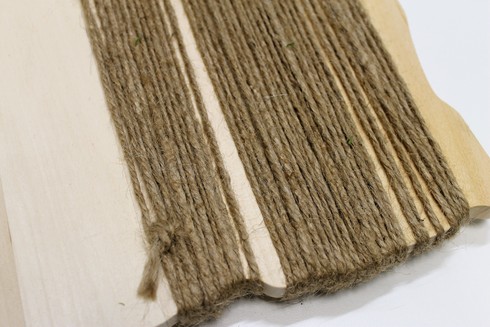 Step 3: Pull apart the moss. This is where things get messy so either work on some newspaper or other surface that can handle a mess. It takes a little coaxing but happens pretty quickly.

Step 4: Paint your words and letters. I lazy paint. I like to see the wood grain/ patterning, so I quickly apply a light coat of paint and move on. Bonus is that it dries super fast!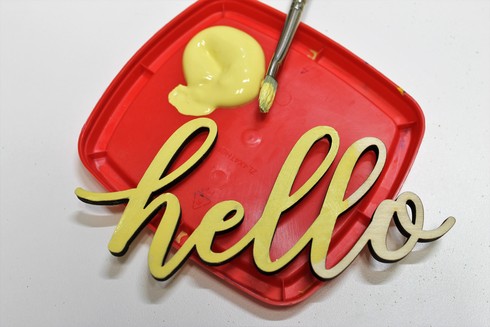 Step 5: Lay out your embellishments. 
Step 6: Glue it all down! I applied a very generous amount of Mod Podge - too generous in fact so not as much as you see here… oops! Don't be too stingy though as you want all that moss to stick. Make sure to get the sides of the plaque too. I waited just a minute or two so the podge was just starting to get tacky before applying the moss. Press it in to place, again don't forget the sides. I decided to also use a spray adhesive over top of the moss to help with shedding. When the spray adhesive was still just a little tacky I gently pressed the moss again to help it stick to itself a little more before the glue dried completely. Finally I used hot glue to adhere the letters and embellishments.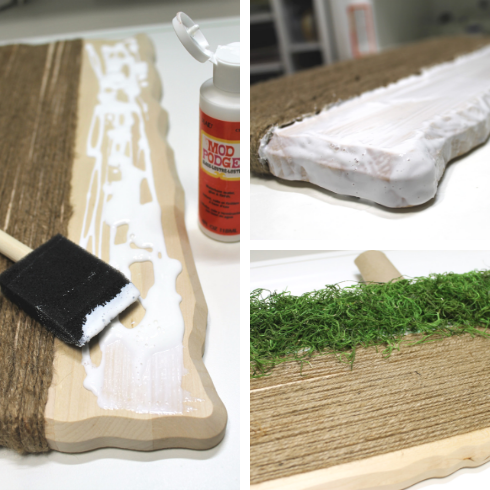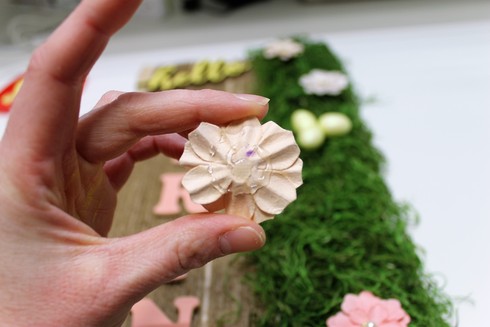 Step 7: Enjoy your handiwork. Not only does it look great on a door but would bring joy leaning on a shelf or mantel or hung on a wall. Any spot your home could use a little spring cheer.
If you decide to make this spring plaque please share it with us in the project gallery or tag A Cherry on Top on social media. #ACOT #ACherryOnTopCrafts
Happy Crafting!
Guest Writer - Alyssa Balan
---