Good morning Cherries! Suzanna here today to share with you a large photo layout created using a new hot foil plate-stencil-die combo from PinkFresh Studio to create an additional embellishment to go with the gorgeous Print Shop collection from Vicki Boutin.
Let's take a look at the layout:
For the background color of the leaves, I used some dimensional accent from my stash to create a base layer of color onto the cardstock. You can do something similar to the affect I made using a product like Nuvo! Gently press on the bottle and draw a line of one color across the width of your cardstock. Apply another thin line below with a bottle of glitter dimensional accent such as Stickles or Nuvo slightly below the above line. Then apply a third line with a third color. Next, use a flexible tool (or old credit card) to meld the colors together by pressing down at about a 45 degrees angle and drawing the tool to the bottom of the cardstock/paper. Repeat to get even coverage or the desired look.
Next, you are going to follow the directions of your hot foil system (or refer to a previous video that I have created!) with the Detailed Leaf Hot Foil Plate from PinkFresh Studio to apply the hot foil color of your choosing. I went with an orange from ThermOWeb but there are lots of great options available from ACOT.
I also used the You Sentiment Suite Hot Foil Plate from PinkFresh Studio to apply a dark, dark blue foil for part of the title.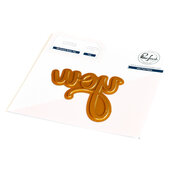 Here you can see the plate used with the finished product. If you have the coordinating metal die, use that to get the image alone. I fussy cut both of these in favor of a clean edge with very little white at the edges.
Set aside your "You" for the title to create with later. Let's add a little more pizzaz to the hot foiled leaves. I love the subtle color and texture from the dimensional accents but I want a little more color variety. Put up some color with a water brush from a Distress Watercolor Pencil and layer that onto your leaves. Look how lovely the depth of color is!
Now you have some great embellishments to create with and add a little MORE to an already great collection! I cut the bottom 3 leaves off so that I actually had more size appropriate "bits" to use on this layout. Even though the photo is large and I wanted some large elements to fill some of the space, I didn't want it to be just "detailed leaf".
Here are the lower three leaves are on the right side of the page with the Vicki Boutin flowers.
I have an IG Reel showing you how I created the Detailed Leaf background and applied the hot foil and a YT process video of how the layout came together which you can watch below.
Thanks for stopping in today! See you back here next time.
Suzanna  
---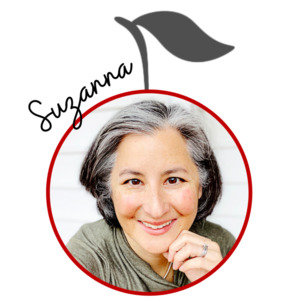 My name is Suzanna and I live with my family in Glen Allen, Virginia. My husband, Michael, and two kids, 19 yo Nikolas and 15 yo Mia, are supportive of my memory keeping and the main subjects of my work. Along with our 2 fur babies, Jasmine and Luna. I have been creating and documenting for a long time, over 20 years. My main focus has always been creating 12x12 layouts but I also like to work in a travelers notebook, create pocket pages, and my new obsession, a memory planner. I've been filming process videos and sharing my process on YouTube since 2016. 
See more from Suzanna on her Gallery, Instagram, Facebook, and YouTube.