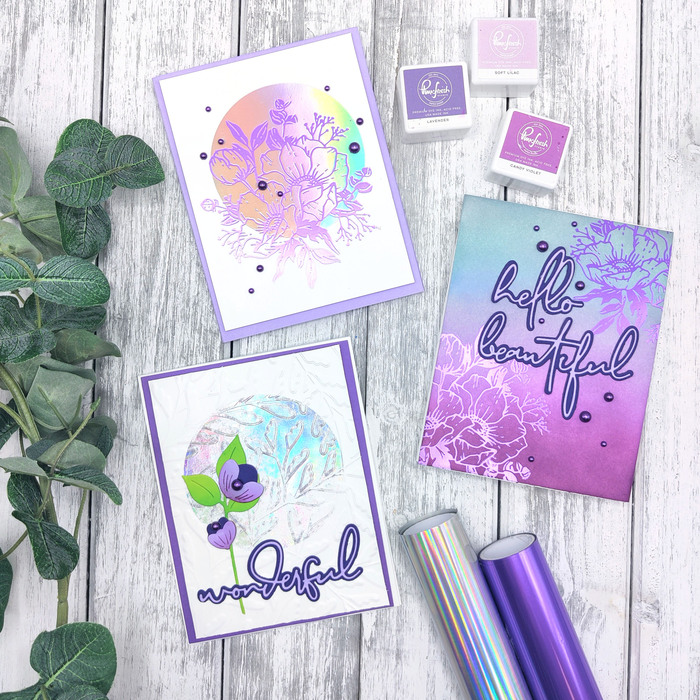 Welcome back to the Cherry Blog! Today I'm sharing 3 cards that I made while playing with the Spellbinders Glimmer Hot Foil System. I am still new to hot foiling, but so far am having a lot of fun with it. It's a lot easier and quicker than I thought it would be. If you want a beginner's guide to hot foiling, check out our How to Hot Foil YouTube live.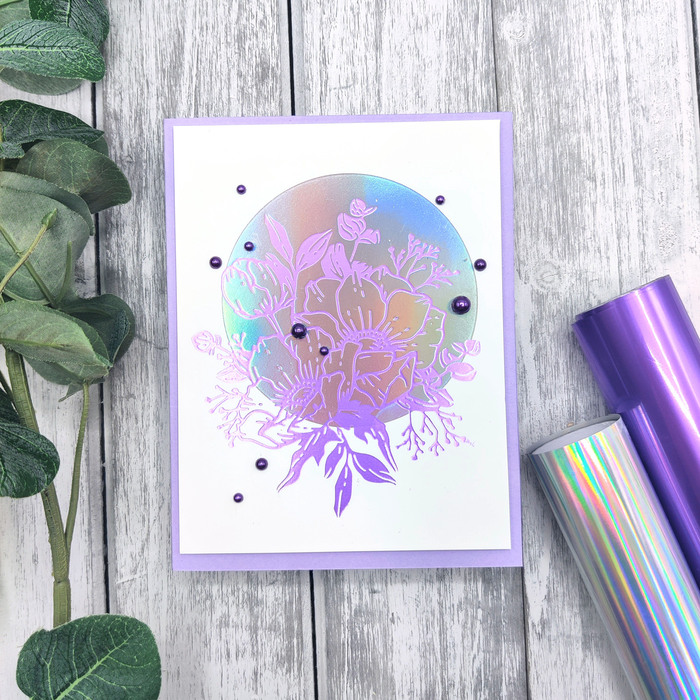 The first card I made has a double-foiled technique. I started using the Essential Solid Circle and Prism Glimmer Foil on Glimmer Specialty Cardstock. The specialty cardstock was made for hot foiling. It actually isn't even paper, it's made from plastic, which means it is perfectly smooth which will give you the best hot foil effect. Getting a perfect shape like this circle can sometimes be tricky if you don't use specialty paper (check out my last card to see what it looks like on regular cardstock.)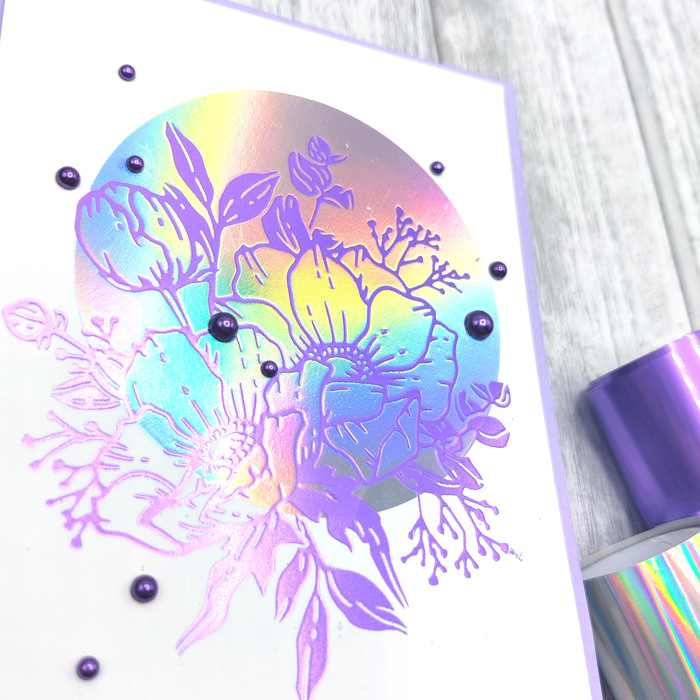 Once I had my circle, it was time to hot foil again using the floral design. I'm using Anemone Glimmer Blooms and Lavender Glimmer Foil this time. Again, it hot foiled beautifully. I added some purple enamel dots to finish up this card.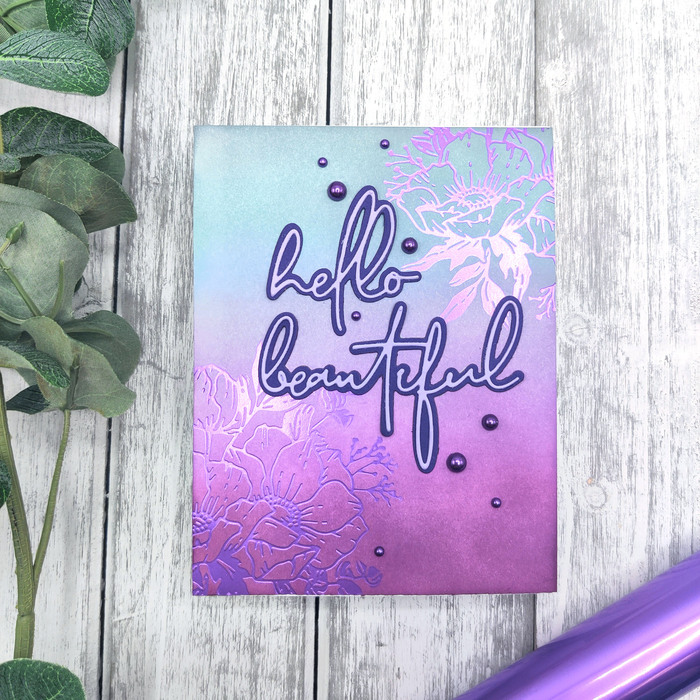 My second card began with an ink-blended background. I wanted the transition to go from grayish-blue to purple. I used Weathered Wood Oxide and Speckled Egg Distress Oxide for my gray/ blue and the Soul Of Provence Pinkfresh Studio Ink Set for the purples. Whenever I'm blending like this, I like to use large Blending Brushes.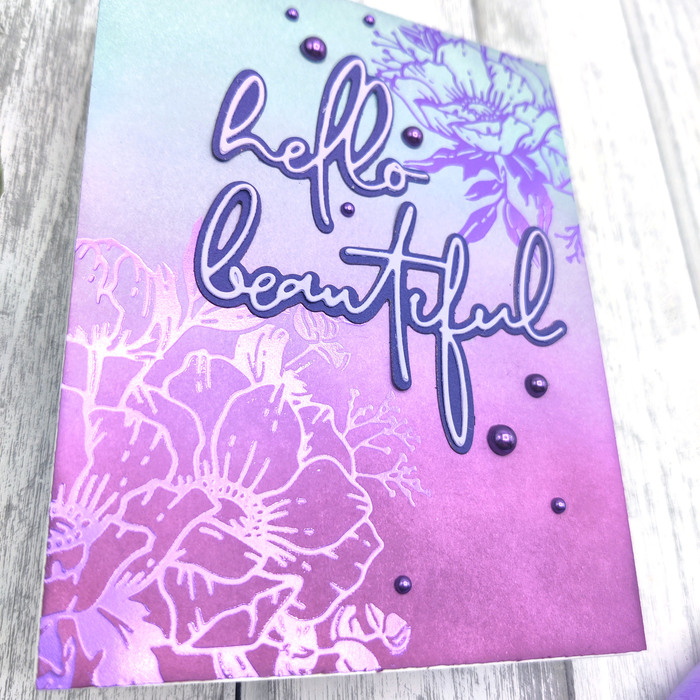 Once my background was dry, I used the same florals and purple foil to add flowers coming from the corners. This card is probably my favorite of the three. I die-cut words from the Wonderful Script Die Set for my sentiment.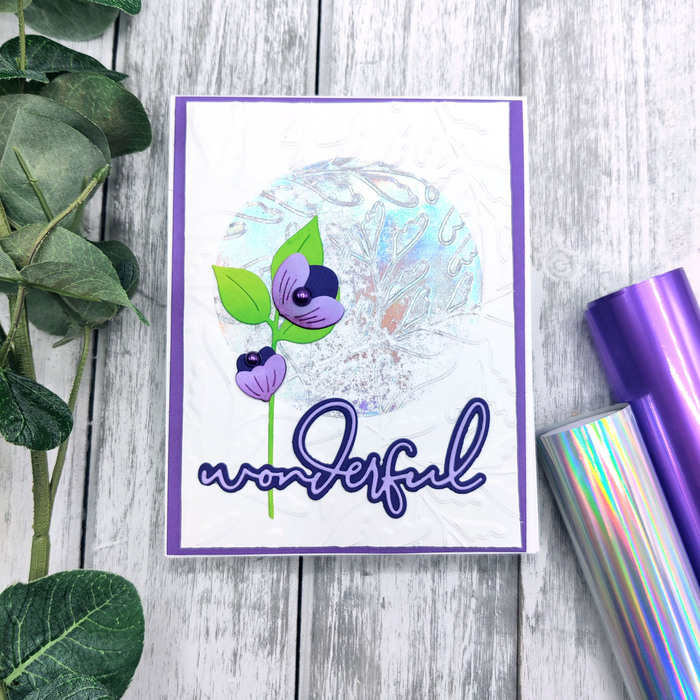 On this card, you can see that my circle didn't foil quite as nicely on regular cardstock as it does on the Glimmer Specialty Cardstock. But I decided to work with it because I like distressed looks in my projects. After hot foiling, I used the Delicate Leaves Embossing Folder to add an embossed texture over the card.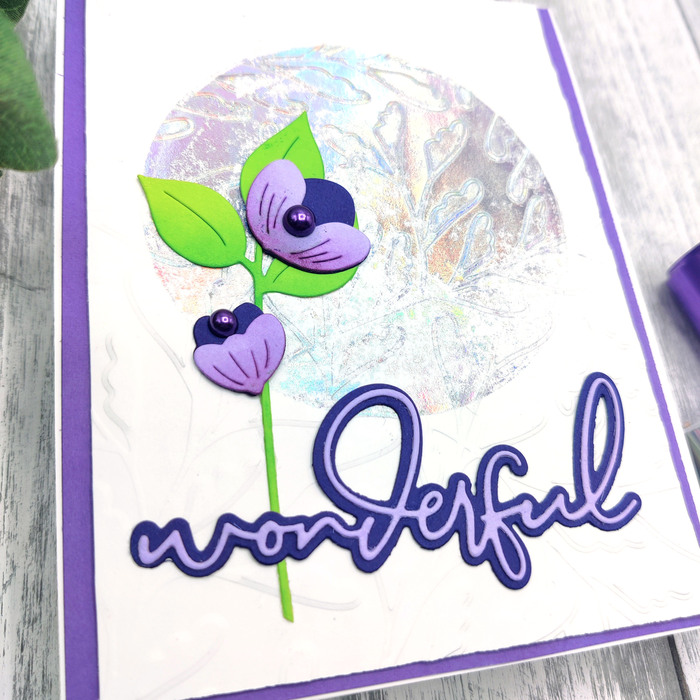 My die-cut flower is from the Sealed Bouquet die set and I strategically placed it to hide the worst part of my hot foiling. As I said, I'm still new to foiling, and since making this card have found better ways to hot foil this circle. When I make cards I like to make them in clusters like this group of three. I figure, getting everything all out is half the work, so I might as well make use of it!
I hope this post has given you some card-making ideas to do with your hot foil machine! Thanks for stopping by!
---
Products Used: