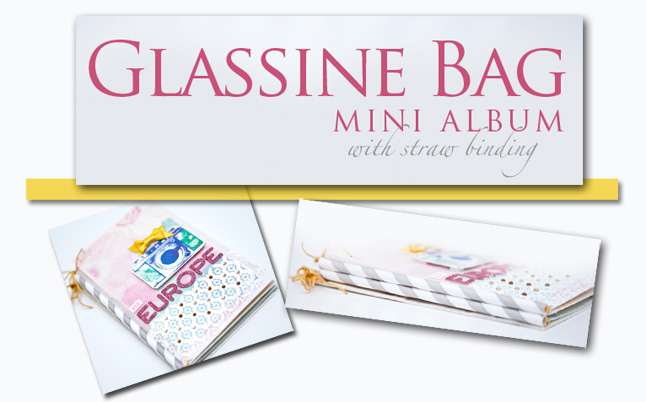 ---
Hello everyone! Today, I have a fun mini album tutorial to share using some fun products you probably have sitting around your craft room. If not, I've linked most of them in my supply list and they're very reasonable items you should add to your craft stash!
I've used glassine bags and those ever-so-cute paper straws to create a mini album. The glassine bags are pocket pages and the straws bind the album together. So much fun, I'll tell 'ya!
This album came together super fast and was a breeze to create. I made it in just a few short hours on a Saturday afternoon.
This is a long post due to photo tutorials, so I hope you can hang in there! The first part consists of steps/tips I've provided for you to create the album. The second part consists of photos of the completed album.
That concludes the tutorial portion of this post. And now...onto the project photos!
On the cover, I heat embossed a background pattern. This adds lots of texture and color to a glassine bag. Just think about how much color you can add with all those colorful embossing powders out there on the market now!
From this perspective, you can see the pocket pages. I made four pages. Since the glassine bags are transparent, I decided to insert patterned paper pages backed onto solid cardstock. Later, I can add photos and memorabilia from our trip!
Here, you get a better image of the album. You can see how it stands up along with the straw binding...AMAZING! With all the paper straw colors and patterns out on the market, you can create so many different looks!
Here's the first page. It features our first stop on our 2012 Europe trip - to London.
I covered a wood veneer speech bubble with patterned paper and added the stamped sentiment strip. It definitely was my fave place on this trip!
Somehow, I assembled my pages out of order because Copenhagen was the last stop on our trip, but that's OK! :)
I definitely had to use a bicycle embellishment on this page. Copenhagens love to ride their bikes...even in the freezing cold!
I just used some old Thickers I've had in my stash. I believe these are "Lullabye."
The next page is all about Paris. It's "kind of a big deal," so I glitzed it up with some glitter Thickers and added a camera cardstock die cut.
I just love the camera patterned paper peeking through the bag!
The book from the top!
The end! Did you make it through?! I sure hope so. Thanks so much for stopping by and a special thanks to A Cherry On Top for the challenge to create this special project!
I hope you can make one of these mini albums soon! Take care.
---
Suggested Products: