Today I will be showing you how to easily make a gift box that can be used for giving special holiday treats and goodies.
Using the Scor-pal scoring board you can easily make a box like this with your favorite patterned paper or card stock. Easily change the patterned papers used to fit any holiday or occasion.
Here are the basic supplies I started with:
Determining the size to cut your box's paper depends on how big you want the box.
You simply add the height of the sides with the base width to get the size to cut the paper.
I wanted a 3" box with sides that were 2" high. Using the formula above that would be 2" + 3" +2" for a total of 7".
So, I cut a 7" square of patterned paper.
I then scored 2" from the left and 2" from the right (6" mark).
Rotate 90 degrees and repeat.
Next snip the left and right vertical score lines from the outer edge to the horizontal scores.
Add adhesive to the outside edge flaps.
Fold inwards and adhere to create the base of the box.
To create the lid I used the same formula for creating the box.
This time I wanted a 3 1/8" base so it would leave just enough room to fit over the base.
I wanted the sides to be 1".
That made my base 5 1/8"
Since the base is a rather odd number I took the lazy way out when figuring the score lines.
I scored 1" from the edge and then rotated it and repeated until all 4 sides were scored.
That made the sides each 1" in height leaving the center a 3 1/8" square.
Once scored the lid simply needs snipped and folded in the same manner as the box base.
Here is the finished box.
Now time to decorate!
I began by embossing a piece of 4.25"x5.5" card stock.
Next I cut it to fit the top of the lid and sanded the pattern.
I then die cut some flowers.
The flowers were then layered together, inked and topped with a big button laced with hemp.
Finally I added the flowers and a tag to the top of the box and it was finished.
---
Here are the supplies used in this project:
---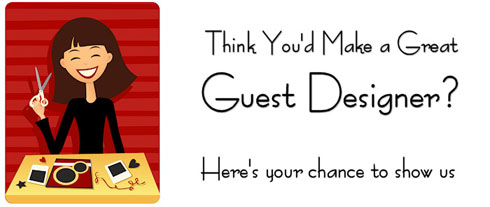 Click here to find out how to submit