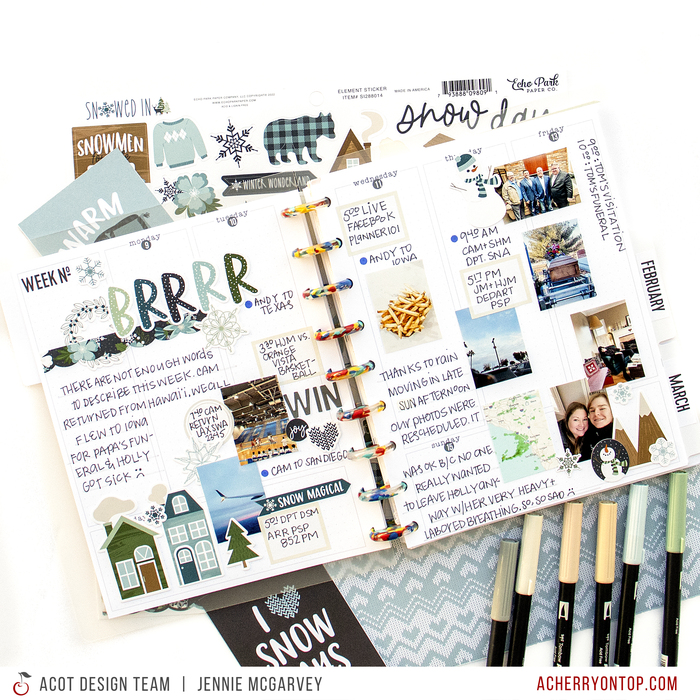 Hello! It's Jennie McGarvey and I'm thrilled to be sharing the first of my 2023 memory planner pages.  Now, I'm a bit behind on my 2022 memory planner but I'm not going to let that stop me from starting this year.  I have stories to tell and I'll tell them all, one way or another.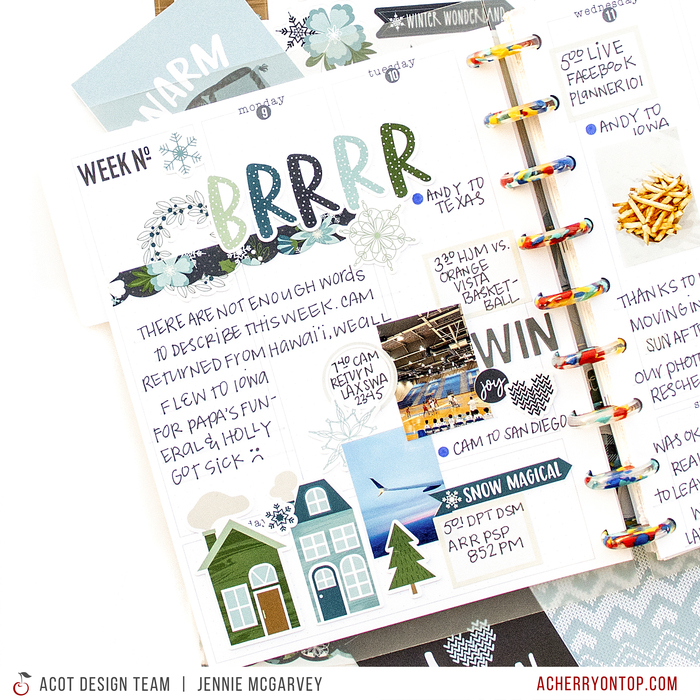 One thing I wanted to share with you today is that it can be very easy to memory plan with supplies that you have.  All I used for this week's layout was a few stickers from one sheet of Echo Park 12x12 cardstock stickers, one Tombow marker, and some stickers from my stash. For the corresponding pocket page, I added a couple of bits from one piece of Echo Park patterned paper. Honestly, it really only amounted to scraps and I think it turned out really fun.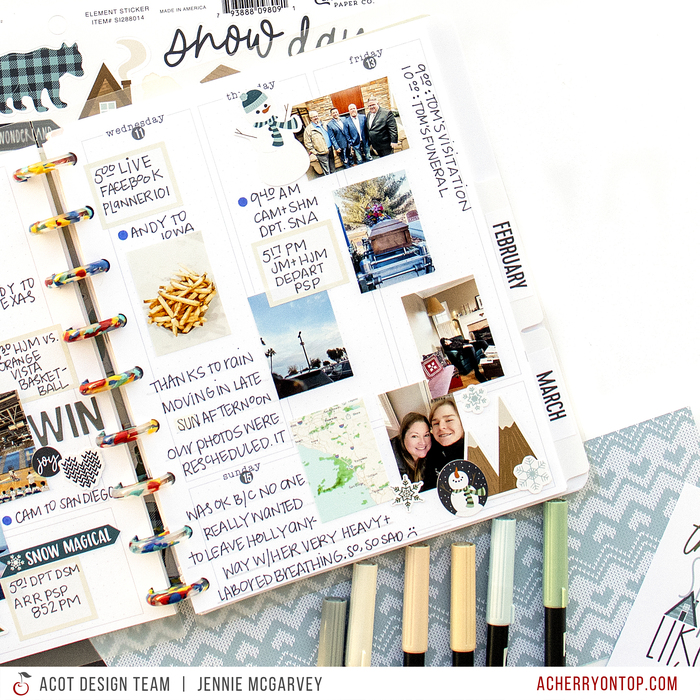 I like to start by figuring out what photos to use.  After I have done that, I print them, cut them apart, and adhere them to the page.  This is the most important to me on each page and I love including as many as I can.  Now, I had a lot of photos this particular week from Friday [four that are included on the day and then the three photos that are on the insert, as well.] but I definitely do not ordinarily include this many photos from one week!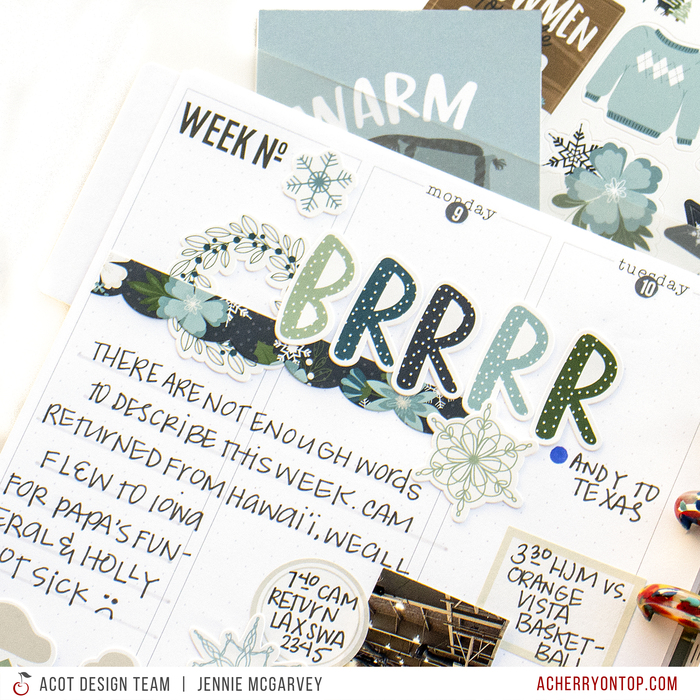 After I've added the photos, I like to add my embellishments.  Normally, I add some stamping, too. However, this week was a heavy one.  I needed to keep it simple and focus on the photos, stories, and memories.  This is why I chose to include only stickers on the layout and keep the pockets simple with patterned paper and stickers, too.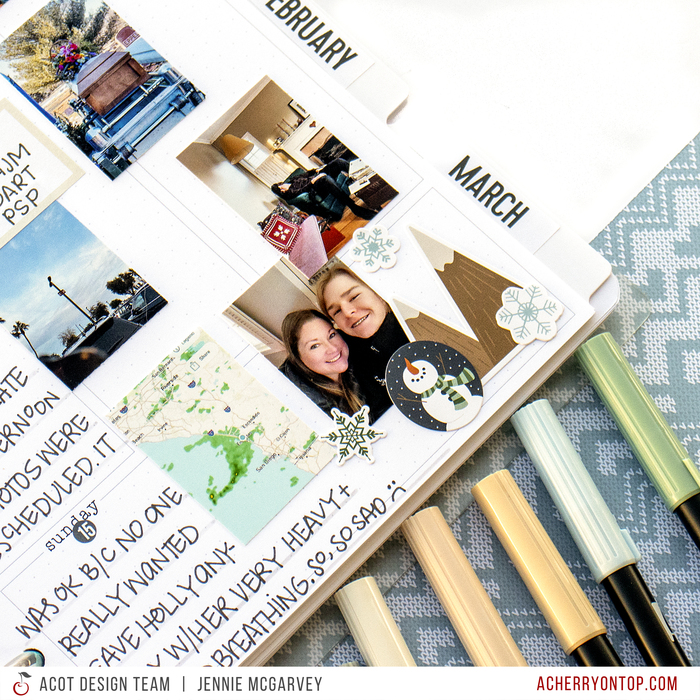 As you can see, there is sticker layering and it's one of my favorite things to do. It's so easy to layer stickers in particular since you're not adding too much bulk.  Bulk is absolutely something to keep in mind when working in a memory planner.  You will quickly outgrow your discs, coil, etc. if you are not mindful of the embellishments you are putting on the page.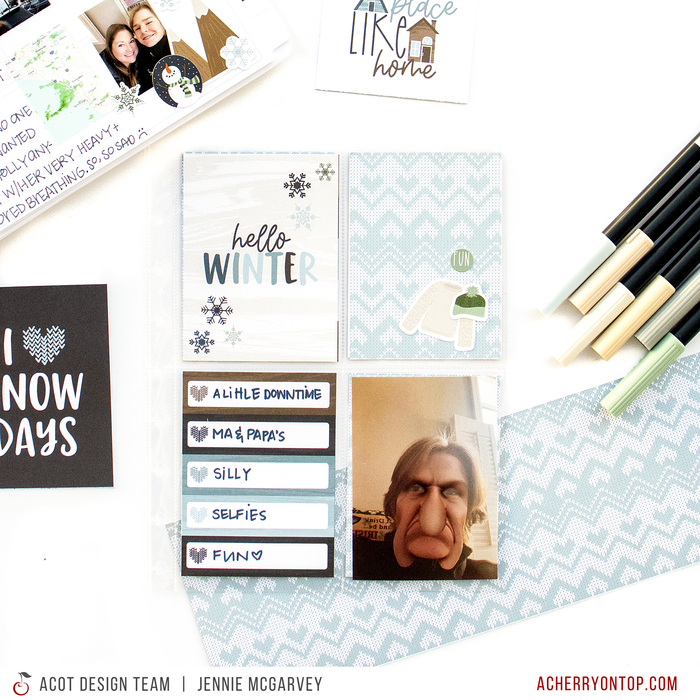 Don't let the possible complication of memory planning stop you from starting a memory planner.  It's a really fun project that is a worthwhile way to memory keep with beautiful supplies and your leftover scraps!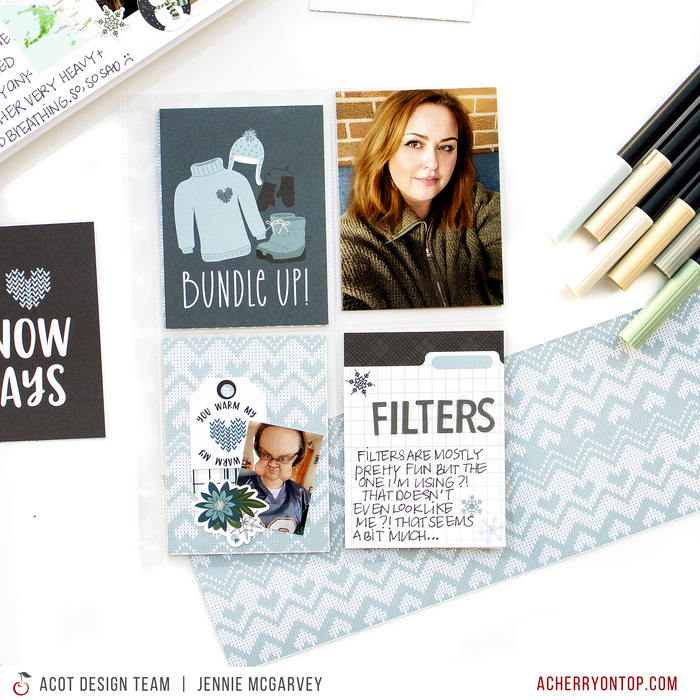 ---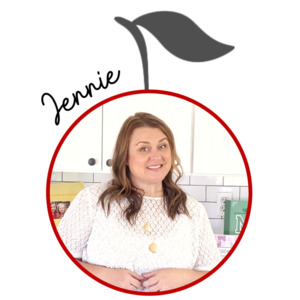 Jennie McGarvey
Heya everybody! I'm Jennie and I live in Southern California. I'm a mom of 3 boys and wife to the most supportive husband I could imagine.
I've been paper crafting for 20 years and currently create more projects than I can keep track of. I also work in the paper crafting industry.
See more from Jennie on her Gallery, Instagram, and YouTube.