We are going to start hosting Facebook Live classes every Friday at 4 pm EST! We recently remodeled our in-store classroom but due to more shutdowns from Covid, we haven't been able to use it very much. So we wanted to start an online classroom! We will give you a list of all the materials we will be using in these classes, but feel free to make it your own. Learn something new, ask questions that will get answered in real-time, and make a cool project! We are ready to have some fun and I would love it if you created along with us! Here is the schedule for January.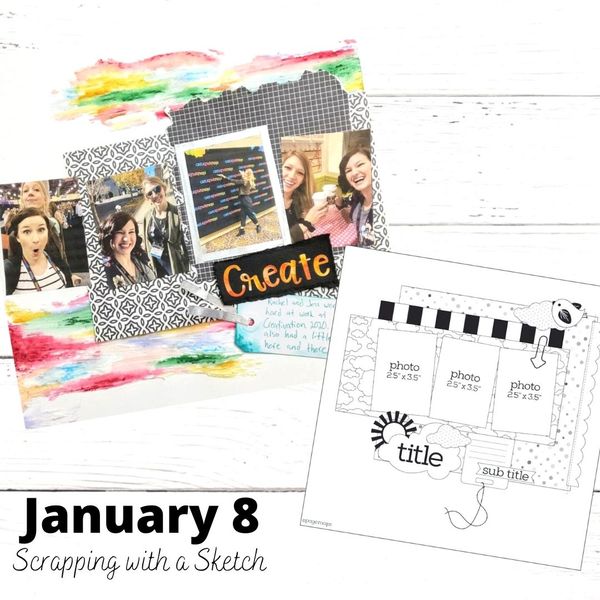 In this class, we will be scrapping a Becky Fleck sketch. Each week we have a Becky Fleck Sketch Challenge. We will be using the new sketch for the week to complete a 12"x 12" scrapbook page! If you complete the sketch with us you can enter to win 1000 Cherry Points! The sketch we will be using will be shown on January 7.
Items needed: scrapbook items including paper, stickers, ephemera, and elements from a coordinating collection.
Optional added items: mixed media items, cardstock, or whatever else you like to scrap with.
Jessica's layout:
Graphic 45 Nature's Notebook 12x12 paper pack, Prima watercolors in Woodlands, Gathered Twigs distress oxide ink pad, Amy Tangerine thickers, Reinforce Hole Punch 
Rachel's layout:
Vicki Boutin Storyteller 12x12 paper pad, Storyteller stencil, Storyteller tags, Vicki Boutin prism glaze, Silver glamour paste, Star blue glamour gel, Echo Park enamel dots, Winter Market ephemera, Cherry tape, Nuvo Deluxe Adhesive 
---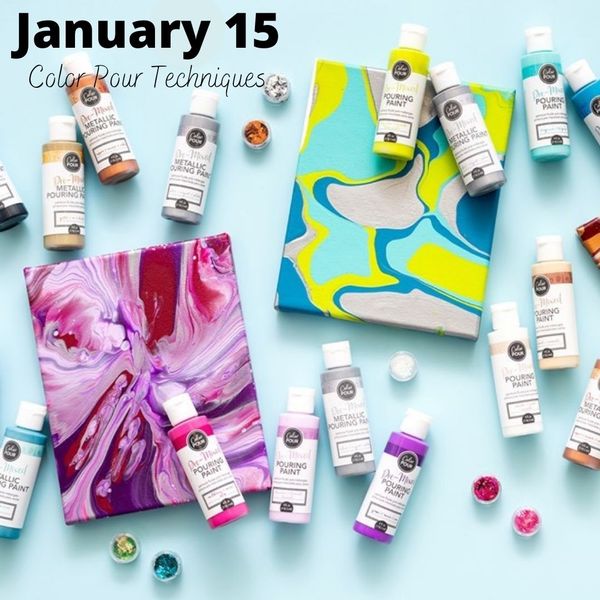 Paint pouring is a form of abstract painting where instead of using paintbrushes you pour paint right onto the canvas. We will be using Color Pour paint which is perfect as it is pre-mixed with a pouring medium for optimal flow and amazing results. This is a fun painting technique for both beginners and pros!
Items needed: at least 3 colors of a Color Pour paint or Color Pour Magic paint, a canvas (we are using 8"x 10"), measuring cups
Optional added items: foil flakes, tool kit, paint pen
---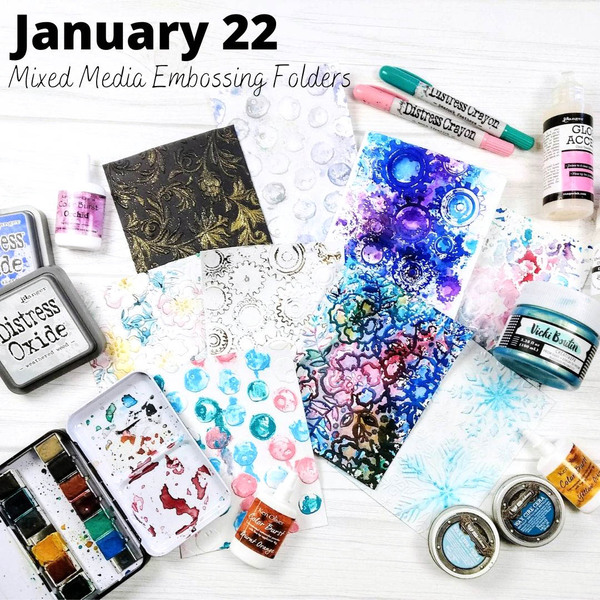 Step up your embossing game by adding in mixed media elements! In this class, we will go over a range of mixed media techniques to make your embossing pieces one of a kind. We are using all water-soluble mediums so your embossing folders will not get ruined.
Have some papers pre-cut to size so we can get to the tricky part, which is the binding. Anything smaller than 9" works. You can make your book as thick as you would like, but keep in mind that the thicker it gets, the harder it becomes to sew. 
Items needed: embossing folder, die-cut or embossing machine, mixed media or watercolor paper, powdered pigment (we are using Color Burst), watercolor paints, glossy accents or other water-soluble glue, foil, distress oxide ink pad, acrylic paint, wax, distress crayons, embossing powder, embossing dabber, palette knife
---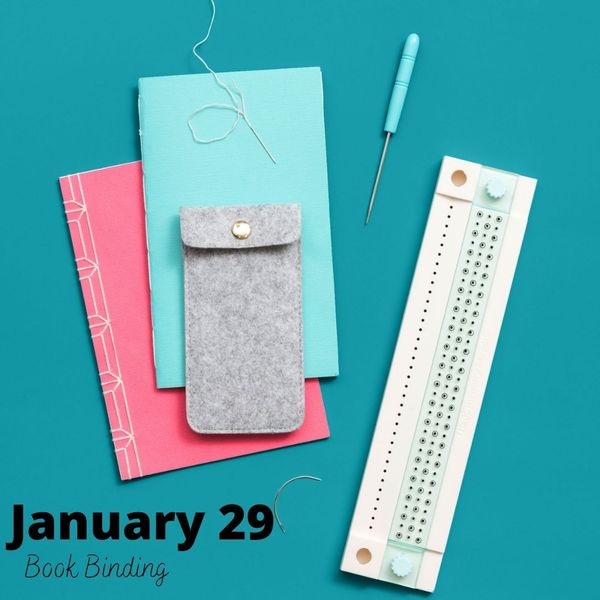 Let's make a book! We'll show you how fun and easy making different style books are by using the Journal Book Binding Punch Guide by We R Memory Keepers. These books make great journals, sketchbooks, planners, scrapbooks, and much more.
Items needed: Journal Book Binding Punch Guide, scrapbook paper for the cover, papers for the inside (these can be more scrapbook paper or plain paper), thread or embroidery floss