Good morning Cherries! Suzanna here today to share with you a layout featuring the latest Maggie Holmes collection, Woodland Grove. While I'm not really a softer color palette and vintage kinda gal, I am always a sucker for Maggie's collections. There is a lot of cross over between this collection and previous collections. Here's my creation: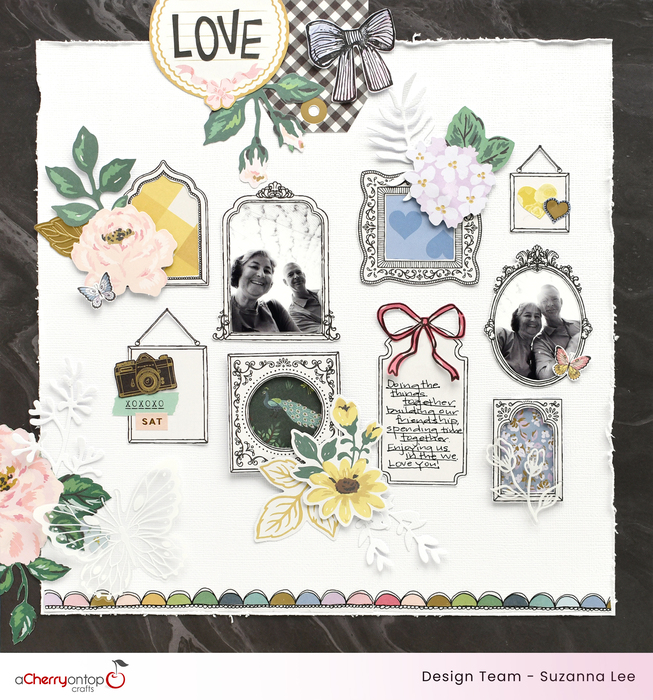 Fussy cutting, lots and lots of fussy cutting. I used probably about 2/3 of the frames in the 12x12 patterned paper (Conservatory Paper) and fussy cut them, both the inside and the outer border. Some are backed with patterned paper and popped up with thin strips of double sided foam while the others are just "au naturale".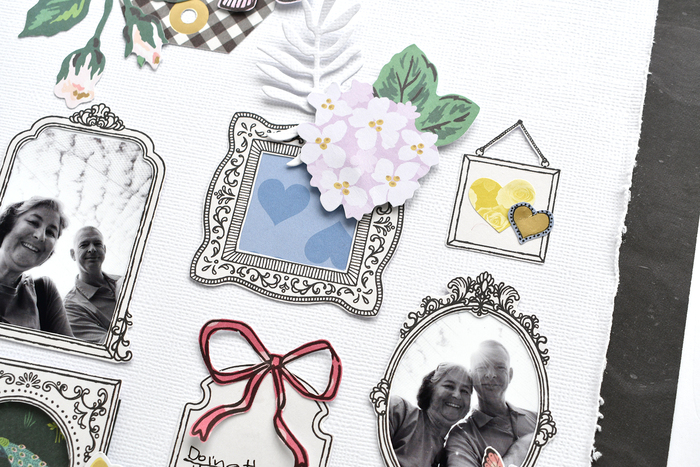 No need to fussy cut flowers as there is an embellishment pack for that! LOL! Be sure to grab the Floral Ephemera pack. Not only is this pack a great assortment of florals, but it also includes some acetate and gold foiled pieces that are great for embellishing. I love the look of that white on acetate butterfly that looks like it's ready to flutter away from the corner flower! That multi color scalloped border is a fun touch! I loved the hand-drawn look of the frames, they inspired be to doodle on the scalloped patterned paper – the black pen designs are all my handiwork, the paper didn't come printed that way! What a fun way to add a personal touch.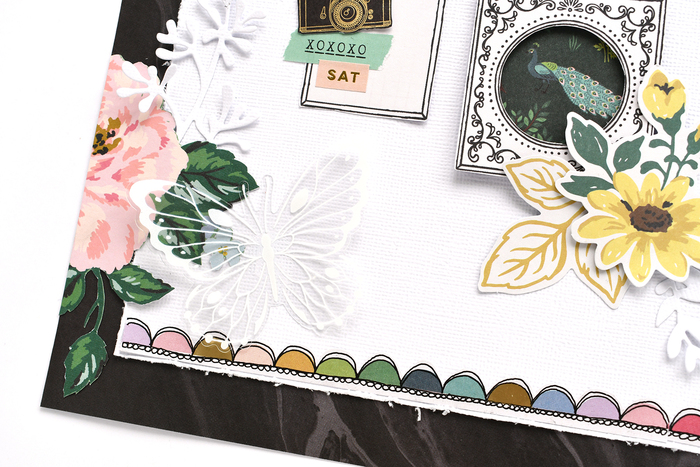 Many of the bows that feature in this collection are very similar to those found in previous collections, plural. This is a repeating theme in Maggie's collections. I used stamps that coordinated with a previous collection with some of this collections patterned paper for a fun touch. I also incorporated an OLD sticker book, back when AC had each designer do a sticker book with their most recent collection at this time. A few of the smaller stickers served for additional color and décor.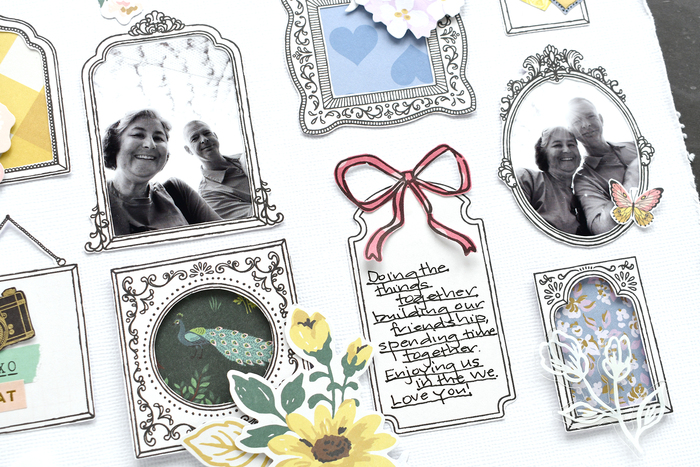 I hope you are inspired to take out some of your old Maggie and mix it in the with the new goods – it's a great way to stretch your stash and freshen it up!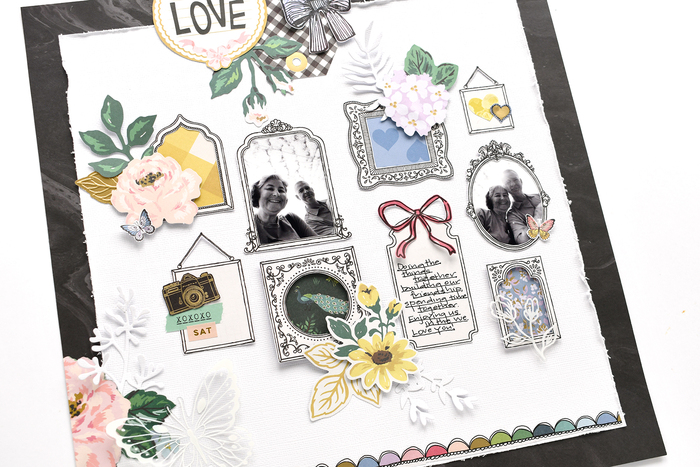 Thanks for stopping in today! See you back here next time.
Suzanna
---
Products Used:
---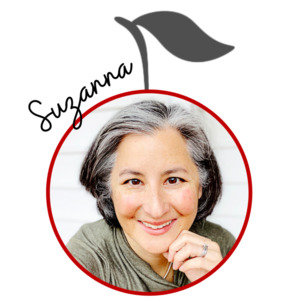 Suzanna Lee
My name is Suzanna and I live with my family in Glen Allen, Virginia. My husband, Michael, and two kids, 19 yo Nikolas and 15 yo Mia, are supportive of my memory keeping and the main subjects of my work. Along with our 2 fur babies, Jasmine and Luna. I have been creating and documenting for a long time, over 20 years. My main focus has always been creating 12x12 layouts but I also like to work in a travelers notebook, create pocket pages, and my new obsession, a memory planner. I've been filming process videos and sharing my process on YouTube since 2016. 
See more from Suzanna on her Gallery, Instagram, Facebook, and YouTube.