We are hosting Facebook Live classes every Friday! We recently remodeled our in-store classroom but due to more shutdowns from Covid, we haven't been able to use it very much. So we wanted to start an online classroom! We will give you a list of all the materials we will be using in these classes, but feel free to make it your own. Learn something new, ask questions that will get answered in real-time, and make a cool project! We are ready to have some fun and I would love it if you created along with us! Here is the schedule for March.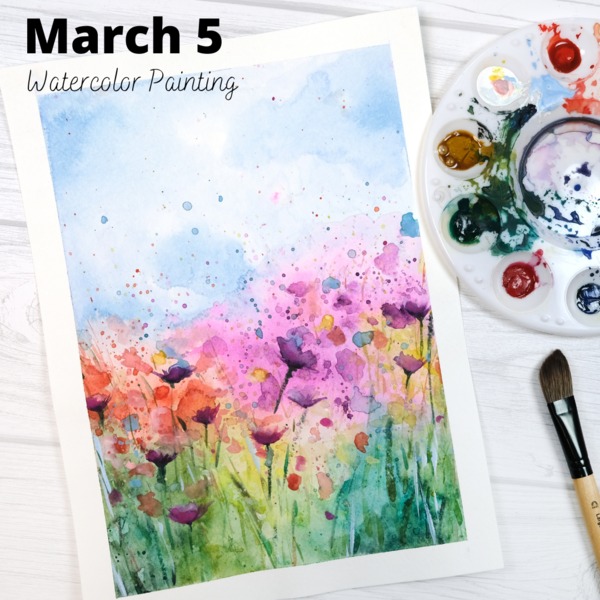 This is a beautiful watercolor painting that will get you ready for springtime! You can paint along with us as we paint this landscape step-by-step. This class is for painters of all levels!
Supplies needed: watercolor paints, watercolor paper, paintbrush, a glass of water, paper towels, painter's tape (if you want to have a white border) 
---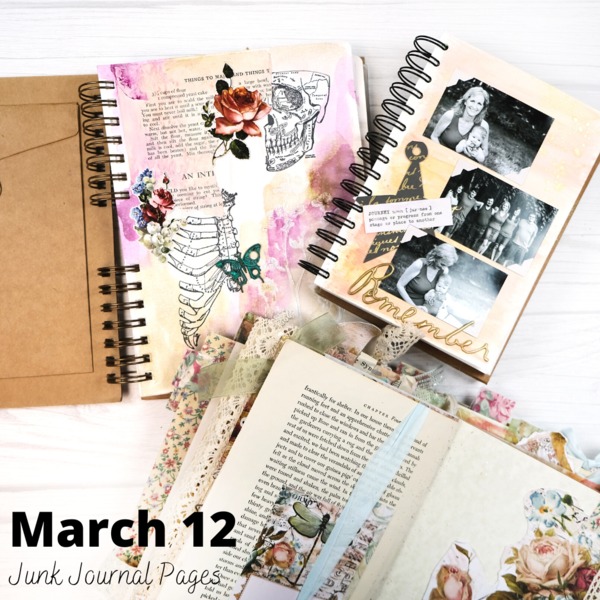 Have you been wanting to start a junk journal? They are great for trying out new things, stash busting, and make a great creative outlet. The list of materials can be endless for junk journals as you can use practically anything to fill up your pages. But we will be using stencils, stamps, texture paste, watercolor paints, acrylic paints, ephemera, torn papers, and possibly some other goodies from our stash.
Supplies needed: stencils, stamps, texture paste, watercolor paints, acrylic paints, embellishments, paintbrush, and a book or page to work on.
Jessica's pages:
Mixed Media Art Journal, Crackle Texture Paste, Prussian Blue Liquid Acrylic, Ochre Liquid Acrylic, Oil Pastels, Botanical Idea-Ology Die-Cuts, Glassine Envelope, Cherry Tape, Ranger Heat It Craft Tool 
Rachel's pages:
Art Daily Chipboard Journal, Ranger Texture Paste, Vicki Boutin Texture Paste, Kitsch Flamingo Distress Oxide Ink Pad, Vintage Gold - Finnabair Art Alchemy Metallique Wax, Sentimental Flowers Clear Stamp Set, Faded Dot Layering Stencil, Art Is 6x6 Stencil, Storyteller Journaling Ephemera, Tell Your Story Chipboard Stickers, Ocean Blue Stencil Butter, Turquoise Stencil Butter
---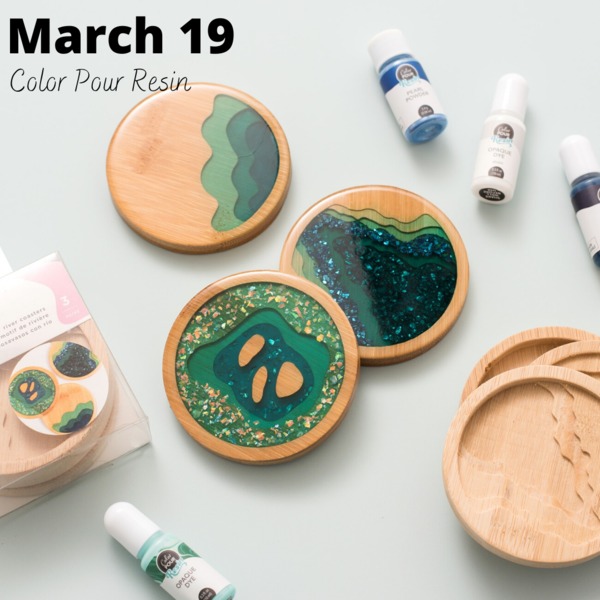 Resin is a fun medium to explore because of all of the uses and techniques that can be done with it. This will be an introductory class on how to use Color Pour Resin.
Supplies Needed: Resin & Hardener, at least 3 (disposable) cups to mix the resin in, something to pour the resin into (a flexible mold, wood coaster, or tray), Resin Tool Kit or stir sticks, dye pigment
Optional Supplies: Mix-ins, Acetate Mix-ins
---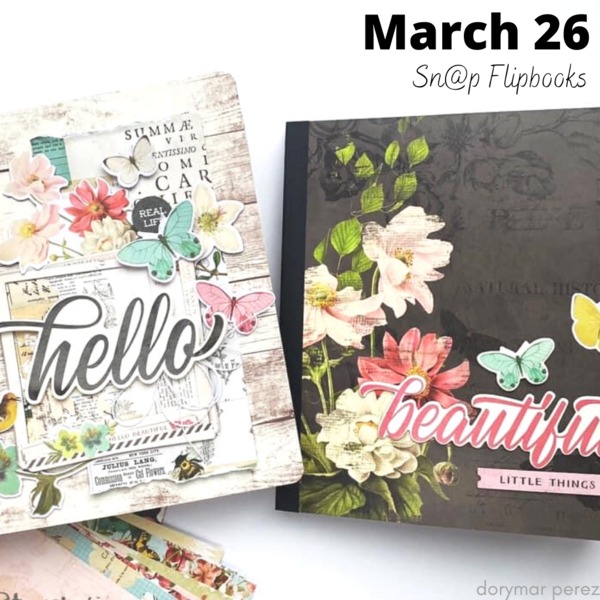 Flipbooks are great for creating a quick scrapbook. In this class, we showing how to add in special pages, decorate your cover, make glitter pockets, and more.
Supplies Needed: Sn@p Flipbook, scrapbook items including paper, stickers, ephemera, and elements from a coordinating collection. We will be using Simple Stories' new Cottage Fields and Bunnies & Blooms collections.
Optional Supplies: mixed media items, cardstock, or whatever else you like to scrap with.
---
We hope you can create along with us this month! You can check out all of our past classes on our Classes page!