Mini Cinch Tutorial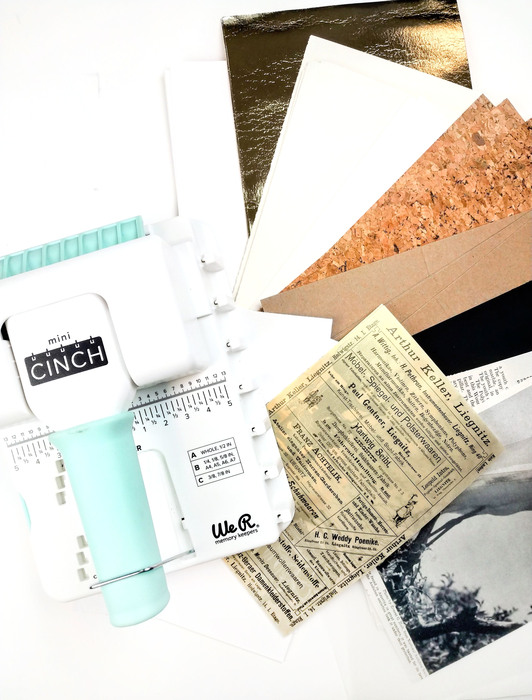 In this tutorial, I will be showing how you can create books using the Mini Cinch! This tool makes booking binding quick and easy. It allows you to punch perfect holes with customizable hole spacing on any size project. The Mini Cinch is great for making mini albums, recipe books, customized journals and planners, presentations, and more. Rachel and I recently taught an online class using the Mini Cinch that you can watch below! 
Today I will be making a junk journal using the Mini Cinch. I chose to make a junk journal because I always have random leftover papers laying around and like to use them up! Today I'll be using watercolor paper, drawing paper, cork paper, black paper, kraft paper, gold paper, old book pages, and velum sheets. They are not all the same size, but I do not mind that with this style of journal.
Step 1: Measure Your Papers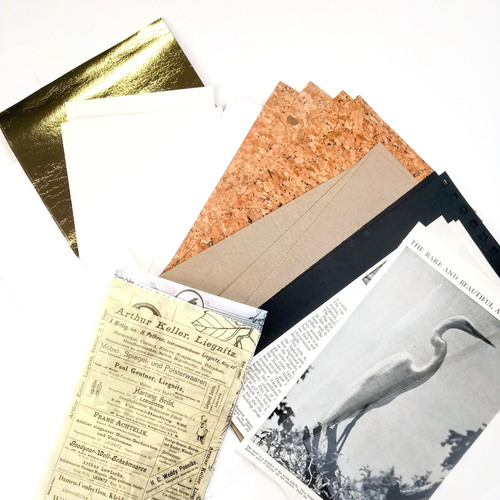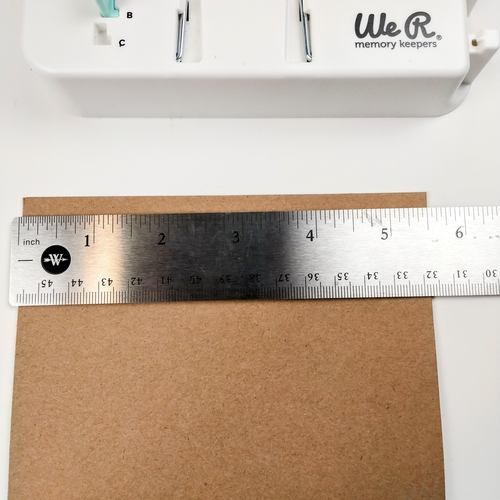 Your papers do not have to all be the same height or width, but they do all have to end in a certain measurement. On the Cinch, there is a guide on the left side that says A, B, and C, and next to it are measurements. These stand for the amount that the Cinch will work on without leaving an awkward half-hole at the end of your page. Your paper measurement has to end in a whole inch, 1/2", 1/4", 1/8", 5/8", 3/8", or 7/8". 
Step 2: Punching Holes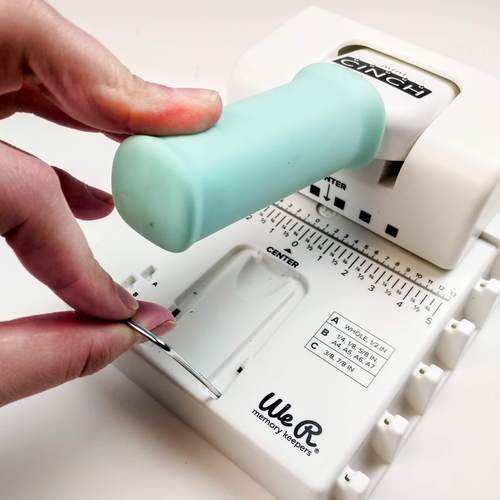 The Mini Cinch will come with the center wire holding it down so it can store away nicely. Remove this by pressing down the handle and pushing it into its housing on the base of the Cinch.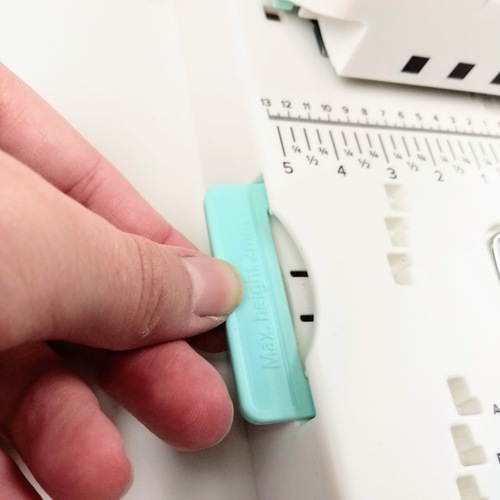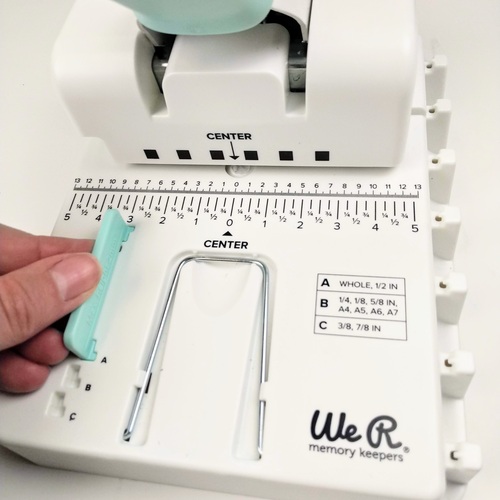 On the left side, there is a slot that holds your guide. Pull it out and use the measurements on the right side to show which hole you will place your guide into. Most of my pages in this book at 5 1/2", which means I would use the A guide.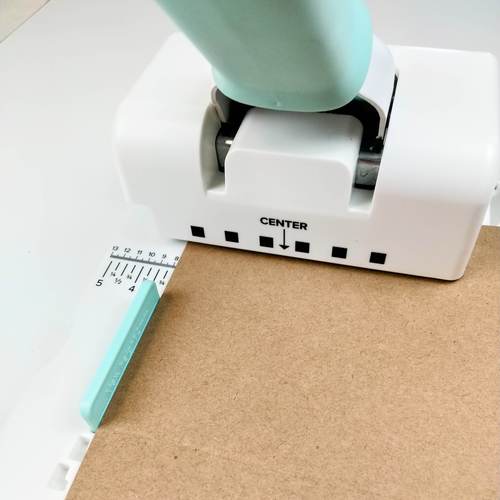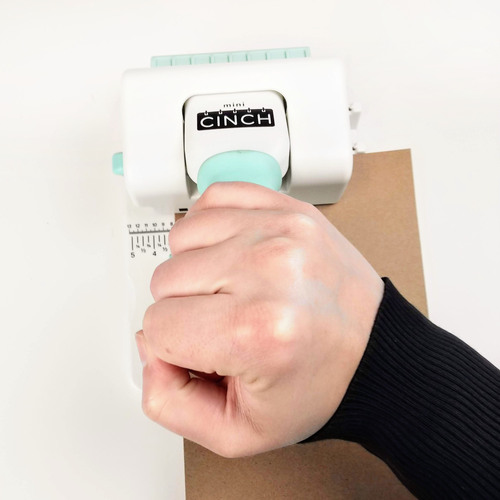 Now that my guide is in place, I can stack papers into the Cinch and push against the guide. It says that you can punch up to 2mm of paper at a time, but I find that it depends on what kind of material you are punching. Thick, heavy paper like watercolor paper can only be punched with a few sheets at a time. Drawing paper or copy paper can have more stacked up. Thick materials such as cardstock I only punch one at a time.
Punch your pages by pressing down on the lever. If you have a hard time, take some pages out and punch fewer at a time.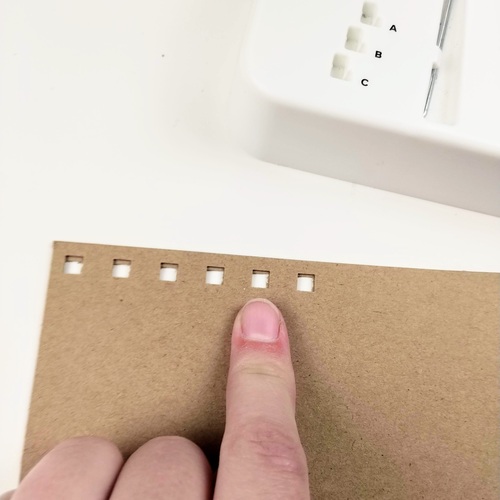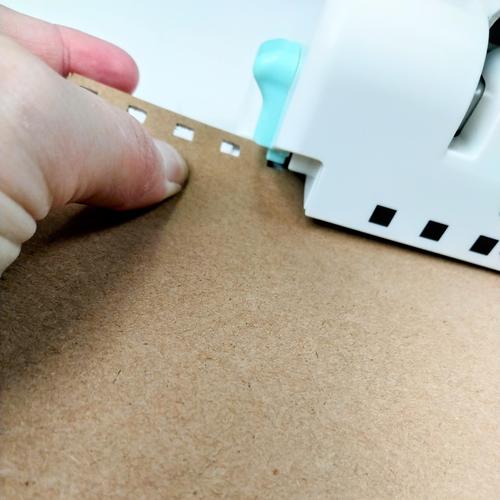 If your page is longer than the first 6 holes, you will need to scoot your paper over and punch again. You line this up using the small blue tab on the left side of the Cinch. Put your second to last paper into the hole and slide the blue tab down to hold it in place.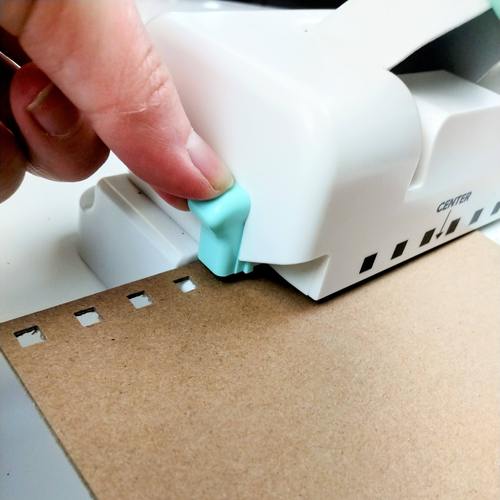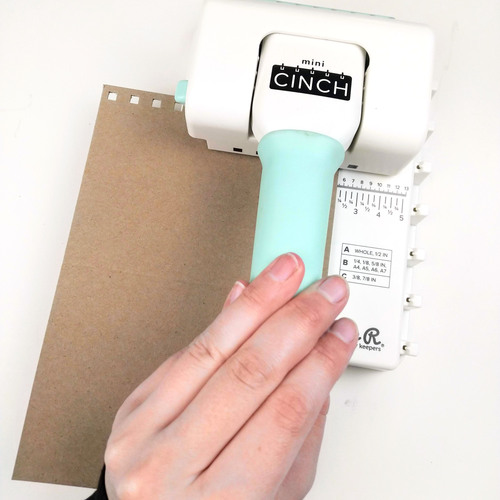 Make sure your papers are still pressing against the back of the Cinch and punch down again. Repeat as many times as you need to reach across your page.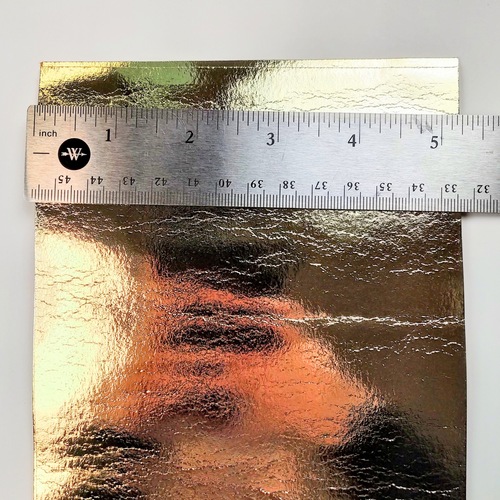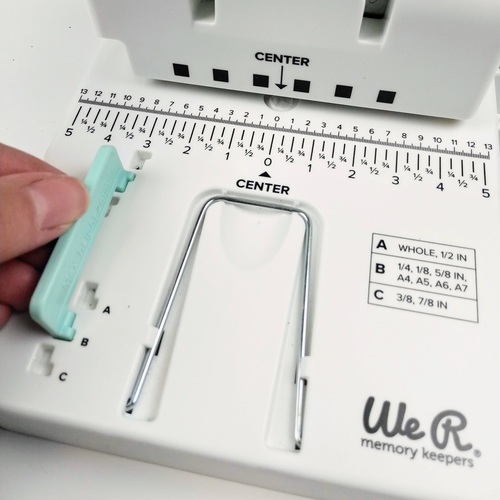 Because not all of my papers are the same size, I had to change where the guide started on them. For this gold paper which measured 5 1/4" I had to change the guide to B.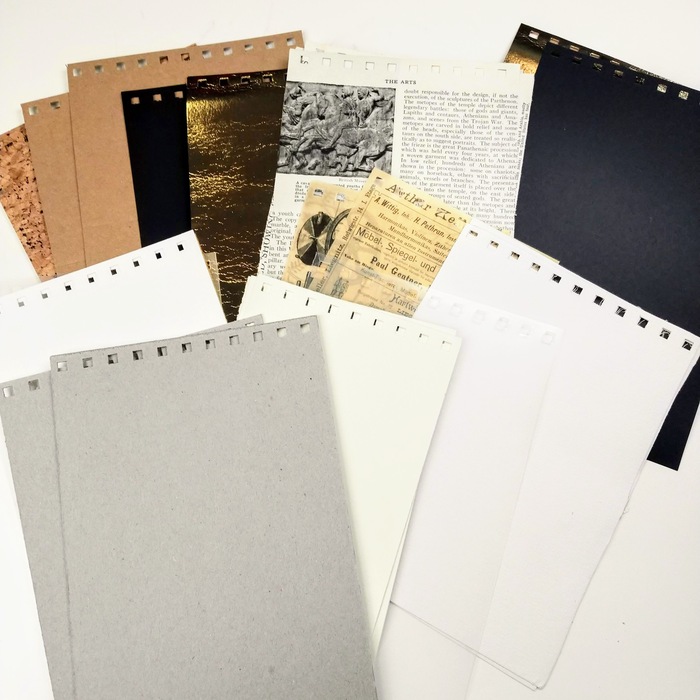 All of my pages are punched, including my chipboard covers. You can stack about 1/2" of papers thick to fit inside of the .625" binding wire, which works best with the mini cinch.
Step 3: Decorate Cover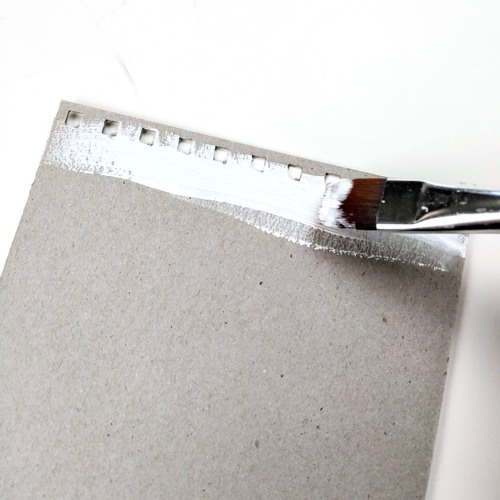 I recommend decorating your covers before binding them with the wire because painting them around the wire is tricky. If I don't know how I want to decorate my covers yet, I will at least gesso over the bound edge.
Step 4: Adding the Binding Wire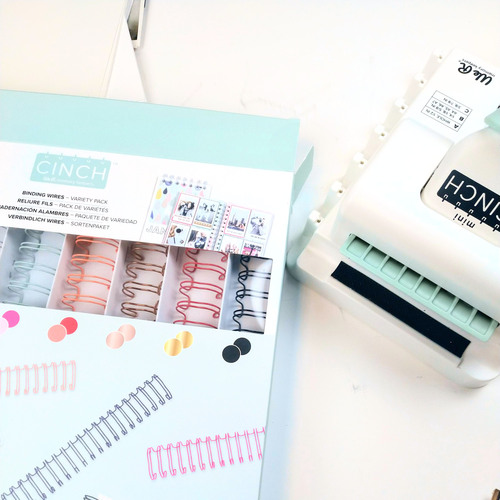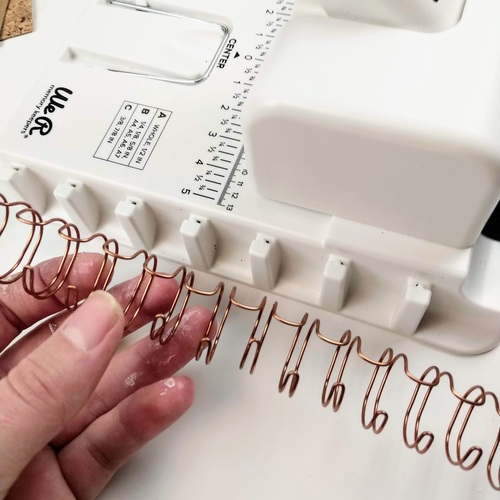 The Mini Cinch works best with the .625" binding wires. I recommend grabbing the variety pack because it has a range of colors to fit the needs of your project. It comes with 16 12" wires with which you can easily make 25+ books with because most books won't be the full 12". 
The wire has fatter and thinner loops. On the right side of the Cinch, there is a place to hold your wire as you begin to load it up with the paper. Put the fatter side of the wire on it.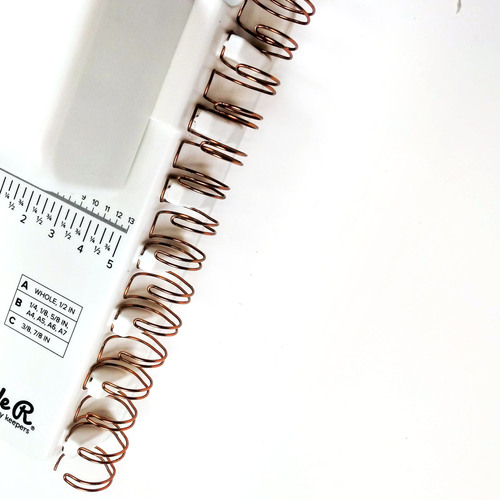 Now you can start adding your covers and papers! Begin with your outside cover and working back to front, add in your papers how you wish, finishing with your front cover.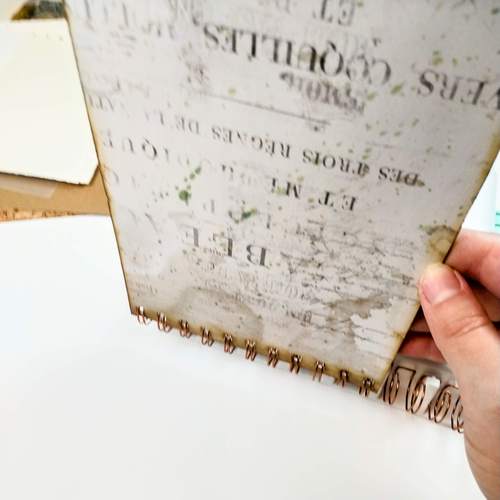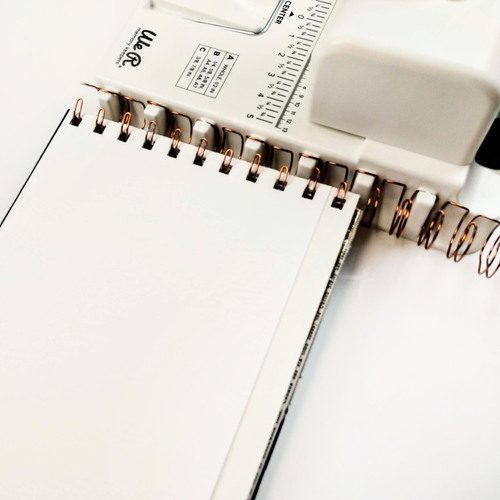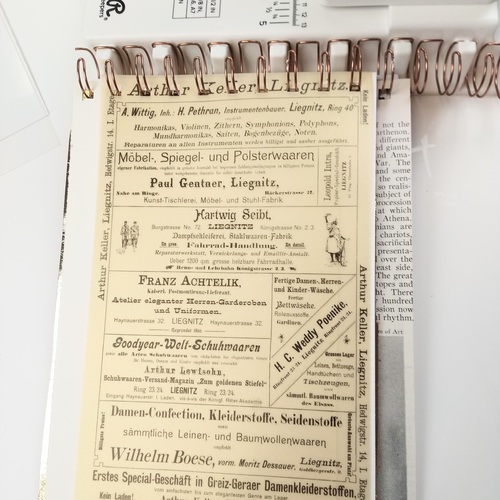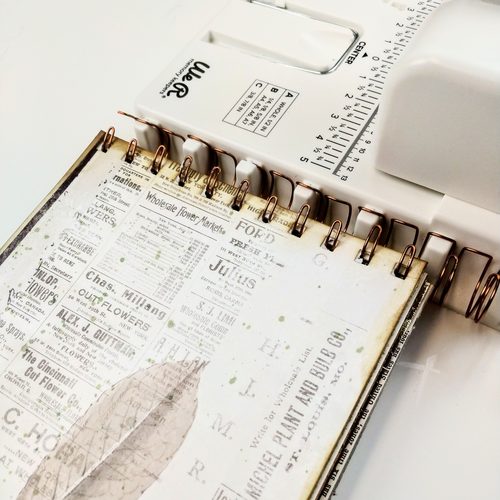 Step 5: Cinching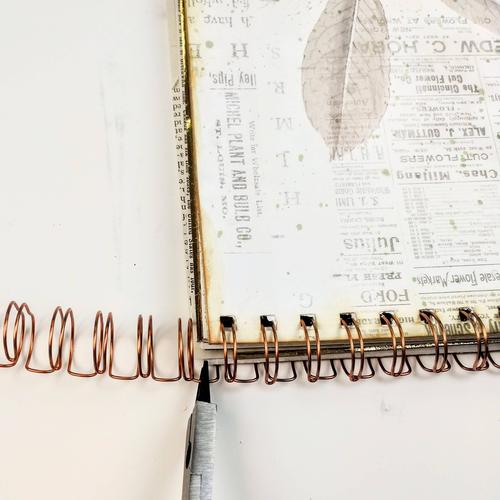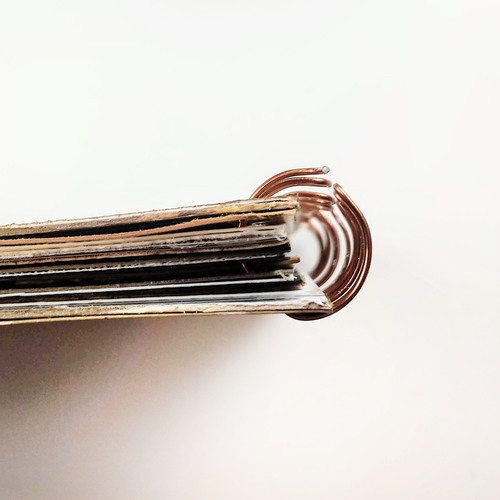 After all of your pages and covers are added to your binding wire, carefully take it off of the holder and cut off the extra wire using wire cutters. I like to cut off the extra before Cinching so I can reuse the rest of the wire for another book.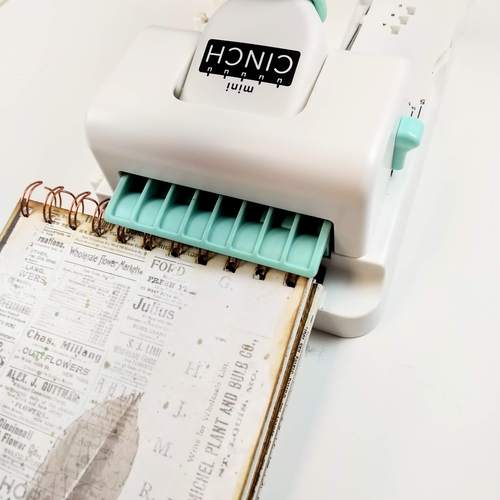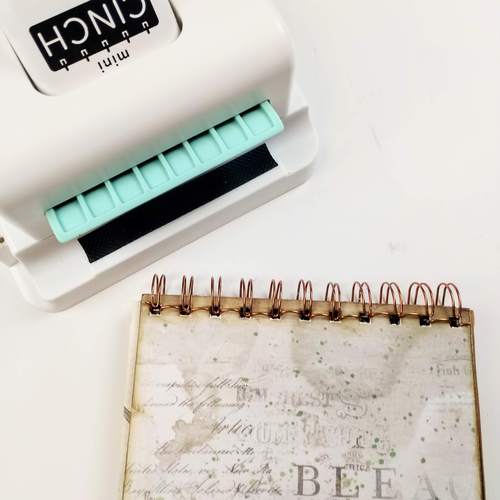 It's time to Cinch! Put your binding wire with all of your pages into the back end of the Cinch. Use the handle to push down to begin to round the wires. Watch how far you are closing them together, so you do not over-cinch them. The 2 sides of the rounded wires should be barely touching.
Step 6: Bend over Wire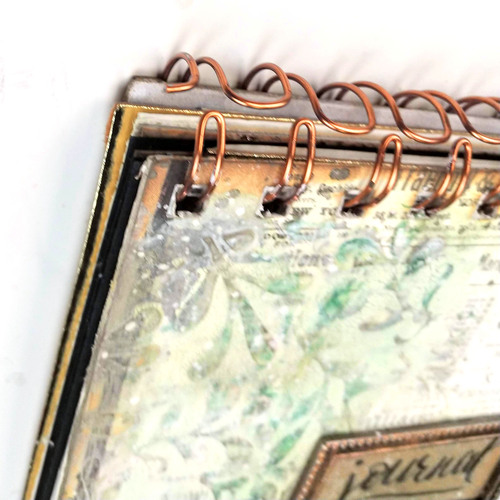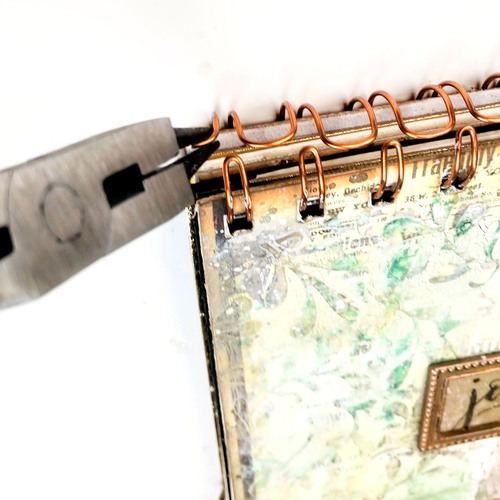 To finish off your book, grab your needlenose pliers to round off your cut wire edge so it will not get caught or scratch anything.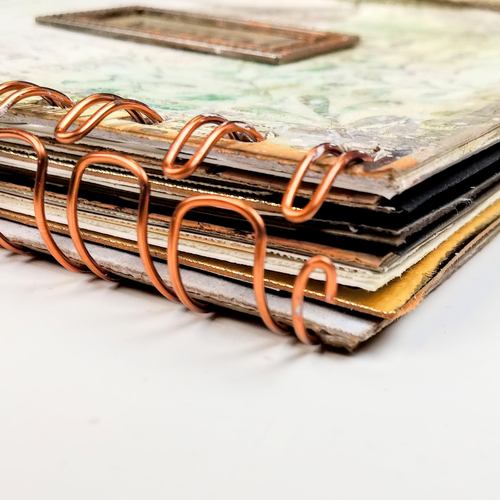 Step 7: Clean Up
After every project, I like to empty out my trash storage holder at the bottom of the Cinch. Grab and wiggle it until it comes out so you can dump out its contents.
---
The Finished Journal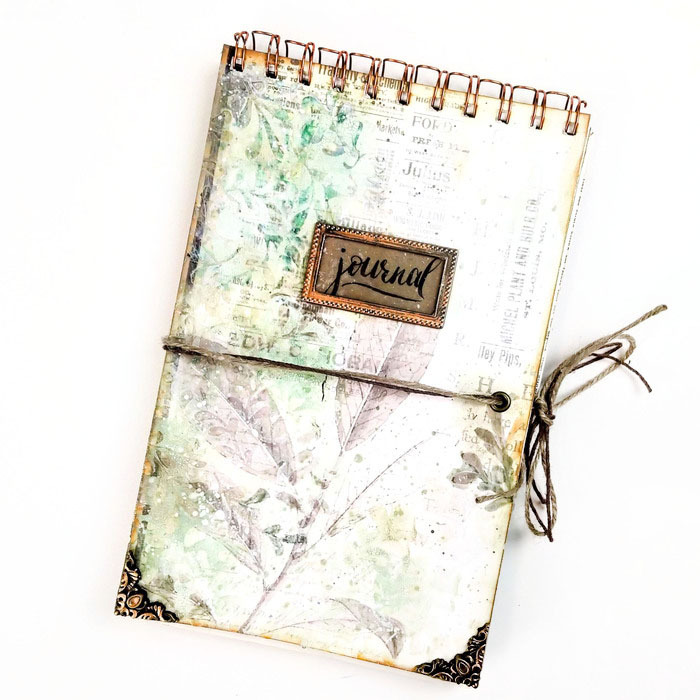 I wanted this journal to have a vintage feel so I added a paper from the 49 & Market Vintage collection to the cover and stenciled on some transparent texture paste. I used Distress Oxide inks in the colors Rustic Wilderness, Gathered Twigs, and Bundled Sage. I also used these inks to add splatters to the page. I added Crackle Paste with Bundled Sage Ink mixed into it to scrape around the page.
I then added some Book Corners to the bottom corners and used a Crop-a-Dile to punch a hole and add an eyelet for the twine to hold it closed.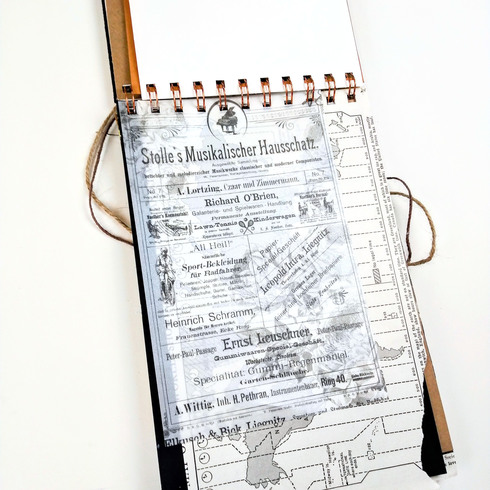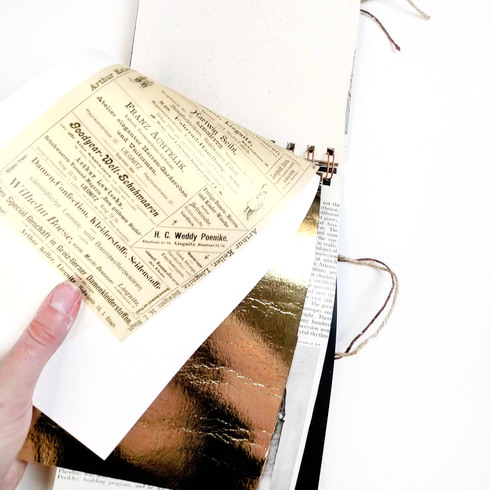 I love how this journal turned out and can't wait to start working in it! This tool is so easy to use and I like how I can make a one-of-a-kind book.
I hope this inspires you to make your own book using this fun tool! Thanks for stopping by.