Hey friends! Natalie here today with another Mixed Media Mix Up! Volume 3 will focus on texture paste and 7 different techniques of how to use them.
(Check out the other posts in this series:  Vol 1  |  Vol 2  |  Vol 4)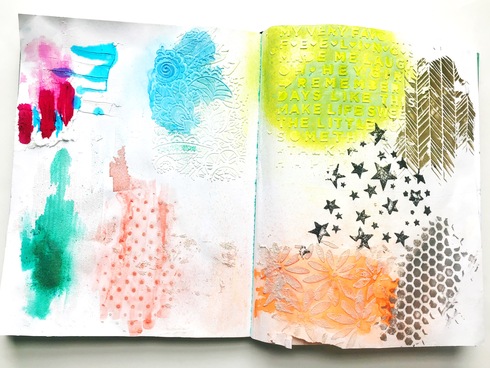 There are so many different options for texture paste! There are different colors, different sheens, and different consistencies. Today's tutorial will try to show a few of each, but the possibilities are endless.
Tools for working with texture paste:
If you plan to apply watercolor or a spray of color over the top of your texture paste, gesso is a must! If you're keeping the texture paste in it's natural state upon a thick paper background, you can skip the gesso. It will make your paper more sturdy, as gesso can tend to be heavy after drying.
You can see the full tutorial video on my YouTube channel! We will break down some of the process here as well.
---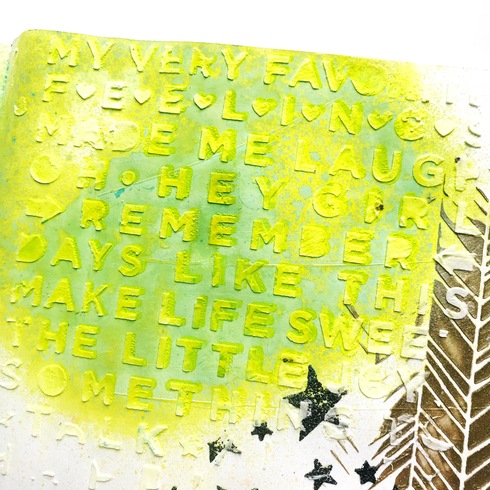 1) For this technique, I applied distress spray to the gessoed page. I then layered Ranger Opaque Matte paste over the top. Because of the heavily pigmented distress spray, the texture paste actually absorbed the color of the spray! Less pigmented sprays/inks would allow the texture paste to stay white, as demonstrated in the next photo using Sand Texture Paste.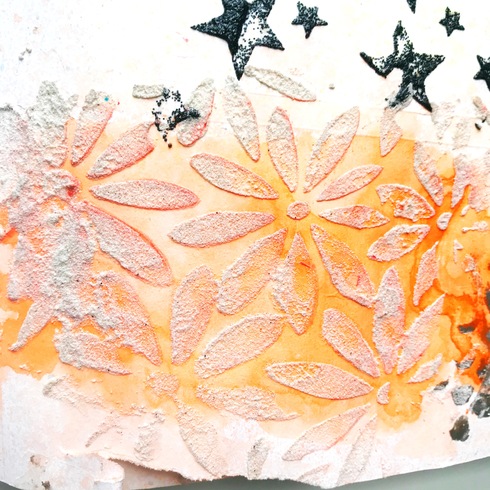 ---
2.) For the next example, I first applied texture paste to the page. After allowing it to completely dry, I spritzed a watercolor spray over the design and allowed it to run between the crevices. It gives a beautiful look! You can also see how the beautifully raise texture would be a subtle addition to a layout when remaining white.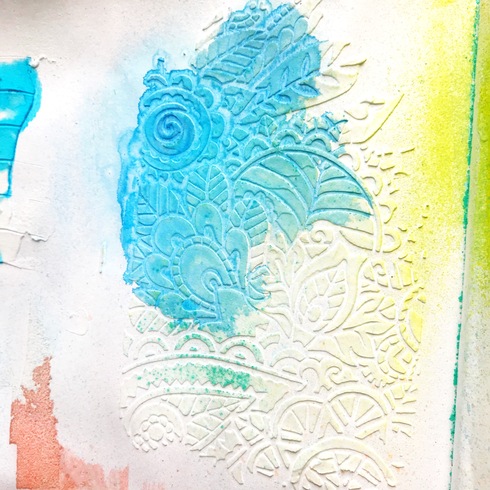 ---
3) Some texture pastes are already colored! Nuvo makes a few gorgeous, glittery pastes demonstrated here: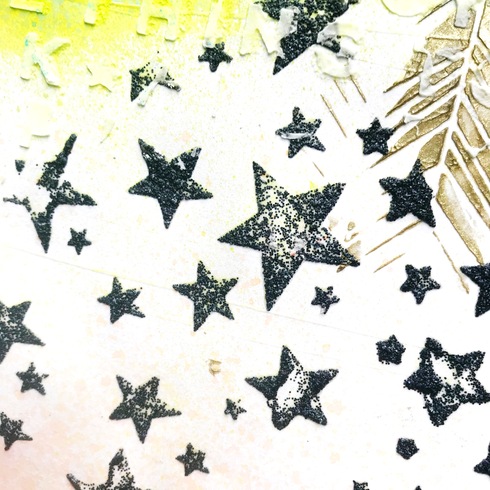 The black is Nuvo glimmer paste and the silver is Nuvo glacier paste. These give a definite wow factor. I suggest immediately cleaning your stencil in the sink after using these, as the pastes are sticky and the glitter will spread with cleaning.
---
4) Prima by Finnabair has a beautiful icing paste which gives a metallic sheen.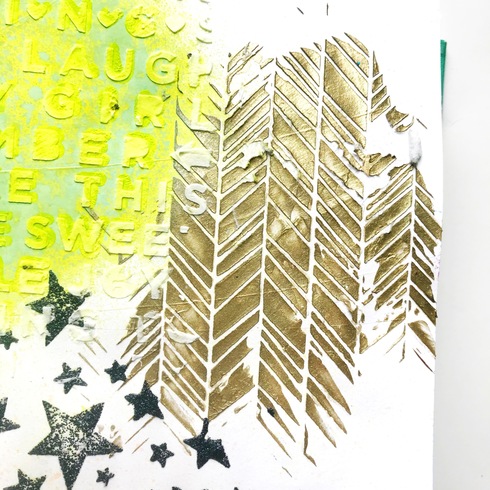 ---
5) For this next technique, I applied a water color to the gessoed page, then some Crazing gel atop through a stencil. It gives an awesome crackle texture.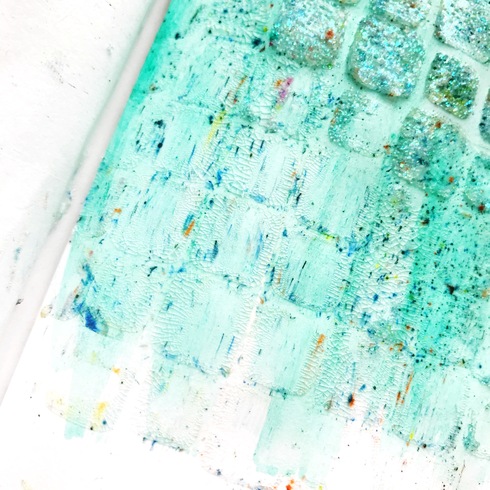 ---
6) For this technique, I mixed some pigment powder with white texture paste to create strongly pigmented turquoise paste. The result was stunning!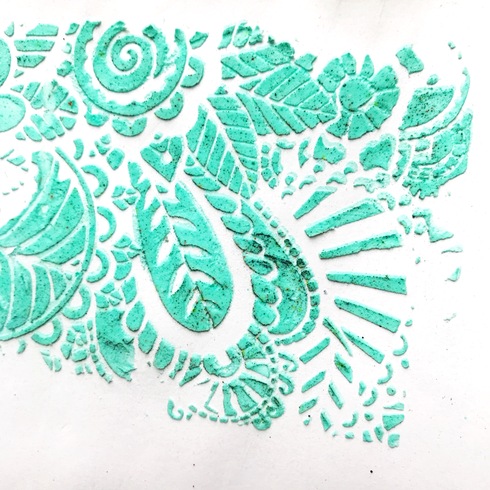 ---
7) Lastly, my favorite technique, and the one utilized in today's layout, is with powdered inks as well. I applied my matte opaque texture paste directly onto the page. Then, before lifting the stencil, I sprinkled powdered pigment atop the stencil. I used Ken Oliver's Color Bursts and Brusho Crystal Colors. The powders have different colors, which, when mixed, blend to beautiful pigments. But when laid atop a texture paste without blending, the individual colors get isolated and give a very awesome, pixelated look!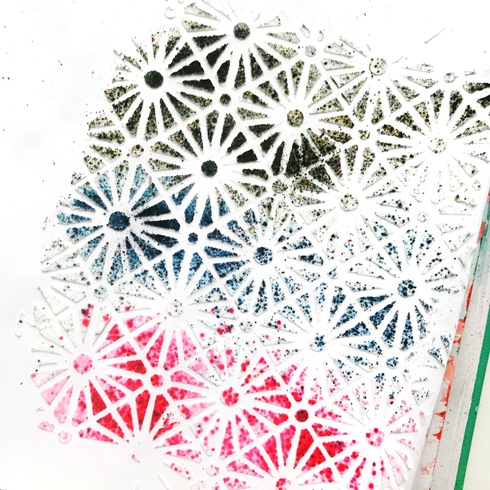 I utilized this technique on my layout today through the Vicki Boutin star stencil with Color Bursts in Pthalo Green.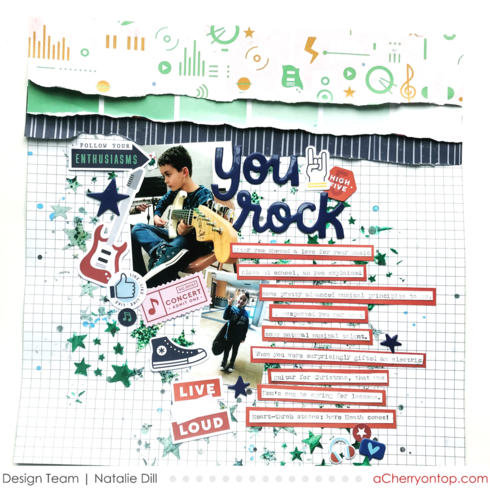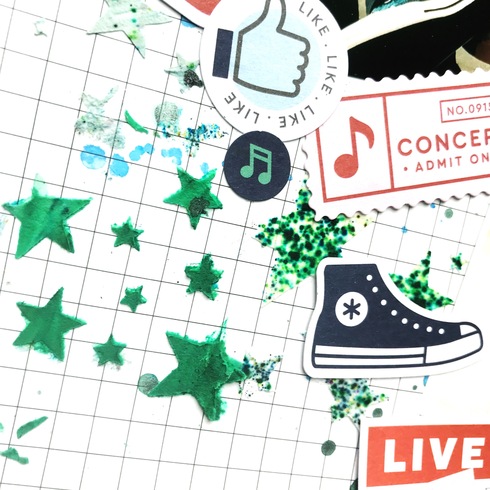 I used the new Pinkfresh Studio Super Cool Collection to scrap these photos of my son and his guitar lessons!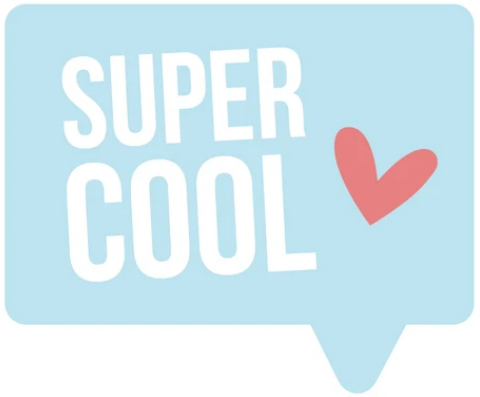 I ripped a few strips for the top of the page from Current Mood and Choir Paper as though the stars are coming from behind them.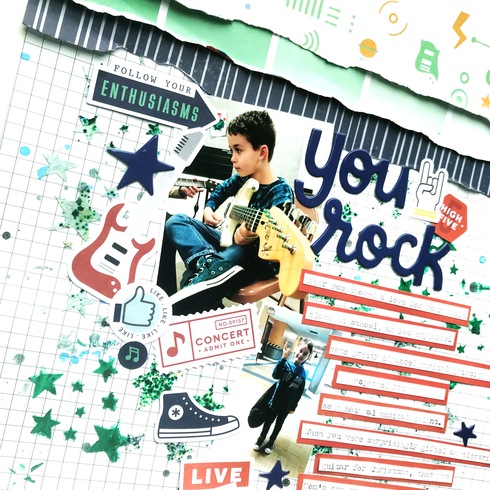 I used the Super Cool Ephemera, which paired well with this You Rock title from Shimelle's Field Trip collection.
I hope you've been inspired to play with texture paste in this Mixed Media Mix Up! I hope you can translate your new skills to a scrapbook layout or other craft project as well. The best way to learn is to practice.
xoxo, Natalie
ACOT Design Team Member
---