Hey Cherries! Natalie here today with some tips for getting multiple photos scrapped.

I love the design style of one or two small-ish photos on a single 12x12 page. However, I LOVE to take many photos of a single event. My solution for scrapping all the photos without having too many pages containing only 1-2 photos is to use pocket pages.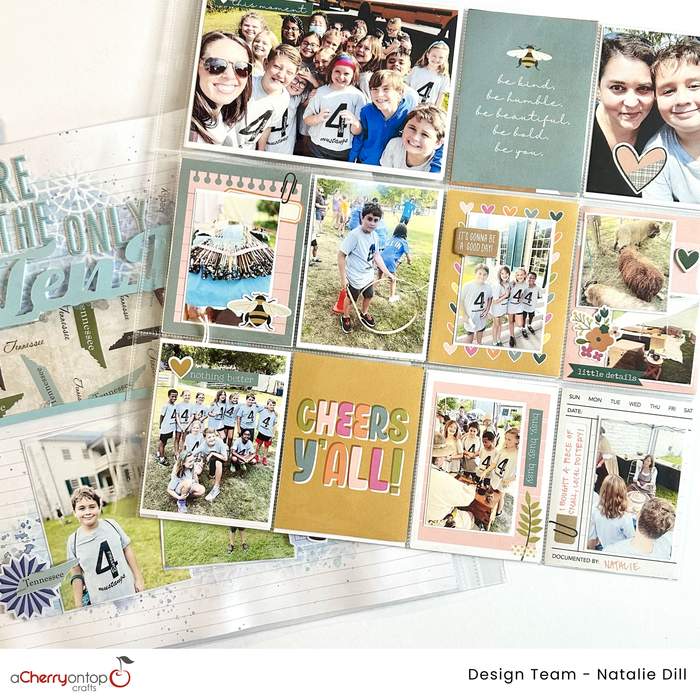 Two of my favorite photos of this field trip day with my son in the 12x12 "main" layout. I then gathered all of my favorite shots to be printed for a pocket page. My go-to pocket page protector is the Becky Higgins Project Life Design F 12x12 pocket page. It houses 11 photos - 10 3x4 sizes and 1 4x6 size. If I do not have a landscape 4x6, I will fill the large pocket with a title or a smaller printed portrait oriented photo.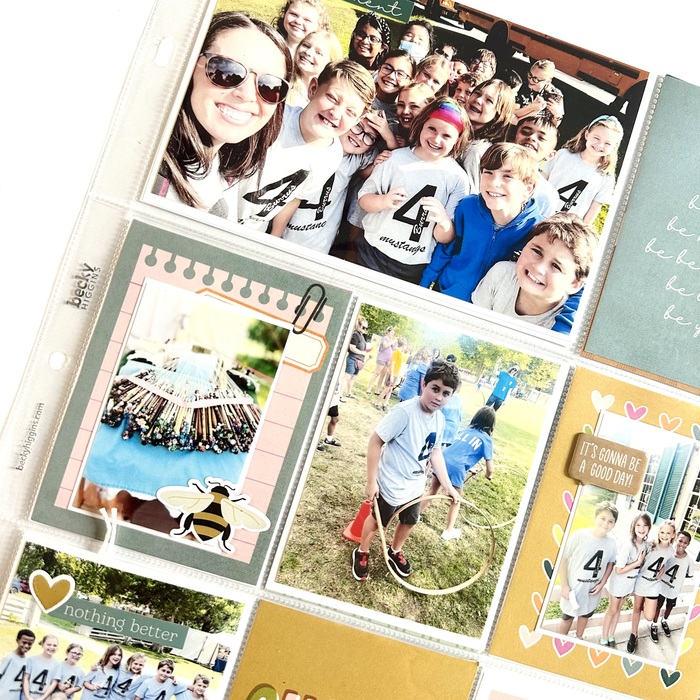 I vary the sizes I print my pocket page photos. I print my favorites in 3x4 size and the "minor" photos in 2x3 size. I make collages of photos with free collage apps on my phone on a 4x6 canvas to print multiple small pocket photos on one 4x6 piece of photo paper. This works perfectly if you send your photos off to be printed as well.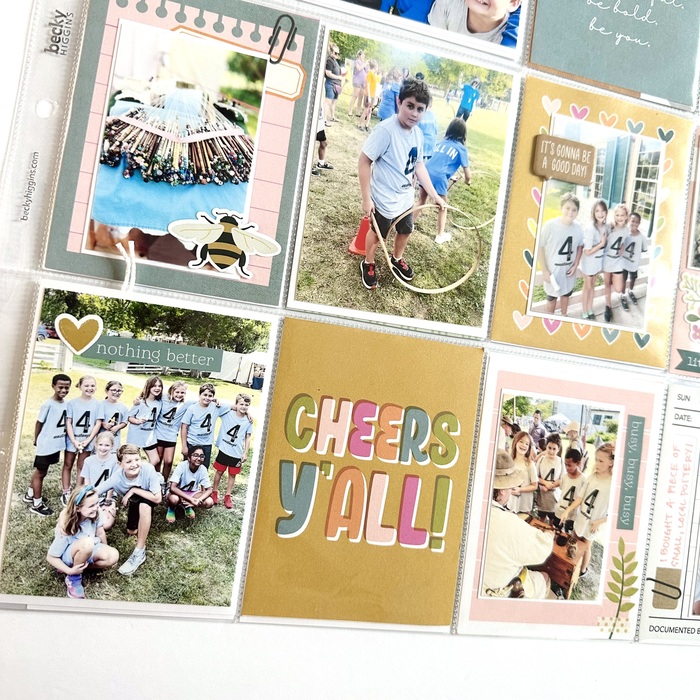 I almost always use white cardstock to back my photos. This can make the process a bit more time consuming, but it's worth it to me to have the uniformity and allow the photos to pop off the background. If housing two photos next to one another, it also allows for a break in the reading of the page. So many companies offer cut-apart sheets in their collections for pocket pages. The collection I used today, Simple Stories "Good Stuff" is geared specifically towards a project life type of scrapbooking approach. I find it perfect for everyday activities that may not typically have their own collections - such as field trips!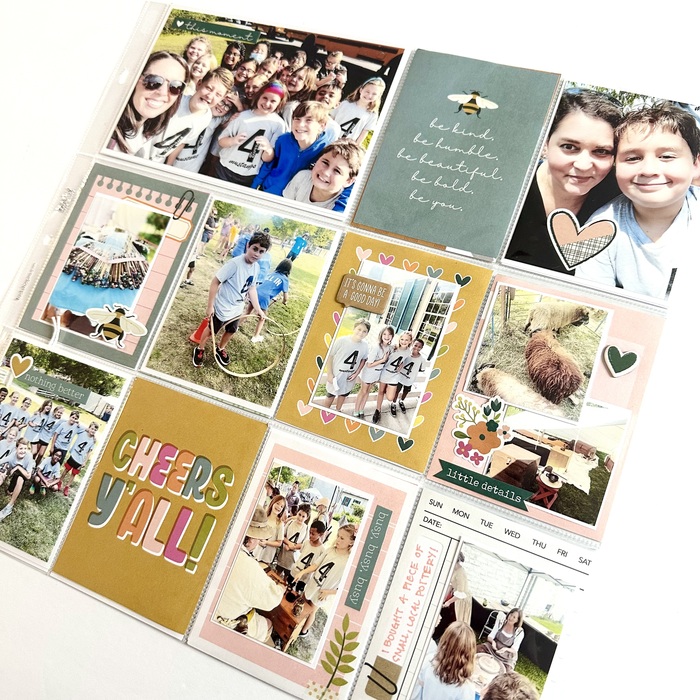 Before filling my pockets, I take stock of my pocket cards and determine how best to situate them for a cohesive and visually please design. Sometimes, your photos will be chronological and tell the story as you read a book. Sometimes, they will only require compiling them so that visually please triangles exist.
Here are some tips I use that are helpful:
I suggest no more than 2-3 pocket cards with words/quotes. If you use a card for journaling, that counts as a word card. 

I tend to use "journaling" cards to house the smaller printed photos as well. You can see on this layout I cut down two of the 2x3 photos and were able to combine them onto one card.

Don't be afraid to use some of the patterned 3x4 as a backing piece for photos as well. Covering part of the design does not take away, but rather frames the lovely photos.
I placed the two yellow cards in opposite, but touching pockets, while I created a visual triangle with 3 pink cards. I also repeated the green/blue card color in a couple of the pockets to create a visual triangle with that color on the page. Play around with the positioning of your cards and photos before adhering them down and placing them within the pockets to ensure the most pleasing placement to the eye.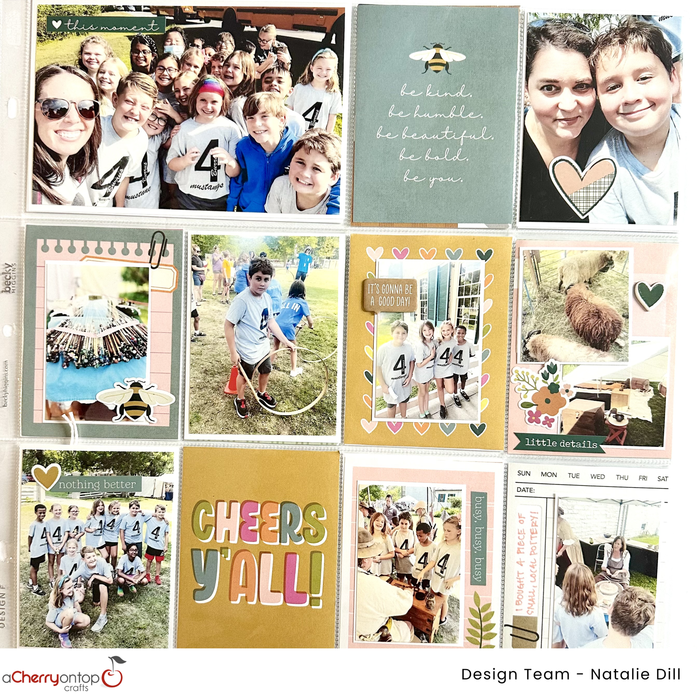 Lastly fill in negative space of the photos or cards with embellishments. Here I have used the 12x12 cardstock stickers and the 6x12 chipboard stickers from the Good Stuff collection.
If you're not into pocket pages, you can still use these principles and pocket cards on regular 12x12 full size layouts and achieve similar results!
I also love how a pocket page is a perfect place to add a story about a group of photos without interrupting a full size 12x12 page design.

I hope you're inspired to scrap your multi-photo groups and get those memories recorded. You can find a full process video on my YouTube channel.
xo Natalie
---
Products Used:
---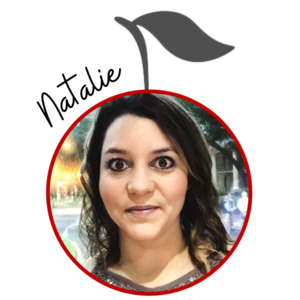 Natalie Dill
Hello! My name is Natalie Dill and I'm from Nashville, Tennessee. I am a wife, a full-time federal employee, and a mom of two boys and two pups. I love to travel, camp, eat, read, host parties, and craft! I have been scrapbooking for almost 25 years. I create in many sizes including 12x12, pockets, Life-Crafted, and memory planning. I also use my crafty powers to dabble in plants, home decor, and embroidery.
See more from Natalie on her Gallery, Blog, Instagram, Pinterest, Facebook, and YouTube.