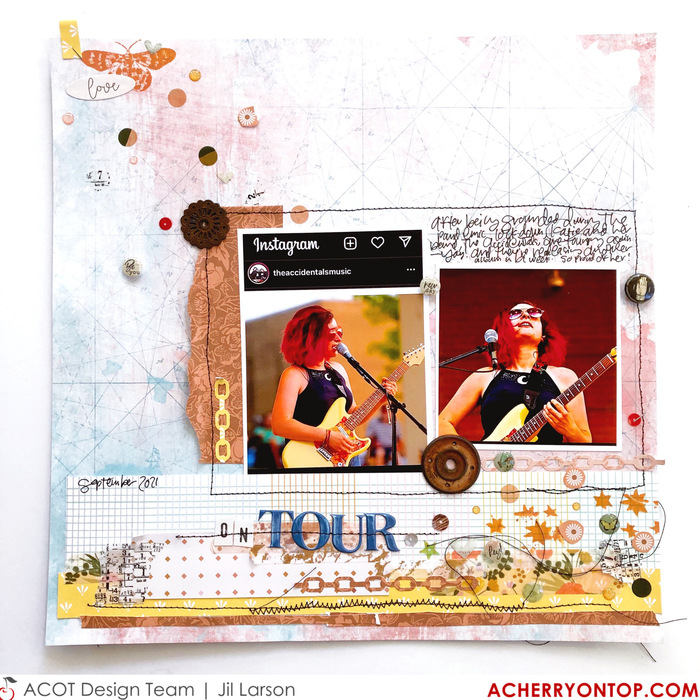 My niece is in a band called The Accidentals, and I've enjoyed following their recent concert and travel experiences on Instagram. They are getting ready to release a new album, Vessel, on October 1, and begin an album tour. I'm so proud of Katie and love adding a page about her now and then to my scrapbook.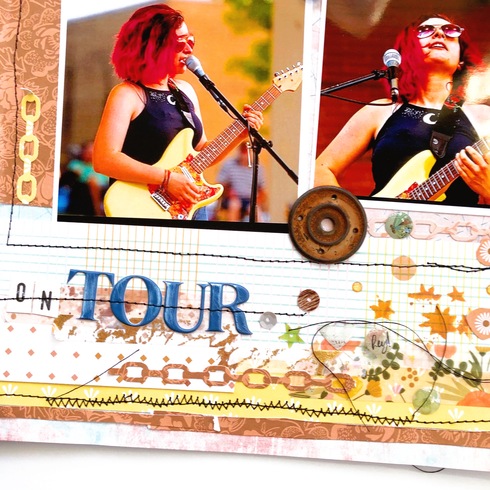 Since Katie's current hair color is a wild shade of red and her guitar yellow, I pulled papers inspired by the colors in these photos. My background is one of the travel papers from 49 and Market. I love its evocation of a map or globe and the muted blue and pink. I knew I wanted most of my white space at the top and my photos to the right and grounded by a title and paper and embellishment collage. I chose to cut a strip of a Pinkfresh yellow paper (from The Best Day collection) to pick up the guitar color, and include other papers from that line combined Jen Hadfield's Peaceful Heart papers and washi tape. I knew a rusty-colored paper and stamping ink would work well with the embellishments I had planned, and so I included the paper at the bottom of my paper layers and alongside the photos. The ink I chose was Tim Holtz distress oxide in Rusty Hinge. I stamped one of his moths in the top left and a cluster of stars in the bottom right.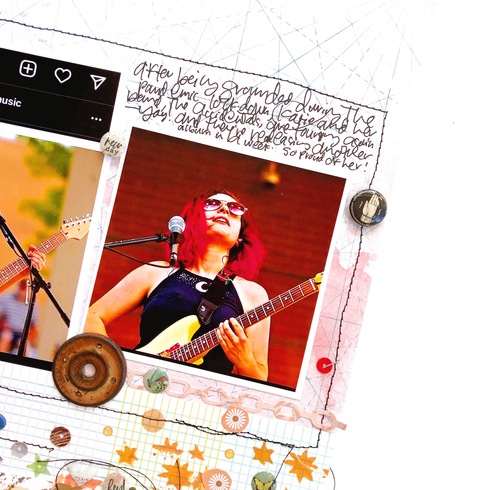 I've been loving old-school punches lately, and here I used a chain punch to make embellishments from some of my chosen papers. I spelled out "on Tour" with small stickers from My Mind's Eye and The Best Day puffy alpha, which I sanded to distress a bit.  With my sewing machine, I added a black stitched frame around the photos, stitched down my title, and zigzagged stitched the bottom of the paper-layered block for texture and a grungy vibe. These touches of black (along with the black ink I used for the journaling and black and white numbers washi from Prima) help tie the Instagram logo and my niece's dark top with everything else on the page.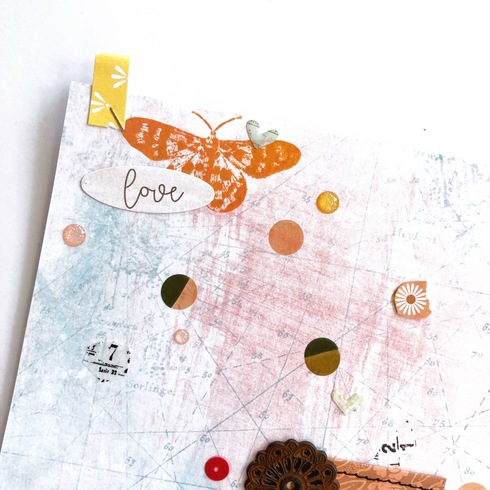 The tiny embellishments and finishing touches are always such fun! I love the wishing bubbles and baubles sets from 49 and Market, and sentiments like "be you" and "new day," were perfect because it's a fresh start for Katie and her band after being grounded by the 2020 lockdown. Rustic washers (Prima mechanicals), a Tim Holtz mini flair button, sequins, enamel dots, and washi and pattern paper cut into tiny circles serve as a kind of confetti running diagonally from the top left to the bottom right of the page. The colors and textures of the layout make me happy, and I love having these photos and this chapter of Katie's story in my album.
---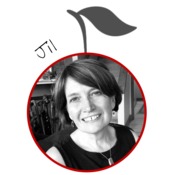 Jil Larson
Hello everyone, I'm Jil Larson, a new member of the design team. I'm excited to share my projects with you! I've been scrapbooking and art journaling for many years now. I first started memory keeping when my nieces (now in their 20s) were little girls and I was looking for a way to tell stories about them and the art they created. From there, my love for this wonderful hobby grew and developed. As a life-long diary and notebook lover, I've also recently been enjoying creative play in sketchbooks and journals.