Hi cherries, Virginia here. I am very excited to be sharing some projects with you here on the ACOT blog. Wow! I can't believe it! :)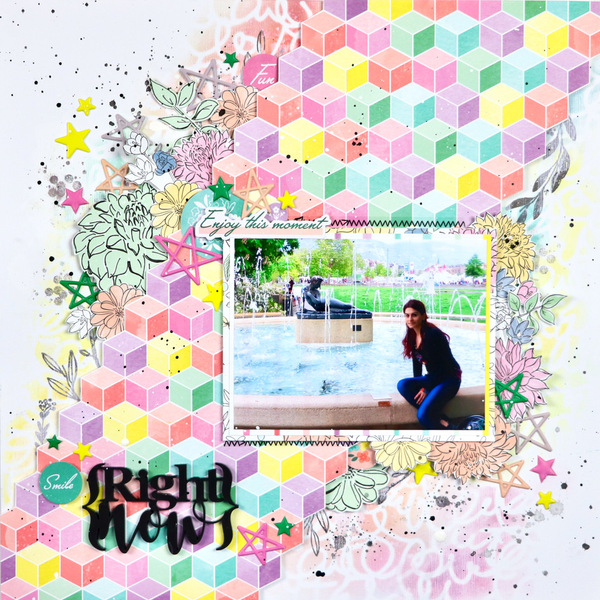 I went very colourful for this occasion and I came out with two layouts starting from the same patterned paper. You know, when you are not able to choose between two options… go for both. This is basically what happened when I sat in front of the beautiful cube pattern of the "Full Color" paper, from the new collection by Pinkfresh Studio, called "Delightful". I fell in love with this page at first sight, since I love geometric patterns and… colours, of course. :)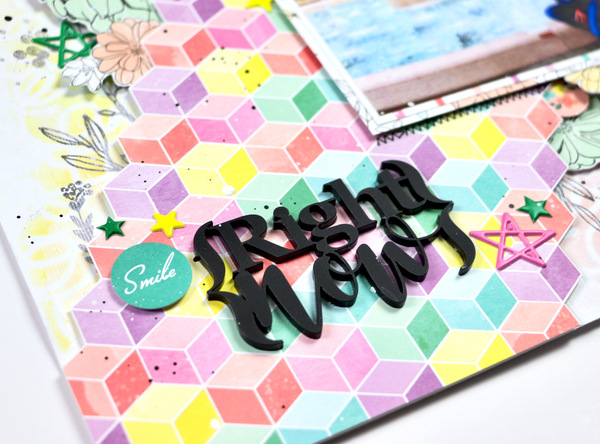 I decided to cut out a sort of diagonal strip from this paper, following the borders of the cubes, so as to obtain something that looked like stairs going up from the bottom left to the top right of the page. I first positioned this central piece on a white background and then I tried with the other two (let's call them "the corners") alternatively. I couldn't decide which design I liked the most, so I went for the two of them and created two layouts. I will shortly describe them here below.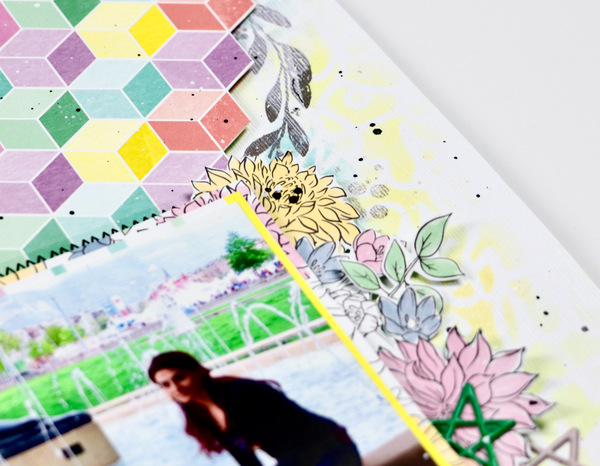 For this one, I pulled a white textured cardstock (Avalanche, by Bazzill) to use as my background. With Distress Oxides in a variety of colours, resembling those in the Pinkfresh paper, I created a messy pattern, using a stencil designed by Vicki Boutin (Sweet Rush, Making Waves Stencil Pack) and I spilled some drops of water on it to activate the paint and get that fun oxidation in some places. Then, I did some imperfect stamping in black, using some foliage and stain stamps. At this point, I thought that the background needed to be toned down a bit since it was competing too much with the cube pattern. So, I applied light and a bit messy layer of white gesso.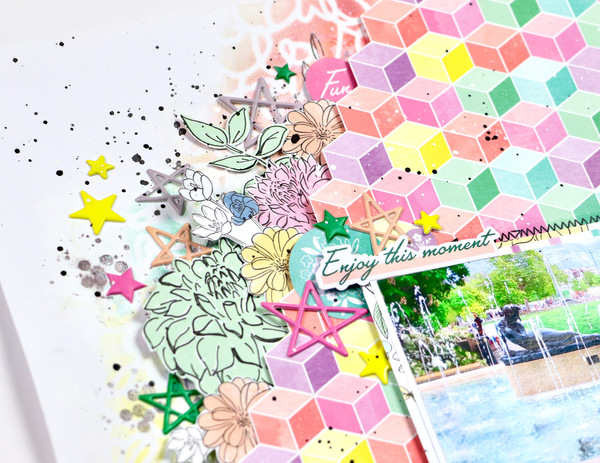 When my mixed media background was dry, I attached the diagonal stripe of patterned paper, lifting it up with some foam. I backed my photo with a couple of pieces from the "Happy thoughts" paper (from the same Pinkfresh collection) and from the "Bloom and Grow" paper (from "My favourite story" collection). I stuck it down with bit of foam, slightly toward the lower right corner of the page.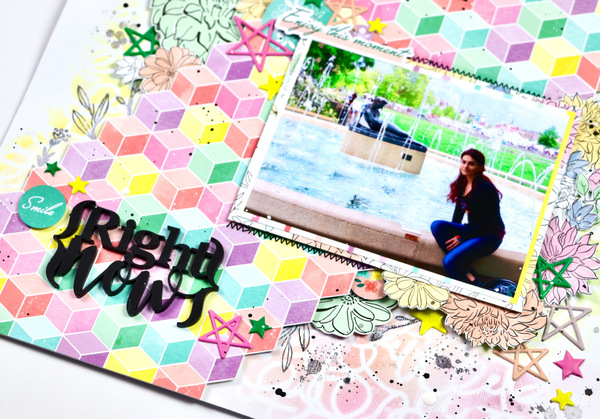 Then, I fussy cut a bunch of flowers from both sides of the "Bloom and Grow" paper and tacked them below the photo and the central paper block, creating two main clusters along the main diagonal (the one that goes from top left to bottom right).
I created a third cluster with the title, which is an acrylic piece. I love its positioning at the bottom end of the cube-patterned paper strip and I think that it helps to bring black, which is present in the background stamping, to the top layer.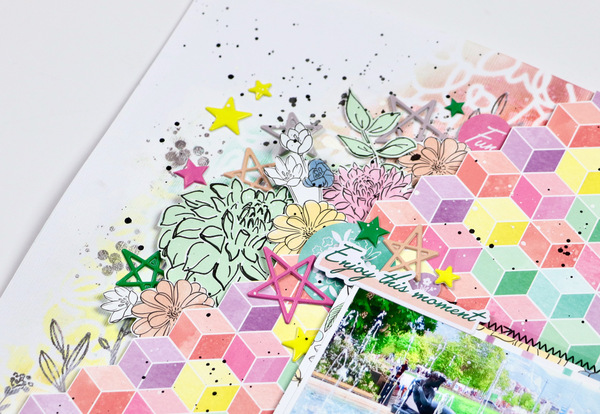 I added as embellishments a few cardstock stickers from the "Delightful" collection and a few puffy stars (from another old collection by Pinkfresh). I finished off the layout with splatty bits in black.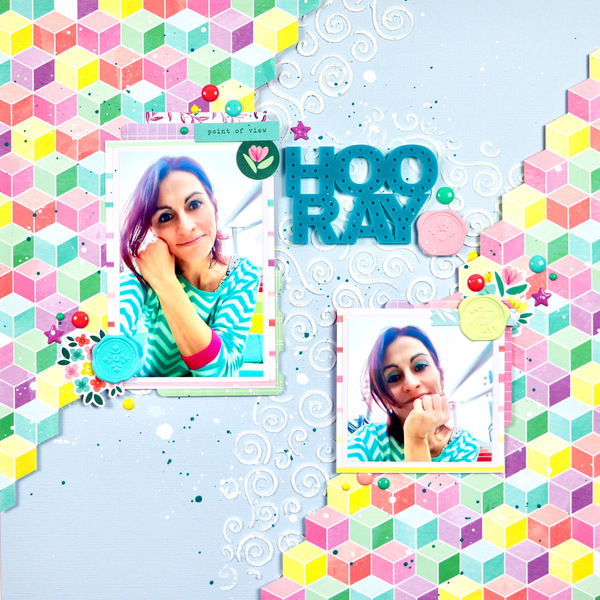 In the second layout, I played with the two corners left from cutting out that big central strip from the cube-patterned paper, and with the "negative" space in the middle.
In this case, I opted for a coloured background: a soft blue textured cardstock (Powder Blue, by Bazzill). My plan was to use a couple of photos of myself, wearing a colourful striped shirt and sitting on a colourful stairway (what fun!), which I backed with white paper and scraps from the "Happy thoughts" paper ("Delightful" collection). They are perfect for this fun and happy collection.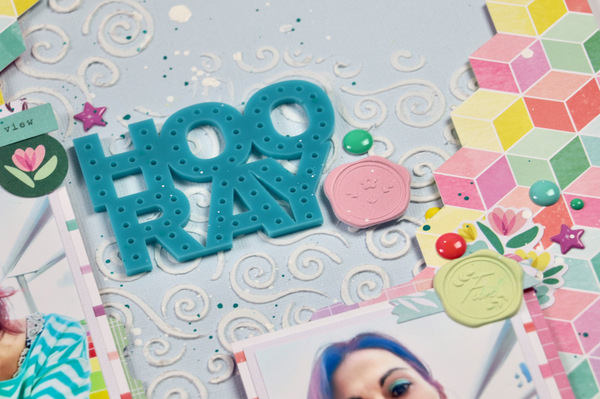 I wanted to introduce some organic shapes to break the straight lines of the cubes and the pictures. So I pulled a stencil from my stash featuring a spiral and I used it to create an imperfect pattern with white texture paste. I love those messy swirls!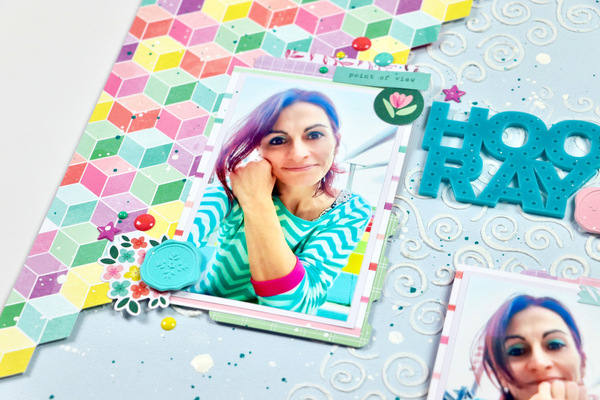 Once the background was dry, I attached the two patterned paper corners giving them dimension with foam. Then, I attached my pictures and the title, which is again an acrylic piece. (Full disclosure: I know that perhaps "Hooray" does not seems to be the right title for this page, since I was not celebrating anything special. But… first of all, I loved it and I wanted to use it; second, I was out shopping for some new electronic gadgets and, in addition, I found that colourful stairway… I think this is enough for an hooray. Don't you think? :D)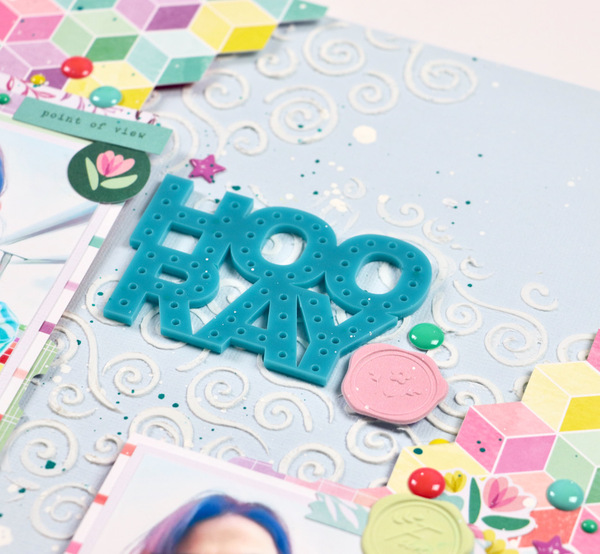 As opposed to the first layout, which came out quite busy, here I went a bit minimalistic with the embellishments. I used three of the superfun "Delightful Puffy Seal Stickers", just a few cardstock stickers and enamel dots. I completed the page with white and teal/turquoise spatters. And that's all.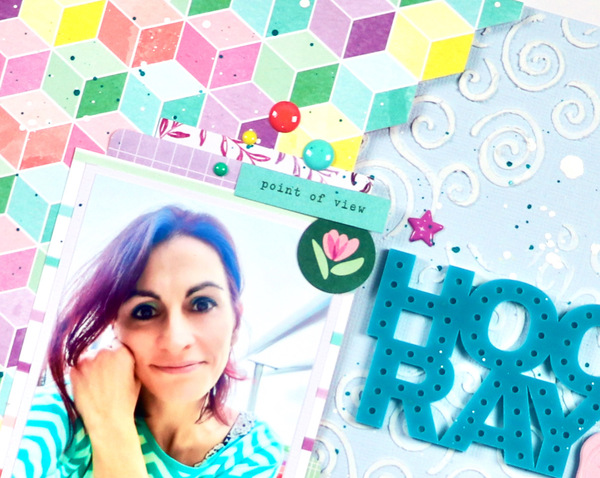 So, what do you think of these exceedingly colourful (and happy) layouts? I really hope that you liked them and that you got inspired to try out these products. If you have questions or comments, please let me know by dropping them below this post. Thanks!
See you around! Virginia
 You can find more from Virginia on her Instagram, Facebook, Youtube, Pinterest, and Project Gallery.
---