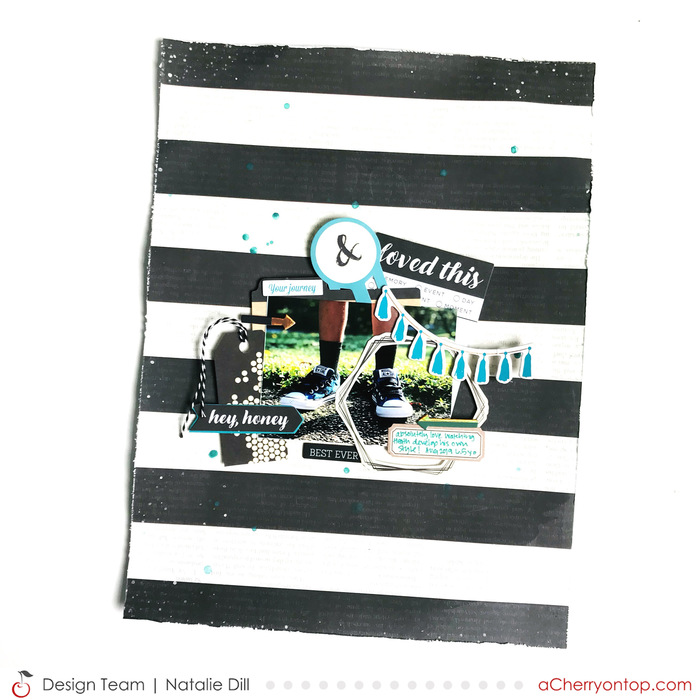 Hey cherries! Natalie here today with some quick scrapbooking tips. Do you ever get so busy that your crafting needs to take the back burner? Yet those important stories and photos continue to amass!
 
Today I'm going to share with you some tips I use to create a super fast layout that I love and still tells a story I want to get out.
 
This page took me about 15 minutes! Seriously!!!
 
My first tip for a quick page, pick a story that you want told that isn't a long story.
 
I wanted to scrap this photo of my son and his developing style, but I knew it didn't have to be a very wordy story - just a few words documented with the photo. So I quickly jotted the story on a tag from the Wildflower & Honey ephemera pack & boom - story told!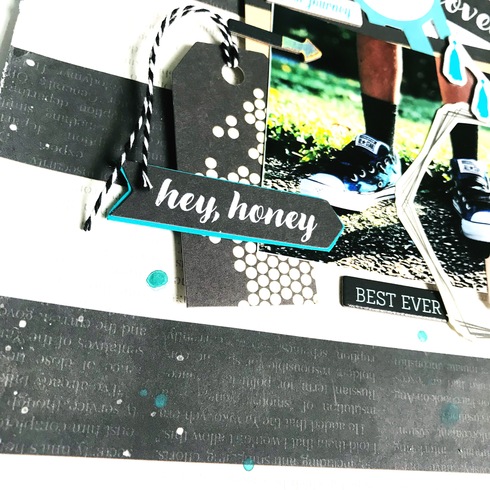 My second tip for a quick page - choose a simple color scheme & stick to it!
 
When you limit your color choices, it immediately limits which products you can chose on your page. This makes the decision process much faster!
 
For this page I chose a black and white scheme and accented with the teal color of his new kicks. My background paper is from Simple Stories Lil Dude collection.
 
I pulled out the new Vicki Boutin Wildflower & Honey ephemera pack and chose all the black & white and teal pieces and ignored the rest! Same for the chipboard sticker page - it made choosing my embellishments so easy.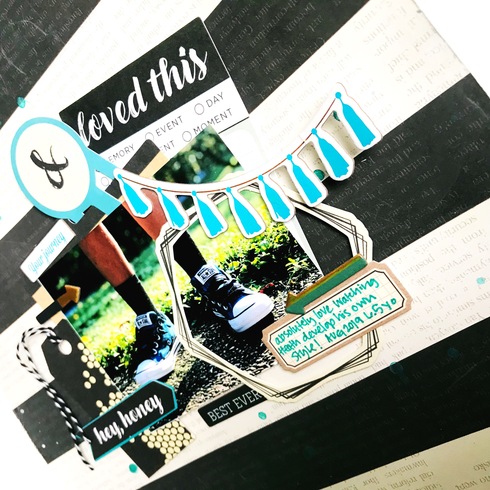 My third tip is to keep your mixed media to a minimum. While I adore mixed media, it does often require some drying time, so I suggest minimal MM with a punch! Because of course I'd never suggest leaving it off completely!
 
For this page, I used clear gesso on the background - never skip the gesso! It dries super quickly, so that's not a problem.
 
I then used Shimmerz Coloringz in Whale Blue me Down, the same color as my son's new shoes of which he was so proud, to create big splatters. That's not much mixed media work, but it helped to reiterate my color scheme across the page, beyond my photo cluster.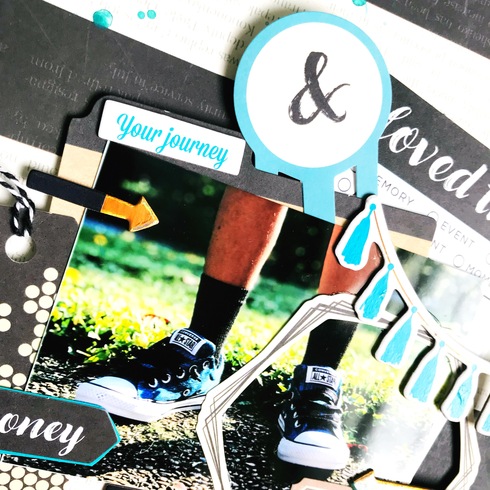 My fourth tip for a quick scrapbook layout is to focus on a single, main cluster. Instead of trying to spread the layout across the page, focusing on a main photo and embellishment cluster allows less decision making, but also creates a main focus for your quick story.
 
I suggest maybe creating in a smaller size than 12x12 - I have done a 9x12 page here. 8.5x11 is also a great option. This way if negative space bothers you, there's less of it! I think it lends to a clean look that is striking.
 
I also suggest using fun foam to pop up your cluster to give it a great effect, another way to draw the eye toward the photo. This will create lots of interest on your page, and no one will suspect how quickly it came together! You can find tons of options for foam adhesive in the cherry store, like this!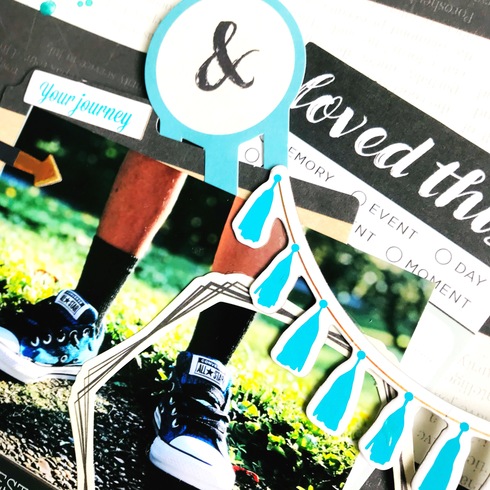 Lastly, my fifth tip is to know when to quit. That's definitely something I struggle with because I love to add so many layers and dimensions to my pages. If the goal is to create a quick page to document a story, it's important to know when to stop adding embellishments and allow your page to be complete. I know almost all of us have so many photos and stories to tell, so when we are limited on time, it can be important to know the story is documented and move on to the next!
 
You can see the entire scrapbook process video on my YouTube channel!
 
Please let me know if you have any questions! I hope I've inspired you to make scrapbooking a priority since it can be accomplished so quickly! Tell your important stories!

xo Natalie
-DT Member
---