Good morning Cherries! Suzanna here today to share with you a layout created using the Sweet Rush collection from Vicki Boutin. This collection is full of vibrant, rich colors. Perfect for your summer memories as I've used it here for a multi-photo, outdoor layout.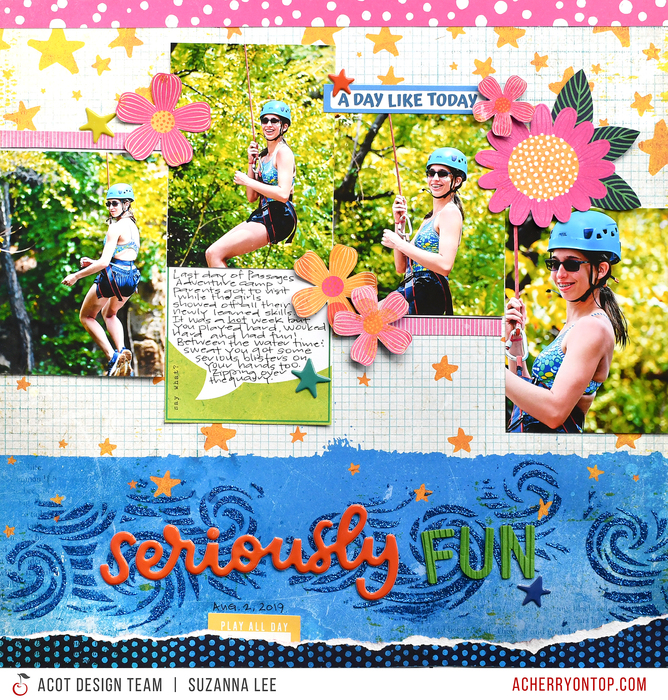 Do have any of the stencils that Vicki usually releases with her collections? I think I have every single one. What I love most about these stencils is that they are extremely versatile and can be used over and over again. This set, Making Waves, was a no-brainer for me as I have a million pool pics that could be used with that stencil. And that heart stencil?! Or the tropical leaves?! All of them, perfect!
Here I used a palette knife to apply some Gina K/ThermOWeb Glitz Glitter Gel to the brilliant blue patterned paper for a tone-on-tone water effect. This creates the effect of the quarry water that Mia, my daughter, was zip-lining over but isn't captured in the photos.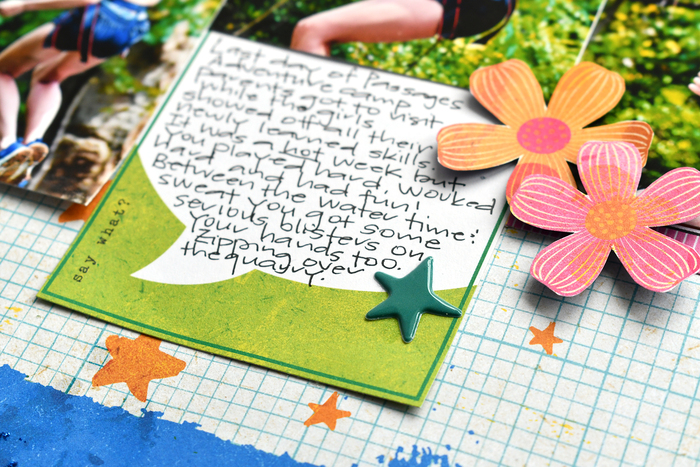 While there are embellishment packs aplenty that you can pick up, I opted to fussy cut some of the flowers instead. I love fussy cutting and prefer the "straight to the edge" look to having the white borders. Crazy as it sounds, fussy cutting is relaxing and therapeutic to me. A few of the flowers are popped up on foam adhesive for dimension and layering.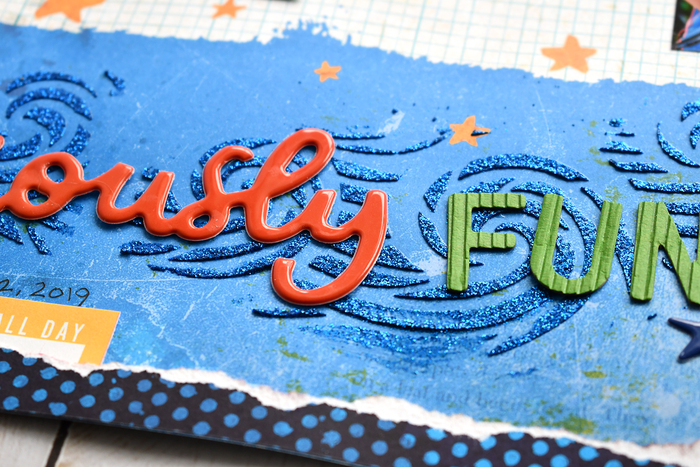 The staggered photos add to the movement of this page, adding to the illusion conveyed in the photos as Mia zips her way closer to you, moving from left to right. The speech bubble journal spot adds a lovely spot below the second photo for journaling but maintains a nice white space.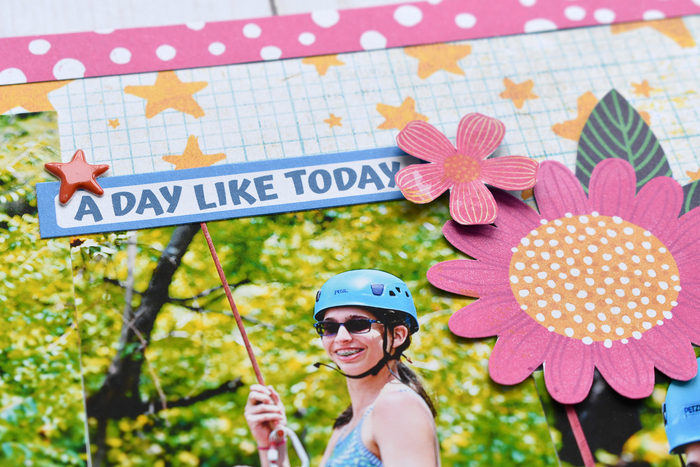 While I love the Thickers and phrases that Vicki releases with her collections, I didn't buy the ones for this collection. Not at this stage in the game! LOL! I often will go back and add additional items to future purchases, just as I've done with the Thickers! Can't wait for them to arrive. But in the meantime, I just used stash goodies for this title of a Seriously Fun afternoon!
Be sure to check out the process video below.
Thanks for stopping in today! Be sure to share your creations created with this amazing collection with us over in the gallery!
Suzanna
---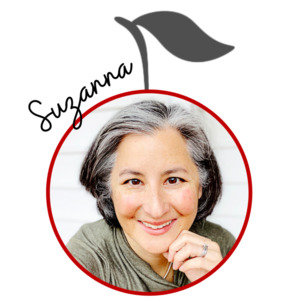 Suzanna Lee
My name is Suzanna and I live with my family in Glen Allen, Virginia. My husband, Michael, and two kids, 19 yo Nikolas and 15 yo Mia, are supportive of my memory keeping and the main subjects of my work. Along with our 2 fur babies, Jasmine and Luna. I have been creating and documenting for a long time, over 20 years. My main focus has always been creating 12x12 layouts but I also like to work in a travelers notebook, create pocket pages and my new obsession, a memory planner. I've been filming process videos and sharing my process on YouTube since 2016. 
See more from Suzanna on her Gallery, Instagram, Facebook, and YouTube.