When I saw the plate motif included in the Simple Stories Flea Market collection, I knew I would have fun documenting my dining room plate wall. I printed photos of different sizes because I wanted to capture the design of the wall and some close-ups of my whimsical plates. My dining room is dark, and I knew an image of the entire wall (one wall and part of an adjacent wall, actually) would be hard to capture, so I settled for a section of the whole, knowing I could evoke the rest with plate stickers!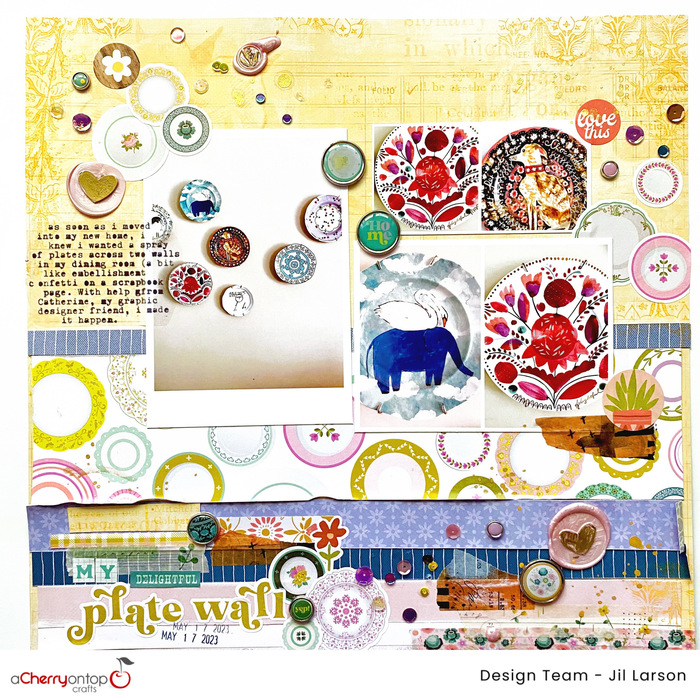 Choosing the background paper was probably the slowest part of this layout, but I'm happy with my choice, a lightly textured yellow Simple Stories paper, which I stamped on with Tim Holtz fragment stamps and Wild Honey Distress Oxide ink to add even more subtle texture.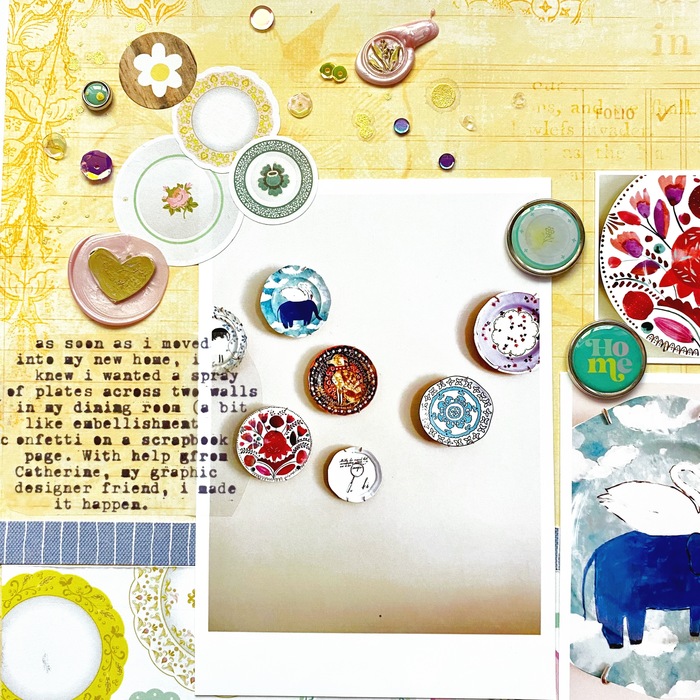 Of the strips of paper I layered under my photos, the plate paper from Flea Market is the broadest, and I love the way it not only resonates with my theme but also picks up the yellow, blue, and purplish pink of my color scheme. I chose a strip of lilac flower paper from Bo Bunny Brighton to reinforce the whimsy and an older Maggie Holmes paper with vertical white stripes against an ombré blue (that way I could cut a dark piece to ground the page and a lighter piece to coordinate with the lilac). I used pink and white toward to the bottom so my title would show up well. 
I created my title with different alphabet and phrase stickers from the Flea Market sticker book. I also used some washi tape from the collection on the lower section of my layout, along with some brown strips of washi from my stash to draw out the browns in my dog plate. Most of my stickers—plates plus some flower and plant motifs—come from Flea Market but a few are from Simple Stories Boho Sunshine. To add circles of different textures, I drew on the brads pack from Flea Market and, of course, sequins.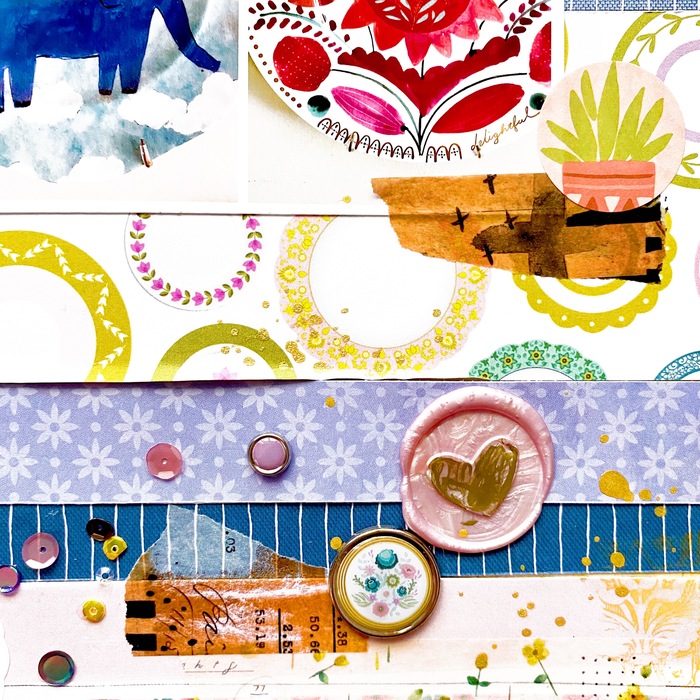 I'm practicing making wax seals, so you'll see two wonky larger ones (the heart seal is from Honey Bee) and a smaller one (cute but pretty messy!) at the top of the page. I highlight the design on the seals with a gold metallic Sharpie. I journaled a little bit about my plate wall on clear sticker paper using my typewriter. After sprinkling on a little gold mist, I called the page done. It makes me smile to look at—anybody care to count the circles? So many!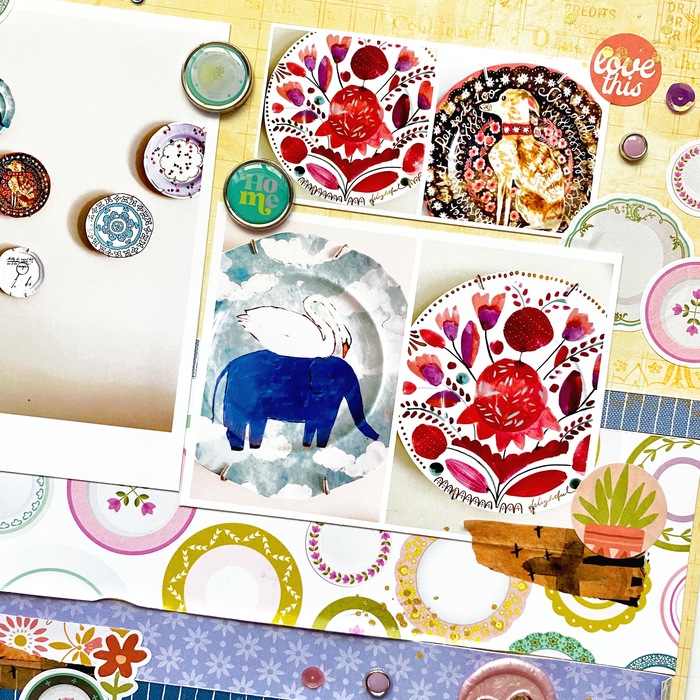 ---
Products Used:
---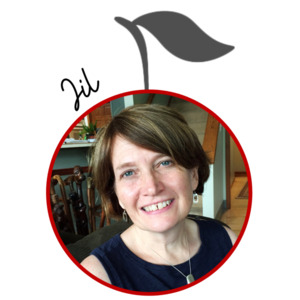 Jil Larson
Hello everyone, I'm Jil Larson, a new member of the design team. I'm excited to share my projects with you! I've been scrapbooking and art journaling for many years now. I first started memory keeping when my nieces (now in their 20s) were little girls and I was looking for a way to tell stories about them and the art they created. From there, my love for this wonderful hobby grew and developed. As a life-long diary and notebook lover, I've also recently been enjoying creative play in sketchbooks and journals.