Meet Becki and see some fantastic layouts from the CT featuring her great products.
This week the Digi CT is thrilled to be spotlighting Becki Kress, one of our newest designers to join ACOT. We interviewed Becki so you can get to know the designer behind the amazing products.
1. When did you start designing and selling digital scrapbooking kits?
I started designing in August of 2007, and then selling in November of 2007. Now I'm hooked!

2. What is your favorite part of digital scrapbooking?
My favorite part would have to be less mess. When I was paper scrapping I didn't do much because the task of dragging out all the supplies and putting them all away and the clean-up seemed like too much of a chore. And if I didn't finish and needed to take care of kids, I always would have a helper who just had to add an embellishment or scribble somewhere on the page. lol I love that I have all my supplies in one place and if I don't finish I can save it and open it up and finish it whenever I want without any little helpers.


3. Do you have a favorite kit that you've created?
I would probably have to say Sassy Princess. It was so fun for me to put together and I have 3 sassy princesses that inspired that kit. I can use it to scrap all those pictures of them.

4. What has been your best-selling kit here at ACOT?
Probably the What A Zoo!! kit! I have been so happy at how much people have liked that kit. It was also a very fun one to put together. And the pages that I have seen in the gallery using this kit have been amazing!!

5. Do you scrapbook too?
Yes!! I am still on one CT of a favorite designer of mine so that I can keep scrapping. I don't get near as much time scrapping as I used to but I still really love and enjoy it when I have some free time.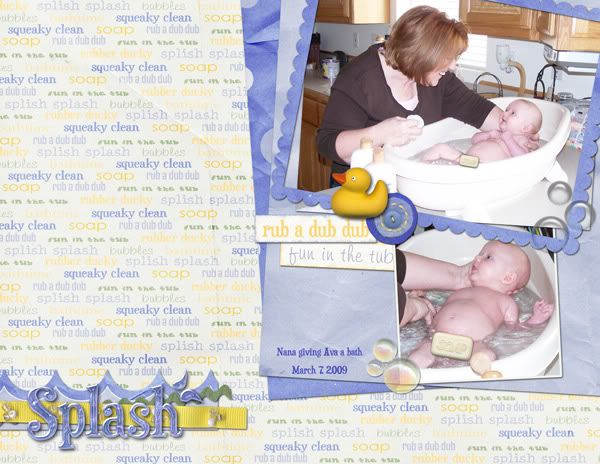 6. Aside from being an awesome digital designer, what other hobbies do you enjoy?
I love to read!!! I also enjoy baking. Not so much cooking though. lol I love to be outdoors with my family, and we really enjoy camping!!! I also really like to dig in the dirt in my flower beds! And since I have 3 daughters, I love to make hair bows for them. My son won't let me put them on him though! lol

7. Show us your newest kit addition to your store. What inspired it? Is it on sale?
My newest kit is Just Like Mom. My middle daughter has always been obsessed with makeup. I have SO many pictures of her getting into my makeup!! I can't tell you how many new tubes of concealer I have had to buy. It's a good thing she's so cute! So I just had to make a kit so I could scrap those memories. Maybe she'll be a makeup artist someday??
And of course it is on sale!!
---
...and here are the CT's fabulous layouts using Becki's products.
Monkey Swing by dianagirly
Diana says, "Becki Kress Designs' kits are so much fun! I love how easily you can combine them with each other."
---
Sweet Flower Girl by janello
Janell is excited to be working with Becki's products. For this reveal, she was immediately drawn to the bright fun colors of this kit called "Sassy Princess."
---
Mid-Michigan Children's Museum by mayerkt
Karin used the fun and colorful "Sassy Princess" kit to emphasize the joy she shared with her son on a special outing together.
---
Birthday Party Make-over by Smiley-Scrap8
Ronny comments, "Becki's designs are perfect for those who have kids. The themes are just right for those special outings or the every day events."
---
My Plane by davsar
Sarah says it simply, "Becki's designs are amazing!"
---
Sweet Sunshine by mkcdaisy
---
Packing, Painting & Patching by Keling
Sara says, ""Handy Man" kit was just perfect for these random photos from our move last year!"
---
Easter 2009 by FairyMouseMom
---
Riders Block by MamaK321
Kristianne also found that it is quite easy to mix 'n' match Becki's kits for a single layout.
---
Play by Art_Teacher
Laura says, "I thought this kit was perfect to showcase my wild animal!"
---
Here are some of the products by Becki Kress that were used in the reveal layouts above....