One of my favorite things about spring is all the yellow! I decided to celebrate that feeling with a photo of daffodils and lots of yellow. The new 49 and Market Spectrum Sherbet Solids paper pack includes a yellow background, and so that was my starting point. I used the sunshine paper from Vicki Boutin's new collection, Sweet Rush. The 6x8 paper pad in that collection includes cut-apart cards, and I chose two to use on my page, one a yellow tag and the other a card with a green, leafy branch. My color palette is yellow, green, a little blue-green, and black and white.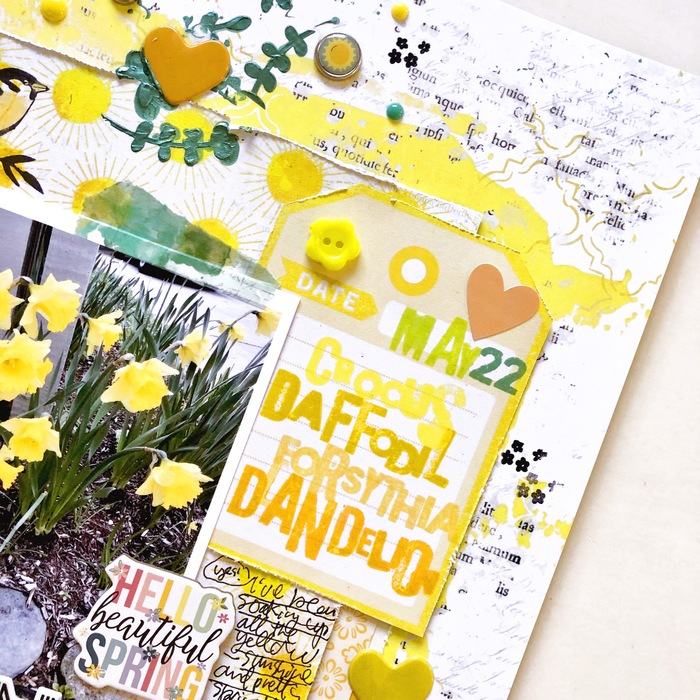 On the yellow tag, I stamped the month and year in green distress oxide inks, and then I made a stamped list of where I'm seeing yellow in nature. My colors were various shades of distress oxide yellow inks. I'm loving the new Vicki Boutin metallic texture paste, so I used an Echo Park New Day stencil (Springtime Florals) to apply it in three places on my page.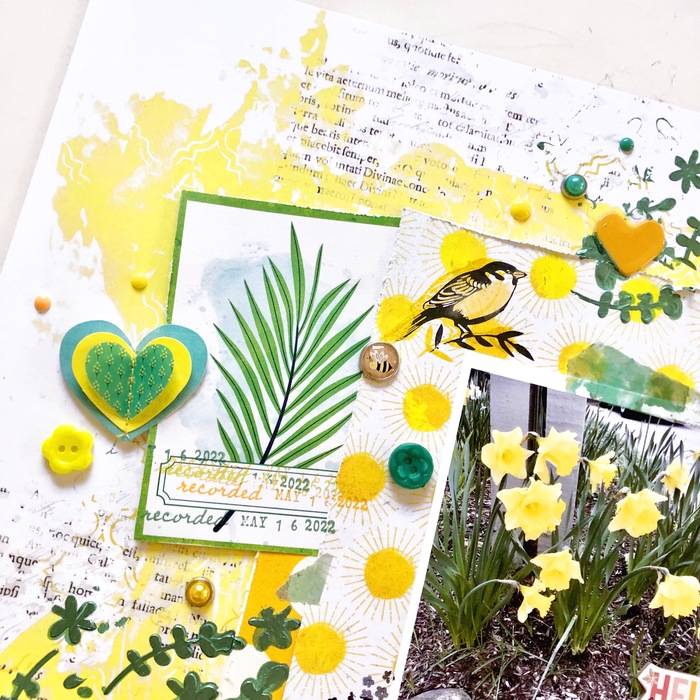 Given the painterly background and texture paste, I decided on a circular design for the page, surrounding the photo with title, journaling, stamping, and embellishments. I started my title with the black and white alphabet stickers from Heidi Swapp's Sun Chaser line. These are my new favorite: they stick really well and are the perfect size! I finished my title, "Spring Yellow," with small letters in a variety of yellows (Splendid alpha thickers from Paige Evans).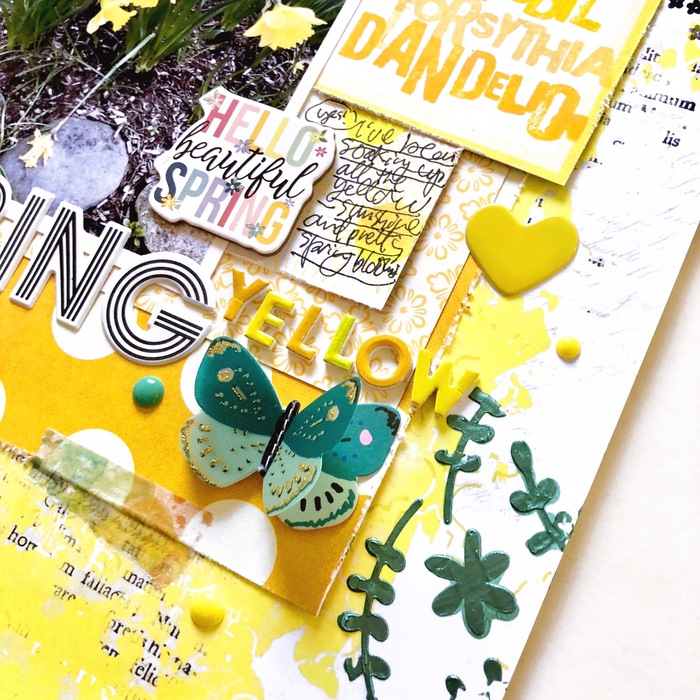 I stamped a bird with the My Mind's Eye Wild Asparagus stamp set in black archival ink, coloring it yellow with a colored pencil. To add just a little additional black for an accent color, I stamped some tiny blossoms. The chipboard "Hello beautiful spring" is from Echo Park's New Day embellishments, as are the adhesive brads in yellow and green. The buttons are from Paige Evans' Splendid collection. I included a Vicki Boutin layered heart and butterfly for larger, more textured embellishments. 
My journaling is about sunshine and spring flowers, which I hope many of you have been enjoying as much as I have! 
---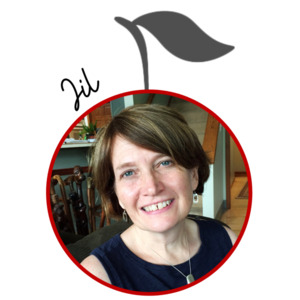 Jil Larson
Hello everyone, I'm Jil Larson, a new member of the design team. I'm excited to share my projects with you! I've been scrapbooking and art journaling for many years now. I first started memory keeping when my nieces (now in their 20s) were little girls and I was looking for a way to tell stories about them and the art they created. From there, my love for this wonderful hobby grew and developed. As a life-long diary and notebook lover, I've also recently been enjoying creative play in sketchbooks and journals.