Hello everyone, Wendy here today to share a layout I created from the A Night to Remember Collection Kit from Reminisce.  I hadn't worked with this manufacture before, but I really enjoyed the kit and the papers were gorgeous!
I loved the rose paper that was included in the kit, but I wanted to take the paper a step further, so I chose to fussy cut the roses and create a bouquet to hold the picture of my daughter and her friends.  I used doilies to further the feel of a bouquet.  The Floral Border Die Set from Echo Park added in the sprigs of green; the dies are very intricate, but all the pieces popped out easily.
To mat my bouquet of flowers, I chose the purple stripe type paper ripping the edge of the paper to allow some white area that wouldn't overwhelm my picture. To spice up the paper, I followed the lines printed on the paper with some silver Stickles to create a shimmery background.  I also added a few dots with my Nuvo Crystal dots here and there to imitate pearls clustered around the flowers.
A title sticker and sentiment from the Reminisce collection kit and white number stickers for the date completed my layout.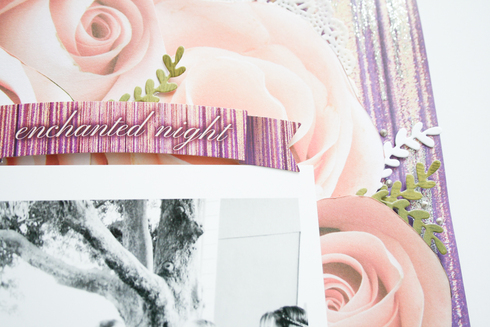 To allow my picture to really stand out, I printed a 5x7 and then I used chipboard under the picture to lift the picture.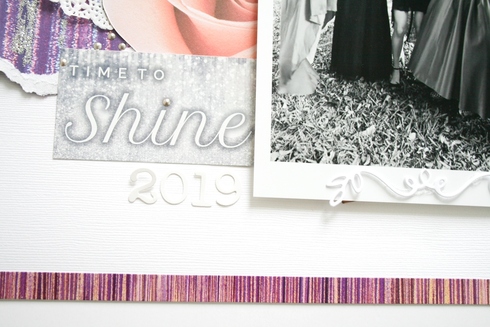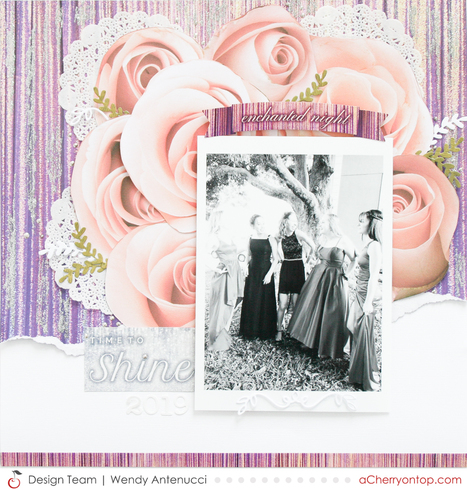 Do you like to create with a theme in mind?  I find that the pages that I create with a determined outcome/idea always tend to be my favorite!  Thanks for joining me today, I hope you've been inspired to create.
-Design Team Member Wendy Antenucci
---