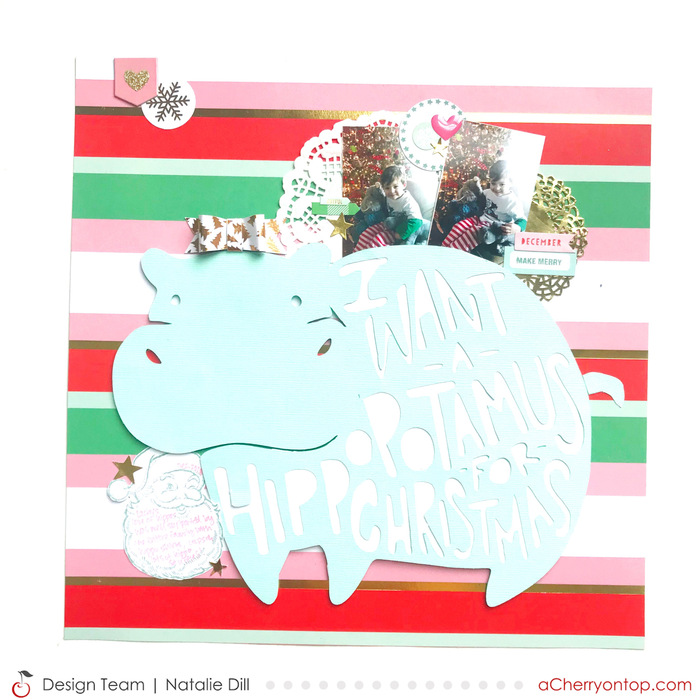 Hey Cherry friends! Natalie here with a Christmas layout using a large cut file. I thought it would be fun to discuss some tips for using large cut files on a scrapbook page.
My youngest son has an affinity for hippos and received many hippo gifts last Christmas. I found this adorable cut file on a Google Image search, and I knew I wanted it to be a focal point on my page. Cut files are such a fun way to customize a scrapbook page. I use a Cricut.
Tip 1: Incorporate your title within your large cut file.
In order to avoid too many focal points, I think it's a great idea to combine your title and the cut file. In this instance, the title is already within the large cut file. But you could also use thickers or letter stickers to add a title atop a large cut file. This will avoid separate spaces for a cut file, title and photo, which could be a bit too much competition for the eye.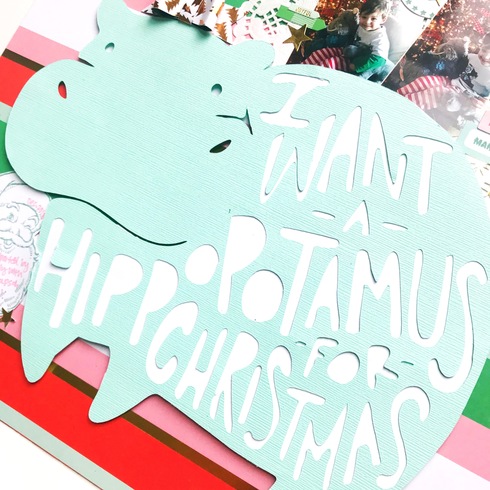 Tip 2: Keep to a single pattern and cardstock.
Unless you're a complete whiz with matching patterns, I believe it's easiest to pair your pattern paper with a solid cardstock OR a super simple, light pattern that would almost be mistaken for a cardstock. You can use a patterned paper for your cut file atop a blank canvas, or a patterned paper background with a more simple cardstock cut file, but combining two patterns can be difficult! I also suggest, if using patterned paper to cut your cut file, inking edges, or emphasizing letters cut out of the file by inking around the letters will help the title to stand out.
Here I used the new Holly Jolly collection by My Minds Eye for my main Christmas background paper - I love the mixture of traditional red and green with pink and mint!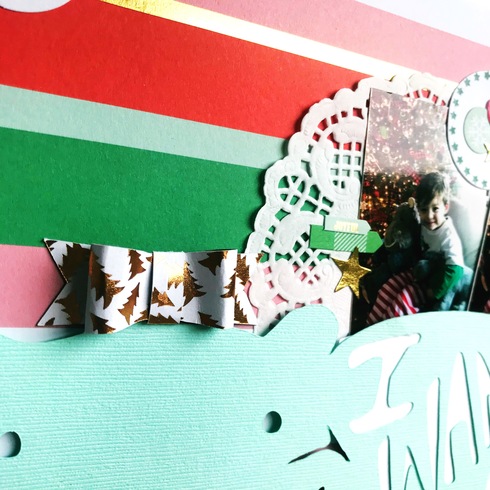 Tip 3: Cluster embellishments in a visually pleasing triangle to keep the design aesthetically pleasing.
With a large cut file and photo(s), it can be hard to determine where there is room left to embellish a page without it feeling too crowded. I suggest using a cluster technique and creating a visual triangle, which is a technique pleasing to the eye on any type of page.
On this layout, I limited my embellishments to:
1. The top left corner, with a couple of layered stickers.
2. Doilies to back photos & a few labels and stickers around my photo cluster.
3. A stamped journaling Santa and layered stickers completing the triangle.
Tip 4: Use those clustered embellishments to create cohesion with your patterned paper.
Cohesion in the page is important when a giant cut file is taking up a majority of the layout! I suggest picking a couple of themed techniques or elements to bring cohesion. For example, in this layout I was inspired by the gold foil stripe in the background paper. I chose stickers, a doily and patterned paper for the hippo's bow that all included gold foil. Repeating this element brings cohesion to the page!
Additionally, since I stamped the large Santa to use as a journaling piece, I decided to include other stamped elements on the page. I created an additional circular shape in my doily cluster with stamps, as well as stamping a sentiment on a label for the photo cluster.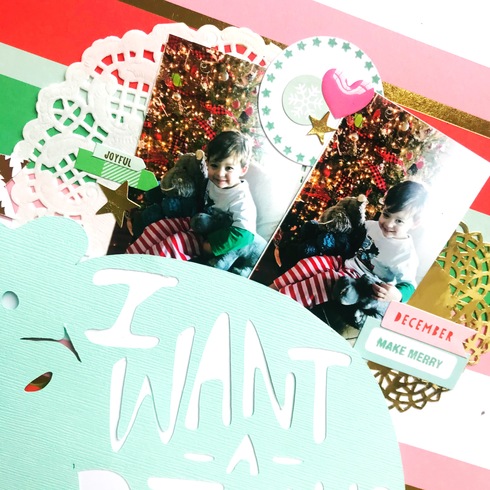 You can see a process video for this layout on my YouTube channel!
I hope it inspires you to put those electronic die cut machines to good use. There are so many great designs out there, and even places to purchase physical cut files if you don't own a machine. Although I feel you have all been very nice this year, and Santa would oblige! There are USBs with cut files at your finger tips by your favorite designers too!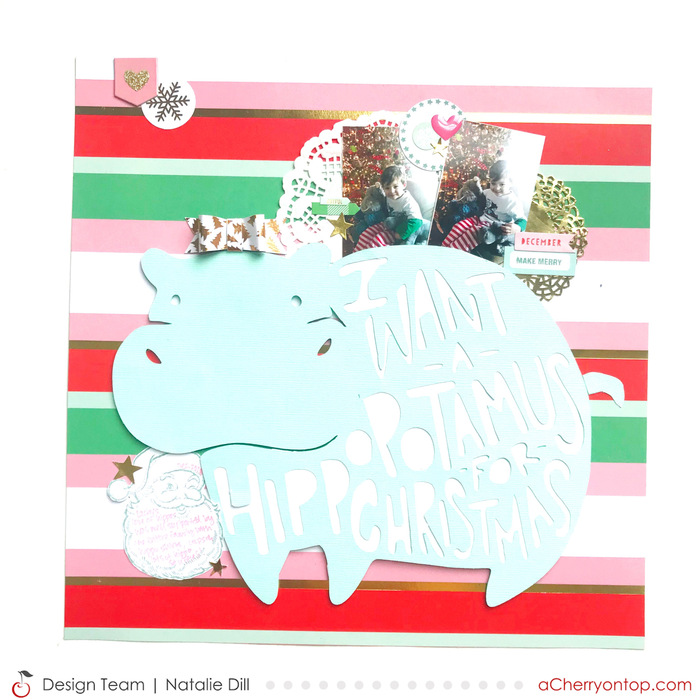 Grab a cut file & make it big to tell your story! 
xoxo, Natalie 
---