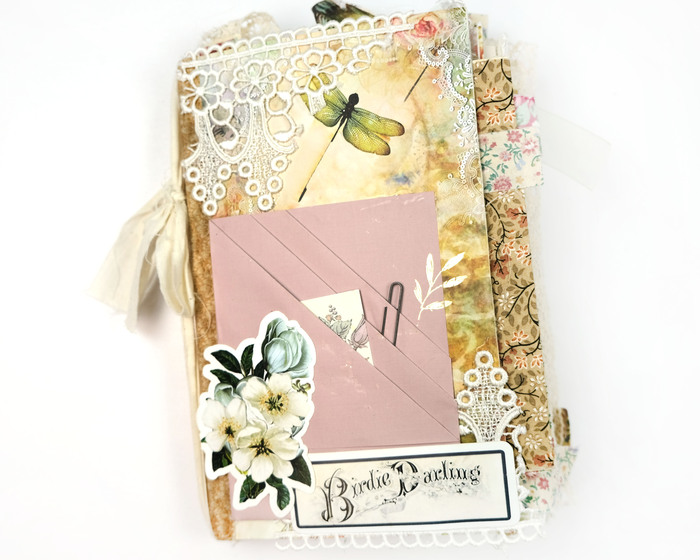 I made this junk journal using the beautiful Bird Waltz collection from Blue Fern Studios that is new in our shop. This journal is filled with pockets, ephemera, patterned paper, scrap paper, and many other things that belong in a junk journal. The cover is made out of one of the 12" x 12" papers folded. So the spine stays strong, I added a piece of chipboard and covered it with a piece of fabric. All of the pages are held in the journal by the one piece of fabric that is tied around the spine, and all of the pages are folded in half and tucked under the fabric.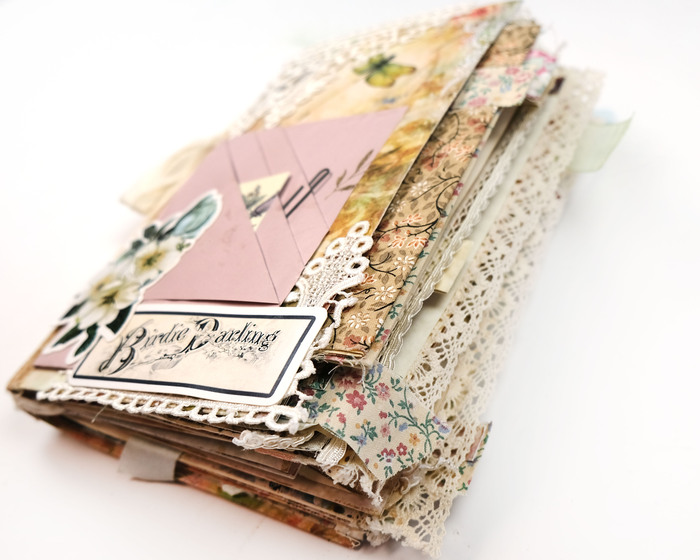 This turned into a much more filled journal than what I had planned when I started. I just had so much fun continuing to add all of the extra pieces of lace, fabric, and old book paper. I also tested out a few new products in this journal including the Freestyle Foil Quill Pen. I loved how easy it was to use on my bumpy pages and how it added hints of gold throughout.
I added a ton of pockets in this notebook. Some of them were made with a piece of fabric that I glued down on 3 sides. In other pockets, I cut out a shape from a patterned paper to use. I did that a lot with the fun bird shapes from this collection. I also added a pocket by wrapping a thin, long piece of fabric around the page so larger pieces of paper would be held in there. I love all of the charms and chipboard pieces from this collection and used them to dangle from pieces of fabric, paper clips, and to be found as a fun surprise inside envelopes throughout the journal.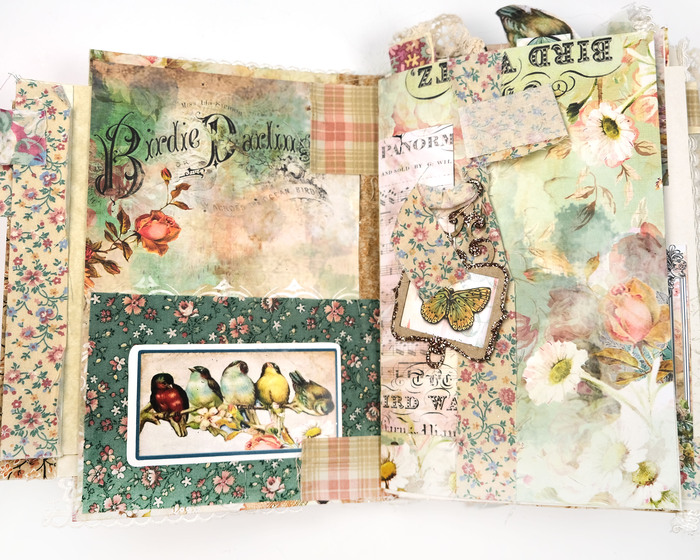 The ephemera and bits & bobs were great for adding to the pages and in the pockets. I tried to have something inside every pocket and envelope so it would make whoever is flipping through the journal want to stop and look a little closer. I experimented with different shape and size pockets and played with the direction they opened up.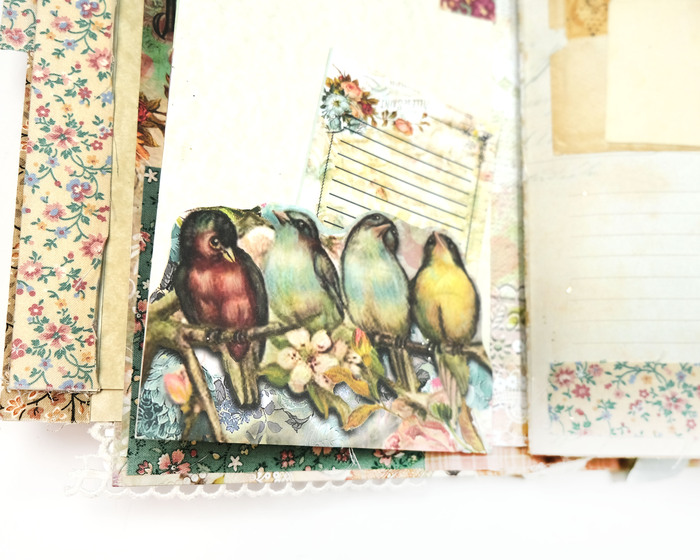 I like to include hidden flaps with little messages underneath. Doilies and pieces of fabric are great for this. I also added gold glitter on my pages because I thought the gold went nicely with this collection and complimented my work with the gold foil using the foil quill pen.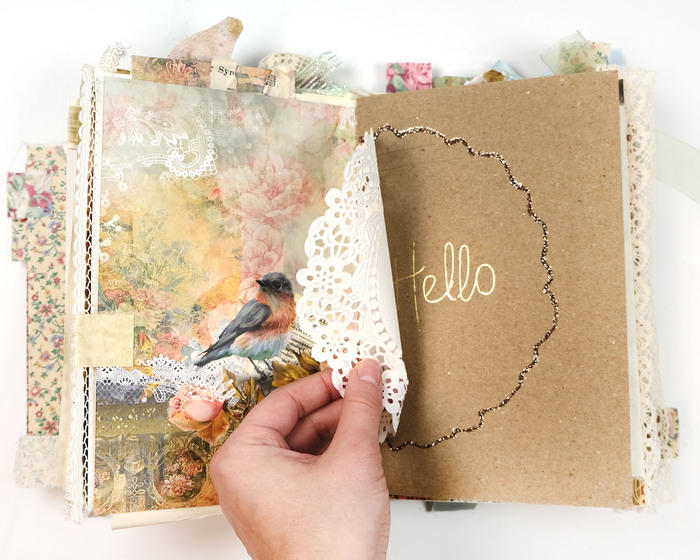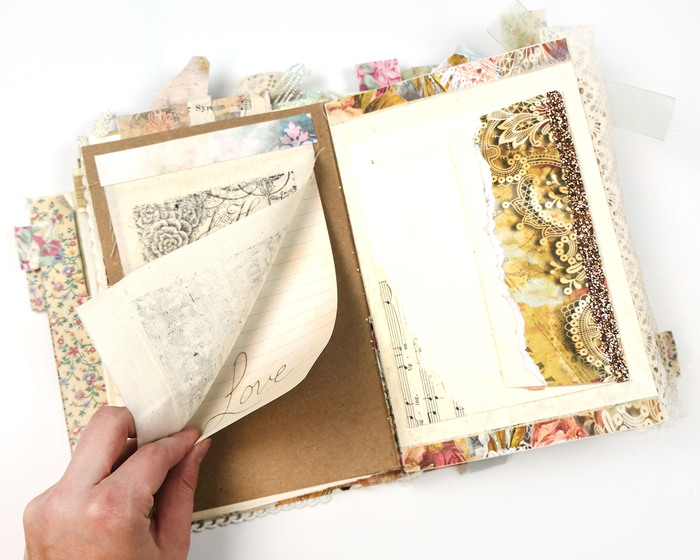 This collection has a lot of patterns, so to break it up a little bit I used some kraft paper, lined paper, and thicker copy paper as some of my pages. I also used some envelopes to store things in. For some of my papers and envelopes that looked too "new," I added Gathered Twigs Distress Oxide Ink around the edges so it would keep the vintage look of the journal.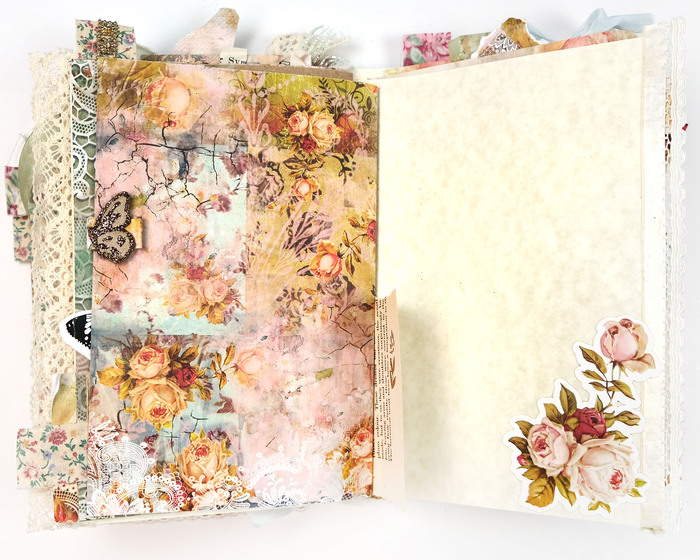 I made bookmarks using paper clips that I decorated, pieces of paper, lace, and fabric tabs. I think this is one of the things that gave it a full, junk journal look. The pieces of ephemera I added around the edges of the book also work as tabs because I let them hang off the edge. I lined many of my pages with fabric or lace to add texture to the sides. I experimented a lot in this book and got out a lot of my ideas and have been liking to go back to it as a reference for other junk journals.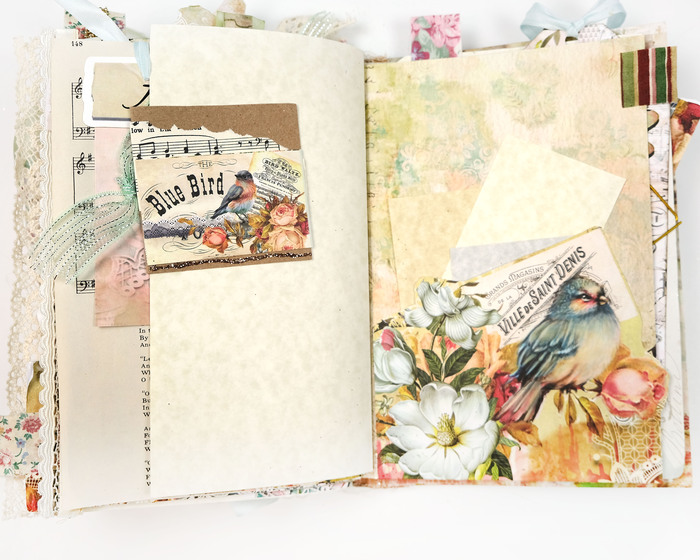 I included a few 3-page spreads by gluing on an additional page to the side of another. I like to make the fold-out page a bit smaller so when it is closed, you can see another page under there. I also like this page to have a pocket because small items will not as easily fall out because it gets folded in.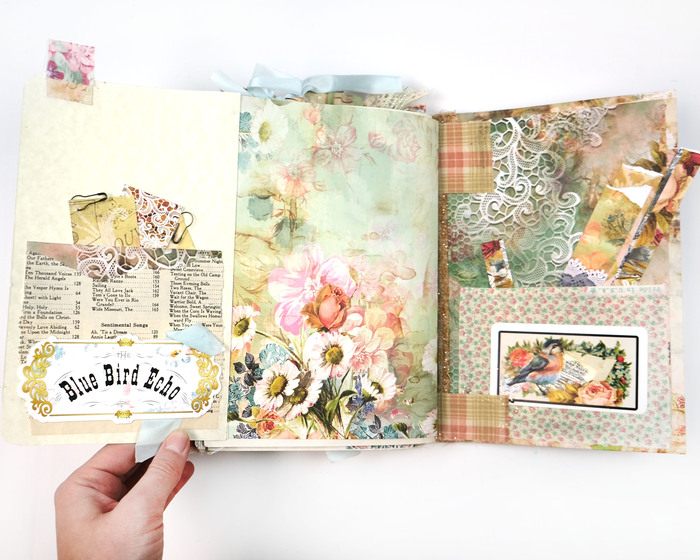 I made the back page as decorative as any of the others. I added a chipboard piece I decorated with glitter, and 3 pockets that hold small notes, and a couple of ephemera cards. I really like the look of old pages of a book in my journal. If you want to add this to your pages but don't have a book to rip pages out of, I recommend getting one from a thrift store near you. An old music book also works great.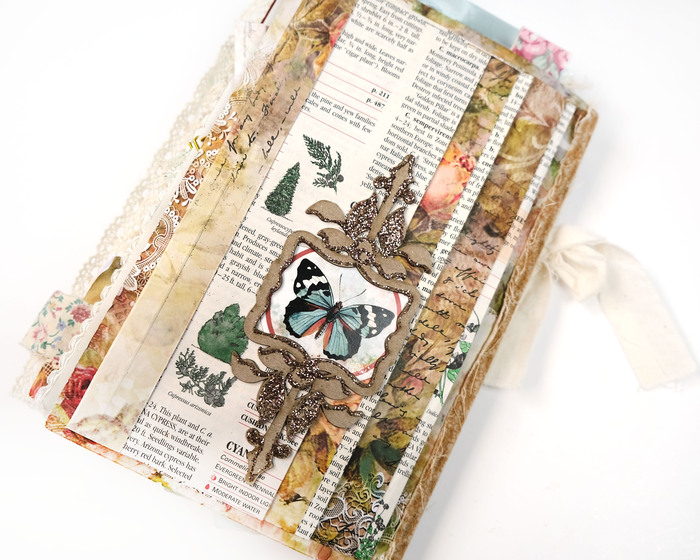 This journal was a lot of fun to make and fill up. I love stash-busting and junk journaling is perfect for that. This is a fun collection to work with and I added a lot of vintage touches to it to make it my own. Because all of the pages are held on by the one main piece of fabric, it is a little floppy, but I think that is also part of its charm and is so fun to look through.
Thanks for stopping by the Cherry Blog today to check out my junk journal! I hope you make your own soon!
-Jess