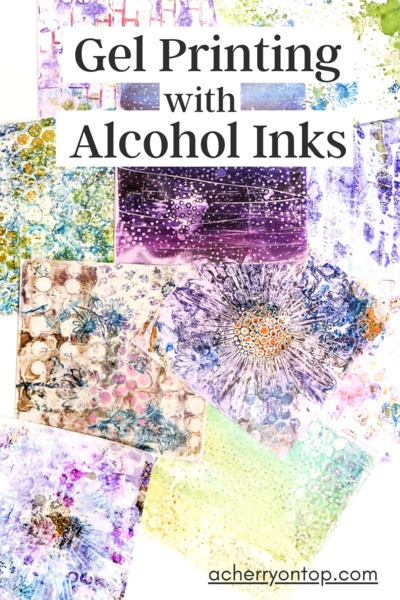 There are many different mediums that you can use on a gel press and in this post, we will be showing how to use it with alcohol inks! This is a great way to use alcohol inks because you can still get the effects of alcohol inks, without having to use yupo paper while adding in a bunch of additional techniques. Today we will be using a range of stamps, stencils, and other textures to work with. You can use any paper to work on. I will be using white cardstock. using this technique does not bleed through your paper so it works great on journals.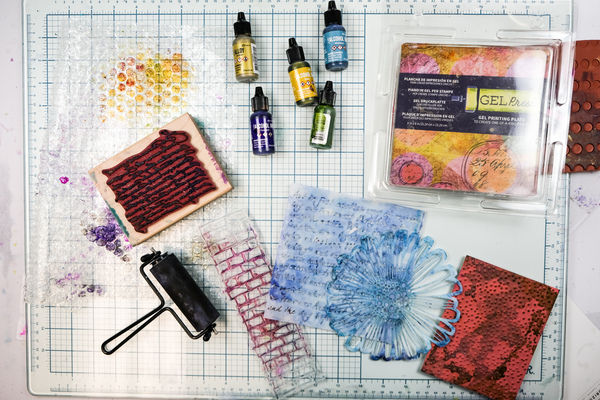 Supplies you'll need:
Gel plate, brayer, alcohol inks, white acrylic paint, stamps and background stamps, stencils, bubble wrap, and other textured items.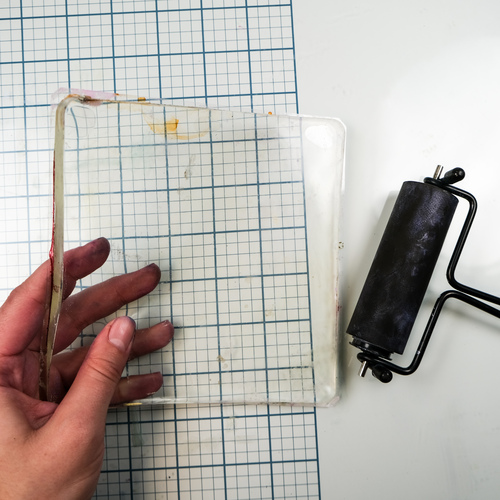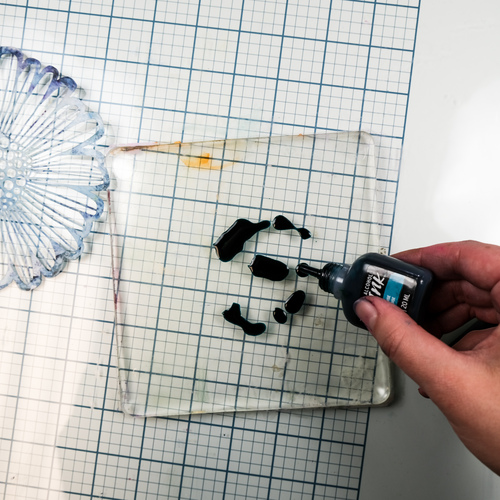 Let's get started! I thought I would start by telling a few things I learned while printing that you may want to know before you start.
#1. Wear gloves if you do not want your fingers stained for a couple of days.
#2. Yellow ink can dye the color of your gel press but this does not affect how it prints.
#3. Inks that are highly pigmented tend to pick up when you are applying the acrylic paint, which leaves a colored paint background instead of white. I noticed this the most in dark pinks and reds, so many of my backgrounds turned pink. This also happened slightly in some of the dark purple inks.
#4. Using alcohol inks on your stencils and stamps can stain them. You can use rubbing alcohol to clean them up, but they still may be stained.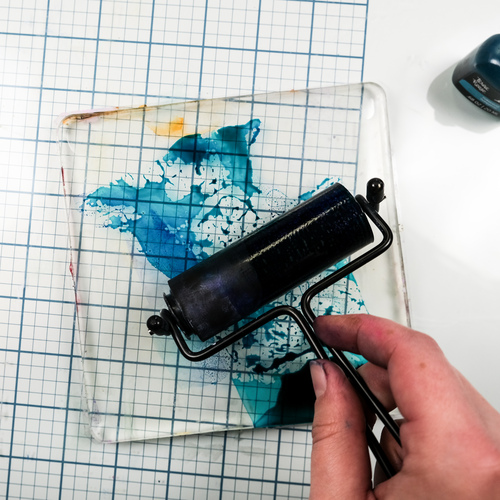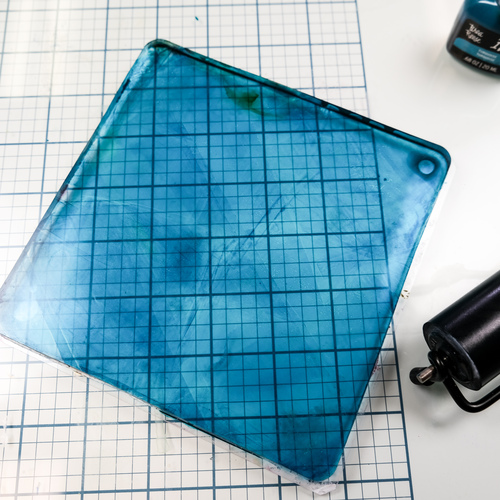 Start by dripping alcohol directly onto your press and rolling it out with the brayer. You have to work a little fast because the ink dries so quickly. After you got the area covered, do not continue to roll over it because the brayer will start to pick up the ink.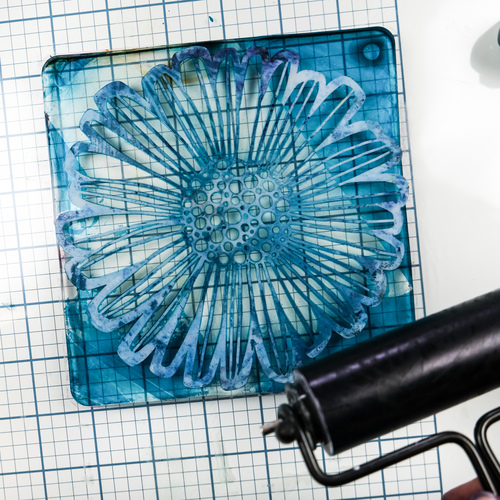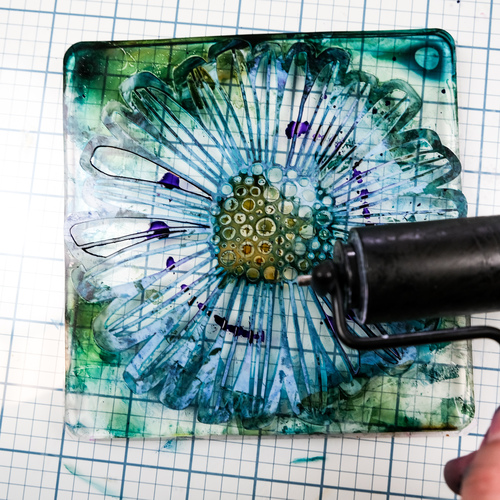 Here I am showing how the ink will pick up. First I added a stencil, so the blue color will remain under the stencil. Next, I am adding different colors that will fill the areas that are not hidden by the stencil.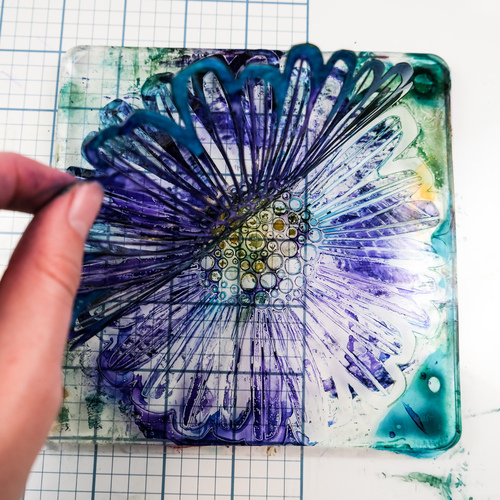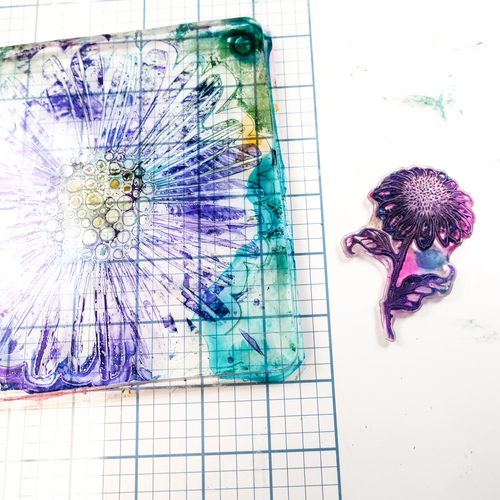 You can add stamped designs onto your plate by using permanent ink and stamping how you normally would, or by making a puddle of alcohol ink and rubbing it in that.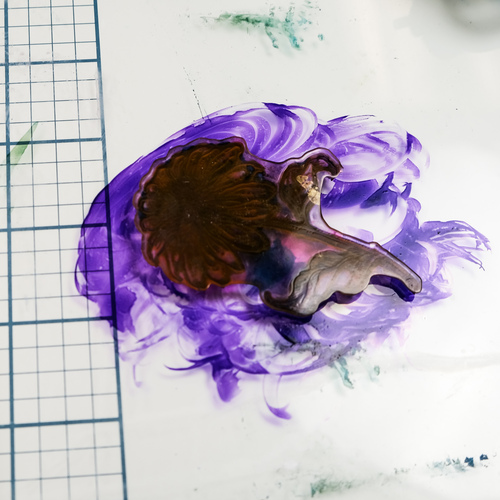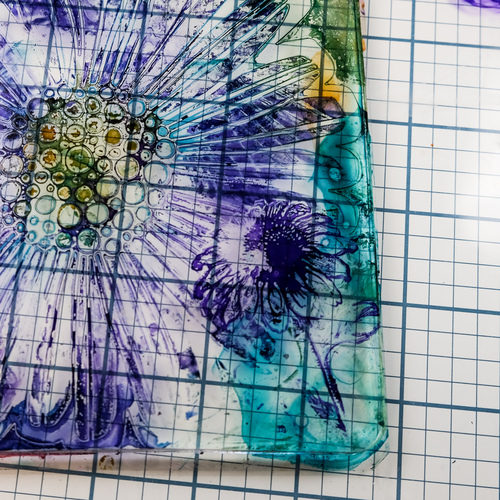 You'll get more consistent stamped results by using a permanent ink pad, by I did not mind the effect of the alcohol ink. When stamping, remember that your image will be reversed. So, stamps with words will read backward. When using stencils with words you can simply flip over your stencil before using it so it will read the correct way.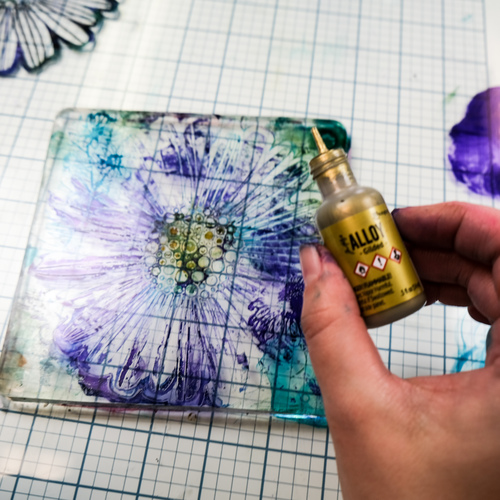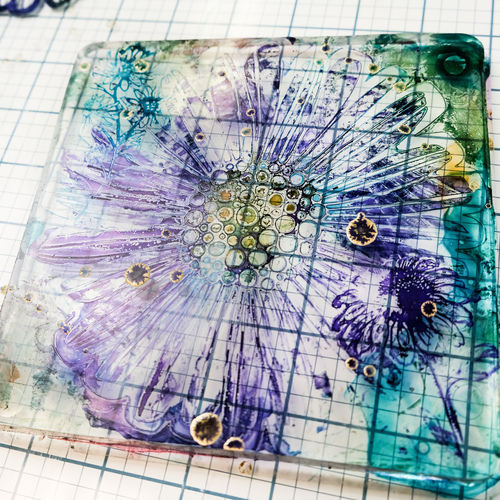 I love the look of alloys sprinkled onto the press because it adds a little glimmer of shine.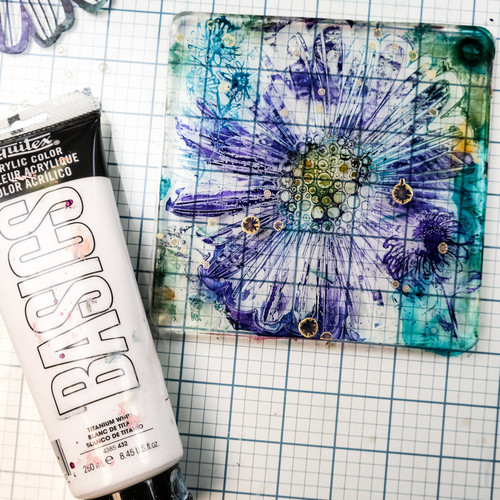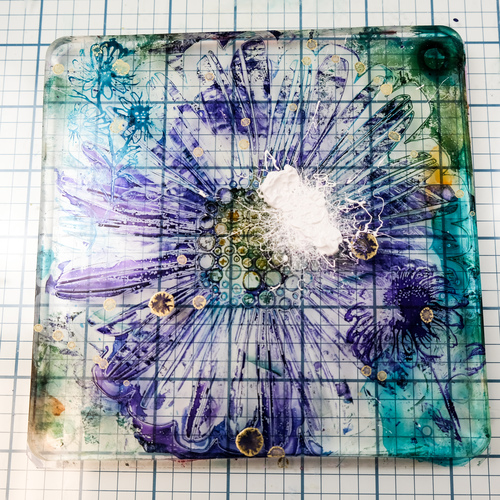 Alcohol dries very fast, so in order for it to work on the gel press, you have to add a thin layer of acrylic paint so it will stick to the paper. Before you add the paint make sure your ink is completely dry. You only need a small drop of paint to cover the press.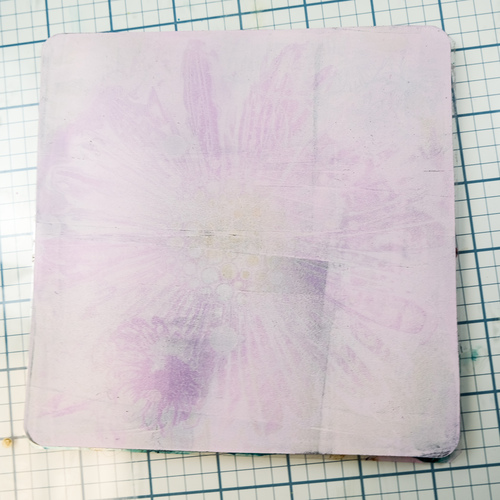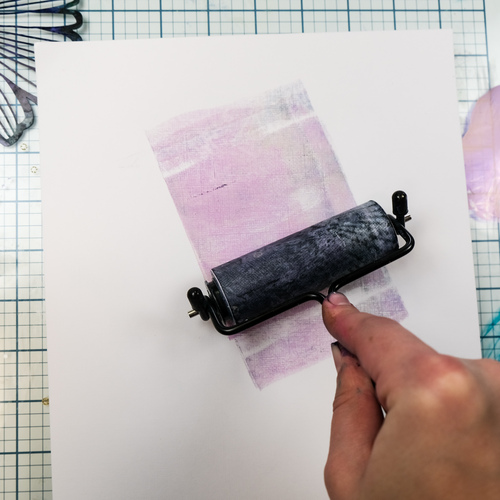 You want to be able to see your image under the paint. If you can't that means there is too much paint on the plate. You can roll it off on a scrap piece of paper. Here you can see how the purple ink blended into the white paint and left me with a light purple/ pink background.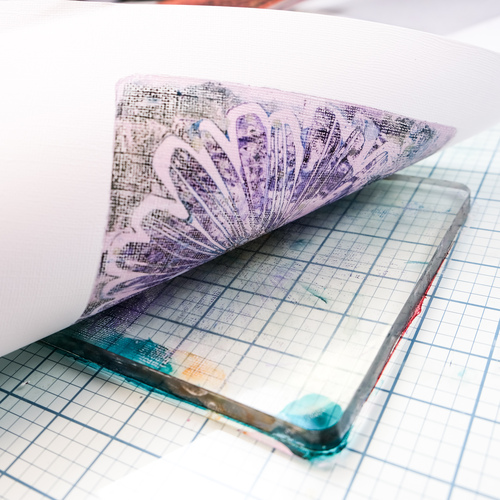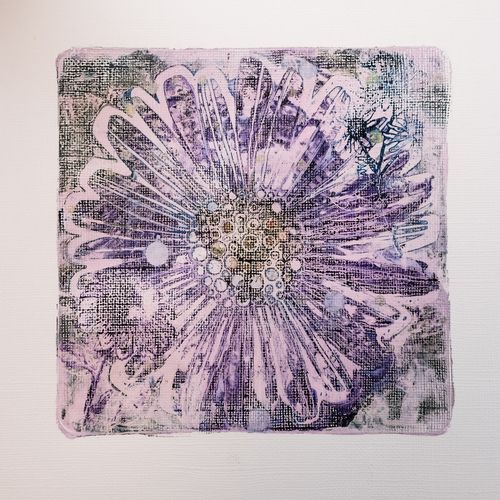 Place your paper over the press and run the brayer over it multiple times. Now you can pull it off starting at a corner. If you use textured paper, that will show up on your print. In this example, I used woven cardstock, which you can see in the finished print.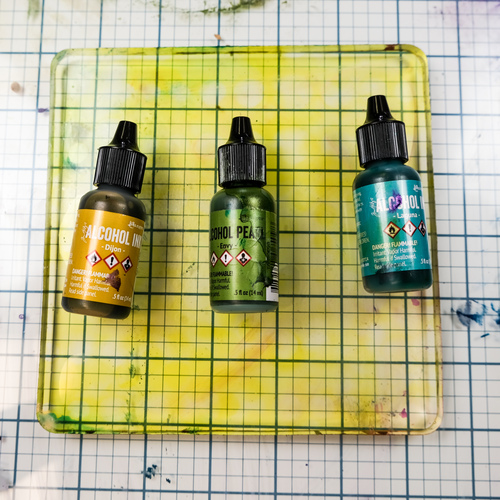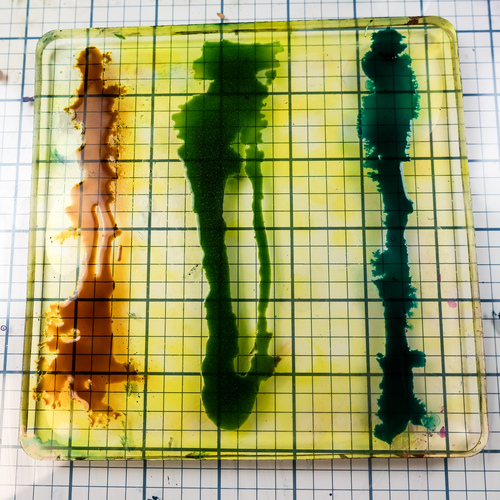 For this technique, I used 3 colors on the background and used the brayer to lightly blend them.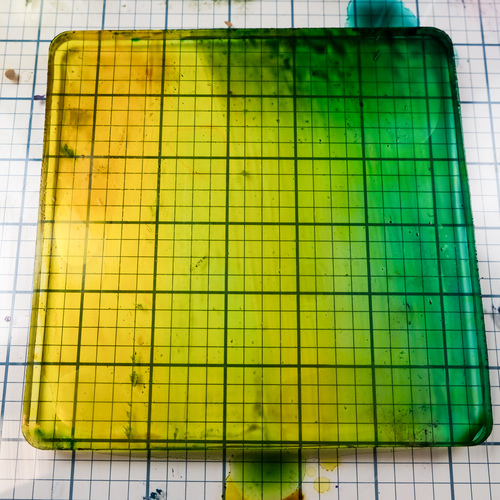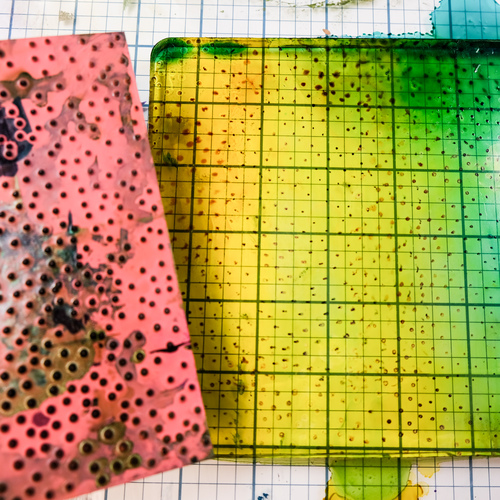 While the ink is still wet, use a background stamp and stamp over the area of the press.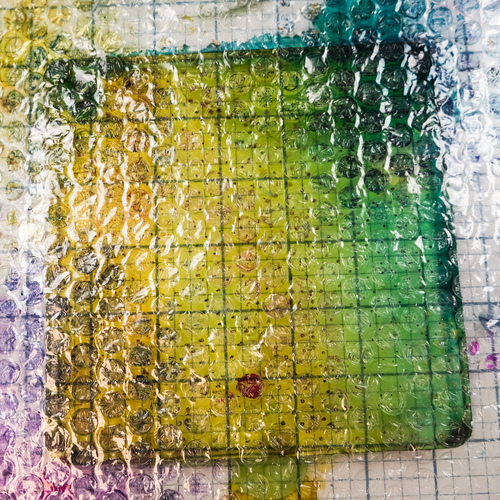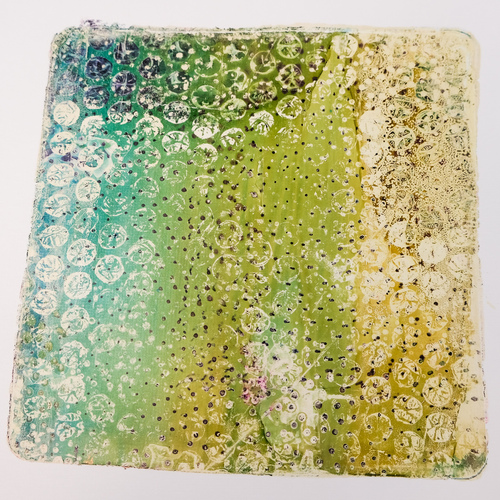 On this print, I also pressed bubble wrap into it when it was dry and it lifted off some of the ink to leave me with this design.
---
I had a lot of fun playing with the press and alcohol inks. To clean up your press just use some water and a towel for the acrylic paint, and if needed add a little bit of rubbing alcohol for the ink. Below are some of my finished pieces. I will likely use these in my junk journal, make a mini album out of them, or turn them into tags. Thanks for stopping by today and I would love to know what your favorite gel press techniques or textures are and how you like to use your finished pieces. Let me know in the comments!