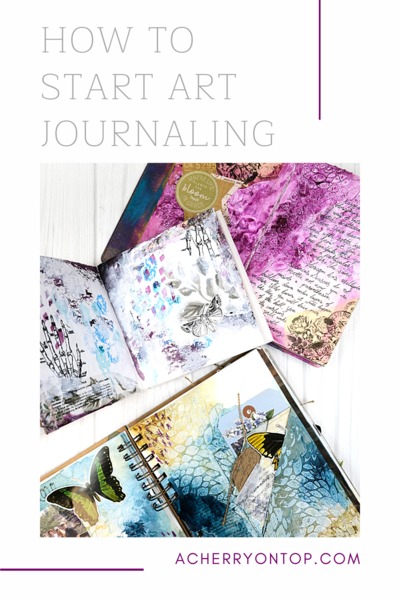 Art journals are a fun and creative way to get making! There is no right or wrong way to make an art journal and there are endless mediums you can include. In this post, I am sharing some tips that you can follow along with to get your journal started, sharing some of my favorite journaling supplies, and showing lots of journal page examples. The different techniques can be added to your journal one at a time, or grab from just a few that you like to try on your page. The hardest thing about art journaling is staring at the endless possibilities of a blank page; so my best advice is just to get started and don't overthink it! Have fun and know that not every page will be a masterpiece! 
What supplies do you need? The most important and essential is a journal to work in. I recommend a journal that is a little smaller because smaller pages seem less intimidating for beginners. Below are some great journals to work in.
Depending on the type of journaling you want to do, the supply list could be endless. I think it's best to start out with a handful of products and see what you like to use. I would grab some watercolors, a good pen, old book or magazine pages, a stencil or stamp.
Some techniques to try out:
#1 Add in the background of your page. This can be with paint, paper, or texture. It is best to just jump in! You can start with a light color and build up the colors. Use a large paintbrush to get the background covered. Like we said in the beginning, looking at a blank page can be intimidating, so cover it up. For a more vintage feel, drip coffee or tea over the page. Rice paper is also a great place to start because you can easily rip it and layer it in.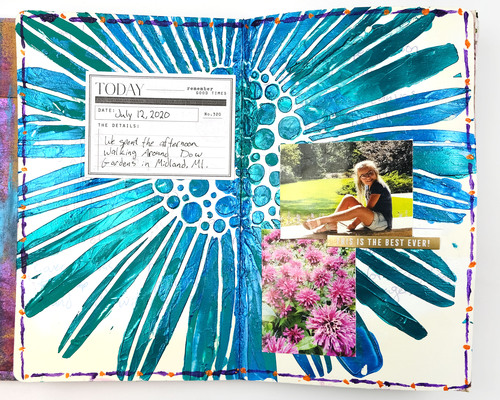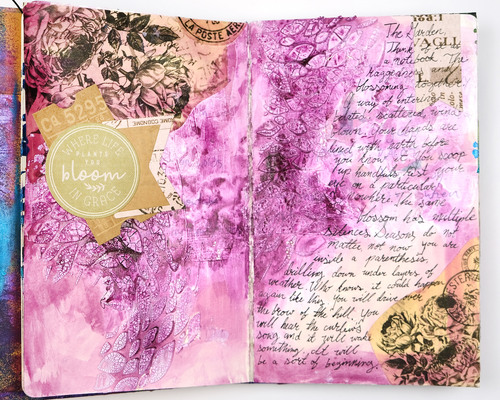 #2 Use a stencil over part of your page. You can use paint, texture paste, or sprays to cover an area on your page. I like to do either opposite corners, or about half of the page going down diagonally. You can also use the stencil as a template to trace over. After you have your traced image, you can doodle or paint inside of it.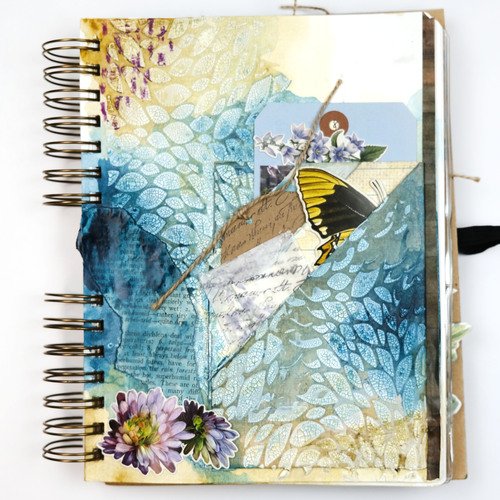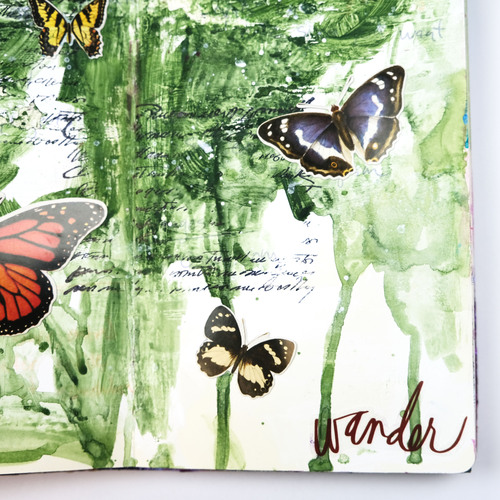 #3 Add some script. I like the look of script on a journal page. I do this by using a scripted stamp or writing some myself. When I write it out myself I don't try to focus on how my handwriting looks because if I don't like it, it can always be covered up. When I can't think of anything to write, I look up the definition of a word that I think goes along with the feeling of the page. You can also use a quote, plan your day, or set goals. This is a private space for you to fill with whatever you want! You can also tear out a page in an old book that has a paragraph that you like and use that as your script.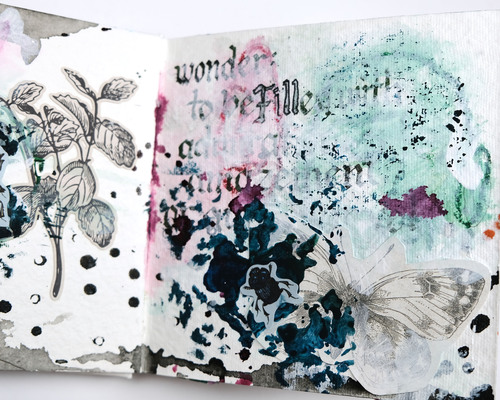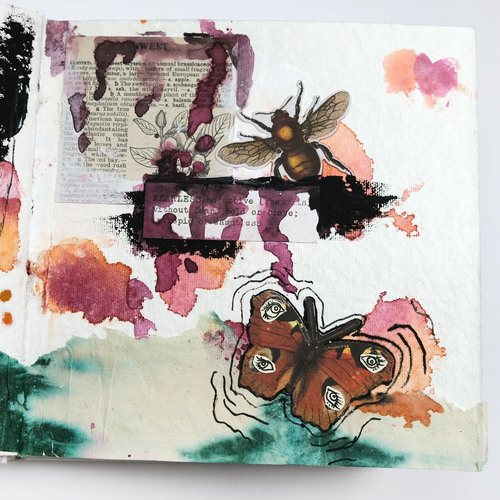 #4 Put a border around the entire page or a section of it. This helps define your page a little more and gives it something concrete. The border can be thick, thin, decorative, striped, or a circle. You can make a border with washi tape, paint, pens, or whatever else you think will work. I like to make my corners darker so it draws your eye more to the center of the page.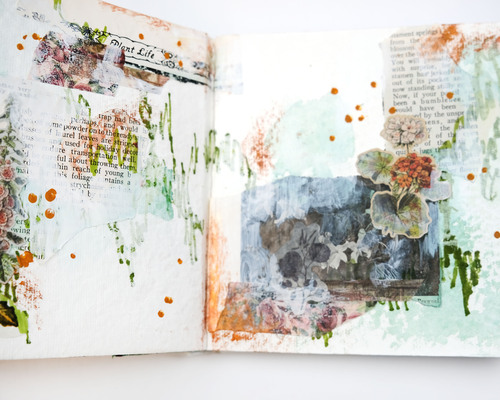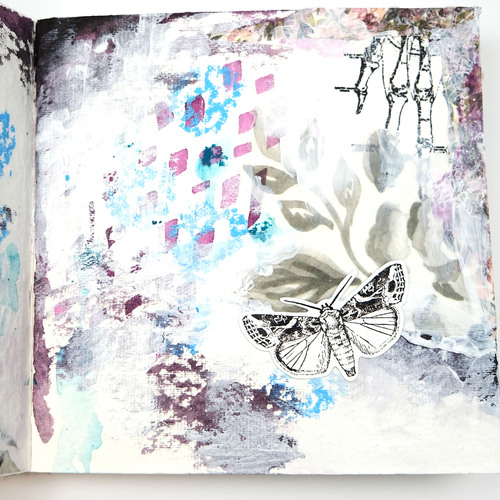 #5 Add stickers, doodles, stamped images, photos, tags, envelopes, dried leaves, or drawings. I like to have some sort of focal point on my pages. If you are not a drawer, that is fine! Cut out a part of a photo and trace around it. Use a stamp or stencil and color it in. Use your favorite sticker as a focal point. Make a pocket for a tag to rest in. Glue on an envelope in which you hide writings, ephemera, or something else.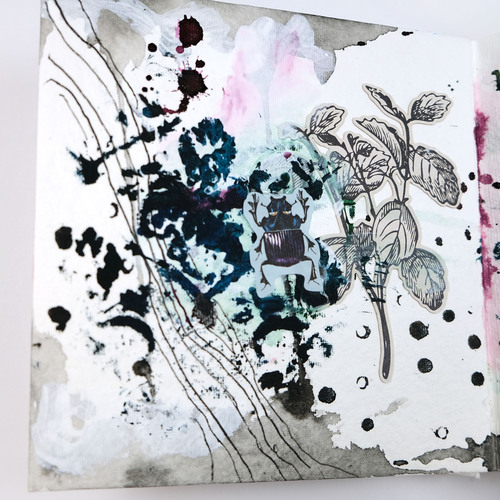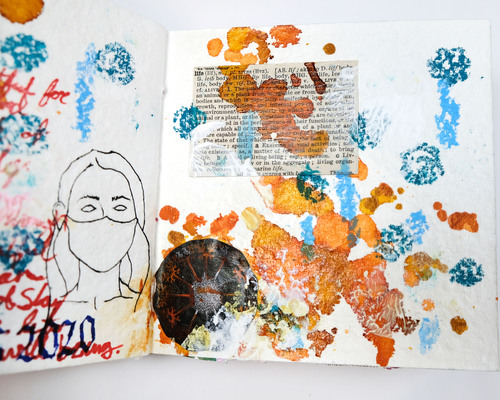 #6 Mark making. This can be drawing circles, dots, lines, scribbles, scratches, or any other shape on your page. I like to use paint pens or gel pens for this because they will sit on top of whatever medium you have underneath it. I like to make clumps of lines or circles, that way they seem less random. You can also trace over the outlines of where your paint blobs are. This technique works well with watercolor.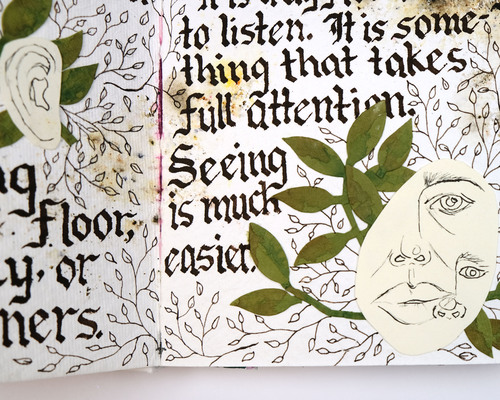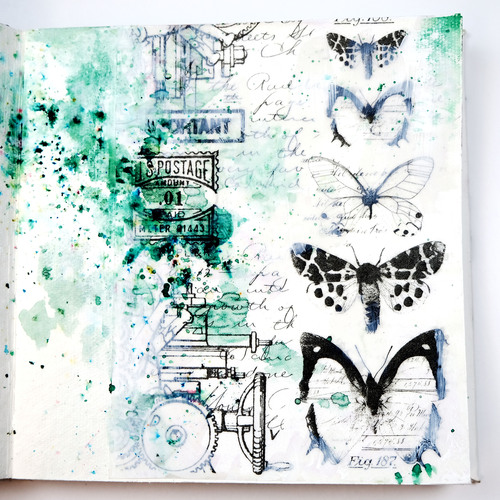 Here are some great mediums that I like to use in my art journals:
Here are some of the products I used on these pages: 
I hope you give art journaling a try. Flipping through a finished journal is an amazing feeling and you can go back to what you were feeling the day you made that page. When you are looking at the finished journal, you will not notice the little mistakes here and there, you will just see the finished piece altogether. Art journaling can be a very therapeutic process where you are also being creative.