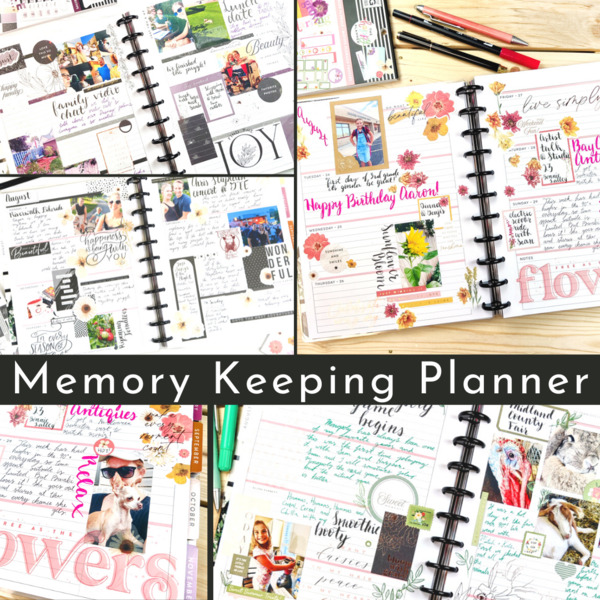 Hi, Cherries! Today I'm sharing my August Memory Planner spreads. I have been loving to work in this planner and filling it out has become something I'm excited to do at the end of each week.
I've tried to use planners in the past but often gave up after the first week or two. But here are some reasons why I think I have been keeping up with this one so well:

1. The planner I am working in is so pretty and just my style!
2. It's actually pretty cool to look back at the weeks and remember what happened when.
3. It's somewhere for the random photos I take during the week that I wouldn't make a 12"x 12" layout for.
4. Memory Planning works better for me than regular planning. (Although I do also add plans in the monthly calendar section of this planner).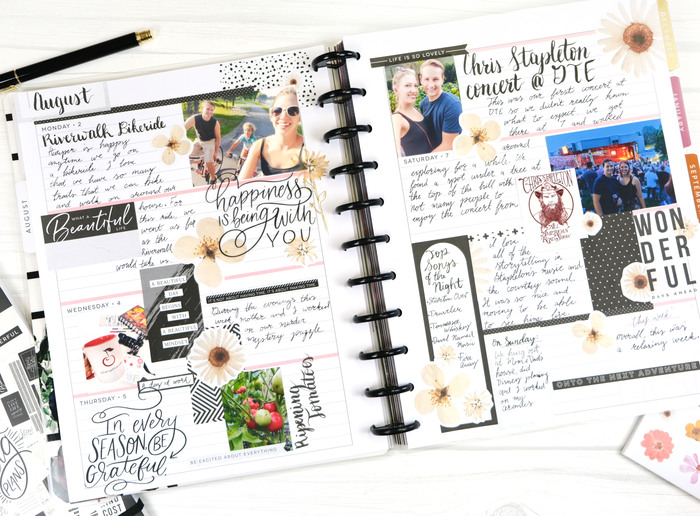 For the first week of August, I wanted to challenge myself to use only black and white stickers. On all of my previous spreads, I've used a lot of color and florals, so I thought this would be a fun challenge. I was having a tough time not using any florals, so I was happy to find some white flower stickers in the Pressed Florals Sticker Pad. I also used the Black & White Sticker Pad for the rest of the stickers on the page. 
The pen that I use for my larger lettering is a Fudenosuke Brush Fine Tip Pen, which I've used on all of these August pages. For the smaller writing I'm using a Metal Gel Pen.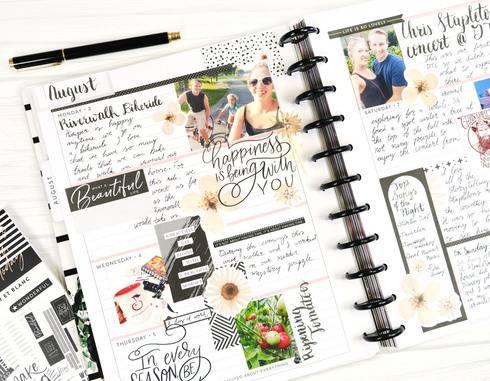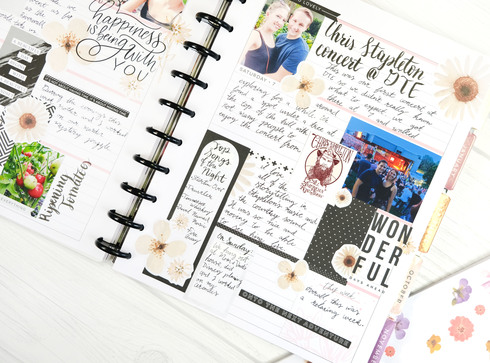 I've noticed that I like the spreads that keep to one or two main colors. This week I decided those colors were purple and grey. I think this looks better because I don't want the pages to look too busy with my photos, lettering, and stickers all in a range of colors. This way, the lettering and stickers blend together and help complement the photos rather than fight with them.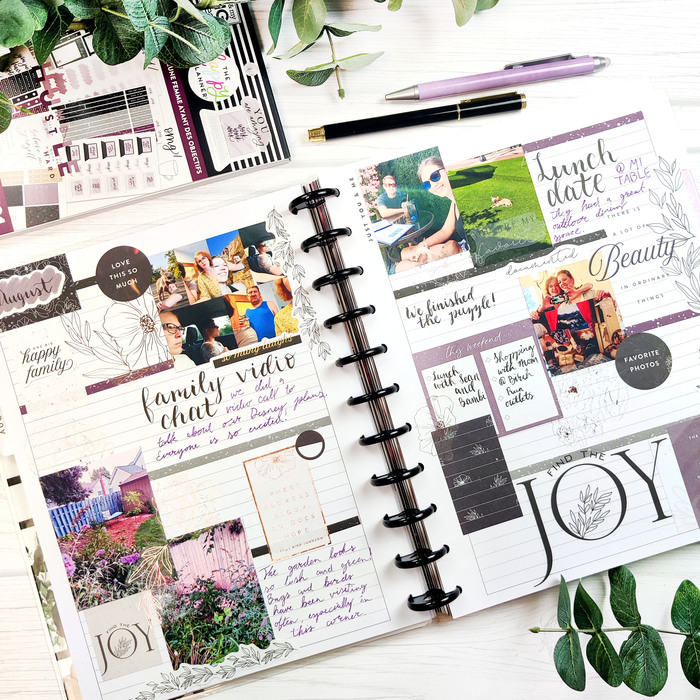 For this purple spread, I used stickers from the Girl With Goals Sticker Pad and the Wild Styled Sticker Pad. The purple lettering is done with an Erasable Pen.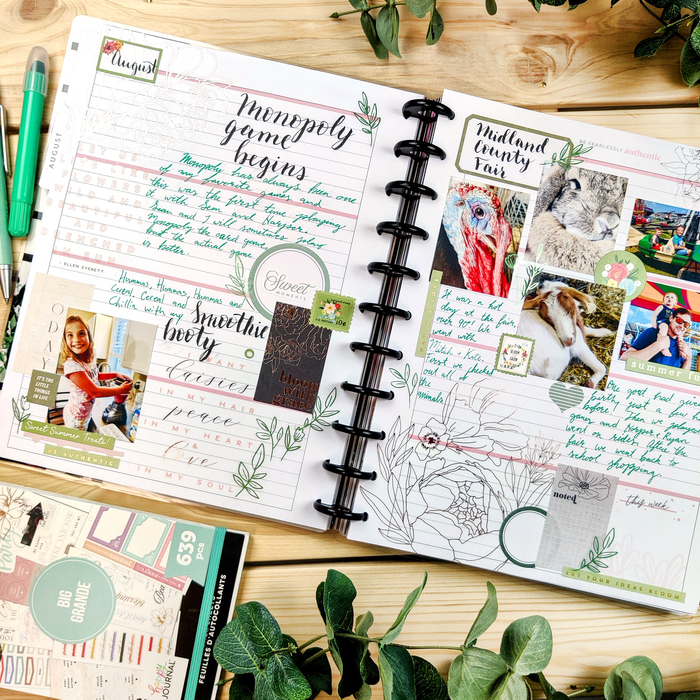 When working in my memory-keeping planner, I never think I am going to have enough photos or things to say. But when I start, the page always fills up! I'm not typically someone who takes a lot of photos but wish that I did. Working in this planner has pushed me to take more photos.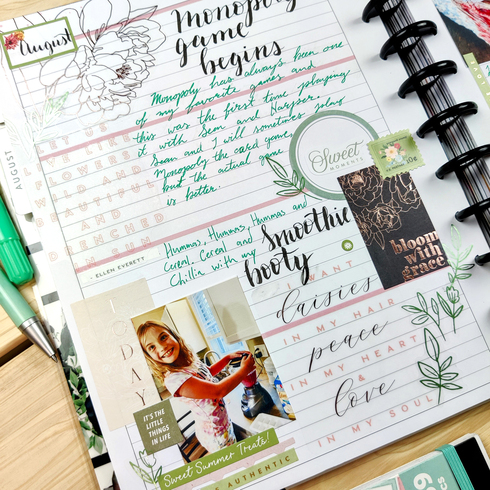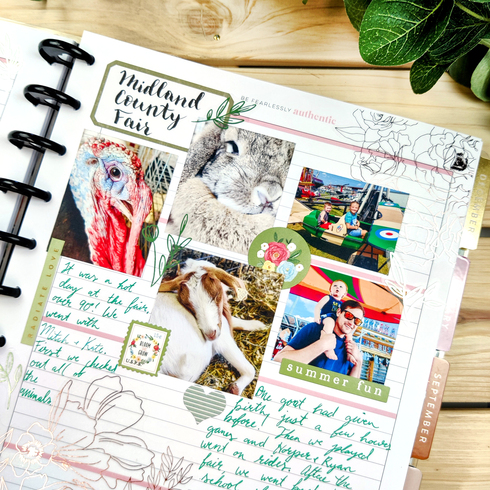 Don't feel like you have to take a photo every day. This week I took the majority of photos on one day, and that is what has covered my whole right page. The sticker books also come with large stickers which fill up empty space beautifully. For this page, the colors I tried to stick to were light green and peachy pink. I used stickers from the Sophisticated Florals Sticker Pad, So Much Happy Sticker Pad, and the Summer Sticker Book. The green writing is from a Fineliner Pen Set.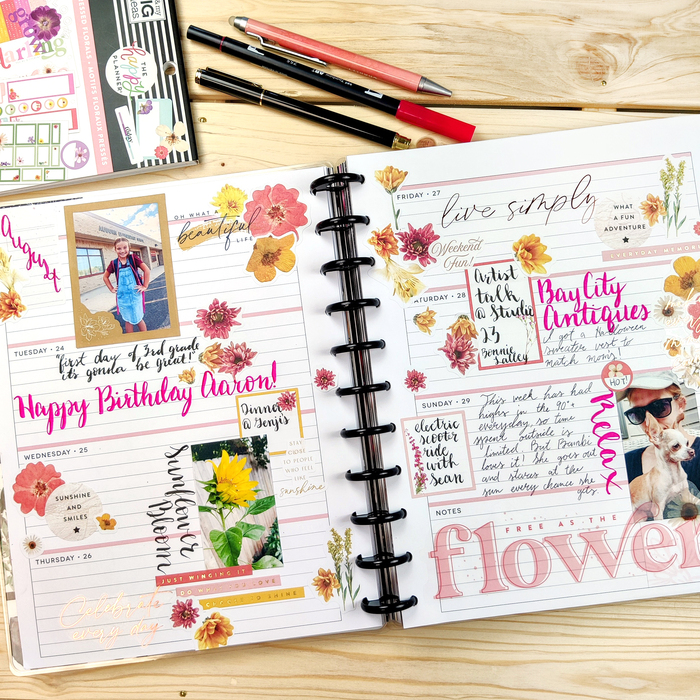 I am typically not a pink person, but I really love this spread! Usually, I start with the photos and work around them, but on this page, I started with the flowers. I loved the yellows and reds in these florals and thought they went perfectly with the last week in August feel. Next, I added in my photos and used the pink-red Tombow marker from the Advanced Lettering Set. I had some open space so I used a bigger sticker from the Pressed Florals Sticker Pad and some phrase stickers from the So Much Happy Sticker Pad.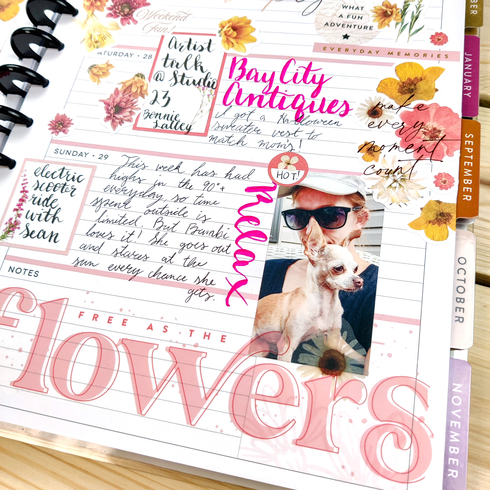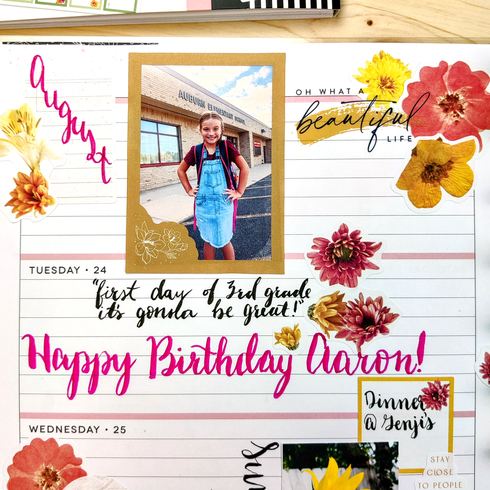 Thanks for checking out my August spreads and I hope this inspires you to try out Memory Planning.
I have been working in a Big Happy Planner with a horizontal layout. Planners come in different sizes and layout types, but there is no right or wrong way to plan or memory keep. I recommend picking the planner that you think is the prettiest. Here are some options of planners that you can start memory-keeping with!
Click HERE to see all of the planners, planner stickers, pens, and accessories.