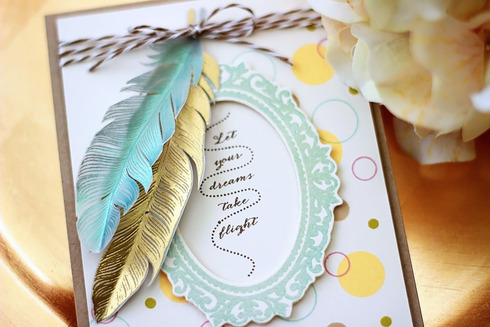 Hello there! Welcome back to another card tutorial! Today, I have a card for you with beautiful metallic accents using Perfect Pearls and vellum. It's going to be a long tutorial with a lot of tips and pictures. So grab a cup of coffee/tea and let's get started. 
Here's my card. Feathers are all the rage these days, so I used it as one of the main elements of my card. Feather stamps always look good in metallic tones. Specially when they're heat embossed. But usually metallic embossing powders are only sold in gold and silver. A wonderful solution to the problem is Perfect Pearls. If you're familiar with Perfect Pearls, you'll know that it's usually used on dark backgrounds. This is because the metallic sheen from the Perfect Pearls pops off dark cardstock wonderfully. In this tutorial, we're moving from the usual dark background to vellum! Yes! Vellum. Here we go...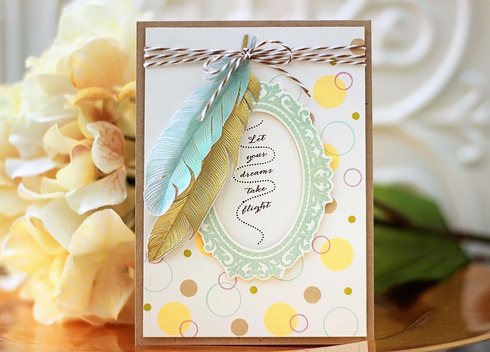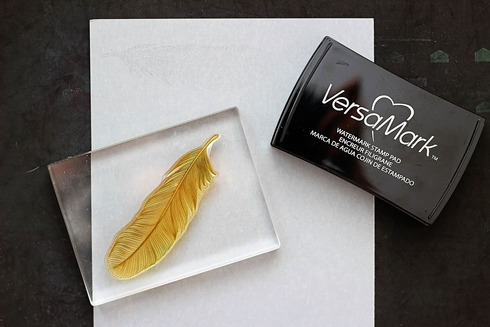 Stamp your image on vellum with watermark ink.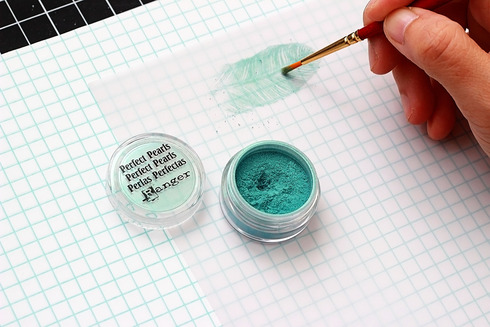 Grab your Perfect Pearls and use a brush to apply it on the stamped image. On dark cardstock you would have to use a stippling motion to avoid getting the Perfect Pearls on areas you don't want it to. But with vellum, I found that it was best to use a sweeping motion to get most of the powder to stick to the watermark ink. Don't press too hard though to avoid smearing the watermark ink.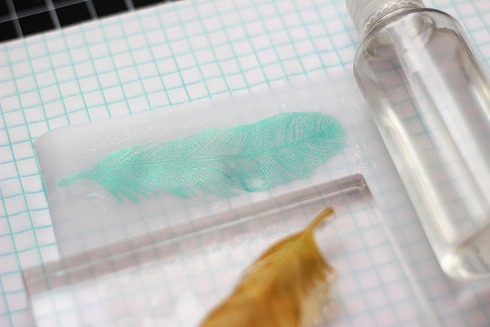 When you're all done, spritz a bit of water over the image to seal the Perfect Pearls powder. DON'T use too much because you'll warp the vellum. You can leave it to dry, but since I'm not patient, I used my heat gun on it. DON'T over heat the vellum. It will bubble and ruin your project. (I learned this the hard way.)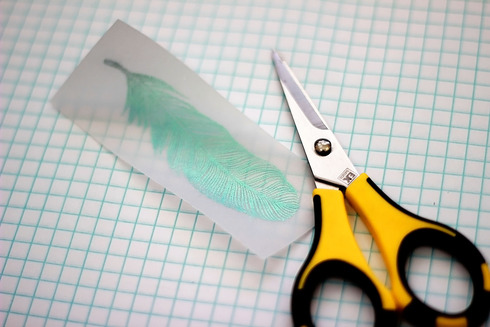 When it's dry, you can leave it under a heavy book to flatten the feather. Then you can cut out your feather and manipulate the edges to make it look more realistic.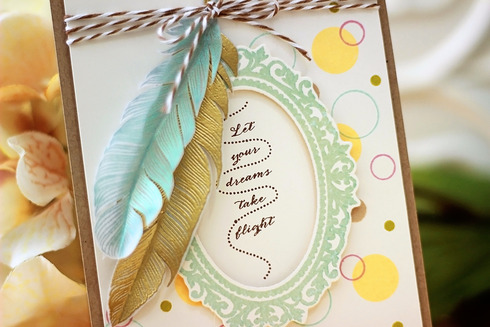 I love heat embossing. But sometimes the embossing powders don't come in colors that I want. I'm going to show you an easy tip on how to get your heat embossed effect with the ink colors you already have in your stash.  The first technique is for Shadow Inks and Dye Inks. Stamp your image regularly and then using watermark ink, stamp over the first stamped image. Now you can heat emboss it! :)
Two things you need to know about this technique though, you have to get your stamp image juiced up THICK with the watermark ink. (I didn't and it came out with this splotchy embossing. But with enough embossing powder it comes out nice and smooth.) So make sure your stamp image is all juicy with the watermark ink. Second, this is only possible with images that don't have a lot of detail. I would imagine that it would be very hard to line up your stamp on an image that is very intricate to do your second stamping.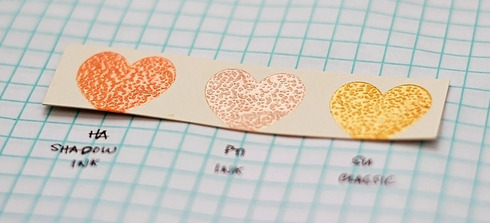 The second technique is using Pigment Inks. I stamped off comparisons so you can see it. The first one is using the pigment ink only. Note: It didn't work. Then I did the first technique, with the watermark ink over the pigment ink. It came out beautifully. Then lastly, I inked up my stamp image with watermark ink and then went straight and added a coat of pigment ink over it. Again, it came out beautifully!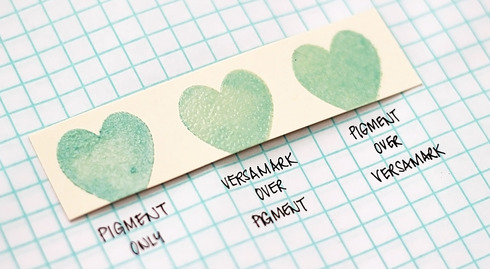 This technique is useful for intricate images like the frame I used on my card.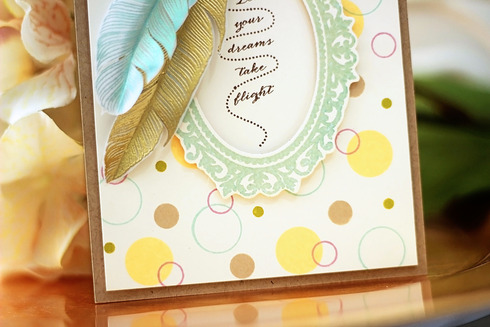 One last tip. When I was making this frame, I found it SO hard to line up the stamp image with the die since the die was solid. Here's a little trick on how to line your dies with your images and have them come out perfectly each time. 
Make a stencil of your image on a separate cardstock. (You can store this for future use.) Stamp your image then line up the stencil against it.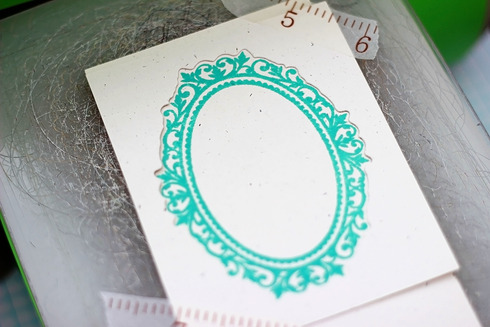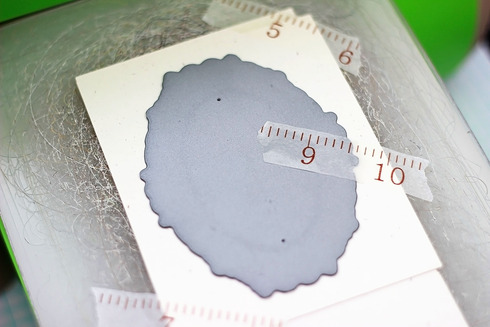 Now your die will fit exactly into the the stencil and you'll get a perfectly aligned die cut image every time.
There you go! I finished the card off by making a pattern of circles on my background panel. Then I stamped my sentiment in the center and attached the frame with foam tape. Lastly, I adhered the feathers with baker's twine.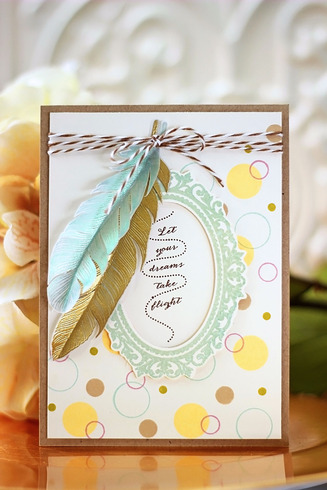 I hope you learned a lot from my tutorial today. Perfect Pearls comes in so many beautiful colors. Try it! 
---
Suggested Supplies:
---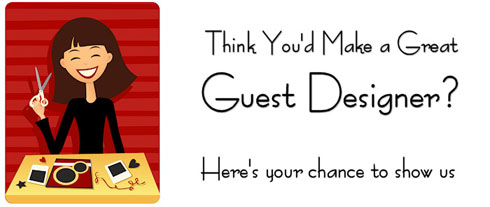 Click here to find out how to submit