Winter String Art Tutorial
Most people get at least a little giddy at the first snowflakes tumbling out of the sky, but let's be honest, once we're a few months into the knee-deep, freezing cold winter we just want to cozy up with a hot drink and write off any anything that requires bundling up and heading outside. You might have a few cleaning and organizing jobs that you're dying to tackle, but just in case you're feeling more crafty and less like working--we have the perfect DIY project for you!
If you haven't heard of string art yet you are really missing out. It's as simple as weaving string or yarn around a pattern of nails, but it transforms any design into an awesome piece of artwork and doesn't take long to complete. You can create anything from hearts to logos to your dog's portrait, but in the spirit of all things winter we have the perfect snowman idea for you.
Here's everything you need to get started:
----> Also nails (any kind with a small head, 1 inch or smaller) and a hammer!
---
1) First, take your wooden plank and sketch out 2 snowmen (if you are having trouble you can find snowmen online to print, cut out, and trace). We did one of them bigger and one smaller, but you can do whatever sizes you'd like. Add a line across the bottom of your snowmen to act as the "snow" on the ground.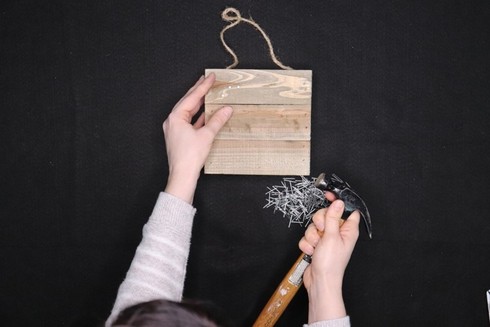 2) Grab your nails and hammer them into the wood, spacing them evenly around the edges of your snowmen and making sure they are each hammered in the same depth (not all the way into the wood - leave space to wrap the yarn around).
3) Now grab your white yarn, and starting from the left side of the wood, begin wrapping the nail on the "ground" followed by each nail around the edges of your first snowman. When the outline is complete, begin crossing the yarn between various nails to "fill in" the first snowman. Continue to any nails on the ground line between your snowmen, and then outline and fill in your second snowman. You will finish and tie off the white yarn on the right edge of your wood.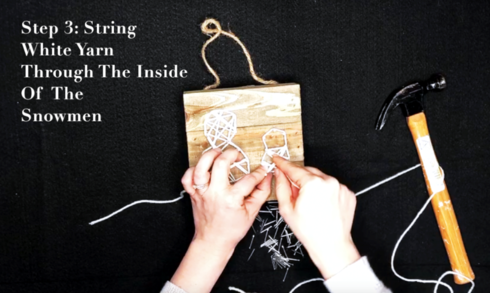 4) Every good snowman has a scarf, so next take your navy yarn and cut 2 pieces that are several inches long each. Tie them around 2 nails, or the "necks" of your snowmen, and make sure to leave an inch or two for the tails on each end.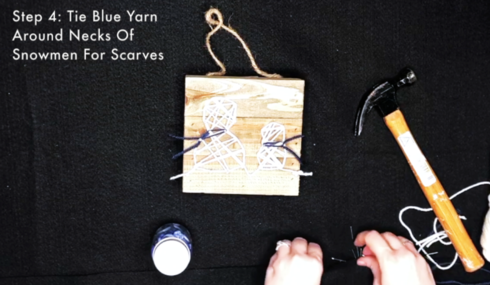 5) We're almost there! Use your glue to add a button onto each of your snowmen's scarves, and then take a few more buttons to glue on for their hats. We used 5 buttons for the bigger snowman and 3 for the smaller one.
6) Finish off your craft by putting the "let it snow" winter stamp (or whichever saying you like best) onto your stamp block, ink it with the white ink pad, and add the words to the bottom of the wood.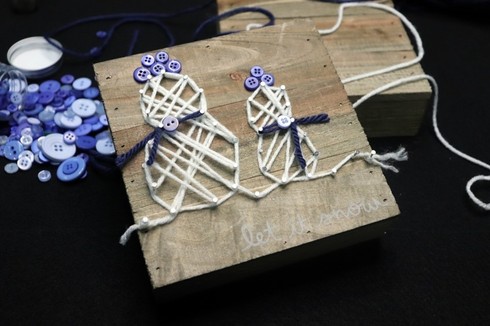 You're all finished! Now you have the perfect piece to make your home a little extra wintery, or, better yet, use it as a gift to brighten someone's day! Happy crafting, and if you need the list of supplies once more, here they are:
Nails
Hammer