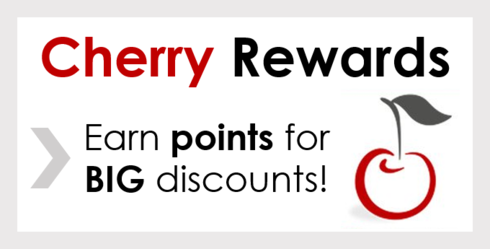 Earning ACOT Points from Purchases:
ACOT Points are assigned to most products;

point value of your order is displayed below the 'Order Summary' box at checkout.

Any earned points will be awarded to you when your order ships.
More Ways to Earn ACOT Points:
Refer a Friend

(1,000 points with friend's first order, no daily limit)

Leave a verified product review. (5 points per review. Verified means the person leaving the review has purchased that item from our store. No points awarded for un-verified reviews. No daily limit.)

Leave a comment in our

Gallery

* (1 point)

Submit projects to our

Gallery

* (up to 10 points/submission based on number of images and linked products.)

Find and click on

Cherries

throughout our website! (100 max points per/day)
*Gallery comments + Gallery submissions (1 point for each image, 1 point for each link to product. Max 10 points per gallery submission): up to 100 points for these combined per day.
---
Redeeming ACOT Points:
1,000 points may be redeemed for a $5 discount

2,000 points may be redeemed for a $10 discount

3,000 points may be redeemed for a $15 discount

4,000

 points may be redeemed for a $20 discount
Your current points earned are displayed on our home page when you log in as well as in your shopping cart when you check out. You may also view your current points in the My Account area.
When you have accumulated at least 1,000 points, you may redeem them for a discount on the 'Payment' page. 
THE FINE PRINT - To redeem ACOT Points, your order sub-total (after discounts) must be at least twice that of the redeemed points discount. (See examples below). Maximum of $20 in points may redeemed on any one order. Order subtotal does not include shipping/handling charges and gift certificate payments. The option to redeem points for a discount will only appear after enough points have been accumulated. 
Example:
to redeem $10 in points, order sub-total must be at least $20
to redeem $20 in points, order sub-total must be at least $40
---
ACOT Points cannot be transferred or given to another individual. A Cherry On Top reserves the right to modify this ACOT Points program at any time without notice. ACOT Points do not have a cash value and cannot be redeemed for cash or for customer credit. ACOT Points do not expire.
---