A subscription box delivering papercrafting goodness right to your doorstep every month!
(For the 3, 6, and 12-month plans - you will be billed for the entire subscription and shipping when you subscribe)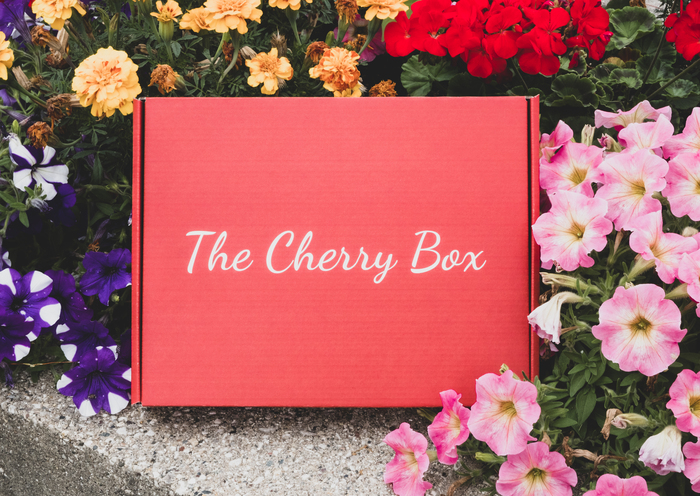 WHAT'S INSIDE THE BOX:
Inside you'll find scrapbooking and craft supplies hand-picked just for you from our ACOT team. Different designers and brands will be featured, giving you a wide variety of products to try. For example, a box may include 6x6 paper, embellishments, adhesive, and more. It will be a surprise you'll love! Get a look at what has been in past boxes here.
What makes our box different?
You're getting a great DEAL on paper crafting supplies.

Variety - maybe you'll find something new to try. 

Some items you won't find anywhere else!

The surprise factor!

You'll earn

Cherry Points

 that can be applied to future purchases!
Use the hashtag #thecherrybox to share on social media. We can't wait to see what you create!
---
THE DETAILS:
Delivery
We ship the last week of each month so expect to be pleasantly surprised with The Cherry Box delivered to your doorstep during the first week of each month. Quantities are limited so please sign up on or before the 20th of the current month to ensure you receive that month's box. If you enroll after the 20th your first box shipment begins the following month. 
 
Payment
For the month to month plan, you will be billed for your first box plus shipping when you subscribe, and then continually billed every month on the 20th. 
 
For the 3, 6, and 12-month plans - you will be billed for the entire subscription and shipping when you subscribe. All subscriptions will automatically renew for the same amount of time at the end of each term. You will be automatically billed again for the same subscription plan on the 20th of the month. You can pause or change your subscription, update payment information, or cancel at any time through your account settings. 
 
Shipping Policy
All Cherry Boxes are shipped via USPS Priority Mail to your delivery address. We do not charge any additional shipping or handling fees, you pay the exact USPS fee based upon your mailing address. 
 
Return Policy
All subscription Cherry Box sales are final. We take the utmost care in ensuring the integrity of our products during shipping, but if any item in your box arrives damaged please notify us within 7 days of receipt for return/exchange instructions.
 
Cancellation Policy 
You may cancel at any time, online, in your account settings and receive a full refund for any Cherry Boxes not yet shipped based upon your completed subscription term. Cancellation requests must be received prior to the 15th of the month to become effective for the following month's shipment. 

Review by

cyanta01 on 2020-07-31 17:41:07
Received my first Cherry Box and I love it. I love how the whole box goes together and I absolutely adore everything Doodlebug Designs.
Review by

CarrieG on 2020-08-08 16:14:27
i hadnt gotten one for a few months but glad i got this bright fun multiple use bunch of goodies!
Review by

Laura F. on 2020-08-10 01:33:46
Love Doodlebug. A lot of it was quite large, most might be ok on a card, but not great for scrapbook pages
Review by

Jennifer Dewall . on 2020-06-02 23:10:45
Not sure if this is the right subscription box for me. The big stamp was good, dont mind the ink pad or spray ink, though I'm not wild about brown. The paper pad, cut outs pack, and 3d stickers are more craft/scrapbook items and I'm an art journaler. I'll find use for them eventually though. My subscription was a mothers day gift. Surprises are fun ❤
Review by

Jeanne S. on 2020-03-21 05:13:30
Lots of fun stuff! Can't wait for the next one!