So I thought this Friday was going to be a pretty normal Friday. Got up with the alarm, fed the pups as usual. Started a load of towels and cleaned bathrooms. Sent out some work related emails and got ready to take Bear to the vet for her therapy session at 11:30. Thank goodness her appt was at 11:30 and we were home by noon! A thunderstorm rolled in causing 50 mph winds, hundreds of lightening strikes. Thunder was loud. And the rain. On top of the almost 10 inches Corpus Christi and the surrounding communities have had in less than 2 weeks, we got another 2 inches. My house got 1.25 inches. More flooding in flood-prone areas (we are lucky - we would have to have 2 feet of rain for us to flood).
A tornado was confirmed at our airport, which I'm about 8 miles NW of.
Mr Jeffrey was looking out. He was so brave: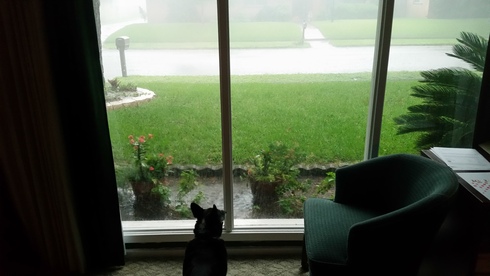 It got bad by 1pm, so I put down all of our storm shutters on all windows. It was gone by 3pm.
But with all the rain we have gotten, where is the water going to go? Apparently towards the car port. Luckily DH put down some sand bags: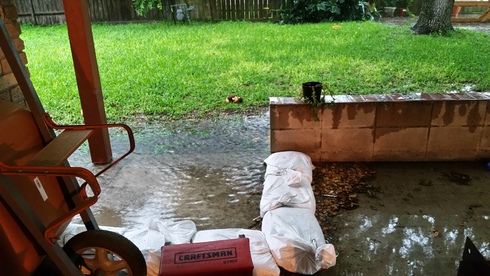 But don't worry! DH, the puppies and I are all safe and sound! No damage either.