Things have changed since his first vet visit a year ago. It took me 20 minutes to get him into his carrier. He was NOT a happy kitty and he screamed the entire time on the way to the vet on top of peeing in his carrier (I think he was scared
). He also didn't want to leave his carrier when it was time for his exam. But he did great, despite not wanting to be there. His fecal/heartworm tests came back negative, and his temp was normal. He got his rabies shot and his exam went well too. Just look at this little guy: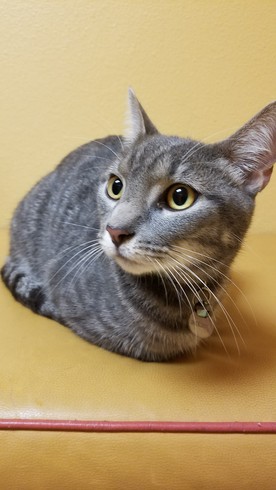 He was definitely mad at momma! To make matters worse, the vet got called into emergency surgery and there were complications, so his "exam" got put on hold by 3 hrs. So I had to leave them there.
 But he checked out fine and he's very healthy at 10 lbs and 8 oz!
He didn't want nothin' to do with me for several hours, but fell asleep next to me like this Friday night: