Moderator: ACOT Employee
On Black Friday I just ordered from ACOT. I wanted to get several of the ACOT deals but decided I needed adhesive and wanted a pawprint border punch more. Looking forward to playing with that! On Thanksgiving night I ordered towels from Kohls (they already had deals going). They were delivered on Sunday(!), I loved them, so I ordered more on Cyber Monday. I've shopped more online this week, but no real deals other the towels. I avoid going out to shop on Black Friday or on the weekends between now and Christmas.
Rhonda -- Scrappin' in Wisconsin
---
Cherry Bing
Posts: 2922
Layouts: 1604
Location: Livingston,Texas but we are often on the Road
My orders from ACOT came in yesterday!! Here is my haul  (using points and gift cards-$30 which includes shipping)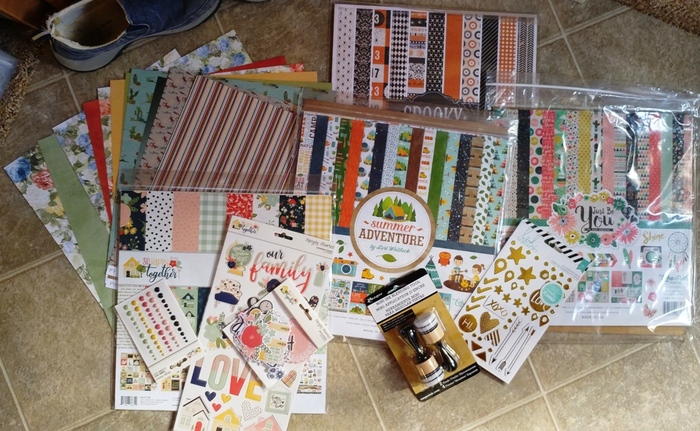 Last edited by
shoorn
on Mon Dec 09, 2019 4:16 pm, edited 1 time in total.
Hi everyone!   
My name is Susan and I love to scrapbook!
---
I didn't do BF shopping ! I did go one time in my life with my DD last year in Texas!! Now completely done with that! I wanted to get some ACOT things, but I will be gone to Texas! Cyber Monday I got a new purse & DH a phone case from amazon and I am done except a few things when I get to Texas!
---
karensay

wrote:

↑

Fri Dec 06, 2019 10:39 am

I placed an ACOT order online and spent a LOT at Wild Birds Etc, now have buyers remorse and doing returns to WBE.  Well, actually, I had buyers remorse when the guy rang me up and said the total out loud, but i was too embarrassed to say no at the time.....

OH, Wednesday, before BF, I bought DH a 65" TV and Soundbar.  NOW maybe he will build my Entertainment Center to put it in!!!!?????

I AVOID the crowded stores on BF.
Lol now THAT'S the way to get it done!!




---
---