Updated with Winner -- Joannie!
thanks to everyone who participated and gleaned inspiration from this challenge!
Hello ladies! It's time for another Christmas in.... challenge!
DISCLAIMER: At this time finances are a sore subject here, so I cannot guarantee a monetary prize at this time, or even a prize from my stash because of shipping costs. THEREFORE, (UNLESS/UNTIL OTHERWISE NOTED) this challenge will not currently be for a prize. HOWEVER, if things change by the end of the month (and let's face it, things can definitely change that quickly, as my life has been a great example of this over the past 2 months) and IF I am able to by the end of the month, I will add a prize at that time.
I just wanted to host a challenge again since I had a cute idea, and I know some ladies really want the challenge!
So, it's September. September brings with it the end of Summer, the beginning of Fall, and one of my favorite times of year. AND we see the leaves start to change color and Mother Nature really shows off her majesty with the wonderous colors of the Fall foliage. How trees can turn into bright fire balls and appear to be consumed in flames, is just something magical!
So, this month's challenge is about TREES.....
This challenge, if you choose to accept it, is to create a CHRISTMAS LAYOUT OR CARD
Option 1) Photos of Christmas trees - going to cut it down, decorating it, in front of it for a Christmas family photo. Show me those trees!
Option 2) Make a Christmas layout with tree embellishments - they can be stickers, wood veneer embellies, or fussy cut tress, but they must be embellishments, or fussy cut to be made into embellishments - simply having trees in a PP will not count.
TWIST: For ladies who want/need/like a sketch/layout to scraplift, here's a cute one!
Use as a starting point for inspiration for your layout.
Can't wait to see what you ladies come up with! Stay posted and check for updates. I do hope to find a job soon and hope to be able to add a prize by the end of the month.
Fine Print:
Can be a layout, card or project.
Open to digi, hybrid, or paper
Must be uploaded here by September 30.
Can be combined with one other September challenge that allows it.
Here's one example:
a LO I did last month surprisingly has BOTH options on it - Pics in front of a tree at Disney, and tree embellishments (3D Jolee's stickers)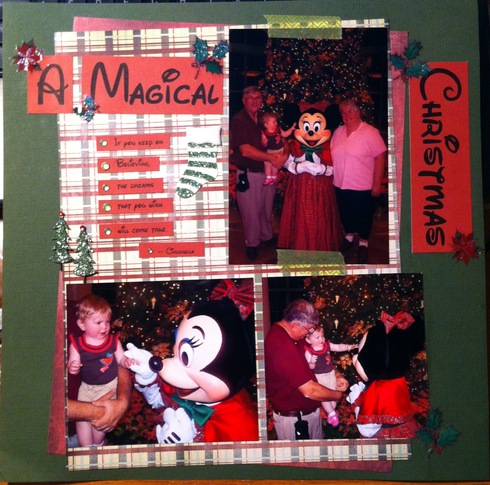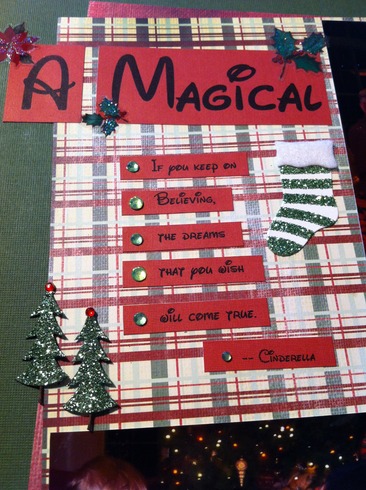 I also have another idea, I just gotta find the pics in storage and scrap them!