What's in fashion for September? Flowers! Basically anything that has a floral pattern. It can be large flowers. It can be small flowers. AND...flowers are being paired with another print. Prints such as polka dots, plaids and animal prints - to just name a few.
Here is my example: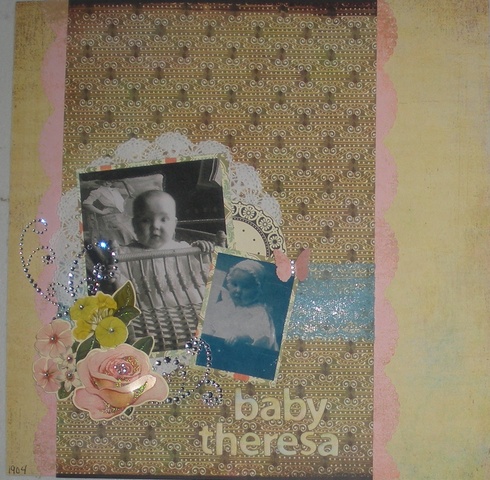 My flowers are 3D stickers, layered and clustered together. And my "other" print is the brown pattern paper. Some might call it "graphic art" style or even "abstract".
So, for my challenge, if you choose to accept it, is to create a project using flowers somehow (either in pattern paper or as an embellishment - like I did) with one other print. Your choice of "other" are the following
Tartan (plaid like)

Reptile or Animal Print

Retro-Style

Graphic Art Prints

Abstract Prints

Plaid

Polka Dot
Please let me know which your "other" print is, and how you are using the flowers (if its hard to see). Paper, Digi, Cards, and Crafts are all welcomed. Please link the project to either here in the thread or place it in the gallery (there is a spot that has been created for you). One random winner will receive a $5 GC to ACOT. Please submit by September 30, 2013 at 11:59PM CST. Any questions - please ask!
And have fun!
Wonderful Cherries Participating:
1. scrapy1967/Janet
2. mgehrke/Mildred
3. oceanbreezes423/Susan
4. sweetsour/Karrie
5. Deanna13/Deanna
6. Croppinmama/Lori
7. Retiree3 /Donna
8. ernstem/Beth
9. 1grandma/Bibi
10. butterfly843/Jenn
11. Charleneanne/Charleneanne
12. jharrell/Jennifer
13. ScrappyBug/Melissa
14. cajenkins81/Carolyn
15. ScrappyDistractions/Lisa
16. blfonty/Bonnie
17. lesmitch/Leslie
18. CherryTat/Darlene
19. MacSarah/Sarah
20. Sandi0805/Sandi
21. average_kim/Kim
22. Audrey_G/Audrey
23. jrrah4903/Jillian
24. pawprints/Barb
***********************************
I'd like to thank all of you wonderful cherries who participated in this months' challenge. Wow, 24 of ya'll! And everyone rocked it. Because of the increase in participation, I will be gifting TWO lucky cherries an ACOT GC.
And the winners....chosen by Random.org are...
#7 - Donna (Retiree3) and #11 - Charleneanne
Congrats ladies! I'll be sending you each a $5 GC later today.
**EDITED**
Ya's GCs have been ordered as of 6pm tonight. Congrats again!